The

Québec maritime Blog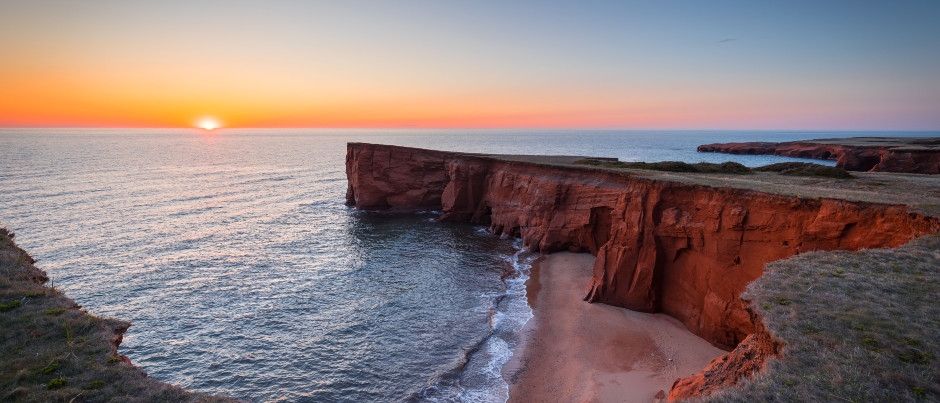 Îles de la Madeleine
Mathieu Dupuis
Natural Environment Protectors
Portraits of Local Change Makers
"People protect what they love."
– Jacques Cousteau, ocean explorer
Wide open spaces, pristine landscapes stretching as far as the eye can see, rich and fascinating ecosystems… the regions of Eastern Québec have much to offer to those who wish to reconnect with nature. But for these natural environments to remain as extraordinary as they are, they must be protected. Here are portraits of four people who are committed to this work.
A lush forest as a natural playground
A wildlife technician and geographer by training, Michel Grégoire has been attracted to nature since childhood. It was during his studies in Baie-Comeau and Rimouski that he fell in love with Eastern Québec and the vast natural and wild landscapes found here. After several years of working in integrated water management for watershed organizations, he made the leap to Parc national du Lac-Témiscouata in Bas-Saint-Laurent as the head of the park's conservation and education department.
"The main mission of Québec's national parks is to preserve the land in as natural a state as possible while allowing people to access and enjoy the outdoors," says Michel. "Visitors are also given the opportunity to participate in educational activities such as guided excursions in a rabaska canoe or hikes with naturalist guides who will explain what can be found in the park."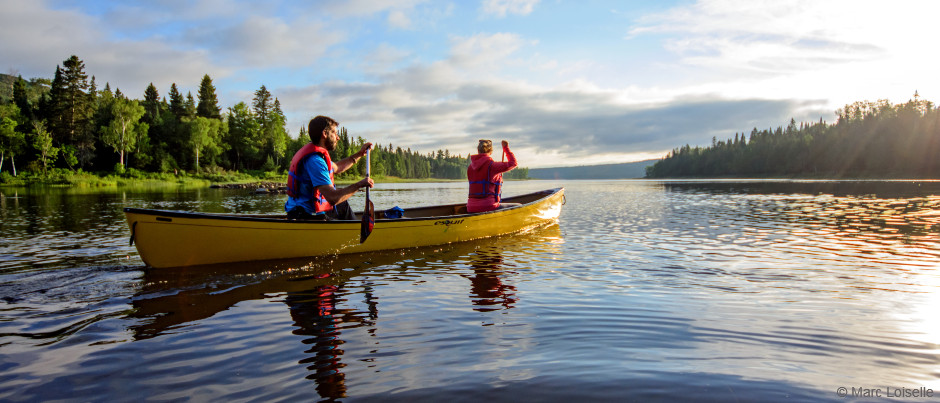 Located at the heart of a huge forest that shelters several majestic lakes (including the one that gave the park its name), Parc national du Lac-Témiscouata is a rich and biodiverse environment. "One of the great things about this park is that it preserves a sample of the forest," says Michel. "The park allows the forest to age and return to natural conditions, which is an excellent way to help preserve biodiversity. These are habitats that are essential for many wildlife species, including both birds and mammals," he explains. The park is also home to many archaeological sites that bear witness to the presence of First Nations peoples in this area as far back as 10,000 years ago!
Do you want to experience a deeper connection with nature? Here's what Michel invites you to do: "Be curious, turn off your cell phone, go out into nature and pay attention to everything that happens there. The more you know about nature, the more you'll want to protect it, and the more you'll be invested in that mission."
Far from boring fossils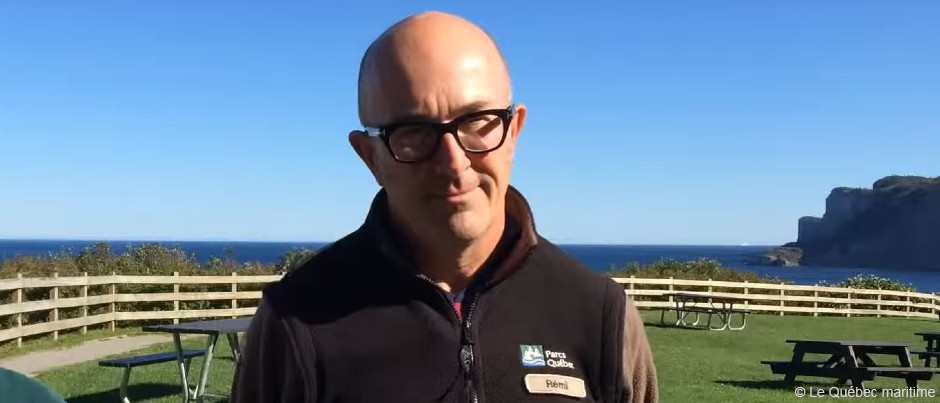 As far back as the early 1980s, Rémi Plourde was already immersed in the world of national parks as an interpreter guide. One thing led to another and he eventually became the director of Parc national de Miguasha in Gaspésie (as well as of Parc national de l'Île-Bonaventure-et-du-Rocher-Percé). "The mandate of Québec's national parks is to conserve and protect our natural and cultural heritage for future generations," says Rémi. "It's a great job to be able to be part of this: I'm passionate about working towards this mission every day!"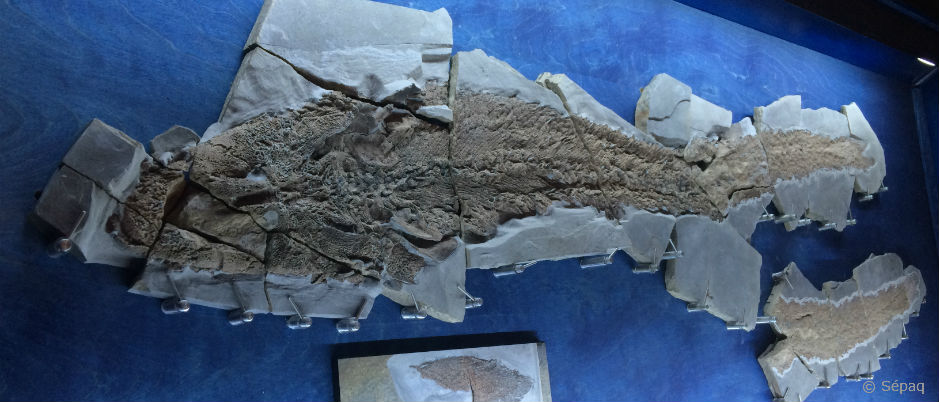 Parc national de Miguasha, which is on the prestigious UNESCO World Heritage List, is extremely important for understanding our evolution. The fossil-rich Miguasha cliff and the many specimens it contains take us back 380 million years, to the Devonian Period. Measures have been implemented to protect the park and ensure that only specialists can do research there: "If the general public had been allowed to dig around in the cliff to find fossils, we would never have found the Elpistostege watsoni. It would have been dug out in bits and pieces," explains Rémi. "We wouldn't have known the magnitude of the find we had there." Elpi, as the fossil is nicknamed, is a unique specimen, a species of lobe-finned fish that most closely resembles the early tetrapods.
As a historian by training, Rémi is constantly fascinated by the wonders found in the park. He also enjoys showcasing them in dynamic and fun ways, to change people's image of "stuffy museums." The park offers several activities that will put you in the shoes of a paleontologist. "People need to experience wonder and make great memories," says Rémi. "Sometimes that's what it takes to develop a passion and maybe even a career. When you succeed in getting someone's attention and you see a spark of wonder in their eyes about what you've just helped them discover, that, for me, is extremely gratifying."
Biology and technology in the service of fascinating islands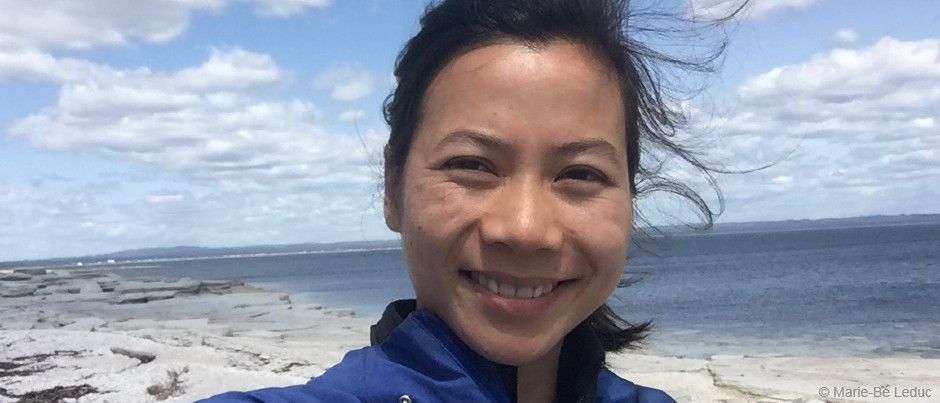 Marie-Bé Leduc says she's been "crazy about nature" since she was very young, which is what prompted her to study biology and remote sensing, a science that analyzes satellite and aerial photos to obtain relevant information about ecosystems. This is what she does as an ecologist for Parks Canada in the Mingan Archipelago National Park Reserve in Côte-Nord.
"I found myself in this environment, which is really beautiful," says Marie-Bé, who is originally from Ottawa and has been in the Mingan Archipelago since 2019. "I fell in love with the park reserve. There are so many things that make it extraordinary, such as landscapes that can't be found anywhere else." Composed of about 20 main islands and numerous granitic islets, the park reserve has several unique features including strangely shaped limestone monoliths, a large number of seabirds that nest in the archipelago, a wide variety of rare plants as well as the barrens, a natural habitat characteristic of this area that resembles the tundra.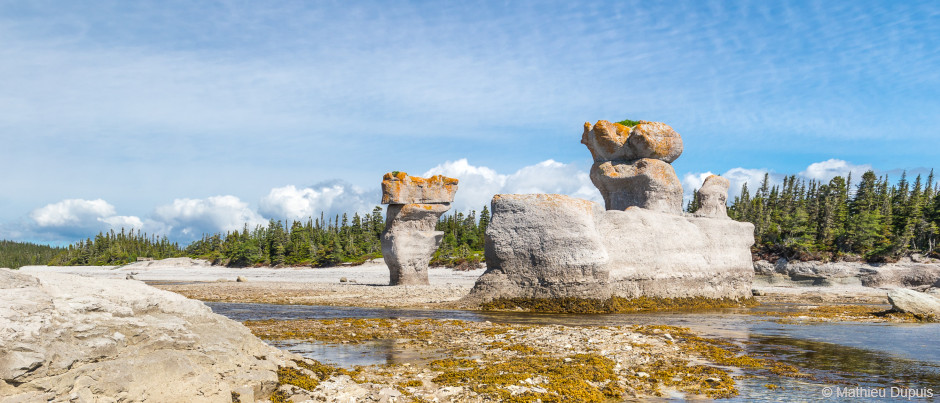 Part of Marie-Bé's work is to collaborate on conservation projects related to Parks Canada's ecological integrity monitoring program. With her colleagues, she follows various wildlife and plant specimens from year to year and observes population changes. "We're increasingly seeing issues related to climate change," she says. "For example, the Mingan thistle, a plant species endemic to our region, is threatened through coastal erosion. When our conservation team saw that the population was decreasing dramatically, we started a project to save this species, where we try to mitigate the harmful effects of big storms. One thing we do is recreate colonies in other places that are perhaps less impacted by storms to try to increase the population," explains the ecologist, who is happy to see that the knowledge and discoveries made in conservation are then passed on to visitors via the park reserve's interpreter guides. Marie-Bé also enjoys writing content for the park reserve's website and Facebook page, thus contributing to its mission of informing the public and raising awareness about various topics.
"I have so much fun in this environment, I want to make sure it lasts so that everyone can enjoy it, including future generations!" she says.
Collaboration at the heart of the protection of the Islands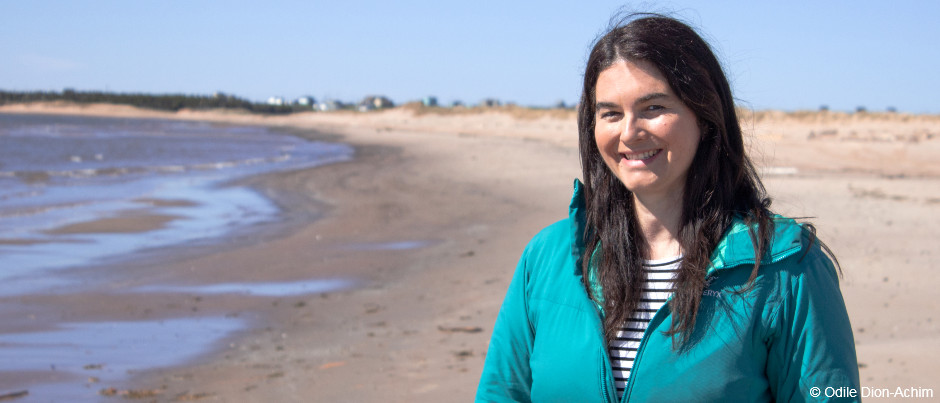 The beautiful landscapes found in the Îles de la Madeleine and the opportunity to commune with the sea are the stuff of dreams for many people, which is one of the reasons why Marie-Ève Giroux decided to settle in this region in 2010. Having always been a person who was concerned about the environment, she's now at the helm of Attention FragÎles, an organization that's been working on protecting the archipelago since the early 1990s. "What brought me here was really an interest in this territory," explains Marie-Ève. "I wanted to work in a small community where you know your partners, you can see the impact of your actions, and the territory is geographically well defined, so the connection between humans and the environment is very obvious," she says.
In this island paradise located in the middle of the Gulf of St. Lawrence, climate change is an important issue: "It's a territory that's quite fragile," says Marie-Ève. "With climate change, we're seeing erosion in the dunes and cliffs all along the region's coastlines." The organization and various partners are therefore implementing concrete actions to protect the dunes, such as by developing beach access and boardwalks and by carrying out restoration work.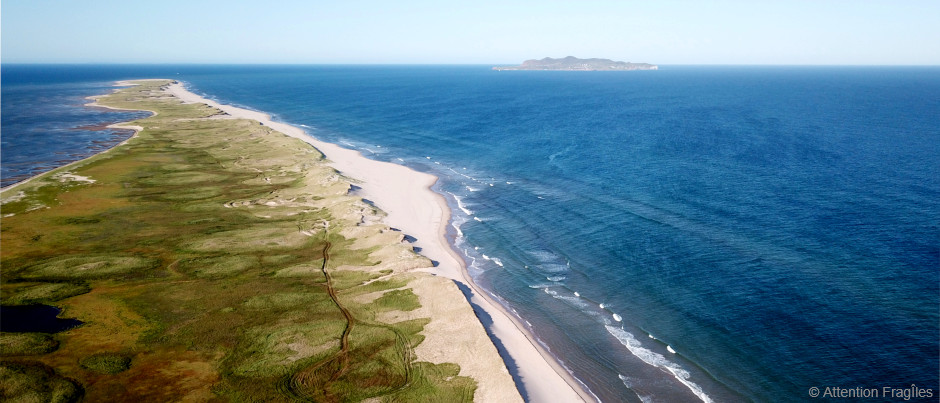 Various ecosystems are found on the Islands and are home to abundant and diverse bird and plant life. "As an organization, we work a lot in terms of raising awareness and promoting harmonious coexistence between the various users of these natural environments, so that the people who enjoy outdoor activities here come to know the rich ecosystems they're in and can contribute to their protection by adopting good practices," explains Marie-Ève, who is also the mother of two young daughters who inspire her to pursue her mission.
In an island environment, the issues of waste management, drinking water consumption and energy transition are all the more important and are thus the focus of some of the actions undertaken by Marie-Ève and her team. A piece of advice she gives to visitors: "Take the time to stop and observe the beauty of nature all around you and to realize that, as humans, we're also part of the ecosystem."

So much rich beauty is found in the regions of Eastern Québec. Fortunately, several initiatives have been implemented to protect these natural environments, and many passionate people are involved in this great mission. If you're planning a trip in nature, be sure to follow the park wardens' instructions as well as those found on signposts so that you too can contribute to the preservation of these beautiful natural environments!
If you liked this article, you might also like...