The

Québec maritime Blog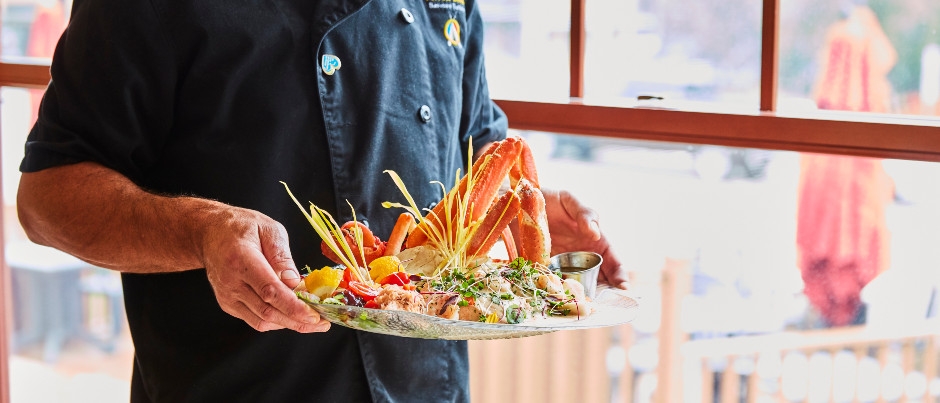 La Galouïne Auberge & Restaurant, Tadoussac
TQ/Dominique Lafond
Off the Coast of Côte-Nord… A Sea of Flavours!
There's nothing like a visit to Côte-Nord to really get a feel for how immense Québec is! Can you hear the wind, the waves or the blows of the whales sweeping across this vast land to the northeast of the province? Bordered to the west by the region of Saguenay–Lac-Saint-Jean and to the east by the province of Newfoundland and Labrador, Côte-Nord stretches from Tadoussac to Blanc-Sablon and includes legendary Anticosti Island. The region's southern border is the majestic St. Lawrence, which extends for over 1300 km (800 mi.) along the coast as it widens from the estuary into the gulf.
Sometimes under the moonlight during a spring tide, you'll be amazed to see a shoal of capelin rolling in on the waves to spawn—the locals will line the beaches to scoop up these fish with their nets. This incredible scene illustrates the richness of the cold waters of the St. Lawrence in this region and provides an example of the many gourmet treasures found here, several of which are still relatively unknown.
A trilogy of delicious shellfish + a crab-flavoured beer!
When you think of the seafood available in Côte-Nord, it's northern shrimp and snow crab that first come to mind. Northern shrimp are a small wild crustacean with a pink shell and white flesh that's slightly sweet and deliciously salty—they're also unlike any other shrimp you've ever eaten! This exceptional local product is cooked as soon as it's caught to preserve its full flavour. You can taste it in many different dishes, but it's best served as shrimp cocktail, in salsa or as a ceviche.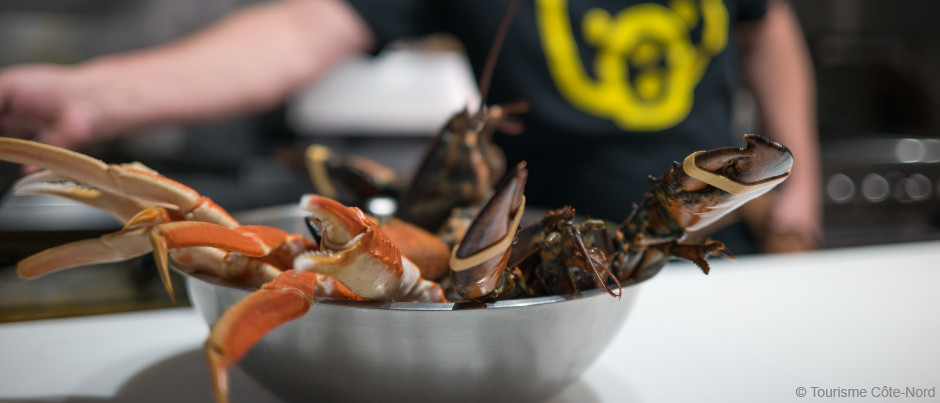 As for snow crab, the cold waters off Côte-Nord give this crustacean's tender meat a subtly sweet and salty taste, which is sweetest at the beginning of the season, when the water temperature is much colder. In season, it would be a sacrilege not to savour this delicacy accompanied by a good Crâââbe beer from the St-Pancrace microbrewery. As you may have guessed from its name, this English-style bitter is brewed with crab shells, along with the usual barley and hops. For a truly authentic Côte-Nord experience, be sure to drink it along the shores of the St. Lawrence!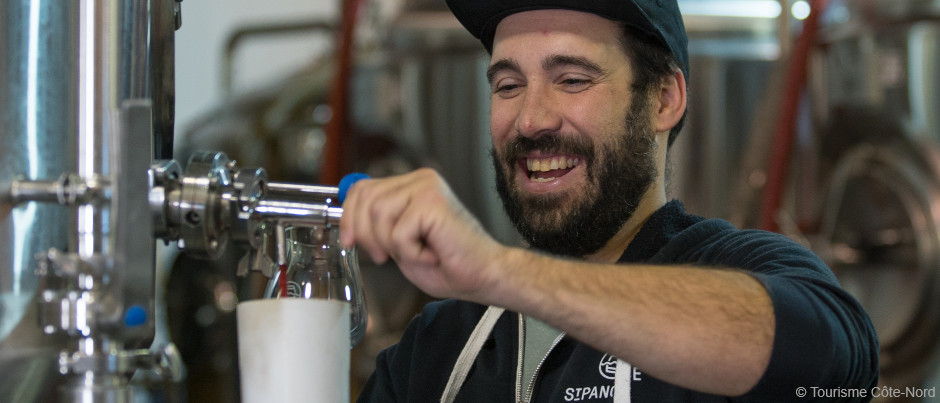 In recent years, more lobster has been fished further north, even off Anticosti Island. Warming waters have resulted in higher reproduction and survival rates for this species, which has led to a lobster baby boom. As with the lobster from Gaspésie and the Îles de la Madeleine, its abundant flesh is protected by a hard shell due to the cold waters and rocky bottom of the St. Lawrence.
Why not start your meal with northern shrimp as an appetizer followed by freshly cooked crab or lobster as a main course?
Little-known local shellfish
Stimpson's surf clams, green sea urchin, whelk… Is this symphony of unusual flavours making your mouth water?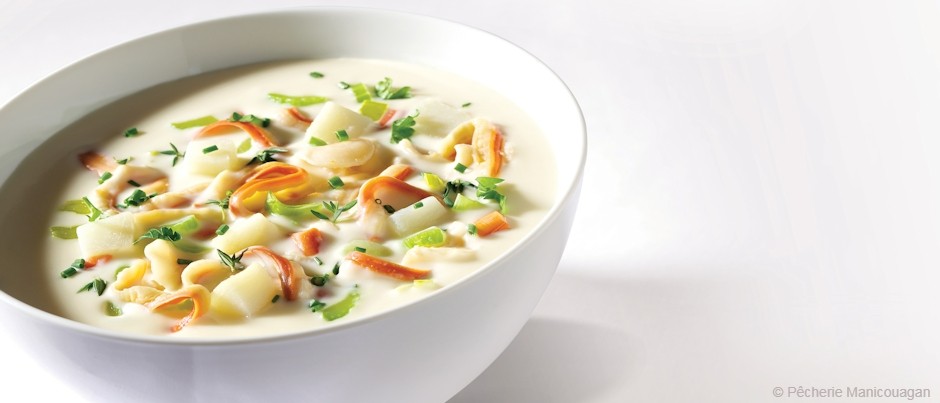 Have you heard of Stimpson's surf clams? Their name may be a mouthful, but all you need is one bite to fall in love with the unique taste of this mollusc. Its delicate sweet flavour is reminiscent of lobster or scallops, although its flesh is a little firmer than the latter. It's delicious in chowders, as a tartare or served simply on pasta with a few herbs or tideland plants. Au gratin? It certainly deserves better! Because of its relatively short shelf life, you'll also find it canned, which is very practical if you want to take some home with you!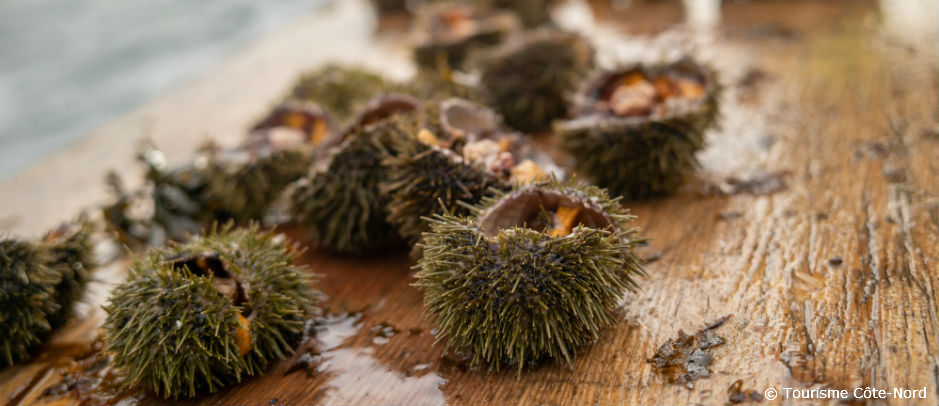 Green sea urchins are small spiny balls that proliferate in the waters of the St. Lawrence—their pretty shells are often found worn smooth along the shore. With a sweet and briny flavour, they're also known as sea foie gras. In Côte-Nord, the shells are chiselled open to eat the gonads, which are filled with orange eggs.
If you're feeling less daring, try green sea urchin in a cream sauce, which will reveal almost floral flavours. This delicacy is an emerging local product that's worth ordering! Harvesting green sea urchins doesn't threaten the species or the seabed, since they're mostly hand-picked by divers.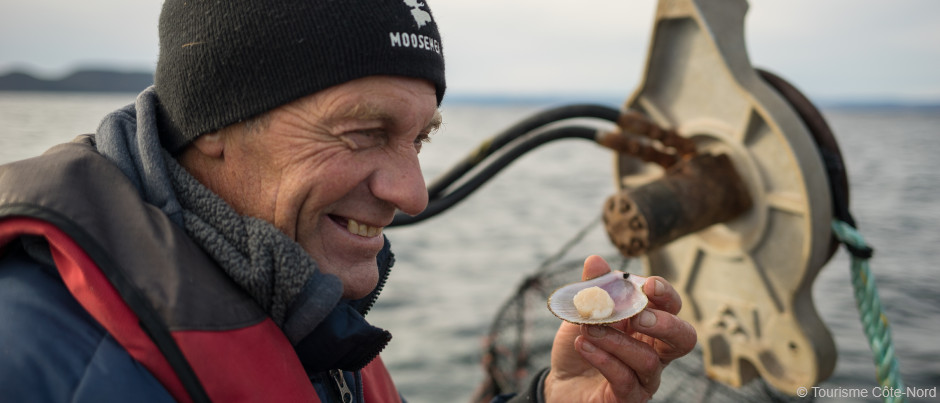 Oh how we love scallops! Côte-Nord is renowned for its farmed sea scallops, which have a sweet and nutty taste and can be eaten fresh and whole! The Ferme de la Baie de Saumon scallop farm in Bonne-Espérance offers sea excursions during which you'll learn about how sea scallops are grown in their natural environment. And you can even taste them fresh and raw! The Purmer sea farm also offers you the opportunity to find out more about scallop and blue mussel farming off the magnificent Grosse Boule Island in the Sept Îles Archipelago. This island also happens to face a bay where whales come to feed!
At the Poissonnerie Fortier fish market in Sept-Îles, which is owned by the Ekuanitshit (Mingan) First Nations community, you'll find Minganie scallops, which are Iceland scallops caught in the Minganie area. Their distinctive taste is a little more pronounced than that of sea scallops. Don't miss the opportunity to enjoy this delicacy at its freshest in season.
As in Gaspésie, locals in Côte-Nord have been eating whelk, a type of sea snail, for generations. You'll find this local product sold already cooked in jars at most fish markets. They are best in brine, which preserves their sea flavour; they are also less rubbery than in vinegar. You can also order whelk sautéed in garlic butter, then served over pasta or even in a vol-au-vent—yum! Otherwise, pickled whelk washed down by a tasty local beer by the St. Lawrence is also an authentic Côte-Nord experience!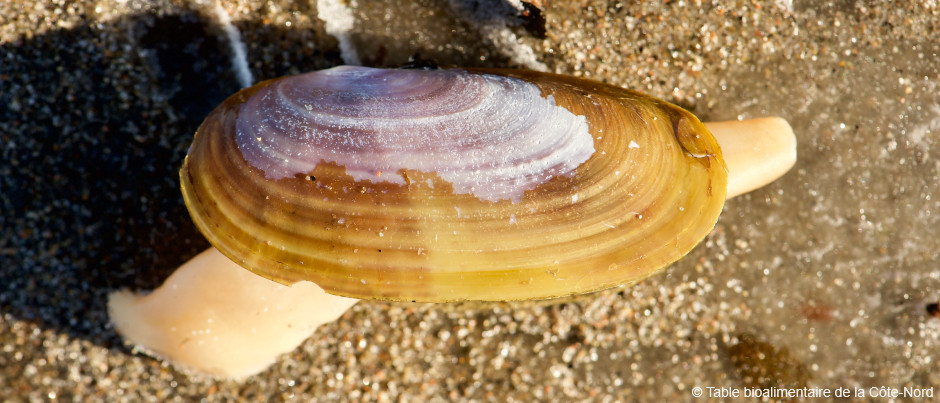 Finally, let's not forget a relatively unknown culinary delicacy, razor clams, which are so named because they resemble a closed straight razor. If you're lucky enough to spot them on a menu or in a fish market, don't miss the opportunity to taste them. They are delicious sautéed—once you've tried them, you'll want more!
Inspiring chefs and food artisans: Where to savour local flavours of the sea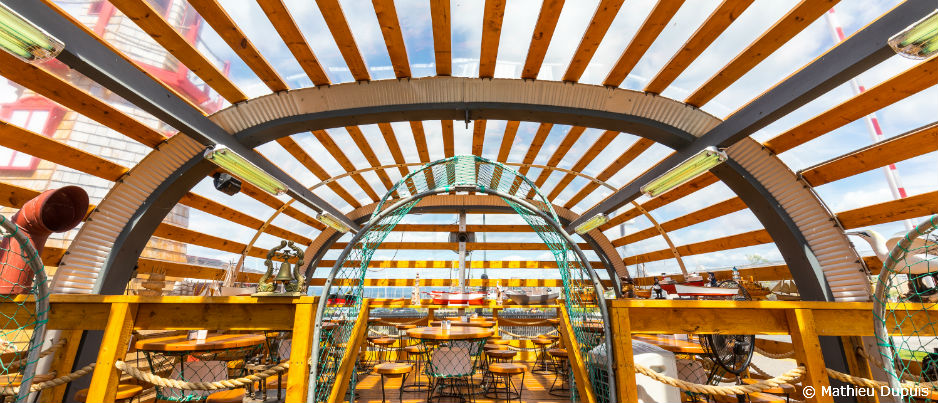 Here are a few places to visit where you can try innovative and tasty seafood dishes and/or find exceptional takeout items to enjoy during a delicious picnic or as appetizers or meals.
Seafood availability in Côte-Nord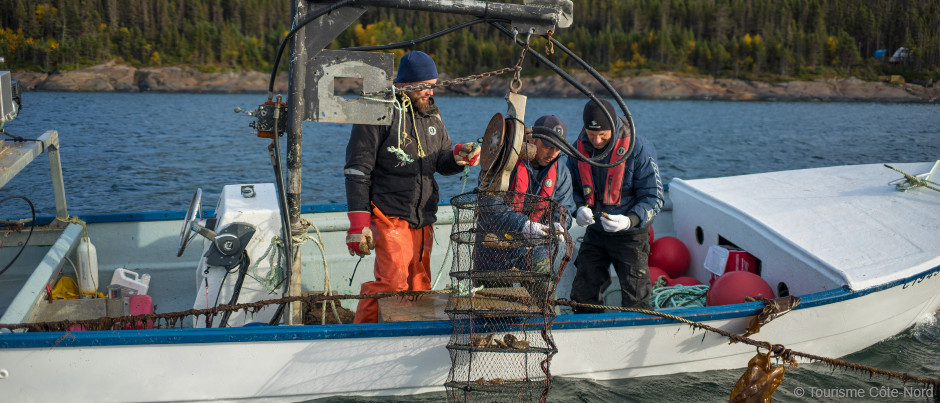 The fishing or harvesting seasons mentioned below are provided as general guidelines only. Dates may vary according to the authorizations issued by the Minister of Fisheries, Oceans and the Canadian Coast Guard.
Green sea urchin: March to May and October to December
Northern shrimp: April to October
Snow crab: April to June
Capelin: April to August
Lobster: May to July
Farmed sea scallops: June to September
Minganie scallops: July to October
Stimpson's surf clams: July to October
Razor clams: September to December
Look for the Smarter Seafood logo (a blue fork)! This certification granted by Exploramer recognizes restaurants and fish markets that offer at least two marine species found on the list to be promoted during the current year, i.e., edible species that are present in sufficient quantities in the St. Lawrence, are relatively unknown to consumers and are fished using techniques that don't disturb the seabed. You can consult the list of Smarter Seafood species on the Exploramer website.
Take action and support Manger ton Saint-Laurent ("Eat Your St. Lawrence")! This is a great initiative that recognizes the importance of the St. Lawrence in improving food self-sufficiency. This site (in French only) contains interesting articles as well as information about where you can purchase products from the St. Lawrence or even order them online.
Côte-Nord, a land of nature beyond measure
and a sea of flavours worth discovering!
If you liked this article, you might also like...