The

Québec maritime Blog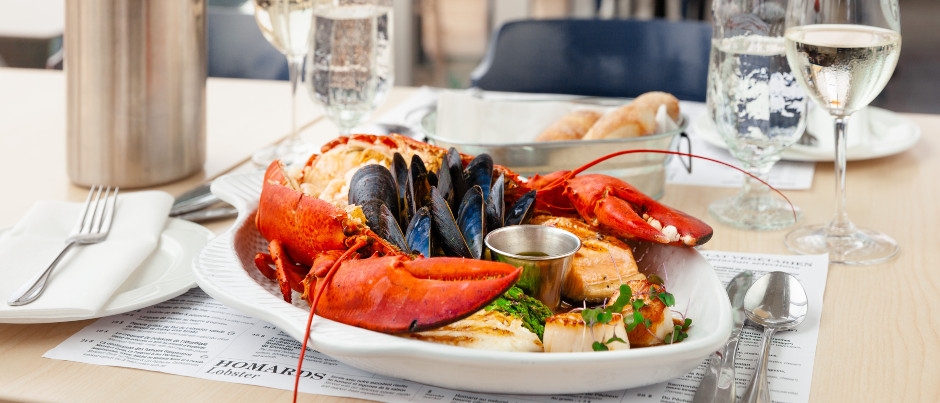 La Maison du Pêcheur, Percé, Gaspésie
Roger St-Laurent/Tourisme Gaspésie
Off the Coast of Gaspésie… A Sea of Flavours!
Surrounded by the Estuary and Gulf of St. Lawrence and bordered to the south by magnificent Chaleur Bay, Gaspésie is one of the most beautiful regions in the world. Originating from the Mi'gmaq word Gespeg, which means "land's end," Gaspésie is a vast peninsula at the edge of the world that also offers a cornucopia of culinary delights to discover!
Little-known local shellfish
Shrimp, crab and lobster are all well-known seafood delicacies, but they're particularly tasty in Gaspésie, not to mention halibut, monkfish, oysters and whelk… Is your mouth watering yet?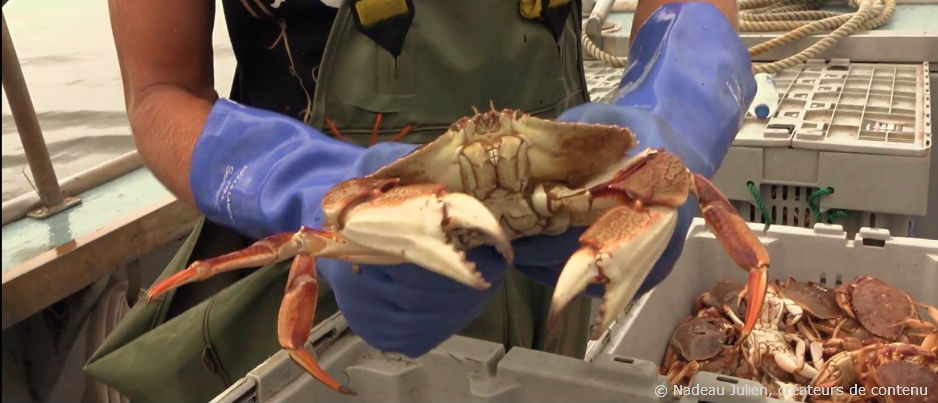 The arrival of snow crab in the spring marks the beginning of the fishing season in Gaspésie. This crustacean has a sweet and delicate flavour; the meat is both tender and firm. Snow crab is delicious eaten on its own but can also be used to make bisque, burgers, risotto, etc.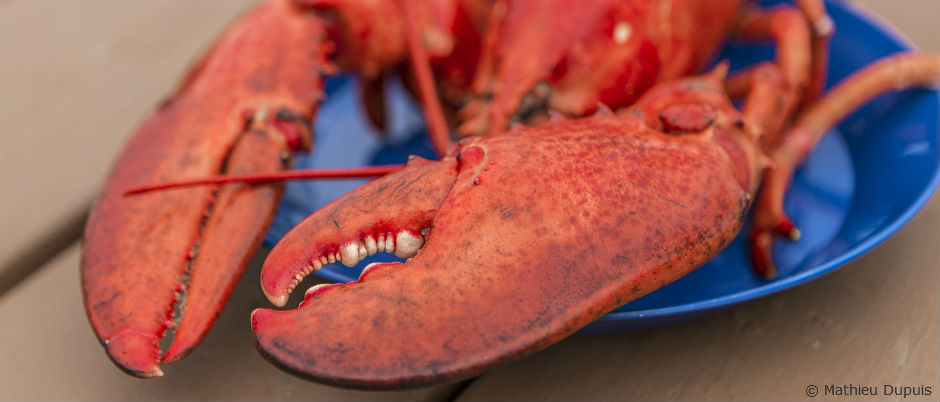 Renowned worldwide, Gaspésie lobster is prized for the superior quality of its meat. Its abundant white flesh is protected by a hard shell due to the cold waters and rocky bottom of the St. Lawrence. Lobster is trapped at the tip of the Gaspé Peninsula and in Chaleur Bay; you can track where your lobster was caught thanks to a tag attached to one its claws. Visit the Sea-to-Fork Traceability website to watch the fisherman who caught it in action!
When lobster season begins in the spring, be sure to visit La Vieille Usine in L'Anse-à-Beaufils. This former salt-cod factory located near the wharf has been transformed into a cultural centre and is where locals gather to mark this exciting occasion! At dawn, the fishermen sound their foghorns and cast off to the cheers and applause of the crowd.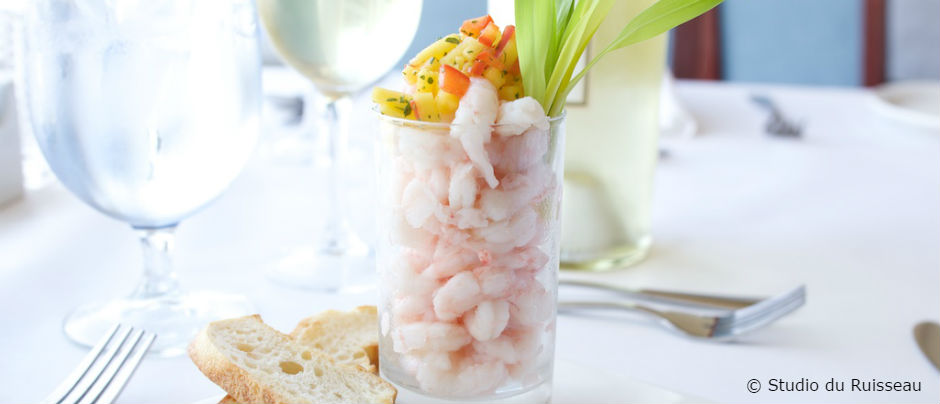 Northern shrimp, also known as Matane shrimp, is like no other! Only wild-caught in the cold waters of the St. Lawrence, this crustacean has a refined, slightly sweet taste and its flesh is more tender than any other shrimp species. Each catch is cooked immediately to preserves all its flavour. Served as shrimp cocktail, as a ceviche or on pasta or pizza, it has a salty taste we love!
Have you heard of guédilles or poutine? To make a guédille, simply mix lobster, crab or Northern shrimp meat with flavoured mayonnaise and serve a generous portion on a hot dog bun! Another local specialty is seafood poutine: French fries and cheese curds topped with a seafood sauce. These are two of the most popular items to be found in snack bars throughout Gaspésie!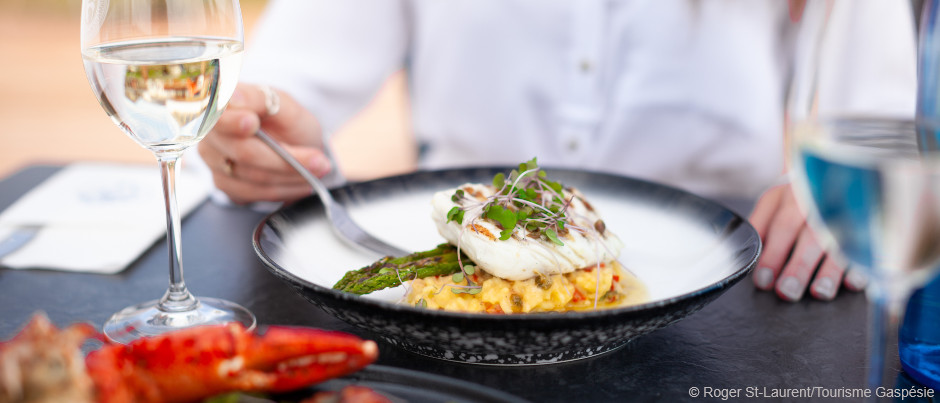 And what about bluefin tuna? Because it's subject to quotas, many chefs and fish markets buy it before it's even been caught to ensure they can offer you this exceptional treasure from the gulf. If you're a seafood enthusiast, you'll also love Atlantic halibut (not to be confused with Greenland halibut, which is also known as turbot). No matter how strange this giant of the deep may look with its two eyes on the same side of its head, this fish stands out for its delicate flavour. Halibut cheeks are also very tasty in a ceviche or pan-fried!
As for the famous Atlantic cod, it's still integral to the culinary traditions of Gaspésie. However, other species are increasing in popularity, such as monkfish. Also known as "fishing frog" and "allmouth," this fish is not very pretty to look at, but its exceptionally firm white flesh is delicious in quiaude, a chowder traditionally made with codfish heads. The Gîte du Mont-Albert has even created an osso buco made with monkfish. Another strange-looking fish worth discovering is deepwater redfish (also known as beaked redfish), which has a firm and very flavourful white flesh.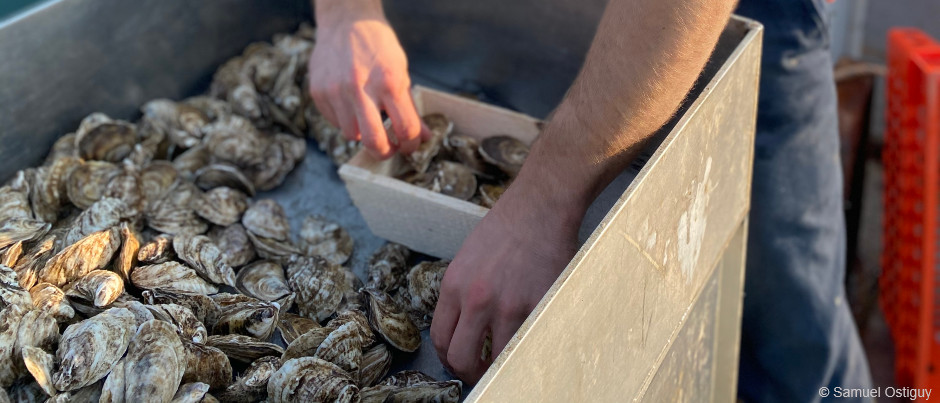 In terms of shellfish, the oysters from the Ferme Maricole du Grand Large (Les Huîtres William B) are not originally from Gaspésie, since the region's waters are too cold for them to reproduce. However, William Bujold's oysters do become local products once they've spent some time immersed in Chaleur Bay! This dip gives them a unique taste: a little sweet and not so salty. This is the time to enjoy your fill!
Another incredible seafood product worth discovering is whelk. If you get a chance, try these sea snails served as a ceviche, seared in garlic butter, in a salad or even in a cream sauce! (Avoid eating them pickled, which tends to make them rubbery.) Whelk are sustainably caught using traps; they're also available frozen.
To learn more about the marine species found in the St. Lawrence or even catch your own fish:
A stop at Exploramer in Sainte-Anne-des-Monts is a must. This museum and exhibition centre, which includes an aquarium with touch pools, also offers sea excursions and the "Dare to Taste!" activity.
In Carleton-sur-Mer, Pêche Sportive Baie-des-Chaleurs offers fishing excursions with an experienced guide.
Seaweed: A natural flavour enhancer
Seaweed, a Gaspésie superfood, is sustainably hand-harvested in exclusive areas in the region. A wide variety of exceptional seaweed is available at Un Océan de Saveurs, for example. Sugar kelp, wakame, nori and sea lettuce are all sea vegetables that add a unique flavour to soups, sauces, fish and seafood dishes, etc.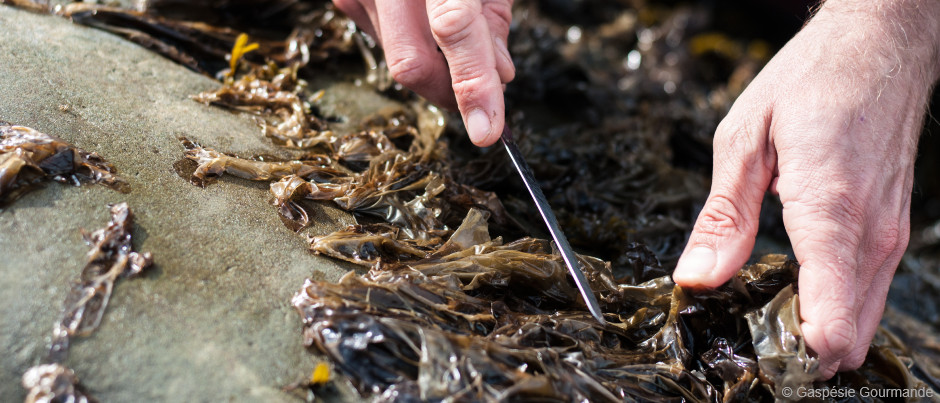 Tasty treats in jars you won't want to miss while in Gaspésie include kombu pesto made by Seabiosis (available throughout the region) as well as both the sea relish and the tartar mix made by Salaweg (which means "it's salty" in the Mi'gmaq language), a company that markets seaweed products that benefit several First Nations communities.
Traditional know-how: Fishing, salting, drying, smoking
At sunrise, a fisherman sits at the end of a wharf. Fourteen lighthouses dot the coast. Fishing boats can be spotted on the horizon… Fishing has been integral to the way of life in Gaspésie for centuries.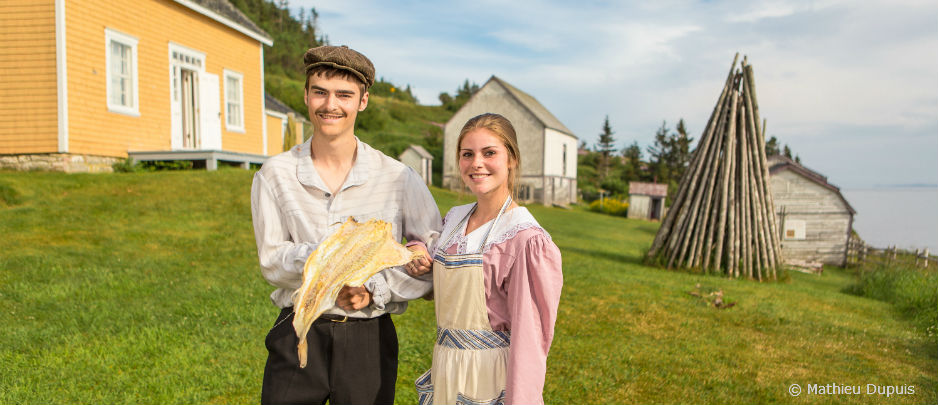 With the arrival of the first European settlers, cod fishing became an important economic activity in Gaspésie. The reputation of local dried salt cod is still recognized throughout the world under the name Gaspé Cured. At the Lelièvre, Lelièvre et Lemoignan fish market in Sainte-Thérèse-de-Gaspé, you can see cod being dried on flakes, a traditional method of drying fish inspired by First Nations and Jersey Islander know-how. The Route de la Morue (Cod Route) is a reminder of how much this deep-sea fishery is part of the history of this region.
Although few traditional cod fishers are left since the moratorium of 1993, fishing in general remains a important economic activity in Gaspésie. Out of love for their trade, cod fishermen became shrimpers, lobster or crab fishers or sea farmers. Today, they harvest exceptional products that are prized throughout the world.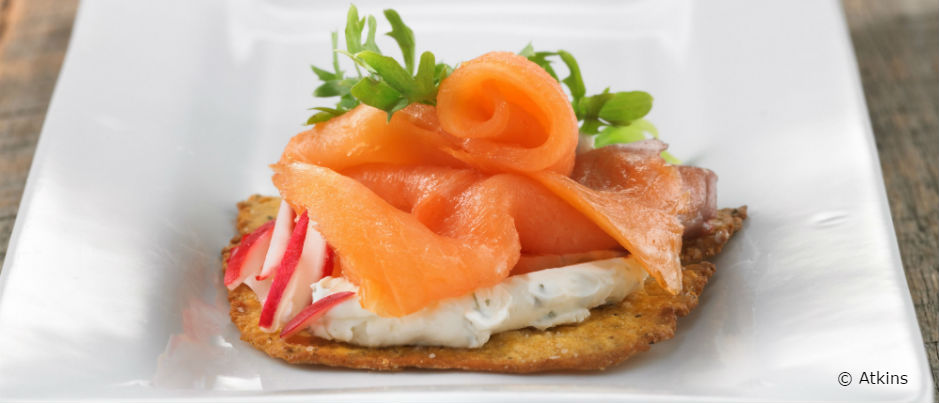 Smoking fish is an art! Gaspésie is home to many artisans who are masters in the art of hot or cold smoking fish and seafood, including Atkins & Frères in Saint-Maxime-du-Mont-Louis and the Fumoir Cascapédia Smokehouse in Cascapédia-Saint-Jules. You'll find tasty products in their shops, including some that may surprise you!
Inspiring chefs and food artisans: Where to savour local flavours of the sea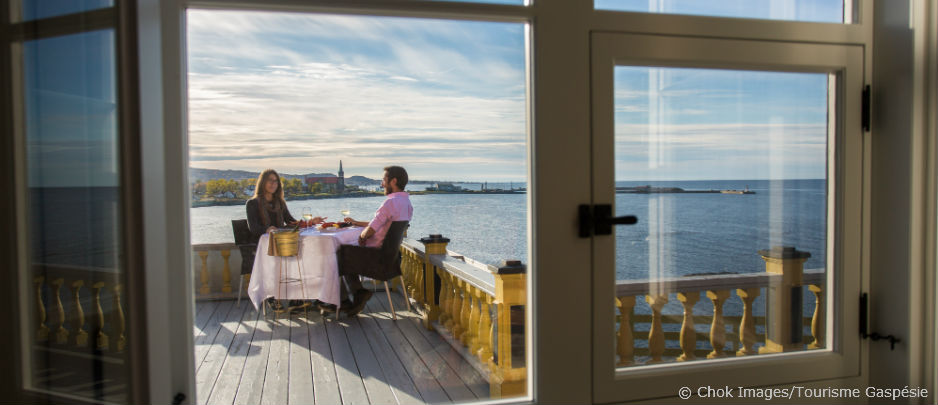 Here are a few places to visit where you can try innovative and tasty seafood dishes and/or find exceptional takeout items to enjoy during a delicious picnic or as appetizers or meals.
Seafood availability in Gaspésie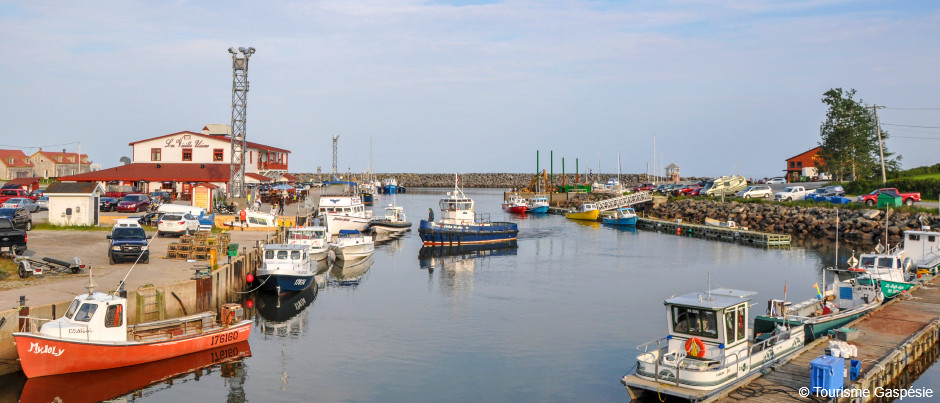 The fishing or harvesting seasons mentioned below are provided as general guidelines only. Dates may vary according to the authorizations issued by the Minister of Fisheries, Oceans and the Canadian Coast Guard.
Snow crab: April to June
Northern shrimp: April to October
Oysters: mid-April to December
Whelk: late April to late October
Lobster: May to July
Atlantic halibut: May to October
Cod: July
Look for the Smarter Seafood logo (a blue fork)! This certification granted by Exploramer recognizes restaurants and fish markets that offer at least two marine species found on the list to be promoted during the current year, i.e., edible species that are present in sufficient quantities in the St. Lawrence, are relatively unknown to consumers and are fished using techniques that don't disturb the seabed. You can consult the list of Smarter Seafood species on the Exploramer website.
Take action and support Mange ton Saint-Laurent ("Eat Your St. Lawrence")! This is a great initiative that recognizes the importance of the St. Lawrence in improving food self-sufficiency. This site (in French only) contains interesting articles as well as information about where you can purchase products from the St. Lawrence or even order them online.
Other things you should know:
Keep an eye out for the Gaspésie Gourmande Mer logo, which identifies 100% local seafood products (caught or farmed locally as well as processed and sold locally). Click on "Poissonneries" for the names of participating fish markets.
Local lobster and northern shrimp have earned the Marine Stewardship Council (MSC) certification, which means these wild seafood fisheries meet international best practices for sustainable fishing.
Fisheries and Oceans Canada prohibits seaweed harvesting by individuals unless the seaweed has broken off naturally.
Gaspésie, a sea of spectacular mountains and flavours worth discovering!
If you liked this article, you might also like...