The

Québec maritime Blog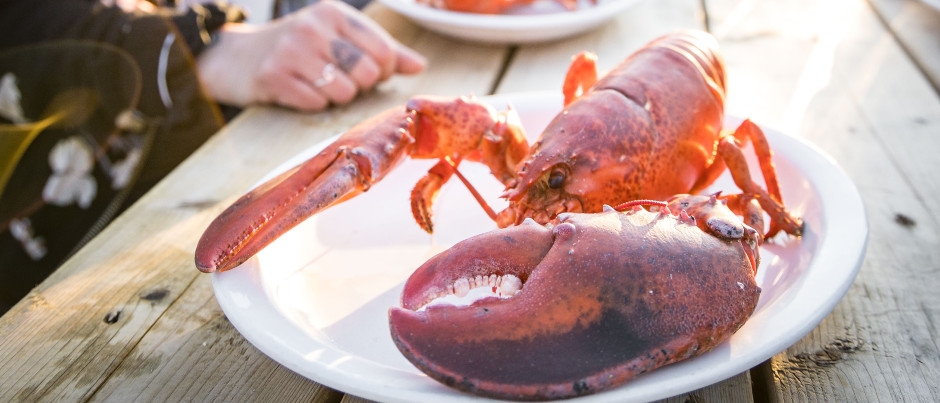 Off the Coast of the Îles de la Madeleine… A Sea of Flavours!
Located in the middle of the Gulf of St. Lawrence, the Îles de la Madeleine are a string of islands linked by sand dunes featuring red sandstone cliffs illuminated by the setting sun and colourful houses and fishing harbours that contrast with the blue of the sea and sky... Out at sea, fishermen haul in their catches, which are then transformed into culinary delights by local food artisans and chefs.
Exceptional seafood: Island lobster
Island lobster is so distinctive that it's carefully tagged so you can identify exactly where it came from, like a fine wine. Local lobster has abundant and delicate flesh, which is both sweet and slightly salty, the result of a shell hardened by the cold waters and rocky bottoms of the St. Lawrence.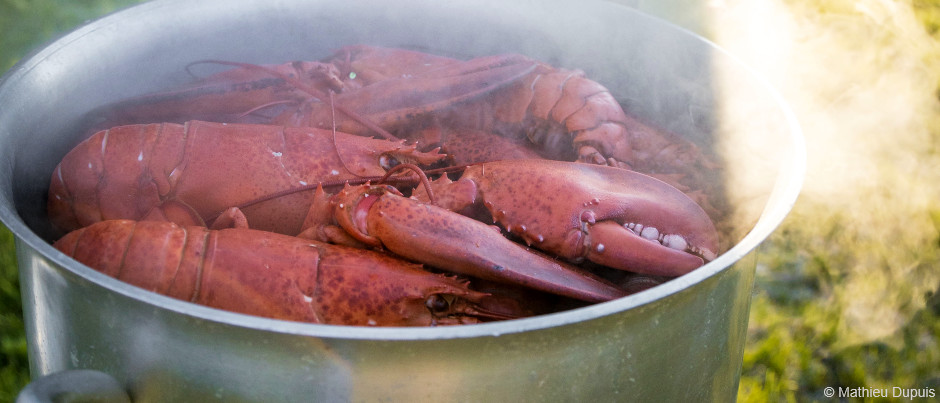 To the Islanders, lobster is a highly prized delicacy. They honour it by eating it in the simplest way possible (generally steamed rather than boiled) and won't even dip it in garlic butter! In fact, before you dip the meat into anything, be sure to taste it on its own to appreciate all its subtle flavours. While you're visiting the archipelago, you can also try snow crab, another popular crustacean fished locally.
Freshly cooked lobster and crab are also delicious in club sandwiches, chowders and salads. And, of course, you have to try a guédille: a hot dog bun stuffed with a generous serving of lobster or crab meat mixed with flavoured mayonnaise. This is a popular item at roadside snack bars!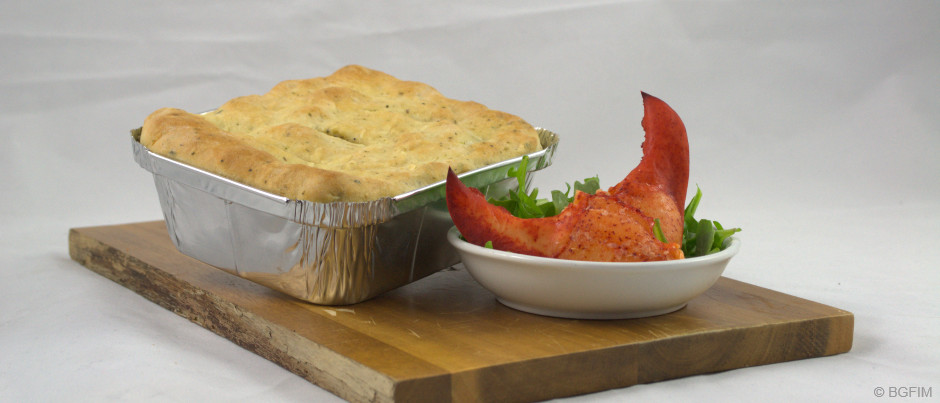 And then there's the famous pot-en-pot (pot pie), a delicious seafood chowder usually made with lobster, shrimp and scallops that is then baked between two layers of puff pastry. Lobster tomalley is sometimes added to the mix and can also be enjoyed as a spread. Don't even think about how many calories you're consuming: just make sure you don't miss out on trying this island specialty!
Delicious local shellfish
The Îles de la Madeleine are also known for their sea scallops. Offshore fishing is done using a hydraulic dredge, which minimizes the impact on seabed habitats. Sea scallops are also farmed in the Havre-aux-Maisons lagoon, a temperate environment rich in food that allows the scallops to grow to an impressive size in about three years.
The best way to enjoy the delicate flavour of this shellfish is fresh and raw with a dash of oil and a hint of lemon! Sea scallops are also delicious roasted or served as a ceviche.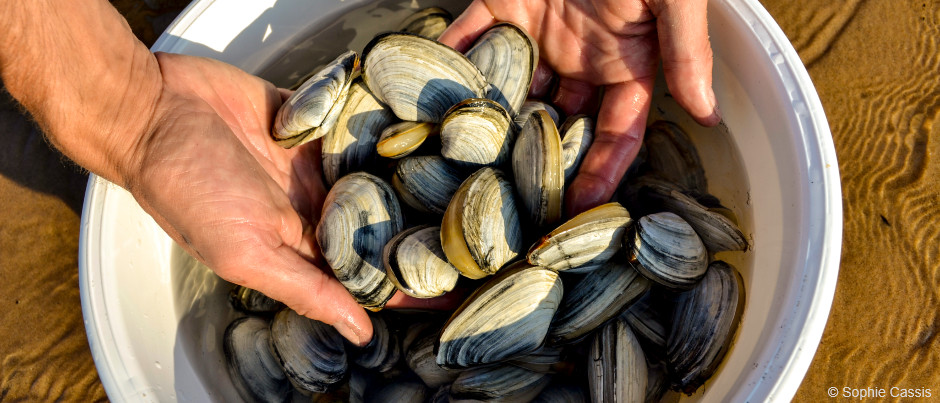 Softshell clams can be harvested along most of the Islands' sandy shorelines, unless otherwise indicated. They are always picked by hand or using a clam fork, usually at low tide. But the challenge is to figure out where they're hiding! In addition, these shellfish have a short shelf life, so you may be better off buying them fresh in a local fish market. Note that Auberge La Salicorne offers clam-fishing excursions.
Softshell clams are more tender and slightly sweeter than regular clams. Some fishermen like to eat them raw, straight out of the water. They're also delicious cooked in a bouillon of white wine and herbs. Of course, you can also try them battered and deep-fried—the lighter the batter, the better!
Blue mussels have been farmed on the Islands for over 30 years. Cultivated in the open sea and larger than wild mussels, they have a saltier flavour than those grown in interior bays.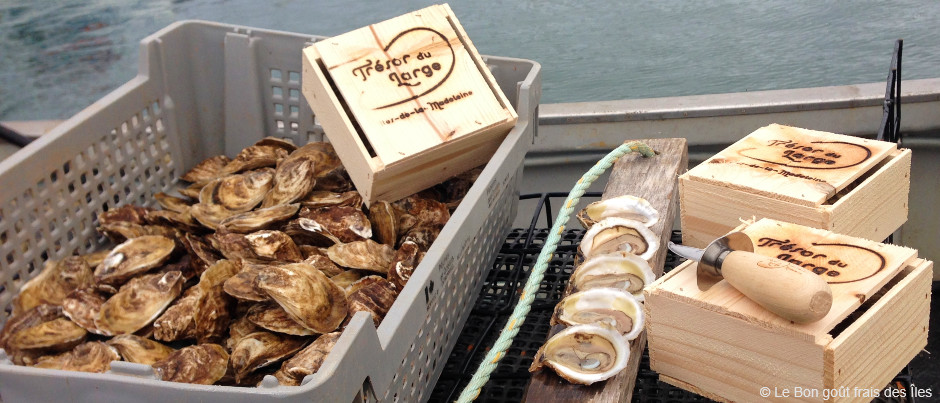 If you're an oyster lover, you'll be happy to know that two of the three types of oysters currently cultivated in Québec are found in the Islands. Trésor du Large oysters are farmed at a depth of about 20 metres (70 feet) in the inland sea of the Gulf of St. Lawrence by Les Cultures du Large. Originally from New Brunswick, these molluscs are grown for two to three years in the cold waters of the gulf. Saltier than oysters bred in bays or lagoons, Trésor du Large oysters are fleshy and juicy, with a distinct taste of the sea. They're easy to open and make a great appetizer!
More recently, Grande-Entrée oysters are now being cultivated on the Islands by Grande-Entrée Aquaculteur. These oysters are slightly smaller and less salty, but just as delicious. To learn more about shellfish farming and lobster fishing, visit the interpretation site at Les Cultures du Large, which also offers sea-farming and lobster-fishing excursions.
Mackerel fishing has a long tradition in the Îles de la Madeleine. This small fish is still caught off the Islands today, but on a smaller scale. You can enjoy mackerel prepared in many ways: grilled, fried, smoked, etc. It is usually cooked with the scales removed.
Another fish to try is Atlantic halibut (not to be confused with Greenland halibut, which is also known as turbot): try a tasty, pan-fried fillet or a ceviche made with halibut cheeks. This species is increasingly available, since the population is doing well, as is the small deepwater redfish (also known as beaked redfish), a odd-looking fish with firm and very flavourful white flesh. Both of these species are promoted by Smarter Seafood (see the sidebar below for more information).
Traditional know-how: Lobster fishing and smoked herring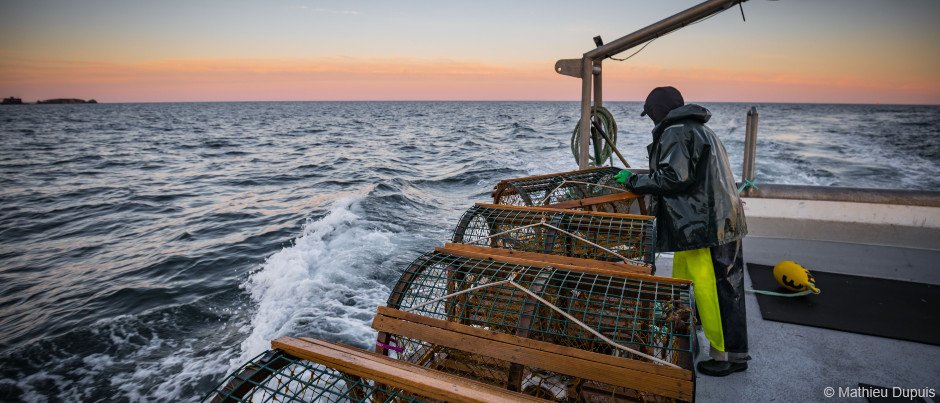 Since the locals have been fishing lobster for nearly 150 years, the lobster season is woven into the social fabric of the Islands. Every year, the beginning of the season is marked with festivities, including a mass for sea workers, blessings of the boats and fireworks. On the day the boats are first launched, the entire population of the archipelago is invited to witness them heading out to sea at dawn. The excitement is at its peak in the Islands' 10 fishing harbours, where over 300 lobster boats await the departure signal. On Grande Entrée Island, a festival also celebrates the end of the season.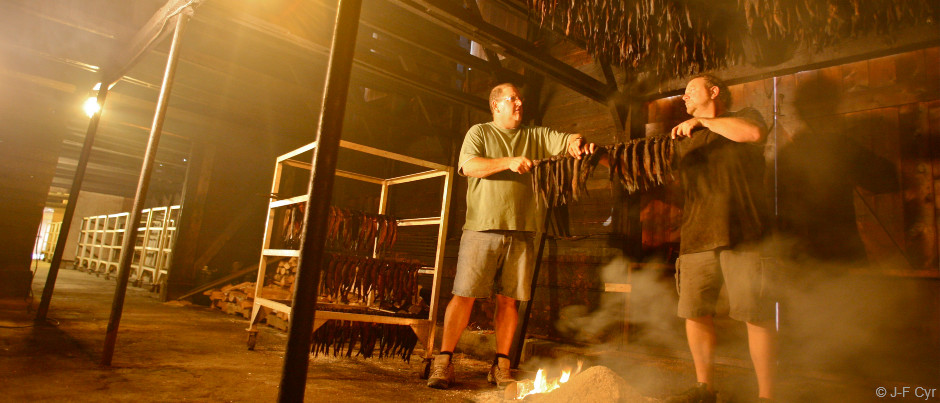 Smoking herring was part of daily life for many generations of Islanders until this small fish almost disappeared, which led to the closure of the 40 smokehouses found on the archipelago. When the herring population showed signs of recovery as the fish returned to spawn in the gulf, this tradition was revived thanks to the determination of the Arseneau family, owners of the Fumoir d'Antan smokehouse.
You will be amazed by the sight of thousands of copper-coloured herring suspended over maplewood embers. In addition to traditional smoked herring, which has a rich and full-bodied flavour, Fumoir d'Antan also offers many other smoked products with subtler tastes. You can visit the smokehouse economuseum to learn more about the art of smoking fish.
Seal meat: A unique and exciting flavour
Seal is a traditional meat from the Îles de la Madeleine that is making a reappearance on local restaurant menus. Both harp and grey seals are available to eat on the Islands. The hunt for seals is well-regulated and responsible; the Inuit have been hunting these animals for at least 3000 years.
You don't have to be a daring gourmet to discover this wild meat, which has a similar taste to moose or deer. Chefs tend to serve it as tataki or tartare, as seal meat is very lean (2% fat). It certainly shouldn't be overcooked! The texture is rich and melts in your mouth; it's not fishy but has a slight iodine taste. The Boucherie Côte à Côte butcher shop in Cap-Aux-Meules offers dry sausage, liver mousse, merguez and shredded meat. All you have to do is give it a try!
Inspiring chefs and food artisans: Where to savour local flavours of the sea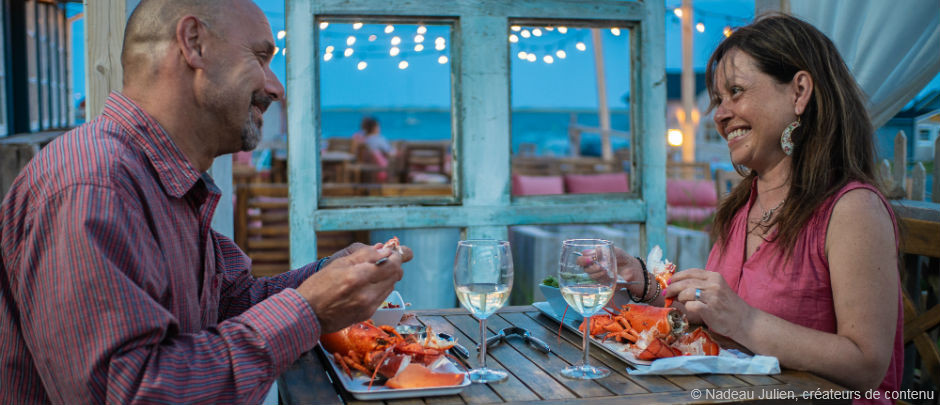 Here are a few restaurants and cafés that feature fish and seafood on their menus:
Seafood availability in the Îles de la Madeleine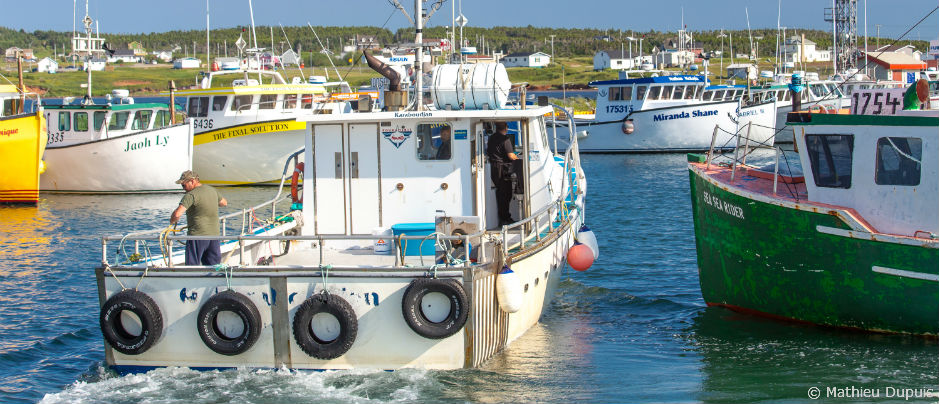 The fishing or harvesting seasons mentioned below are provided as general guidelines only. Dates may vary according to the authorizations issued by the Minister of Fisheries, Oceans and the Canadian Coast Guard.
Snow crab: April to June
Mussels: April to July
Scallops: April to July (for a maximum of 14 days)
Lobster: May to July
Atlantic halibut: May to October
Mackerel: May to November
Trésors du Large oysters: year-round
Look for the Smarter Seafood logo (a blue fork)! This certification granted by Exploramer recognizes restaurants and fish markets that offer at least two marine species found on the list to be promoted during the current year, i.e., edible species that are present in sufficient quantities in the St. Lawrence, are relatively unknown to consumers and are fished using techniques that don't disturb the seabed. You can consult the list of Smarter Seafood species on the Exploramer website.
Take action and support Manger notre Saint-Laurent ("Eat Our St. Lawrence")! This is a great initiative that recognizes the importance of the St. Lawrence in improving food self-sufficiency. This site (in French only) contains interesting articles as well as information about where you can purchase products from the St. Lawrence or even order them online.
Another thing you should know: Le Bon Goût Frais des Îles is an association that promote local food producers and artisans as well as stores and restaurants that feature local products and ingredients. Visit their website (in French only) for a list of their members and keep an eye out for their logo!
The Îles de la Madeleine, a complete change of pace and scenery—
and a sea of flavours worth discovering!
If you liked this article, you might also like...