The

Québec maritime Blog

A Three-Day Whirlwind Adventure on the Îles de la Madeleine
Looking for a radical change of scenery? Treat yourself to a getaway to a land caressed by sea breezes and lilting Acadian accents that soothe the mind, relax the body and capture the heart. After a flight or boat journey to the middle of the Gulf of St. Lawrence, three days on the Îles de la Madeleine offer a unique getaway experience. But it's not without risk: you may fall under the spell of the Islands at any moment. Should you explore the crescent-shaped archipelago from east to west, from north to south or by undertaking day excursions from a central point? Here's an itinerary to make the most of your whirlwind island adventure.
Welcome to the Maggies! Whether you take the boat to Cap-au-Meules or fly to Havre aux Maison Island, you will arrive in the middle of the archipelago. Before hitting the road (which in this case refers to Route 199, the one road that will take you across the entire archipelago), you have to choose your mode of exploration. One possibility is Autobus Les Sillons, which offers customized and ultra comfortable bus tours of the archipelago. Another great way to explore the Islands is by bike, since the main road is only 85 km (53 mi.) from one end of the archipelago to the other. However, to make the most of your stay, you'll want to rent a vehicle in Cap-aux-Meules. You won't regret it—as the landscape unfolds beyond your windshield, you'll realize there'll be lots of opportunities to hike the hills and stroll along beaches… and everywhere you look, the sea will beckon. A stop at the tourist information bureau to pick up a map and a few tips on what to see and you're all set. Next stop, Grande-Entrée at the northeastern tip of the archipelago!
Day 1: Grande-Entrée
The 58 km (36 mi.) that separate Cap-aux-Meules from Grande-Entrée give visitors a lovely introduction to the unique geography of the Maggies. Grosse Île is accessible via Dune du Nord, a long slender sand dune that is only interrupted by tiny Île aux Loups. It's hard to resist the charm of this strip of white sand that stretches between sea and lagoon. Once on Grosse Île, you'll want to head to Grande Échouerie, one of the most beautiful beaches on the planet. Next, Grande Entrée Island invites you to relax and explore one of the most authentic areas of the archipelago.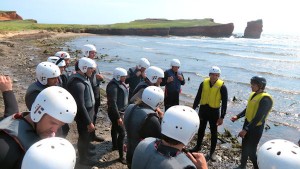 Excursion in the caves at La Salicorne © David Lang
Why not stay at La Salicorne? Perched on a hill, this country-style inn offers warm hospitality and will fully immerse you in Island living. A few must-dos: a tour of the Grande-Entrée wharf, one of the largest lobster fishing ports in Québec; a guided nature walk to East Point to explore a fragile environment and discover its flora and fauna; and last but not least, a unique excursion in a wetsuit to explore the caves along the coast—a thrilling adventure you won't soon forget! End your first day on the Islands with delicious local fare in a festive atmosphere. You can be sure the fresh sea air and the sound of the waves will lull you to sleep in the comfort of your room!
Day 2, AM: Havre-aux-Maisons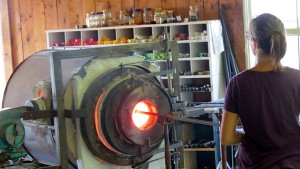 The glass piece is heated and molded in this big oven at La Méduse © David Lang
A tip: for your first morning on the Maggies, set your alarm at sunrise. The payoff is doubly worth it: you get to enjoy a magical moment while ensuring you get to savour every second of sunlight on this island paradise.
After a filling breakfast, head back to Havre-aux-Maisons via Route 199. There are at least three stops to make along the way: first at Verrerie La Méduse, to admire glass blowers at work in a former school turned workshop and boutique; next, at the Pied-de-Vent cheese shop, which produces an excellent cheese of the same name as well as other delicious raw milk cheeses; and finally at the historic buildings of the Fumoir d'Antan smokehouse, where the Arsenault brothers—4th-generation smokehouse operators—will give you a taste of their traditional smoked herring. At this point, it'll almost be noon—time to move on!
Day 2, PM: L'Étang-du-Nord
Continue west on Route 199. On Cap aux Meules Island, you'll want to stop for lunch at La Table des Roy, a gourmet restaurant in L'Étang-du-Nord, where you can savour the best and the freshest of what the Islands have to offer. This is your opportunity to decide whether the Island lobster's international reputation is deserved. Next, to work off your meal, heed the siren call of the outdoors… Nearby Parc de Gros-Cap is a great place to go sea kayaking in an exceptional natural site along beautiful beaches and jagged red cliffs dotted with caves. Whatever you choose, you're in for a treat. If there's still time, go for a stroll along the water's edge, which unfolds from cape to lighthouse, or relax on a beach. Then head towards Havre Aubert Island, at the southern tip of the archipelago.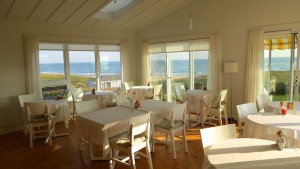 The dining room at Havre-sur-Mer with a a great oceanview © David Lang
Where to stay? Two options are better than one: Auberge Havre-sur-Mer is a little jewel by the beach, while Auberge chez Denis à François is a testament to Island hospitality, with the bonus of an excellent restaurant.
Day 3: Havre Aubert Island
Warning: this last day will appear to slip by faster than the grains of sand in the hourglasses for sale at Artisans du Sable. Visiting these famous sand artisans is a good way to begin your day. More than a boutique, this is a centre of creativity where you can find one-of-a-kind souvenirs sculpted from local sand. Next, go for a stroll at the nearby La Grave heritage site, a beautifully preserved slice of local history that includes a cluster of old fishing buildings along a lovely pebble beach. Stop in at the Café de la Grave, a unique family-owned restaurant where you can listen to music while savouring local delicacies in a friendly atmosphere. Havre Aubert Island is home to many other treasures… but time is running out and you need to head east for one last stop.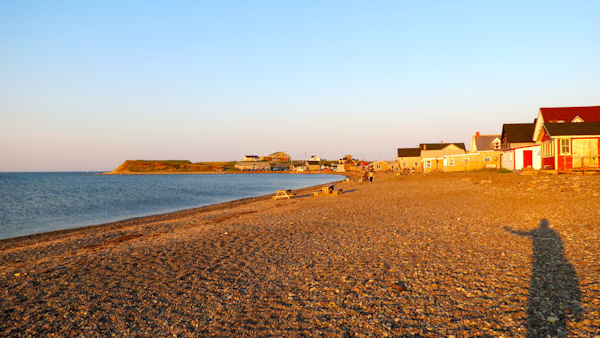 One of the many beaches, this one in La Grave © David Lang
One possibility is Parc du Site de la Côte, right next to the L'Étang-du-Nord fishing harbour, where colourful and quaint boutiques offer their tempting wares, including all kinds of kites, since the Islands are a great place for wind sports. To drown your sorrows (in moderation) at the prospect of leaving, take a tour of the À l'Abri de la Tempête microbrewery, where you can sample their homemade beers. Cheers!
During your whirlwind adventure you will have experienced the best the archipelago has to offer: its natural scenery, at once wild and serene; distinctive products inspired by the wind and sea; the creativity of its inhabitants and their inimitable sense of sharing. Goodbye for now—the Islands look forward to your return visit!
If you liked this article, you might also like...