The

Québec maritime Blog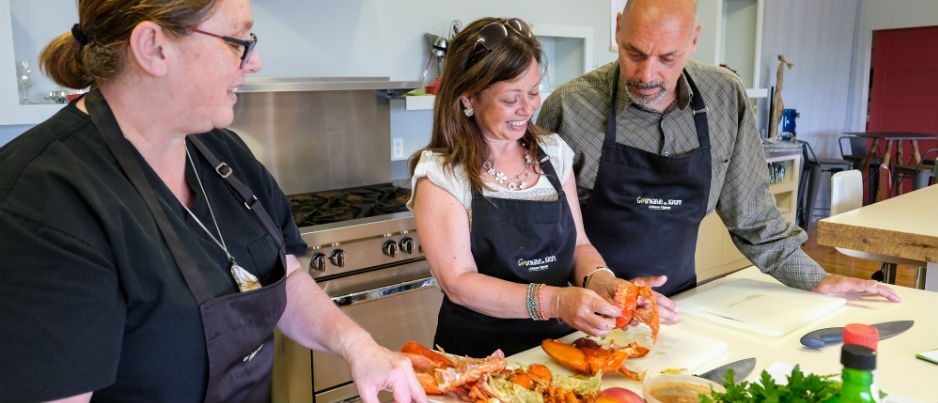 Gourmande de Nature
Nadeau Julien, créateurs de contenu
Flairs and Flavours of the Îles de la Madeleine
An Inspired and Inspiring Archipelago
What do raw-milk cheese, sand sculptures, blown-glass jellyfish and smoked herring have in common? Each occupies a place of pride among the flairs and flavours of the Îles de la Madeleine. Charm, freshness and novelty join to create a special appeal that you'll only find in this archipelago.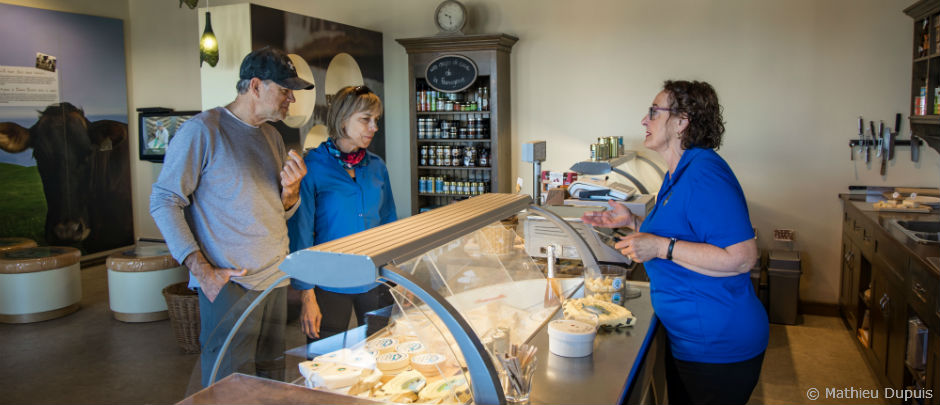 It's love at first sight from the minute visitors arrive on the Islands. Some of the best souvenirs found in the archipelago are local crafts and food products, which will help you remember the magic of a trip you'll wish could have lasted much longer. This is the case for the products from the Fromagerie du Pied-de-Vent cheese factory, which is also an economuseum. Learn how milk from the cows grazing on a neighbouring farm is adeptly transformed into a variety of delicious cheeses by passionate artisans who started their cheese-making adventure in 1998. You can then taste Pied-de-Vent, a soft raw-milk cheese lightly washed in brine and ripened for 60 days. You'll be blown away by the exceptional flavour of this cheese, which can definitely hold its own against the likes of Saint-Nectaire!
Freshness and fine dining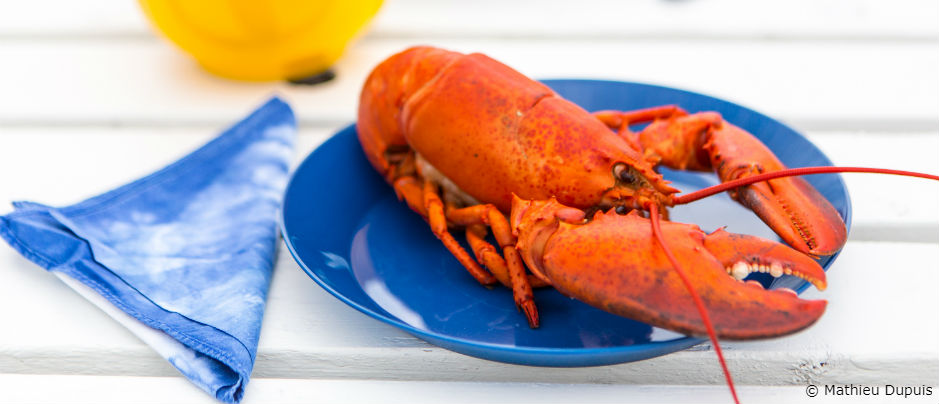 The Îles de la Madeleine region calls to mind the sea, and the sea means plenty of seafood. In a land where freshness and fine dining are the rule, a typical seafood dish features the one and only island lobster. The traditional know-how of local fishers, together with the quality of the environment in which this precious crustacean is harvested, have established the island lobster's worldwide reputation. To savour this dish and other delicacies from the Gulf of St. Lawrence (including crab, mussels, scallops, shrimp and fish), discover local specialties such as the famous pot-en-pot (seafood pot pie) and enjoy all gourmet facets of the Islands (including meat and deli products, fresh produce, baked goods, alcoholic beverages and honey). Keep an eye out for the Le Bon Goût Frais des Îles de la Madeleine logo (website in French only). This label (which means "A Fresh Taste of the Islands") certifies food producers, points of sale and restaurants that showcase the best of the Islands' local products. If you're in the mood for fine dining, look no further than the restaurants at Auberge La Salicorne in Grande-Entrée and Château Madelinot in Fatima. You'll also want to try Gourmande de nature in L'Étang-du-Nord and Café de la Grave at the La Grave heritage site in Havre-Aubert.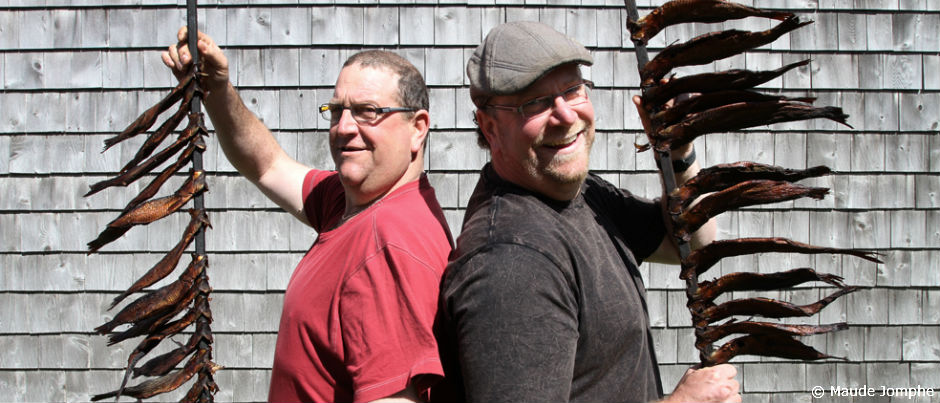 To tantalize your taste buds even more, you can visit the Fumoir d'Antan smokehouse. The Arseneau brothers will offer you a sampling of their traditional smoked herring as they proudly explain their trade, a story that goes back four generations.
Lastly, for more proof that human ingenuity and island ingredients combine to produce exquisite flavours, the À l'Abri de la Tempête microbrewery is well worth a visit. Operated by two Quebecers who fell in love with the Islands, this microbrewery has won a multitude of awards for its beers, which are brewed from local ingredients. You can also find out more about how beer is made as the brewers share their passion for their craft.
The power of imagination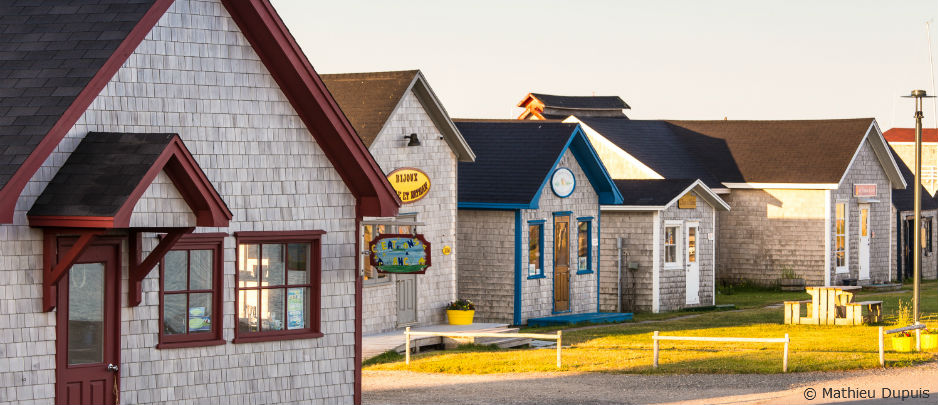 Once you've had your fill of food and drink, it'll be time to feast your eyes and imagination! Whether they're inspired by the surrounding landscapes, the sound of the wind or their Acadian souls, the Islanders have an abundance of artistic talent that forges connections between nature and people throughout the archipelago.
At the La Grave heritage site or the Site de la Côte, for example, you'll be delighted by the array of boutiques and galleries featuring the works of a variety of artists and artisans, including sculptors, painters, jewellers and makers of decorative objects.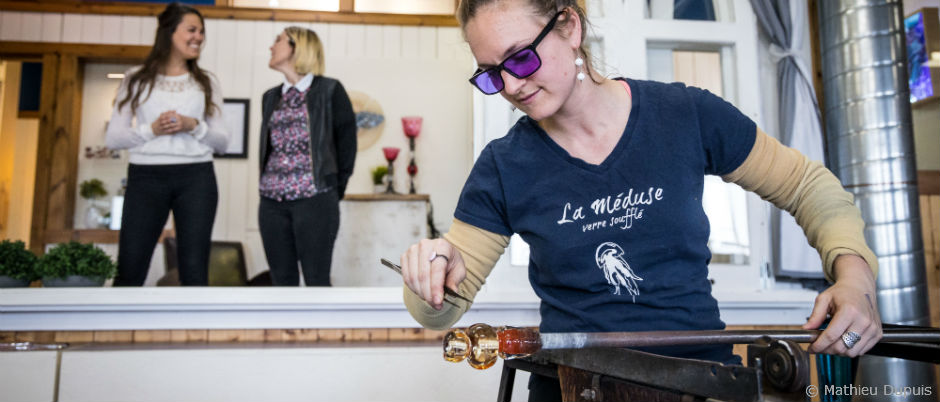 However, if one had to choose just two places that truly represent the spirit of the Islands, the first would be the Grande École in Havre-aux-Maisons, where you can meet François Turbide and his partners in crime (including Sophie Bourgeois, who is featured on this blog). This century-old schoolhouse has been home to the La Méduse glass studio since 2005. Watch the glass blowers at work and admire the distinctive pieces that come out of the kilns—you'll be mesmerized! In addition to visiting the studio and the boutique, which also showcases the works of other talented Islanders, you can stroll through an exhibition area and learn even more about the art and artisans of the Islands. Of course glassmaking requires sand… a plentiful resource in this archipelago that boasts 300 km (190 mi.) of beaches.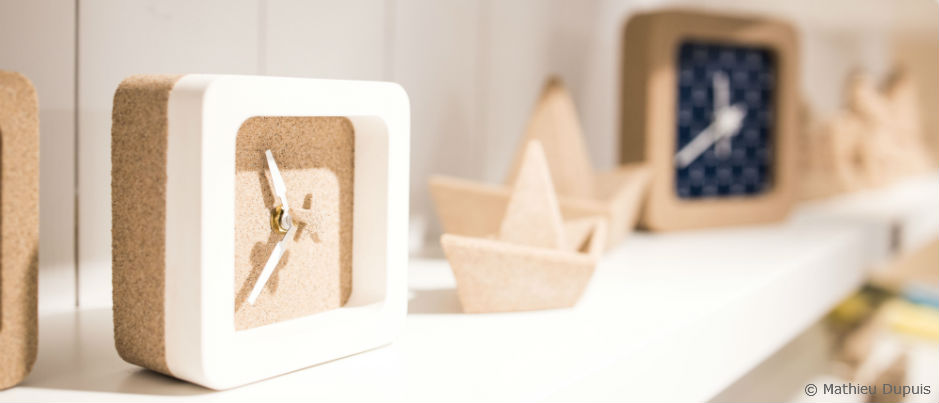 The other place not to miss is Atelier Côtier, at the gateway to the La Grave heritage site, where you can meet Pauline-Gervaise Grégoire. The gifted sand artisans who work here employ a secret process to transform their raw materials into some of the most unexpected objects: lamps, trays, candlesticks, hourglasses, clocks, chess sets, decorative objects, urns, etc. Their work is beautiful, ecological, a little offbeat and reminiscent of the spectacular sandcastle competition first organized by Pauline-Gervaise's parents in 1987.
When we say that the Îles de la Madeleine will awaken your senses and stimulate your imagination, we're not kidding! Anyone who appreciates beauty in all its forms is certain to be awestruck by this region.
If you liked this article, you might also like...