The

Québec maritime Blog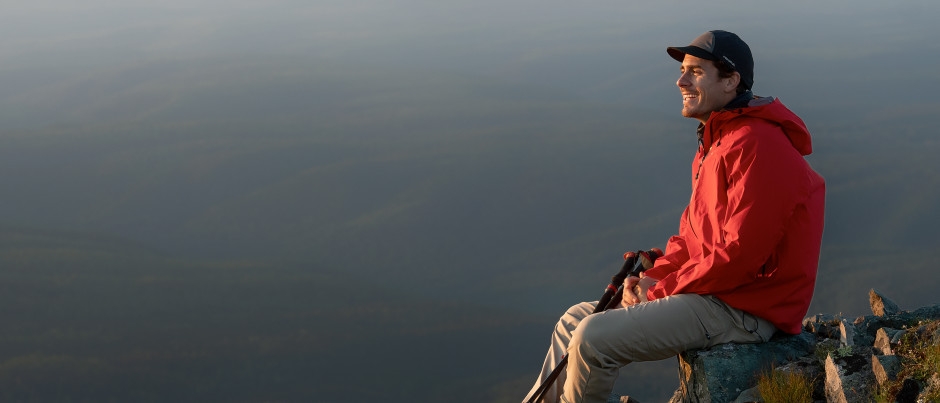 Portrait of Nature and Wildlife Photographer Éric Deschamps
Imagine leaving everything you know behind and launching into a completely new life where immense natural areas are found in your backyard… This is what Éric Deschamps did in 2016, when he left the city of Montréal and his actuarial studies to settle in Gaspésie. Nothing could have predicted his career as a wilderness photographer, and yet today his captivating photos testify to his love for wildlife as well as for Eastern Québec, his new home and playground.
An exciting vocation
When you follow Éric on social media and look at his photos, it's even more surprising to think that before he moved to our part of the world, he had no experience with photography. "I'd never touched a camera before. I bought one to show my family how beautiful Gaspésie is," he says. He learned the craft on his own by watching videos on YouTube.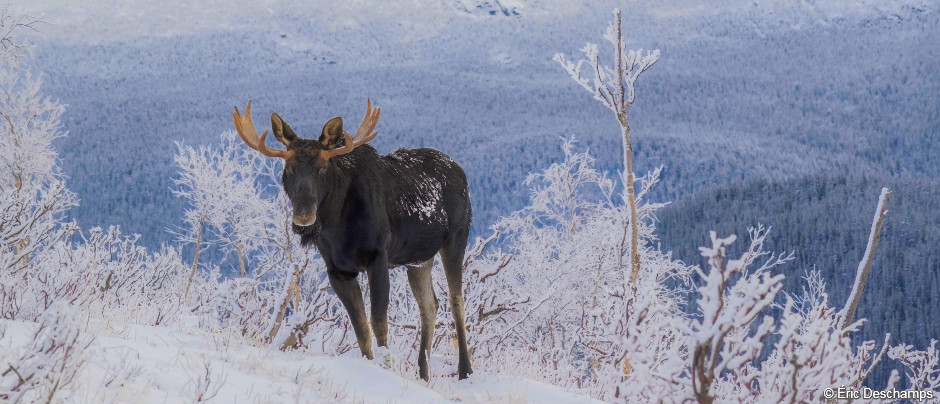 "My love of photography comes from my love of nature," explains Éric, who has also worked as a guide at Auberge de montagne des Chic-Chocs. The first wild animals he came across were moose, and "it was totally love at first sight!" Since the beginning of his career, he's had many remarkable encounters with these animals, including one in November 2016 in a magical winter setting dotted with snowy trees at the top of Mt. Ernest-Laforce in Parc national de la Gaspésie. In the video he shot, you can see several moose, including an imposing bull and a female that had some fun with his tripod. For Éric, moose are a symbol of presence and power, but at that moment, he also saw them as a sign that he'd made the right choice.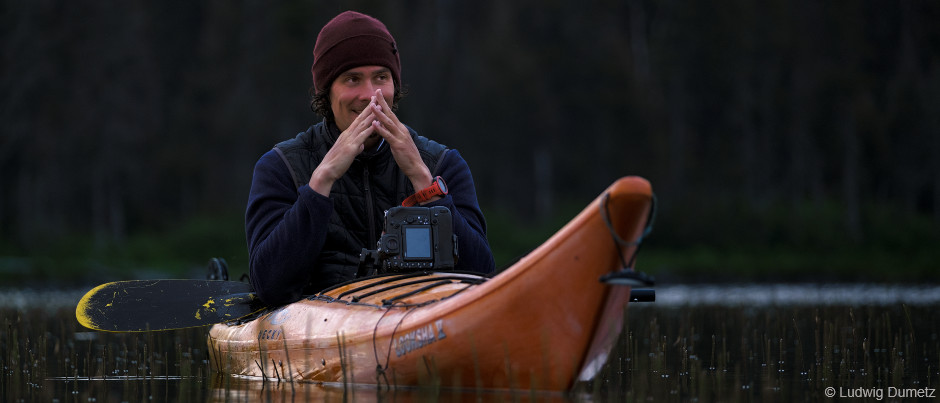 Are you wondering what Éric's daily life is like? Light plays a major role in his work. For example, in the summer, he mostly takes photos between 4 a.m. and 6 a.m. and between 7 p.m. and 9 p.m. "During the rest of the day, I'm scouting for locations, reading the field or doing research on animals. The key to capturing emotion in a photo is predicting an animal's behaviour," he explains. And this is the aspect of his work that he enjoys the most! You can feel it when you watch his stories on Instagram and Facebook, where he comments on his discoveries with authenticity and passion.
Rich natural environments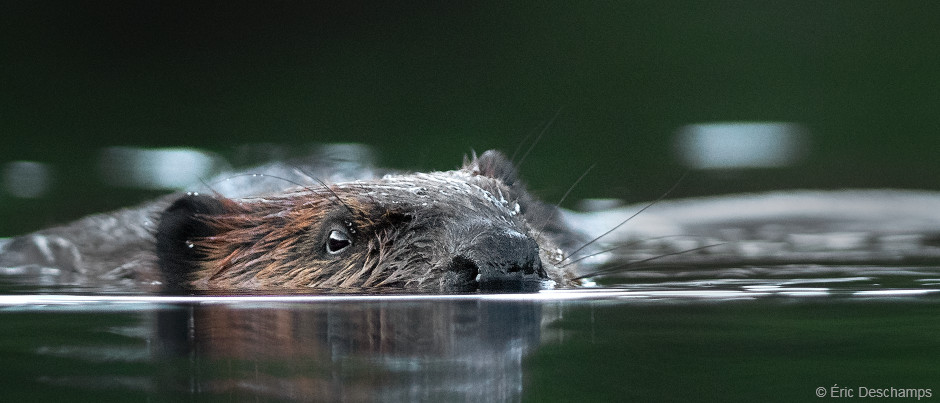 According to Éric, the regions of Eastern Québec abound with fabulous places to watch wildlife. This territory is full of rich natural environments of all kinds: the sea, mountains, lakes, rivers, etc. Obviously, national parks are places to visit: "Nature is so vast. National parks provide ideal settings for wildlife observation because you can see amazing things without spending hours looking for them. The parks also offer quality trails that often lead to fantastic views!" he says.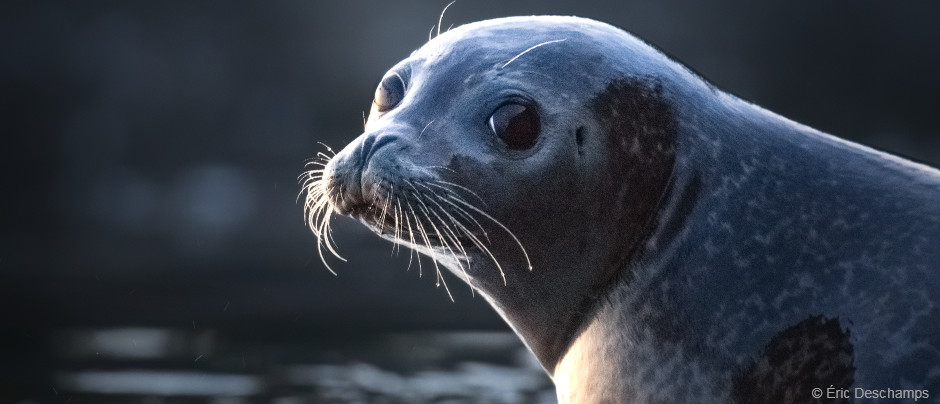 According to Éric, Forillon National Park in Gaspésie is where you'll find the greatest diversity of wildlife in Québec: "In two hours, you can see blue whales, black bears and foxes as well as birds such as double-crested cormorants and common murres." Parc national de la Gaspésie and the Chic-Choc Mountains are also worth a visit, with landscapes that range from wetlands to alpine tundra within 1000 metres (3300 feet).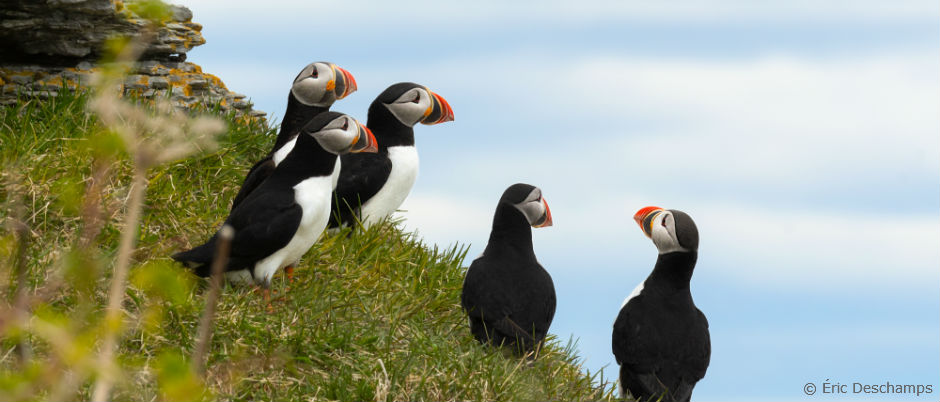 Éric also recommends Parc national du Lac-Témiscouata, in Bas-Saint-Laurent, which features diverse wildlife habitats and is a great place to observe birds, particularly in the spring. The Mingan Archipelago National Park Reserve, in Côte-Nord, is another place that fascinates him, with its many unique islands, including Île aux Perroquets (Parrot Island), which is home to a colony of nesting Atlantic puffins. "It's a great privilege to be able to observe these birds so closely on this tiny island," says Éric.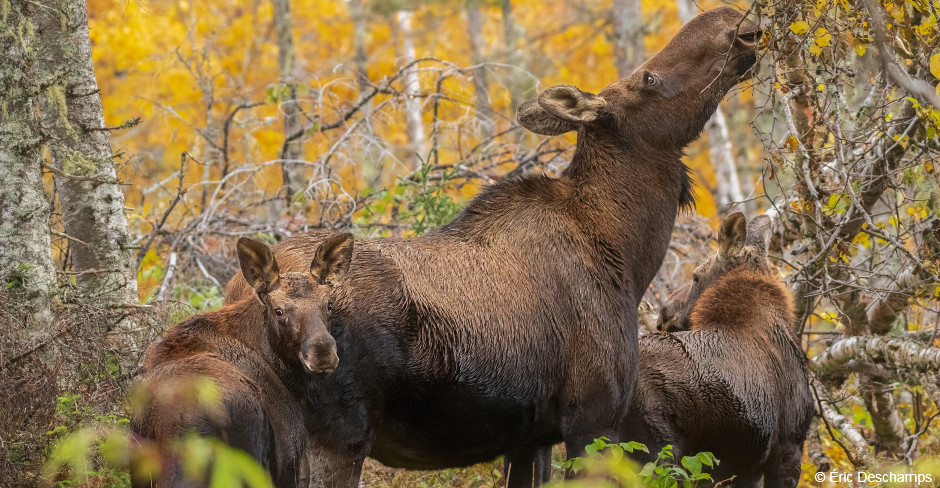 The seasons have a huge impact on a wildlife photographer's work, since they affect the life cycle of animals. Éric explains that spring can be ideal for observing seabirds such as scoters or common eiders. It's also the birthing season for members of the deer family. In August, he likes to observe the young as well as admire the animals' fur, which is prettier at this time of year. Fall is the breeding season, but it's obviously the bright colours of the leaves that steal the show, appearing in the background of his photos. According to Éric, winter landscapes are often underestimated: "They're really worth discovering! Plus, the animals are more conspicuous in the snow. You can easily see grouse, foxes or moose for example."
Éric's tips and tricks
"You have to start with a good mindset. When you walk in nature, it's like entering a cathedral, a sacred place," says Éric. You need to be quiet and respectful. According to him, people often hike at a fast pace, to reach the top of a mountain for example, without taking the time to look around them. It's important to be curious and pay attention to your surroundings. Of course, you also need to respect the natural environment by leaving no trace (i.e. making sure not to leave any garbage behind).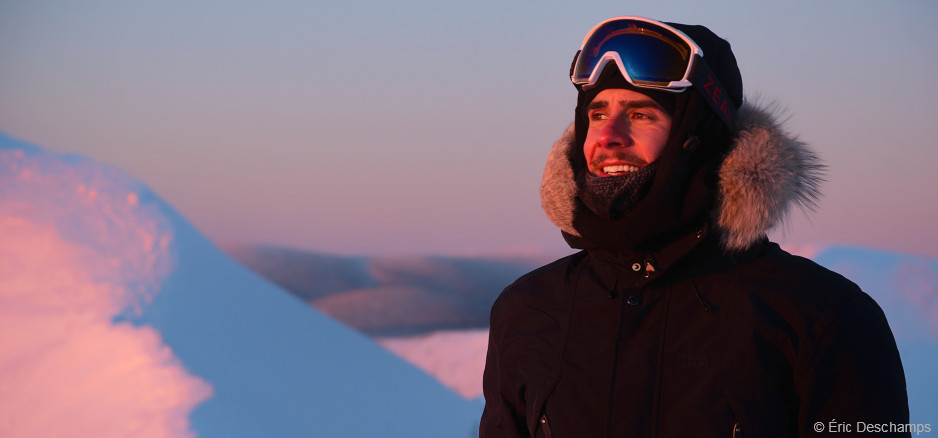 Another tip to make sure you enjoy your outing: check the weather forecast before you leave! "Québec experiences a wide range of temperatures during four distinct seasons. You just need to be ready and dressed for the weather—that's the secret! The best nature experiences and the biggest surprises don't always happen under blue skies!" says the outdoor enthusiast.
Through his work, Éric's mission is to make people fall in love with nature—so be sure to follow his adventures on social media! You'll undoubtedly be captivated by the vast natural landscapes of Eastern Québec and the fascinating wildlife that lives here.
If you liked this article, you might also like...