The

Québec maritime Blog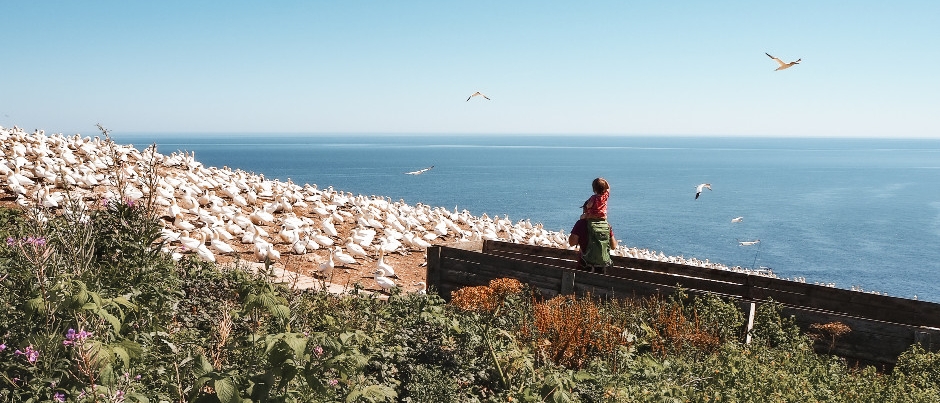 Parc national de l'Île-Bonaventure-et-du-Rocher-Percé
Authentik Canada / Sarah Mazière
Québec by the Sea: 12 Must-Sees for the Whole Family
Salty sea air, mountains, wide-open spaces and roads that stretch out as far as the eye can see: this is what we remember from our RV road trip through the maritime regions of Québec this summer. Given the unprecedented moment in history that we're all living through right now, this trip was exactly what we needed. After all, what better way to recharge your batteries than to spend some time in an RV rental in nature? Goodbye concrete and city noise, hello silence and sea breezes…
We spent 15 days exploring the roads of Côte-Nord, Gaspésie and Bas-Saint-Laurent, discovering sites that were each more magnificent than the last. So here are 12 places and experiences that we loved during our family vacation.
1. Ferme 5 Étoiles holiday resort
Sacré-Coeur | Côte-Nord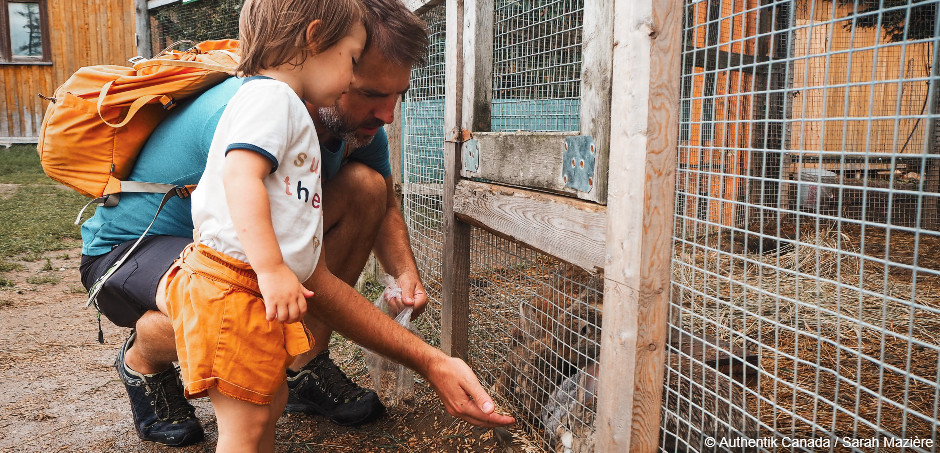 I fell in love with the Ferme 5 Étoiles holiday resort twice!
The first time was when I met the owners, Stéphanie and Yannick, both down-to earth people who spoke about the mission of their farm with passion and conviction. The farm staff works in harmony as a family, which you can tell is true when you meet the other members of the team.
The second was when I set out to discover this magnificent and unspoiled property along the majestic Saguenay Fjord.
We toured the land on quad bikes, one of the many activities offered on site, along with visits to the farm and participating in caring for the animals. They even have four-seaters so that small families can enjoy this adventure together.
When we arrived at the edge of the fjord, a group of kayakers had just set off for a three-hour excursion, and two hikers, who had arrived via the "Le Fjord" trail (which connects the Baie-Sainte-Marguerite sector to Tadoussac), were setting up camp on one of the tent platforms overlooking this magnificent setting.
As you can see, Ferme 5 Étoiles offers a wide range of outdoor activities, giving you many opportunities to commune with nature. Just what we were looking for!
In terms of lodging, you also have lots of options: campsites, cottages with views of the fjord, yurts, a trapper's camp, rooms at the B&B, etc. Whether you're travelling as a family or with a group of friends, you're sure to find something that suits you.
We spent a good chunk of the day at the farm, and our whole family fell under the spell of this charming site. One thing is for sure: next time, we'll spend at least two nights there!
2. A whale-watching excursion
Tadoussac | Côte-Nord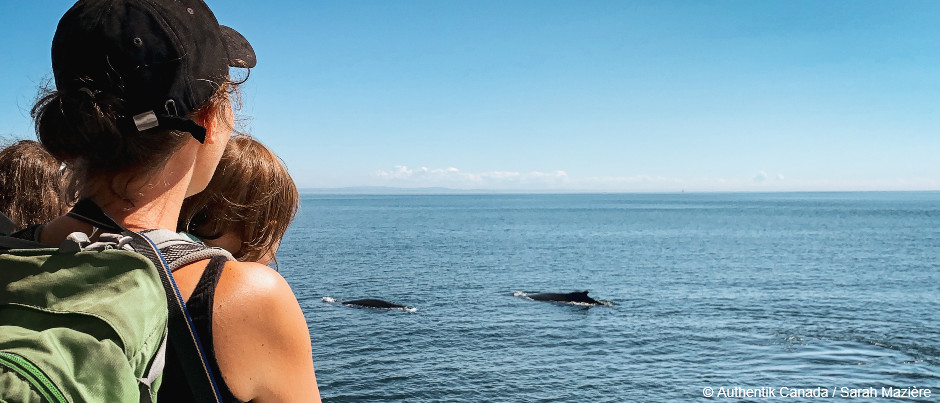 While planning my road trip with Authentik Canada, I had initially opted for a whale-watching excursion departing from Forillon, in Gaspésie.
But when I found out it was going to be in a Zodiac, I had to change my plans, not because I get seasick (I don't), but because I was travelling with my daughter, who is only two and a half years old. A sightseeing boat where you can walk, sit and play as well as have access to washrooms seemed more appropriate for us. So it was from Tadoussac, aboard the AML Grand Fleuve, a Croisières AML boat, that we set off on a three-hour excursion.
The Saguenay–St. Lawrence Marine Park is known to be one of the best places in the world to see whales. And rightly so! Seals, porpoises, fin whales, minke whales and humpbacks put on a majestic and unforgettable show for us!
We had the immense pleasure of watching two whales feeding. After spotting them both diving into the water, they disappeared for long minutes before suddenly re-emerging. Even the captain was startled!
As they opened their mouths wide to capture their prey, the round protuberances on top of their heads and white pectoral fins were clearly visible.
It was a unique moment!
3. Parc Nature de Pointe-aux-Outardes
Pointe-aux-Outardes | Côte-Nord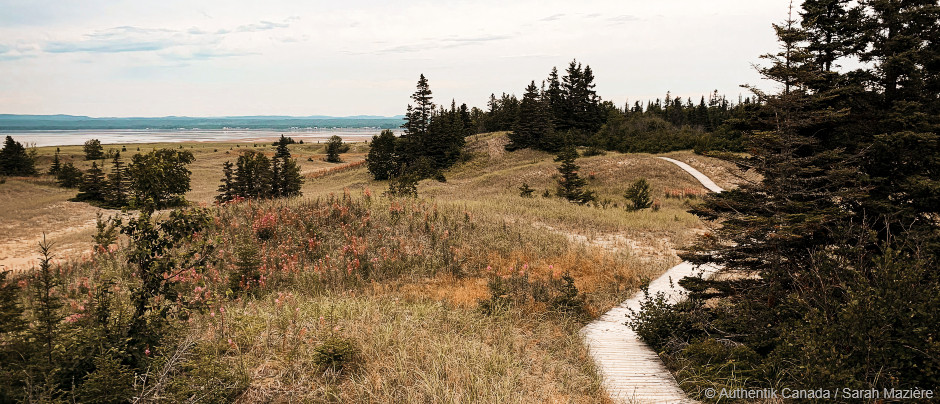 Our exploration of Côte-Nord led us to Parc Nature de Pointe-aux-Outardes, located about two hours northeast of Tadoussac, just before the city of Baie-Comeau.
This protected territory along the shores of the St. Lawrence has always had a conservation mission, which, over the years, has expanded on an ecological, educational, cultural and scientific level.
Here, we discovered a variety of ecosystems, including the boreal forest, sand flats, a peat bog, sand dunes and the largest salt marsh in Côte-Nord.
This diversity of habitats attracts many species of birds, which you can observe during a hike on one of the trails that make up the nature park's 10-km (6-mi.) network. This is a true paradise for bird watchers!
The nature park also offers campsites overlooking the sea as well as five "ready-to-camp" glamping units, which are giant birdhouses (their designs are inspired by different species of birds found in the park).
We spent a night in the giant birdhouse called Chouette Lapone ("Lapland Owl"), a tall, skinny building. Our daughter really enjoyed the room upstairs with three bunk beds. As for us, we appreciated the peaceful evening, sheltered from the rain in the rocking chairs on our birdhouse's covered front porch.
4. Parc national de la Gaspésie
Sainte-Anne-des-Monts | Gaspésie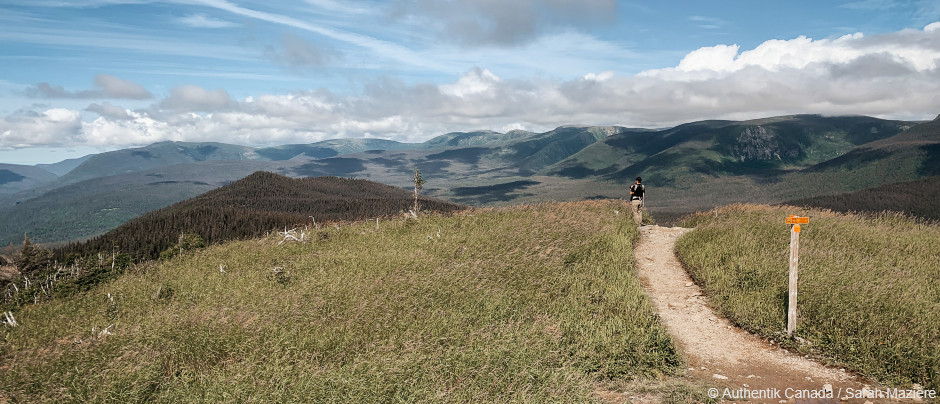 After three days of hiking in Côte-Nord, we were happy to settle down for two nights in Parc national de la Gaspésie. Following the advice of a park warden, we chose two hikes for this first exploration as a family.
We started the day with the Lac-aux-Américains trail, which is a 2.6-km (1.6-mi.) round trip. It took us two hours, which included a long break by the lake for a snack. The sun wasn't shining, but the low clouds caught in the surrounding mountains gave the site a mystical air.
In the afternoon, we were luckier with the weather: the sun shone brightly as we set off to explore the Mont-Ernest-Laforce trail. This is exactly the kind of trail I love. Firstly, because it's a loop, and secondly because you can admire unobstructed views almost the whole time. We soaked up the green mountain scenery under a beautiful blue sky… At the top, a 360° view of Mt. Albert and the surrounding mountains awaited us.
And to conclude this wonderful day, we encountered a moose!
Once again, we could have stayed a little longer to do other hikes, but that's the nature of road trips! We'll have to explore Mt. Jacques-Cartier next time.
5. Forillon National Park
Gaspé | Gaspésie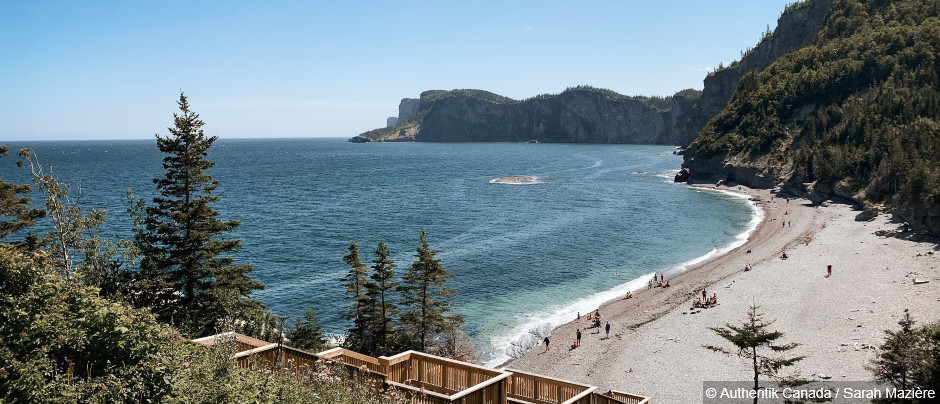 If I had to choose a favourite park from this road trip, it would be Forillon National Park. The landscapes that I love the most are all found here: the sea, dizzyingly high cliffs, beach and forest. Not to mention all the wildlife found in this park!
We set up camp there for three days, which is ideal, in my opinion, to enjoy this site. The park is divided into three areas: North, South and Penouille.
We stayed at the Petit-Gaspé campground in the South Area, which is perfectly located since it's near the trailheads for the most popular hikes.
We started with Cap Bon-Ami, which is easily accessible by car from the North Area, but there's also a trail that leads there starting from Grande-Grave, in the South Area. This is the option we chose.
A pebble beach and crystal-clear waters make this a picture-perfect setting. It's also the ideal place for a picnic. There are several tables near the parking lot that offer incredible views of the Gulf of St. Lawrence.
On the way back, we took the Mont-Saint-Alban trail, which leads to a tower. This trail is quite steep. If you're travelling with young children, make sure you have a baby carrier, unless your little adventurers are good walkers.
The next day, we took advantage of the beautiful beach at Anse-aux-Amérindiens before setting off on the famous trail that leads to Cap-Gaspé.
We opted to go in the late afternoon to be able to enjoy the beautiful light at the end of a summer's day as well as the sunset on the way back. We definitely made the right choice! We had Land's End all to ourselves, admired a magnificent sunset and heard the blows of the whales in the background.
A memory that we will cherish for a long time!
6. Micmac Interpretation Site of Gespeg
Gaspé | Gaspésie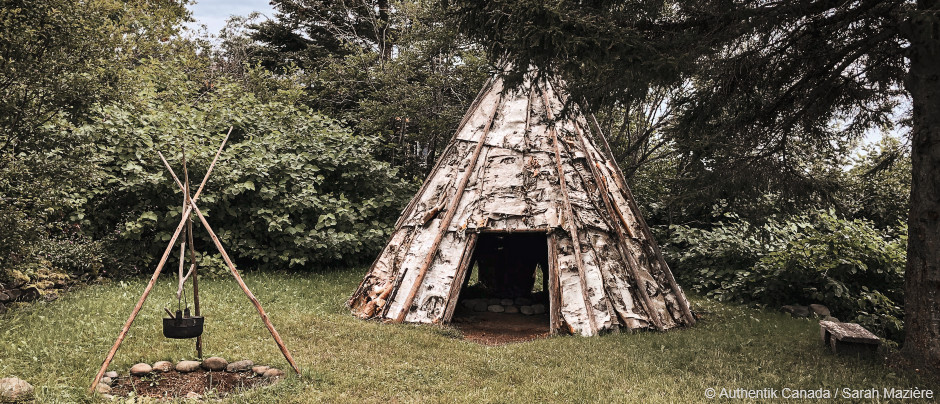 Although the site is a reproduction of a traditional 17th-century village, we enjoyed an authentic experience at the Micmac Interpretation Site of Gespeg.
During the visit, which lasts about 1.5 hours, our enthusiastic guide explained the customs and traditional beliefs of the Mi'gmaq, his First Nation community. He also showed us the hunting tools and traps they used at that time.
Because it was raining, we stayed to chat in a wigwam, which is a traditional dwelling made of birch bark. This gave us the opportunity to have a more meaningful interaction with our interpreter guide.
I learned, among other things, that the Mi'gmaq were the first Indigenous peoples to make contact with European newcomers in the 16th century. And that their way of life was, and still is, closely linked to nature and the seasons. At the time, they spent the summer on the coast and the winter in the interior.
According to the Mi'gmaq, the secret to a balanced life lies in respecting and protecting the environment. They have a deep respect for the Earth that nourishes them.
This was an inspiring and enriching encounter!
7. Bonaventure Island
Percé | Gaspésie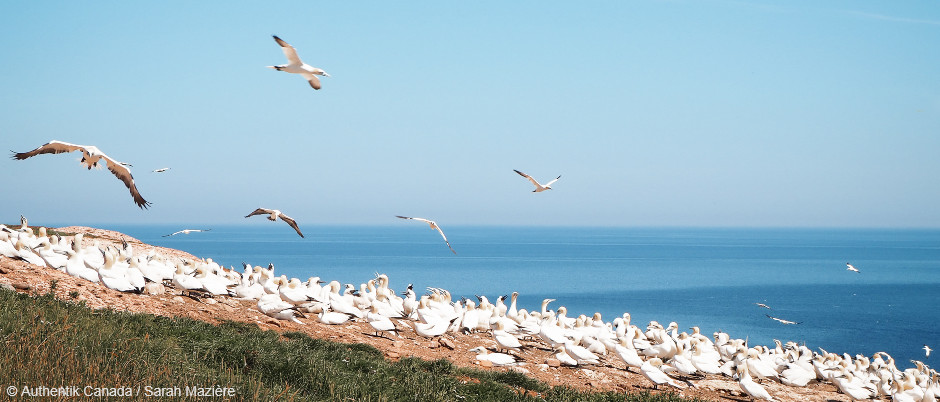 I have to say that this was one of the highlights of our family vacation.
Firstly, because the weather was absolutely perfect and secondly, because the experience exceeded all of my expectations.
I had been dreaming for a long time of visiting Parc national de l'Île-Bonaventure-et-du-Rocher-Percé to see with my own eyes the colony of northern gannets that lives there. Are there really as many of them as you can see in the pictures? The answer is yes, and the sight of these birds is spectacular.
I advise families who wish to enjoy this experience to take the first boat in the morning, because in high season, the island is very busy. We opted for the "Les Colonies" trail, which is the shortest way to get to the famous gathering point where you can see the northern gannets. Accessible to big-wheel strollers, this trail is greatly appreciated by young families.
We arrived after about 35 minutes of walking. Seeing all these beautiful birds up close is a privilege. There are few places on earth where you can observe a colony of over 100,000 birds so closely and under such good conditions.
On the way back, we took the Chemin du Roy. This trail is a little longer (it's not accessible to strollers), but it was worth the effort. Along the way, you can admire the sea stretching out to the horizon, a little bit of forest and, at the end, meadows dotted with heritage houses and a view of Percé Rock.
A feast for the eyes that leaves indelible memories!
8. Bioparc de la Gaspésie
Bonaventure | Gaspésie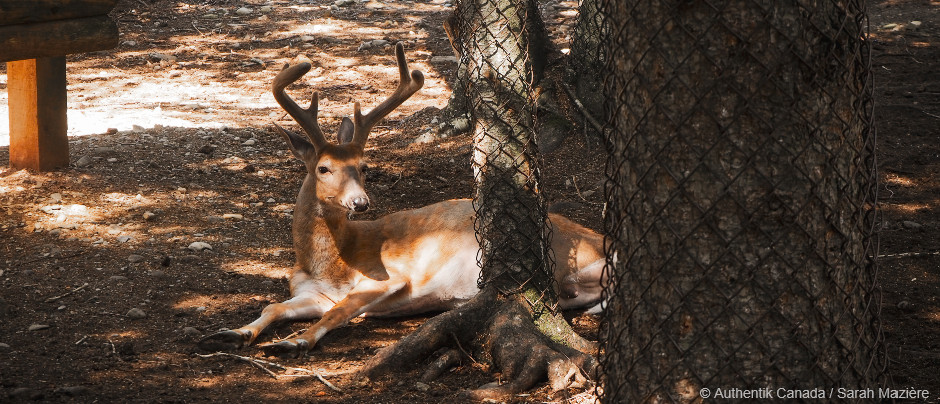 The Bioparc is a wildlife park that shelters about 40 species of animals indigenous to Gaspésie in five different ecosystems found in this region: the bay (marine environment), barachois, river, forest and tundra.
Throughout the visit, which takes about 3.5 hours, we saw a wide variety of animals, including seals, moose, caribou, beavers, black bears, coyotes and more.
We enjoyed the one-way outdoor trail that takes you through all the habitats. It is 1.5 km (1 mi.) long and is laid out so that the animals are easy to observe.
We ended our visit with a stop at the petting farm and the children's playground.
This was very pleasant experience that will delight visitors of all ages!
9. Canoeing down the Bonaventure River
Bonaventure | Gaspésie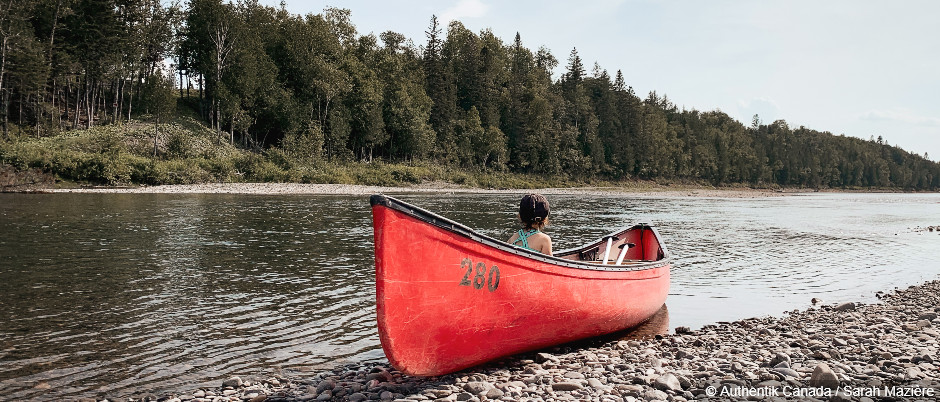 If you want to enjoy a small adventure with your family, then canoeing down the Bonaventure River should be on your list of things to do in Gaspésie!
If you've never canoed before, this is the perfect place to try it, whether or not you're travelling with children.
The river, which is famous for its beautiful crystal-clear waters, is very calm in this location. There are two or three sections of white water that offer a few thrills, but nothing technical.
The 9-km (5-mi.) route can be done in two hours, including a break to enjoy the beauty of the area.
Before the activity, Cime Aventure sent us a video that explains all the safety instructions and gave us an idea of what the route looks like. It also mentions what types of watercrafts are available for rent.
Tip: If you want something very stable, opt for rafting. Otherwise, you can choose between canoes, paddle boards or kayaks.
This first canoeing experience really made us want to do this again!
10. Reford Gardens
Grand-Métis | Gaspésie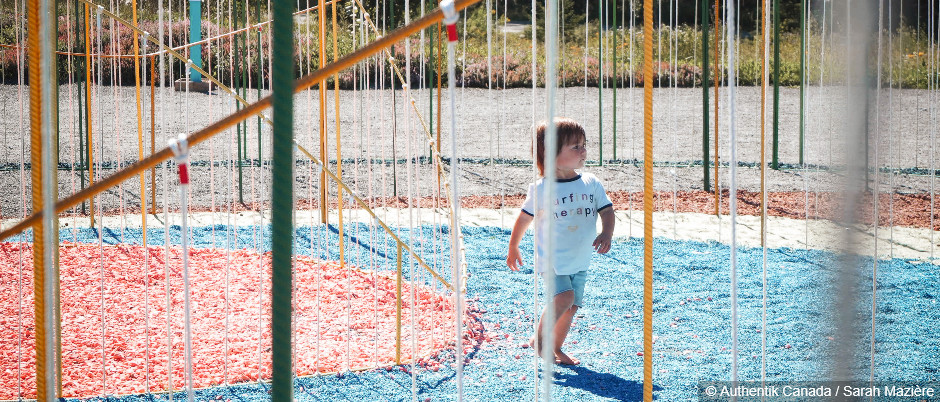 The Reford Gardens are an extraordinary site and much more than just gardens. They are a true work of art created by Elsie Reford, who was a pioneering horticulturist in the 1920s.
Although the gardens don't benefit from the best climate given their location (they are one of the most northerly gardens in North America), over 3000 species and varieties of plants can be found here.
The site is divided into two sections: the historic gardens and the contemporary gardens.
In the first section, a path led us through the most beautiful specimens I have ever seen. The setting is bucolic: you feel like you're in a painting by Monet.
For the contemporary gardens, designers from around the world have been selected to create eclectic works in nature. This makes these gardens a magnificent place of contemplation, where horticulture blends elegantly with design.
11. Empress of Ireland Museum
Rimouski | Bas-Saint-Laurent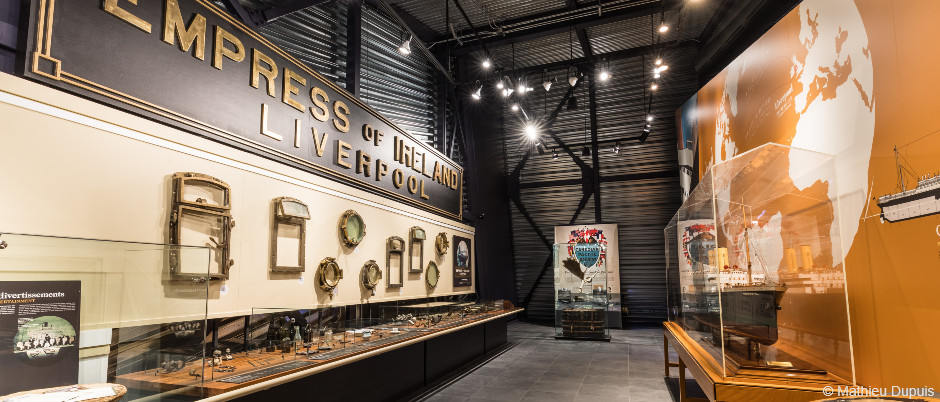 Located on the Pointe-au-Père Maritime Historic Site, the Empress of Ireland Museum tells the story of Canada's greatest maritime tragedy.
To be honest, I had never heard of this event before and I found this visit fascinating.
The sinking of the Empress of Ireland took place off Sainte-Luce on the night of May 29, 1914, after a collision with a coal ship. It took only 14 minutes for the ship to sink, killing 1012 of the 1477 people on board.
Lying in the deep waters of the St. Lawrence, the wreck, which was discovered in 1964, has become an important diving site and a renowned archaeological site. Photos, objects, archival documents and testimonies written by the survivors are on display at the museum, bringing the entire history of the ocean liner to life.
I visited the museum alone because the playground right next door appealed more to my daughter, but with slightly older children, it's a great activity for the whole family.
12. Parc national du Bic
Rimouski | Bas-Saint-Laurent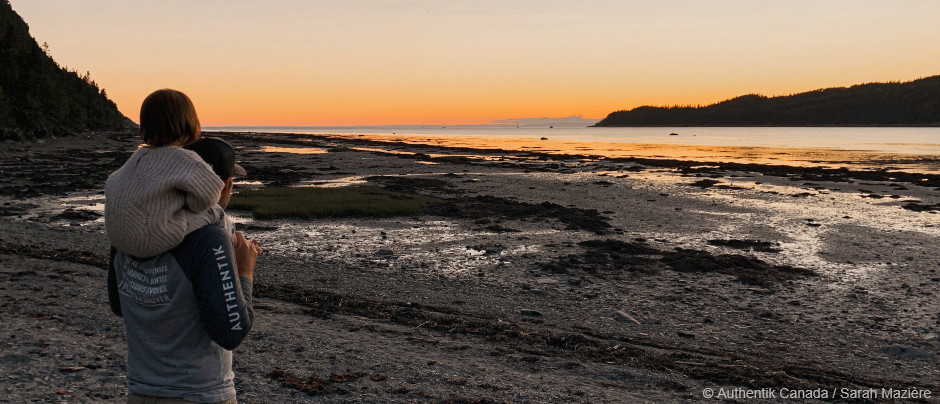 We arrived at Parc national du Bic mid-afternoon and, while waiting for our EXP cabin to be ready, we opted for a hike along the shoreline on Chemin-du-Nord.
Capes, bays, coves, islands and mountains shape the landscapes of this park, and there are many ways to explore them. Kayaking, cycling and hiking will allow you to discover exceptional panoramas.
After settling into our cabin, we headed to Baie du Ha! Ha!, a popular spot to see beautiful sunsets. Once there, we understood why! The moment was made even more special by meeting a doe and her two fawns on the way back.
The next day, we opted for the Pic Champlain hike. Located at an altitude of 346 metres (1135 feet), it's the highest peak of the Murailles rock mass (which literally means "wall").
From the lookout, the view of the St. Lawrence Estuary is breathtaking. A shuttle bus is available for those who don't want to hike but still want to enjoy the view.

So those are my 12 favourite moments from our road trip this summer. I hope I've inspired you to want to visit some of these sites!
The Îles de la Madeleine are at the top of our wish list for our next adventure in Eastern Québec—I can't hardly wait for our next vacation!
What are your must-sees in the maritime regions of Québec?
If you liked this article, you might also like...