The

Québec maritime Blog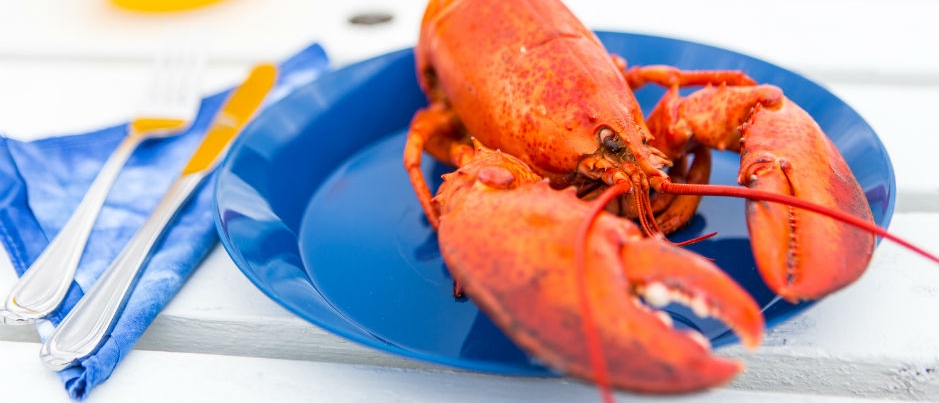 Whatever way you cook it, lobster is always delicious!
Mathieu Dupuis
Regional Flavours: Lobster
With its mottled greenish brown shell and powerful claws, lobster is not very appetizing at first sight. And yet it is a prized delicacy with tender and flavourful flesh. It's hard to believe that 100 years ago, this delicious crustacean was used to fertilize potato fields!
Preparing and cooking lobster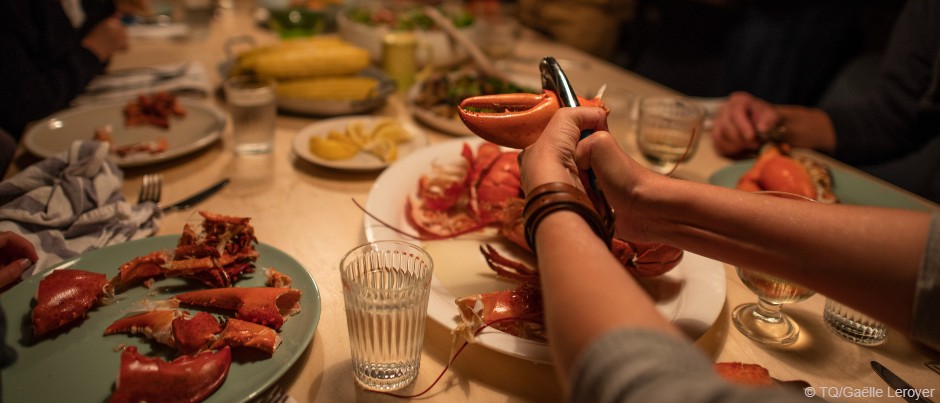 It's actually quite easy to prepare and cook your own lobster. Make sure you buy a vigorous and lively lobster; its tail should curl up under its body when it's removed from the tank. You must then cook it as soon as possible. If you cannot do so right away, wrap it in a damp cloth and store it in the fridge for no more than 12 hours. Make sure you leave the bag open and never rinse your lobster under tap water—this will kill it immediately.
You can steam, boil or grill lobster. Your fishmonger will be happy to advise you on proper cooking times and temperatures depending on the method chosen.
Note that lobsters don't scream. The noise that can sometimes be heard during cooking is caused by air trapped in the shell. When heated, it expands and forces its way out through small gaps, causing the sound.
Personally, I like to eat my lobster with garlic or lemon butter. The leftovers (if there are any!) make great sandwiches or salads for lunch the next day. You can also turn them into a sauce or bisque or add them to fish soup. Whatever way you cook it, lobster always makes for a delicious meal!
Where to buy lobster
In the maritime regions of Québec, lobster is fished in Gaspésie and the Îles de la Madeleine. Connoisseurs can even tell the difference between the two varieties. You can buy lobster in both of these regions, as well as in Bas-Saint-Laurent and Côte-Nord.
Launch of the lobster season: An event not to be missed!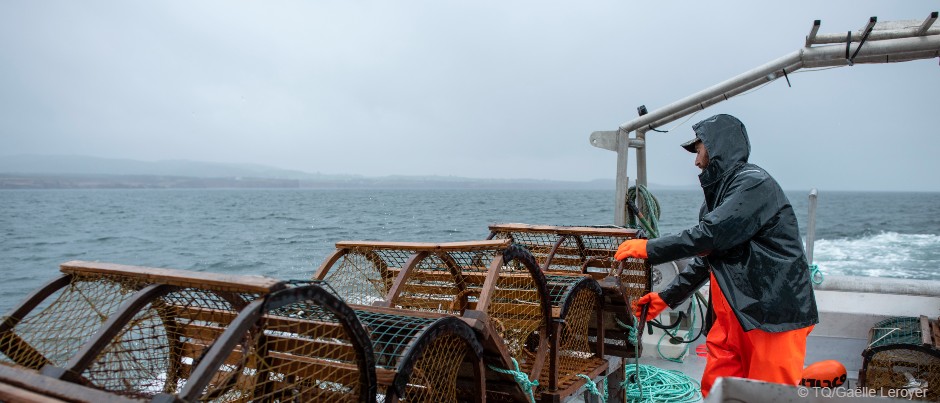 In the Îles de la Madeleine, the launch of the lobster season is a cause for celebration. This isn't too surprising when you consider that lobster fishing is the main livelihood for about 1000 fishermen (out of a total population of 14,000 people). During the entire month of April, fishermen get ready for the season by painting and repairing their boats and preparing their lobster traps. At dawn on launch day, you can witness a time-honoured tradition and participate in various activities at Pointe de la Grande-Entrée: gathering of the fishermen, fishermen's mass and fireworks! In all, 325 lobster boats will head out to sea at the same time.
First lobster of the season
While some await the first wine of the season, in the Îles de la Madeleine, it's the first lobster of the season that gourmets await with anticipation and excitement. For the next nine weeks following that date where the lobster cages are realased, lobster boats will bring in their catch every afternoon.
During lobster season, many lodging establishments offer packages that include lobster suppers. Find out more now!
Cooking with lobster
Here's a typical Island lobster recipe.
Island Pot-en-Pot (Pot Pie)
Adapted from a recipe found in the "Recipes" section of the La Salicorne website
Serves 9
Ingredients
Crust
4 cups flour
1 cup shortening
4 tsp baking soda
1 pinch salt
1 cup water
Filling
¼ cup celery, diced
¼ cup green pepper, diced
¼ cup red pepper, diced
¼ cup onions, diced
½ lb butter
1½ cups flour
½ tsp salted herbs or Provençal herbs
1 cup seafood broth
1 cup milk
1 lb lobster
1½ lbs scallops
1½ lbs softshell clams
2 cups potatoes, cooked
Instructions
Preheat oven to 350°F.
Combine all crust ingredients.
Roll out half the dough and place in the bottom of a rectangular 9" by 11" glass pie dish. Set the rest of the dough aside.
In a saucepan, combine celery, green and red peppers, onions, butter and flour.
Cook several minutes and add the seafood broth and milk. Stir until thickened, then add herbs.
Transfer seafood and potatoes into pie dish and pour sauce on top.
Roll out the second half of the dough and cover the seafood and sauce mixture.
Bake for 30 minutes.
Bon appétit!
Tracking your lobster from Gaspésie and Côte-Nord
All lobster caught around Gaspésie and Anticosti Island in Côte-Nord now bear a blue tag attached to one of their claws with an alphanumeric code to identify them. You can then visit the Sea-to-Fork Traceability website and enter your code to access the following information:
Where your lobster was caught
The name of the captain of the fishing boat
The fishing method used
A short video of the fisherman who caught your meal
Since the tags are made of food-grade plastic, it is safe to leave them on the lobster during cooking. They won't affect the taste and are 100% recyclable.
I tested this for myself and found out that the lobster I ate last Sunday was caught by Gaston Paquet in Chaleur Bay off Bonaventure. Thank you, Mr. Paquet, for the delicious meal!
If you liked this article, you might also like...