The

Québec maritime Blog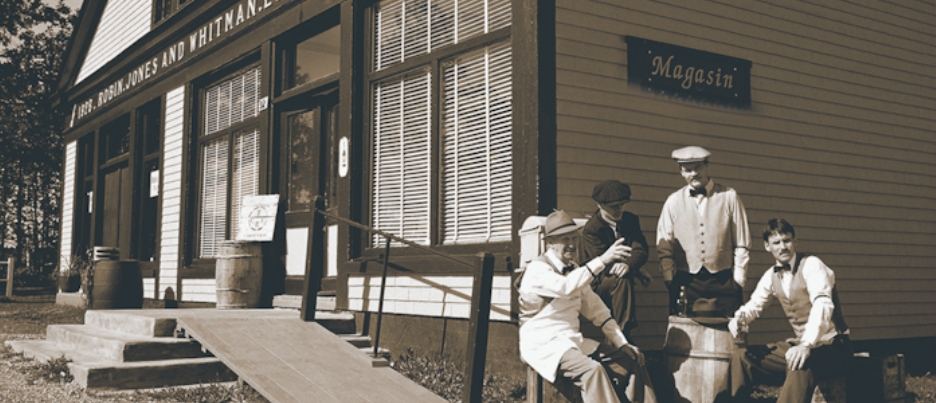 Magasin Général Historique Authentique 1928
Martin Beaulieu
Step Back in Time at an Authentic Former General Store
I must say I was very impressed by my visit to the Magasin Général Historique Authentique 1928, located in Percé, at the tip of the Gaspé Peninsula. It's a former general store of the Robin, Jones and Whitman Company, whose last owner was Gaston Cloutier. Just before passing away in 2000, Mr. Cloutier handed the store over to his sons, Rémi and Ghislain, who decided to turn it into a living museum.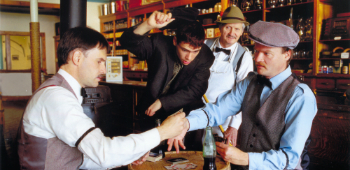 Step back in time as you walk into this old general store© Martin Beaulieu
This is a place where the word authentic takes on its full meaning. As you wander in the store, you step back many decades in time. Still stocked with a great variety of items (cameras, puzzles, housewares, radios, bicycle seats, notebooks, medication, hats, etc.), the well-shined oak shelves are obviously originals, made in 1928 when the store was rebuild after a fire reduced the original building to ashes in 1926.
As I arrived, Rémi invited me to join the group listening to a presentation on school supplies (because this is the end of August and, as Rémi said, "Kids are heading back to school very shortly, you know!"). Interpreters interacted with visitors, passing on an incredible amount of information with a great sense of humour and numerous anecdotes.
Throughout the visit, interpreters changed roles. Rémi showed us a picture of a 400-pound halibut caught by his uncle, insisting than we notice "the cute little boy standing proudly besides the huge fish, that's me!" adding, "You have a truly authentic Gaspésien in front of you; come on, take some pictures!" Then he took on the role of a 19th-century fisherman and walked us into the manager's office, a Jersey native with whom he wanted to negotiate an increase of his credit. This short episode, in such a context, really made us understand the difficult situation of Gaspesian fishermen who were working for the fishing company (which usually owned the only store in the area) and were seriously indebted to it.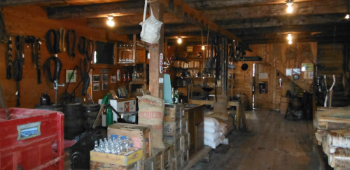 The store now overflows with treasures of all kinds... as well as anecdotes and stories!© Le Québec maritime
We moved on to the warehouse, where bulkier items are kept, including a beautiful 1927 carryall that was selling for… $115 back in the days. That was a pretty much a fortune at a time when fishermen were making 50 cents a day.
Visitors joined our group throughout the tour. And, as Ghislain said, "when we get back to something you've seen, it means the tour is over for you!" Far from being annoying, such comings and goings somehow recreated the atmosphere of a real store and reduced the wait for visitors on busy days.
The Cloutier brothers do a remarkable job at transmitting their family's social and cultural heritage. Being way more than just interpreters, they show off the environment where they grew up and, beyond their humorous tone, you can feel their profound love for their store and their village, something you just can't make up. Stop by when you visit the area, you won't regret it!
For more information:
Magasin Général Historique Authentique 1928
32, rue à Bonfils, L'Anse-à-Beaufils
Percé (Québec) Canada
G0C 1G0
Tel.: 418-782-2225 (in season)
If you liked this article, you might also like...