The

Québec maritime Blog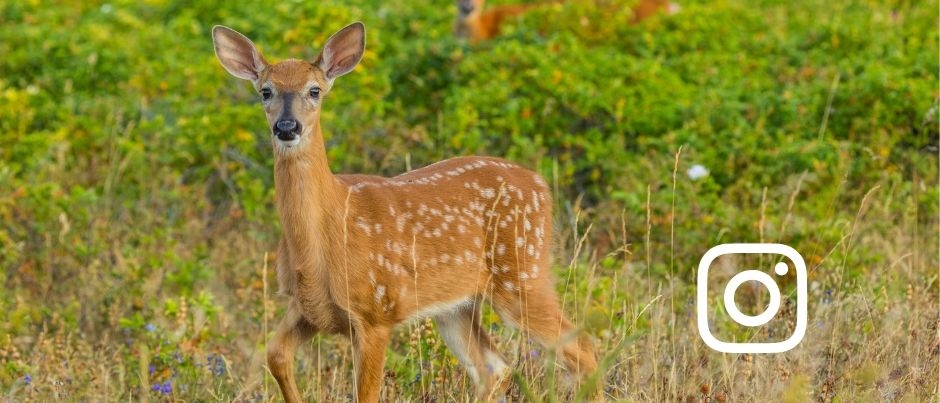 White-tailed deer in Parc national du Bic
Mathieu Dupuis
Top 3: Your Best Wildlife Photos on Instagram
Whether you're in the forest or along the coast, in the mountains or out at sea, you're very likely to encounter wildlife during your vacation in Eastern Québec. And if what you're sharing on social media is any indication, lots of you are taking great photos of wildlife in our regions! We recently put out a call for your photos in our newsletter: as promised, here's our top three of your best wildlife photos on Instagram.
Porcupine
In the forests of our regions, you're quite likely to spot beavers, black bears, moose, white-tailed deer and… porcupines, like this one, photographed in Forillon National Park (Gaspésie). No matter what species you encounter, keep in mind that these are all wild animals—it's best to keep a safe distance.
Atlantic puffin
Hundreds of species of birds can be observed in Eastern Québec. Among those that are the most fun to watch are the clumsy Atlantic puffins. Nicknamed "clowns of the sea" and "sea parrots," these birds can be seen in the Mingan Archipelago National Park Reserve (Côte-Nord).
Seals
In the summer, harbour seals and grey seals are spotted throughout our regions. Don't these guys look like they're having fun? While on vacation in the Îles de la Madeleine, you can observe seals at the end of Grande Échouerie Beach (also known as Old Harry Beach) in Grosse-Île, on Le Corps-Mort (Deadman's Island), and at the end of Dune du Sud (South Dune) Beach.
You're very likely to have unexpected encounters with wildlife while visiting our regions, so be sure to keep your camera or smartphone close at hand!
Don't forget to share your vacation photos on Instagram and tag them with the hashtags #quebecbythesea and #quebecmaritime!
If you liked this article, you might also like...