The

Québec maritime Blog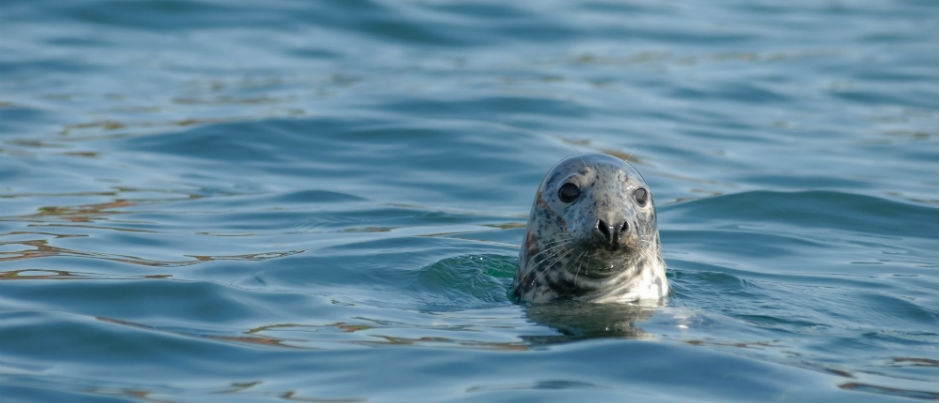 Michel Bonato/Tourisme Îles de la Madeleine
Seals of the St. Lawrence
The waters of the Estuary and Gulf of St. Lawrence are renowned for their marine wildlife, especially marine mammals. While belugas and other whales are the best known, seals are also very present along the coastlines of the maritime regions of Québec. There are two seal seasons in these regions, each represented by two seal species: harbour seals and grey seals in the summer, and harp seals and hooded seals in the winter.
Harbour and grey seals spend the summer feeding in our waters and migrate south to the ice-free eastern coast of the United States in the winter. Harp and hooded seals come to the Gulf of St. Lawrence and sometimes the estuary in the winter to whelp their pups; they migrate north in the spring to the subarctic and arctic waters to feed.
Harbour seals sunbathing in Parc national du Bic© Marc Loiselle
The harbour seal (Phoca vitulina) is the smallest of the Laurentian seals, measuring 1.2 to 1.8 metres (4 to 6 feet) in length and weighing up to 110 kg (245 lbs). This seal is easy to recognize thanks to its signature "banana pose": when resting on a rock or beach, it tends to lie on its side with its head and flippers elevated. The harbour seal has a short plump body and small catlike head. Harbour seals are quite shy and will retreat upon encountering boats or hikers. They are common in the maritime regions of Québec, especially in the Rivière-du-Loup area, on Île Verte, between Le Bic and Sainte-Flavie in the Bas-Saint-Laurent region, and in Forillon National Park of Canada in Gaspésie.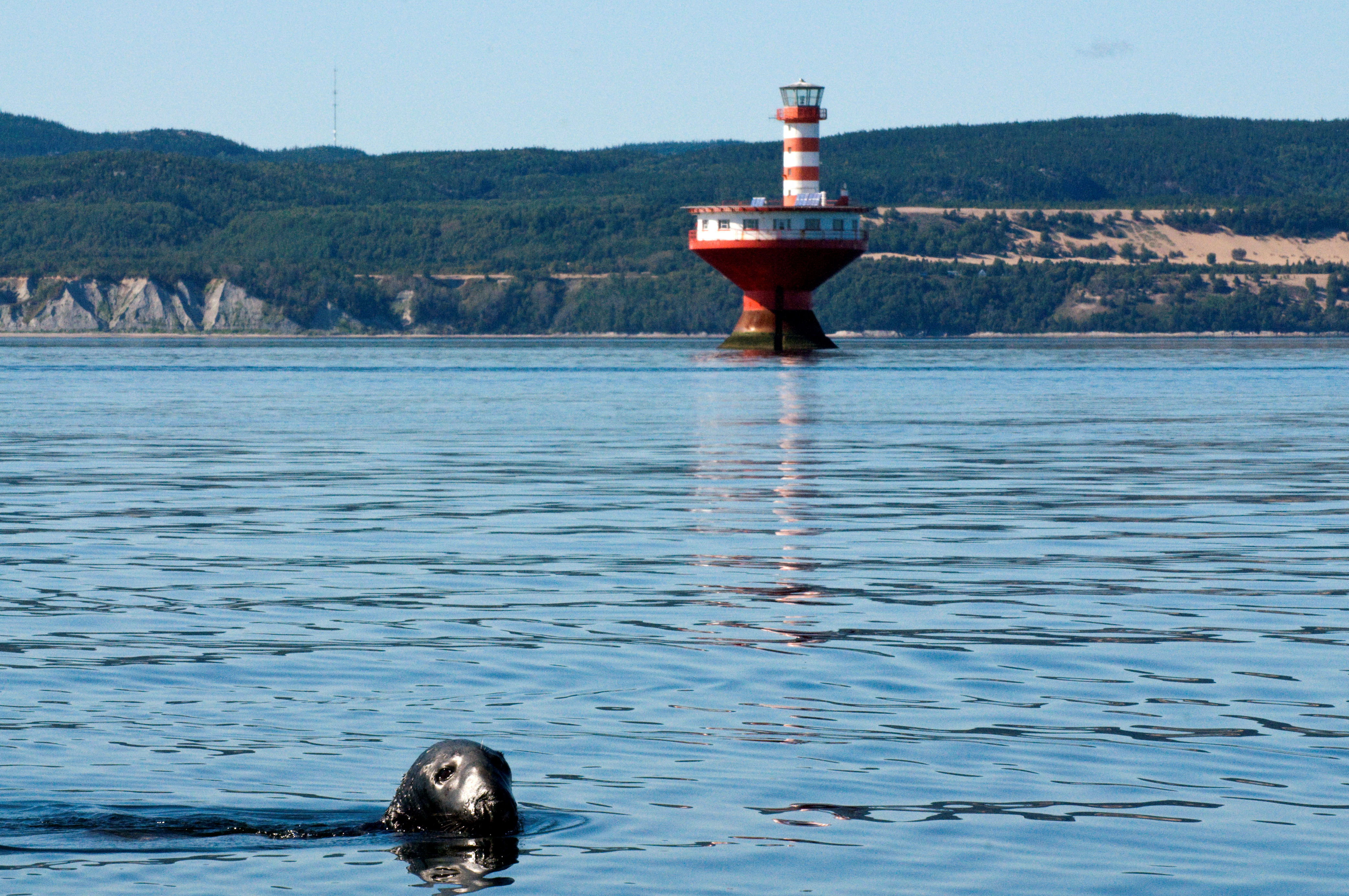 Grey seal near Haut-Fond Prince Lighthouse in the Saguenay–St. Lawrence Marine Park© Marc Loiselle/Tourisme Côte-Nord
The grey seal (Halichoerus grypus) is the most common of the Laurentian seals. It is also one of the largest, measuring 1.8 to 2.3 metres (6 to 7.5 feet) in length and weighing 150 to 230 kg (330 to 510 lbs). As its name indicates, this seal is grey with darker patches and has a horselike head: its muzzle is long with widely spaced nostrils. The diving champion among Québec seals, the grey seal can dive to 300 metres (1000 feet) and stay underwater for up to 30 minutes. Grey seals can often be spotted along the north shore of the St. Lawrence from Tadoussac to Blanc-Sablon (in Côte-Nord) and on the south shore from Rivière-du-Loup to Percé.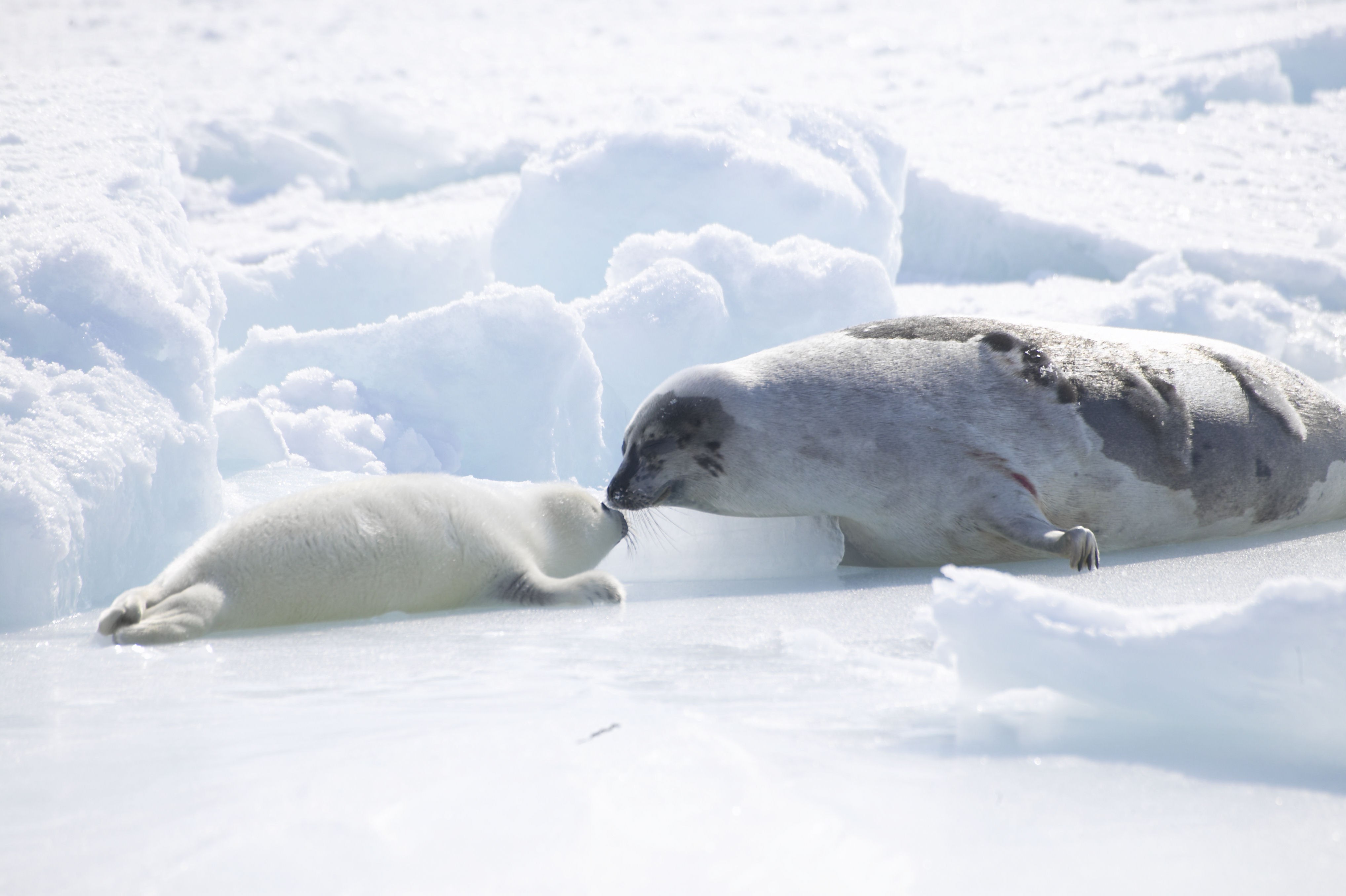 A seal pup with an older harp seal on the ice surrounding the Islands© D.I. Jeske/Tourisme Îles de la Madeleine
The harp seal (Pagophilus groenlandicus) is the unofficial mascot of the Îles de la Madeleine—every year, tens of thousands of harps seals make their way to the ice surrounding the Islands to give birth to their pups, called whitecoats. Measuring 1.5 metres (5 feet) in length and weighing 120 kg (260 lbs), this seal has a silvery grey body with dark harp- or wishbone-shaped markings. Harp seals are one of the most numerous large mammals on earth, with a world population of about 6 million. These seals migrate to the Îles de la Madeleine in February to breed and whelp their pups (11.5 months later).
The hooded seal (Cystophora cristata) owes its name to the inflatable hood on the top of the heads of males. Relatively uncommon in the St. Lawrence, this seal measures 2.3 metres (7.5 feet) in length and weighs 350 kg (770 lbs). Hooded seals can be found on the ice surrounding the Îles de la Madeleine from late February to early March. Young seals sometimes wander into the St. Lawrence Estuary in the spring.
In Québec, seals are much easier to observe than cetaceans because they commonly rest on the shore, rocks, beaches or even wharves. They can also be found in more populated areas, since they often visit harbours and marinas to feed or rest. Seals are therefore a common sight, summer or winter, along the coasts of Québec maritime. Keep your eyes peeled as you travel and you will probably spot them!
If you liked this article, you might also like...