The

Québec maritime Blog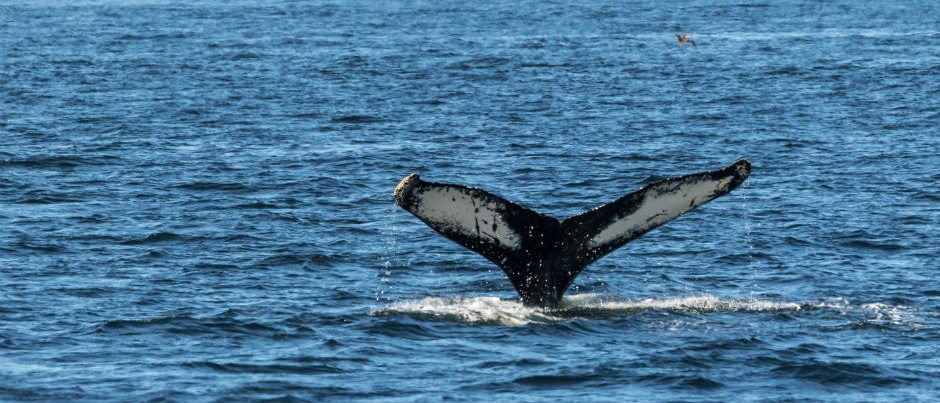 Whale and Wildlife Observation: 5 Experiences Not to Miss!
The maritime regions of Québec are home to abundant and varied wildlife: whales, birds, deer, moose, seals and more. Do you want to see some of these animals during your next vacation in our regions? Here are five experiences you won't want to miss!
1. Admiring white-tailed deer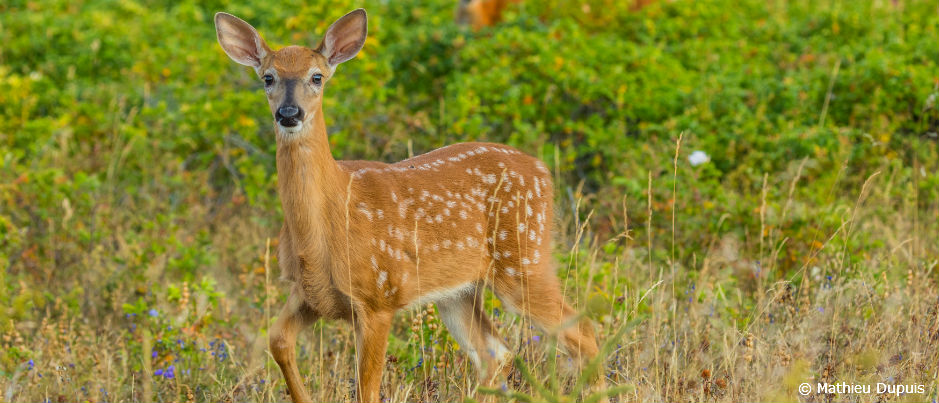 A hike in Parc national du Bic, in Bas-Saint-Laurent, will give you the opportunity to spot several different species of animals, including white-tailed deer. They are easy to identify: they have reddish brown coats, and the underside of their tails is white. (They are also the only species of deer found in our regions.) In the summer, the males have antlers. With any luck, you'll encounter one around a bend in the trail! If you do, keep your distance and don't try to feed it. It's important that park animals not become dependent on humans for food. Just stop and admire this graceful animal in silence instead.
2. Seeing great whales up close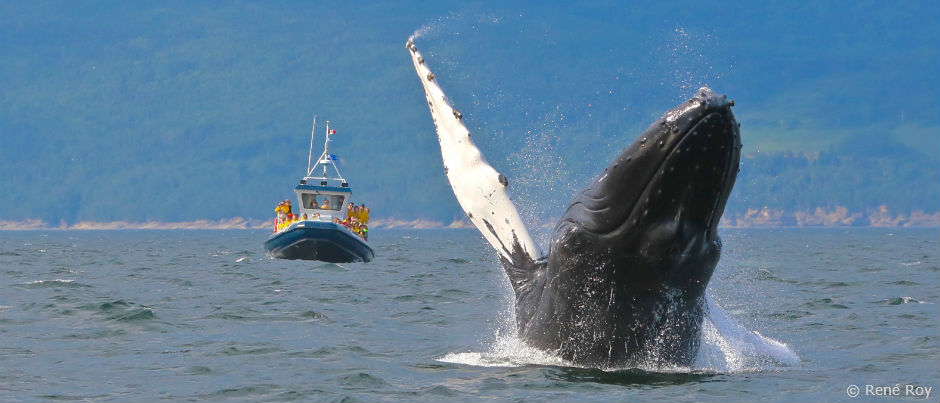 Departing from Forillon National Park in Gaspésie, the Croisières Baie de Gaspé cruises offer an intimate experience on the low-traffic waters of the Gulf of St. Lawrence, which is a particularly good place to observe the great whales. From June to October, you can board the Narval III to observe several species of whales, including blue whales, fin whales and humpbacks. Accompanied by an experienced and bilingual interpreter guide, you will have the opportunity to learn more about these majestic animals. As a bonus, Forillon's high cliffs and imposing Cap Gaspé will add a touch of magic to your experience!
3. Observing whales in a protected area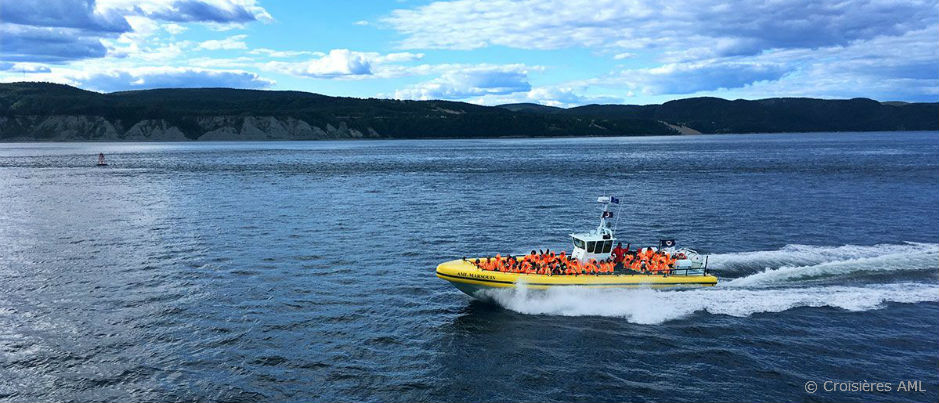 Every year, Croisières AML offers whale-watching excursions in the Saguenay–St. Lawrence Marine Park, Québec's only marine protected area. This summer, try out one of their new Zodiacs, specifically designed for marine mammal observation, during a sea outing departing from Tadoussac, in Côte-Nord. Accommodating 60 people, these vessels were designed to minimize their environmental footprint. In addition to enjoying enhanced onboard comfort, you'll also benefit from the presence of a naturalist guide who will share interesting facts about marine life. All that's left for you to do is keep your eyes on the horizon to try to spot the back or tail of a breaching whale! Boat excursions also depart from Rivière-du-Loup, in Bas-Saint-Laurent.
4. Seeing funny-looking birds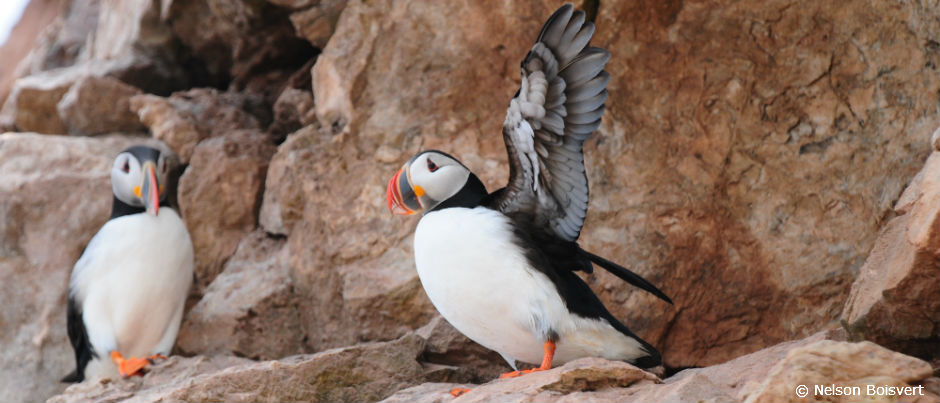 Bird lovers will want to visit the Mingan Archipelago National Park Reserve, in Côte-Nord, to see Atlantic puffins, the stars of the archipelago. Nicknamed "clowns of the sea" and "sea parrots," these funny-looking birds nest on Île de la Maison, Île à Calculot des Betchouanes and Îles aux Perroquets. They are easy to identify with their striking orange and yellow beaks and can be observed in the archipelago until early September. Keep your eyes peeled during hikes or sea excursions!
5. Encountering 4 species of seals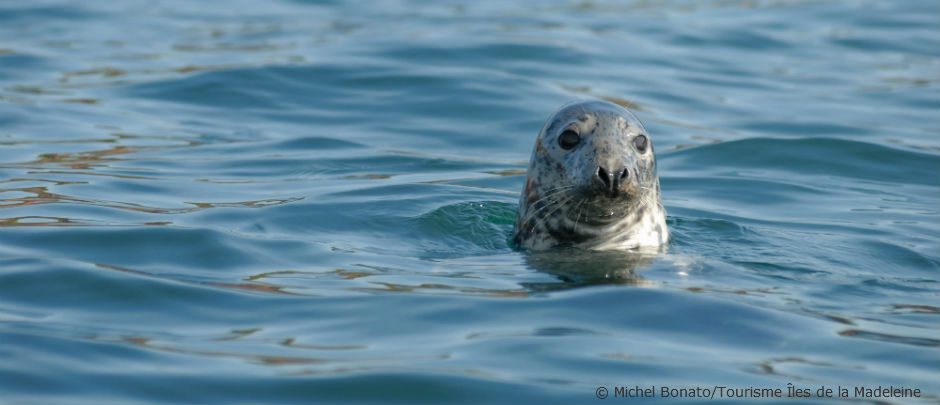 If you're interested in seals, then the Îles de la Madeleine is the place to visit, since it's the only one of our regions where you can see four species of these marine mammals. In the summer, you are most likely to see grey seals, which can be recognized by their dark colour, large size and long muzzle. Harbour seals are smaller and paler and enjoy basking on the rocks at low tide for hours. You can observe these friendly animals during boat or sea kayaking excursions or while walking along a beach (such as Old Harry Beach). Two other species can also be observed earlier in the year: harp seals, which migrate to the ice to give birth to their pups every year in late February or early March, and hooded seals, which are rarer but easily recognizable by their wide and fleshy muzzle. Males have an inflatable hood on their foreheads that can blow up like a balloon.
Do you want to enjoy these five wildlife experiences this summer? Visit our Whale and Wildlife Watching page to start planning your trip today!
If you liked this article, you might also like...