The

Québec maritime Blog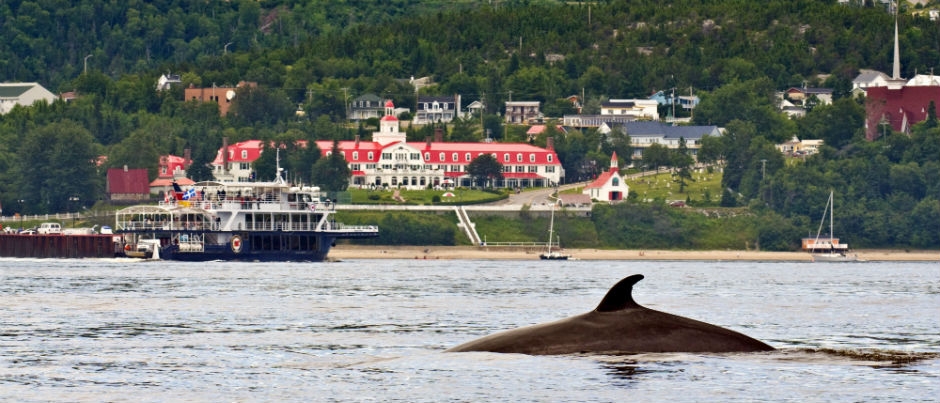 Whale watching from the shore
Marc Loiselle / Tourisme Côte-Nord - Manicouagan
Whale Watching in the Maritime Regions of Québec
The maritime regions of Québec boast some of the best whale-watching sites in the world. The Saguenay–St. Lawrence Marine Park, the Côte-Nord region, as well as Gaspé Bay and the Gulf of St. Lawrence, offshore from Percé, are all prime sites to see several species of these giants, such as minke whales, fin whales, humpbacks, common porpoises, belugas and white-sided dolphins. And options to watch them in their natural habitat are multiple, whether you prefer to stay on land or are willing to go out to sea.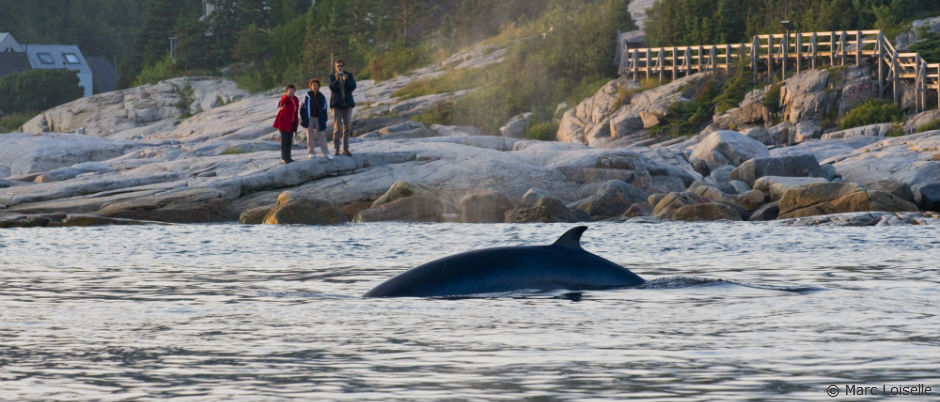 Located in the picturesque village of Tadoussac where the Saguenay River flows into the St. Lawrence, the Marine Mammal Interpretation Centre (CIMM) has permanent exhibits to help you understand the habits and features of the various whale species found in the area. Experts on site will be happy to answer all of your questions about whales. After your visit, take some time to sit on the rocks just outside the centre to watch minke whales and belugas in action.
Further east from Tadoussac on Route 138, you'll find two other sites of the Saguenay–St. Lawrence Marine Park, managed by Parks Canada. In Les Bergeronnes, the Cap-de-Bon-Désir Interpretation and Observation Centre is one of the best sites to watch marine mammals from the shore because of the depth of the St. Lawrence at this specific location. Did you forgot your binoculars? Don't worry: they're optional! A little further east, near Les Escoumins, you'll find a series of telescopes on the deck of the Marine Environment Discovery Centre, overlooking the St. Lawrence. Stop by for a picnic and keep an eye on the sea to watch the "cetaceans dance."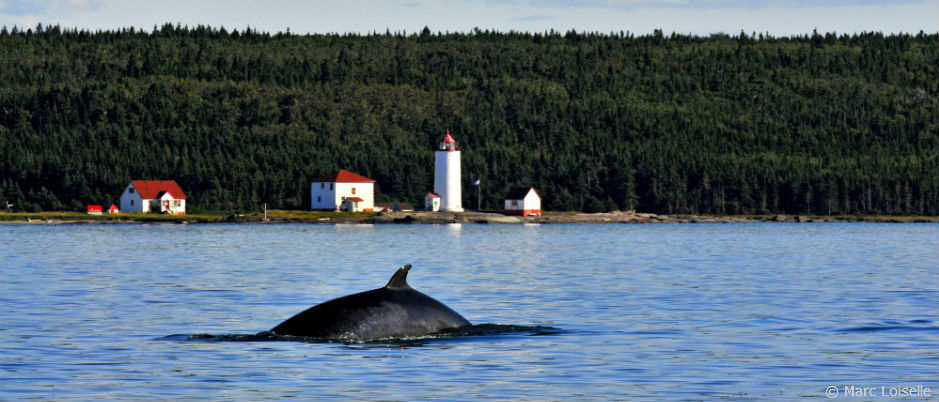 And why not take advantage of the idyllic environment of the islands of the St. Lawrence to watch whales in complete peace and quiet? Within the Saguenay–St. Lawrence Marine Park and under the protection of Société Duvetnor, Pot à l'Eau-de-Vie (Brandy Pot) Island and Île aux Lièvres (Hare Island) are located in an exceptional area for beluga watching. You can even spend the night in an inn or in one of the campgrounds on Île aux Lièvres, and wake up to the sound of the whales' blow.
Downstream, where the estuary becomes the Gulf of St. Lawrence, Sept Îles Archipelago offers you a great opportunity to see those impressive mammals during a hike on Grande Basque Island or while contemplating a stunning sunset before heading to your tent for a quiet camping night.
Sea tours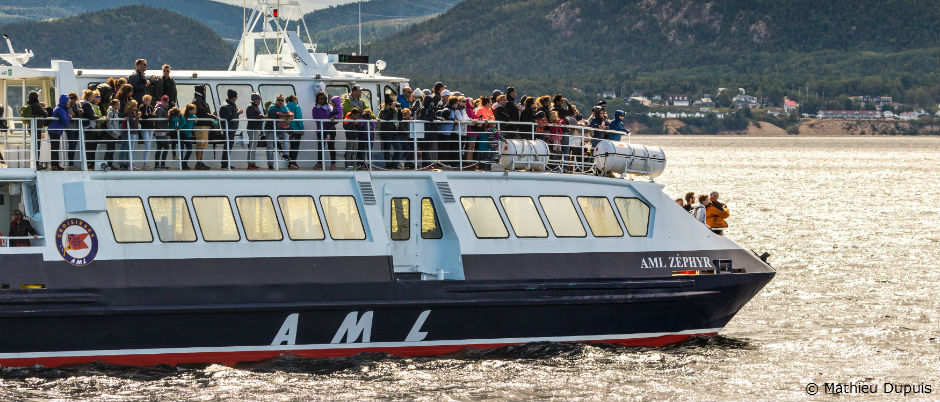 You have sea legs and are determined to go out to meet cetaceans? A sea tour probably sounds good to you.
If you want to go whale watching in the Saguenay–St. Lawrence Marine Park but your itinerary takes you on the south shore of the St. Lawrence, Croisières AML is the only company to offer whale-watching tours departing from Rivière-du-Loup, in the Bas-Saint-Laurent region. They also have departures from Tadoussac, in Côte-Nord. Your chances of seeing whales during its activities are so good that the company has an exclusive "Whale Warranty."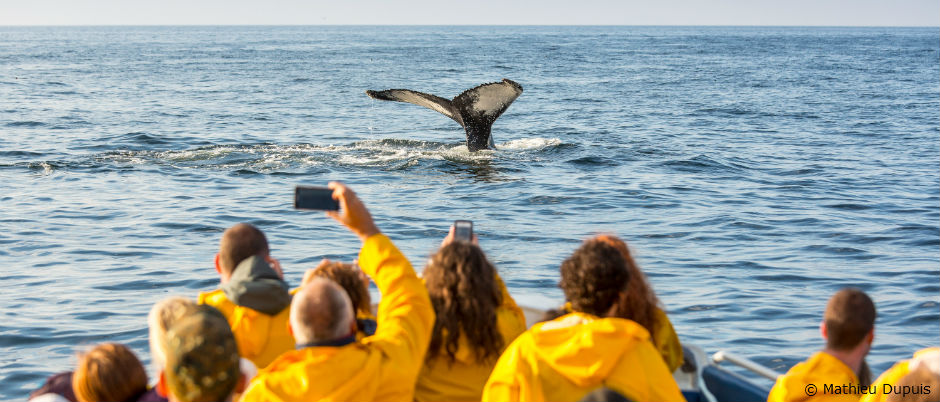 Experience unforgettable times at the exceptional whale-watching site of Forillon National Park and climb aboard the Narval III with Croisières Baie de Gaspé. During the 2.5-hour tour, a professional interpretive guide will tell you everything you need to know about the whales found in Gaspé Bay and the Gulf of St. Lawrence.
Whales and dolphins are also commonly seen off from Percé and Bonaventure Island. Croisières Julien Cloutier have a fleet of boats and offer several departures every day during high season to take you out and see these marine mammals in the unique environment of Parc national de l'Île-Bonaventure-et-du-Rocher-Percé.
Zodiac excursions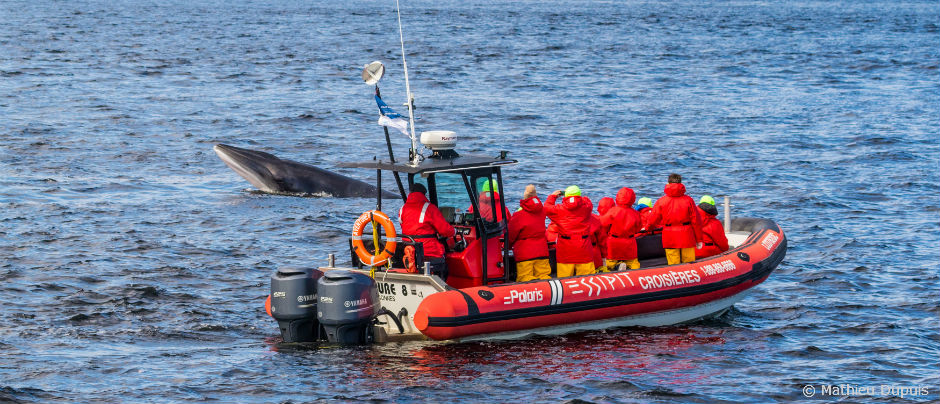 If you're looking for more of an adrenaline high, you'll be happy to know that Croisières AML offers tours in Zodiac boats that will please thrill seekers with safety in mind. By approaching whales just at the surface of waters, you'll enjoy an unforgettable contact with them. Dress warmly and be ready to breathe deeply the fresh air of the open sea!
Essipit Cruises also offer excursions from Les Bergeronnes aboard Zodiac boats with a 12-passenger capacity piloted by an experienced naturalist captain, to get a closer look at the various species of whales found in the Saguenay–St. Lawrence Marine Park.
As you can see, there are many whale-watching options in the maritime regions of Québec. Don't forget to include one of them in your plans for your next vacation in any of our regions!
If you liked this article, you might also like...