The

Québec maritime Blog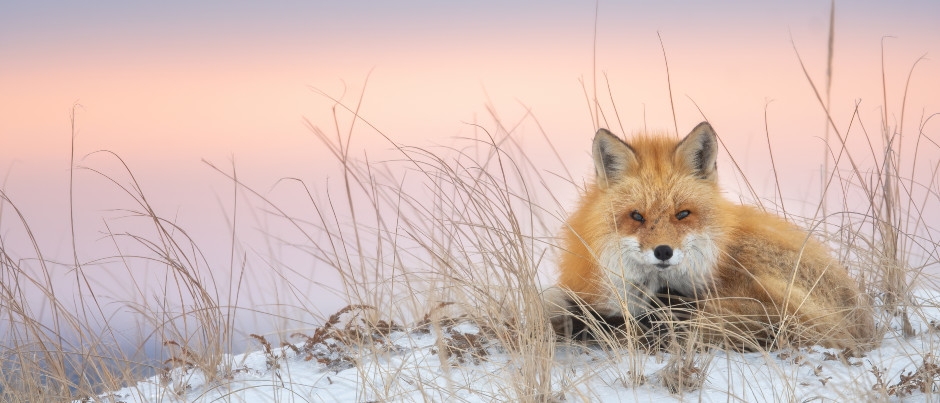 Red fox, Îles de la Madeleine
Éric Deschamps
What Animals Can You Observe in Eastern Québec in the Winter?
During the cold season, the natural areas in the maritime regions of Québec continue to teem with life. Of course, you'll find outdoor enthusiasts skiing and snowshoeing in these areas, but small (and large) animals also frequent these places! Some species return to our regions for the winter, while others are here year-round. Keep reading to discover some of the wildlife you may encounter during your winter excursions in Eastern Québec!
Moose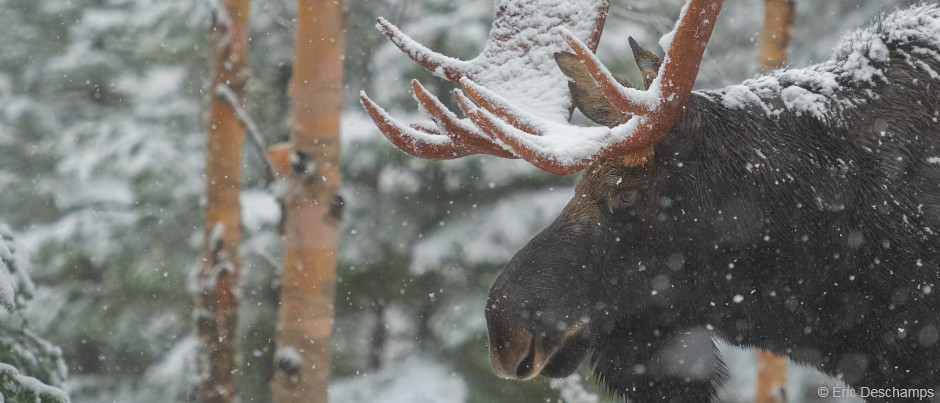 The largest member of the deer family is found in the forests of Bas-Saint-Laurent, Gaspésie and Côte-Nord. You're most likely to see moose on the Gaspé Peninsula, particularly in the Réserve faunique des Chic-Chocs, in Parc national de la Gaspésie or during a stay at the Auberge de montagne des Chic-Chocs or the Gîte du Mont-Albert hotel. Winter is a time of hunger for moose. As a result, they are much less active in order to conserve energy. If you're quiet and attentive, you may be lucky enough to spot a moose resting in the snow!
White-tailed deer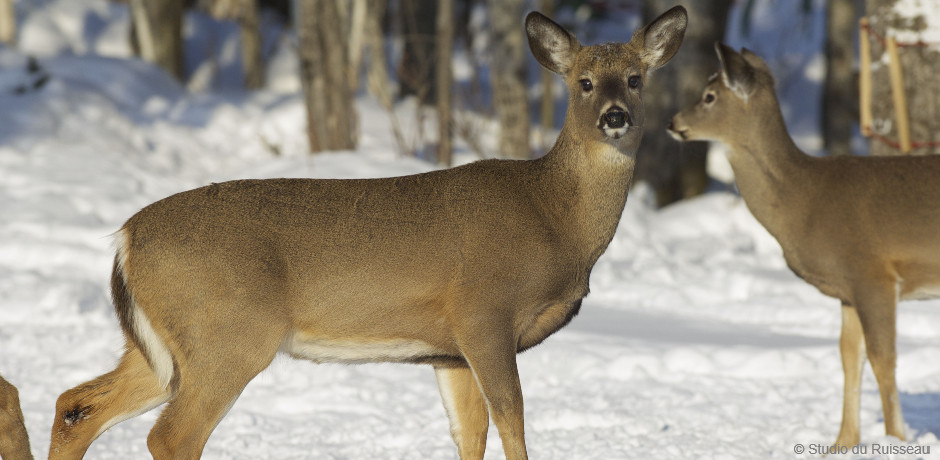 Like moose, white-tailed deer inhabit the forests of our mainland regions. In the winter, as snow accumulates, deer congregate in wintering areas (also known as deer yards), sheltered locations where they can find enough food. In Bas-Saint-Laurent, you're likely to spot them in Parc national du Bic as well as during snowmobile rides in the Pohénégamook and Trinité-des-Monts areas or along the river in Saint-Narcisse-de-Rimouski.
Foxes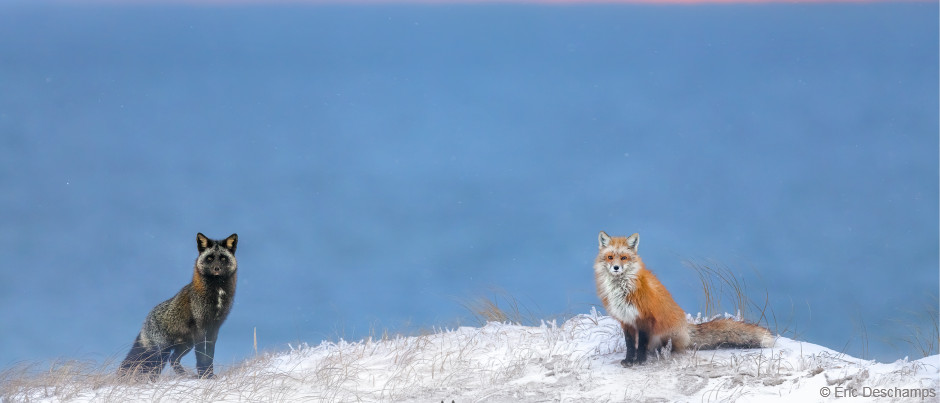 Red foxes are easily to spot in the snow, with their thick, orangey-brown winter coats. Although it's more common to encounter red foxes in our regions, you may also see silver foxes, whose coats can range from black to bluish or ashy grey. Imagine the luck (and patience) of this photographer, who managed to capture both in a single shot!
Whitecoats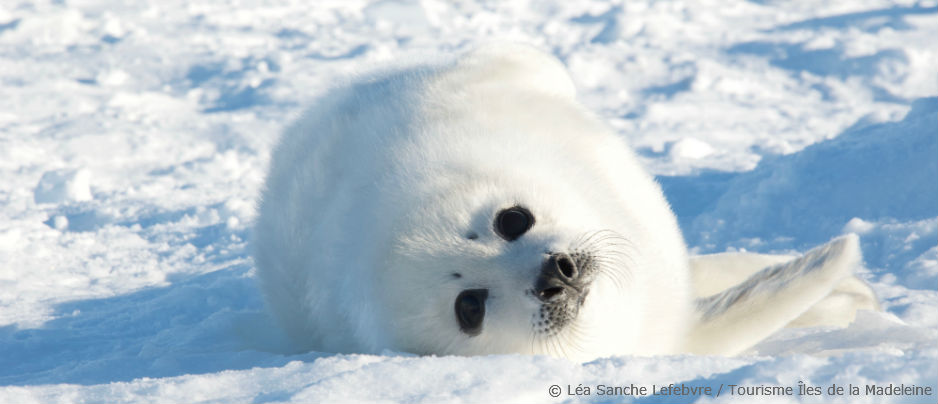 Hundreds of thousands of harp seal pups, called whitecoats, are born every year on the ice surrounding the Îles de la Madeleine from late February to mid-March. Depending on weather conditions and the stability of the ice, Château Madelinot organizes expeditions to see this amazing spectacle of nature. This is of course a well-supervised activity during which the animals are disturbed as little as possible.
Belugas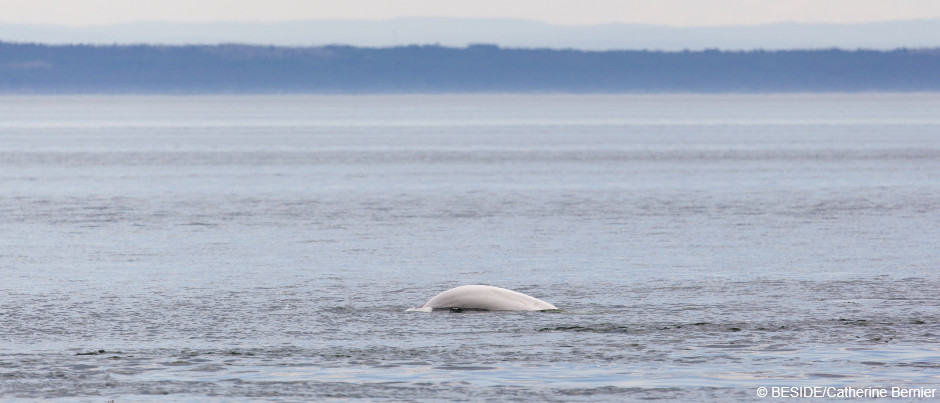 Did you know that beluga whales are the only cetaceans that live in the waters of the St. Lawrence year-round? And that this has been the case for 10,000 years? In fact, most of the beluga population spends the winter closer to the Gulf of St. Lawrence, compared to the summer when these whales are more likely to be found in the St. Lawrence Estuary and the Saguenay Fjord. This species, which usually lives in the Arctic, is well adapted to winter conditions. For example, belugas have a dorsal ridge with a hardened crest that allows them to break through thin ice to make breathing holes. Given that belugas are white, they're not easy to spot in the winter!
Snowy owls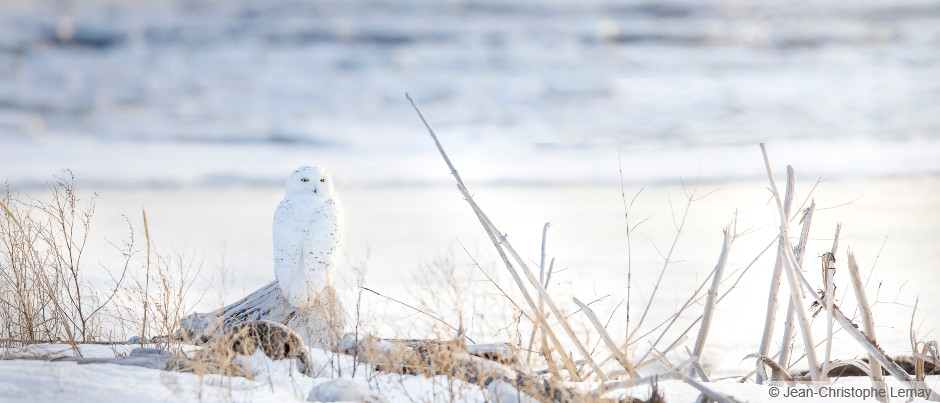 Lots of different species of birds are found in Eastern Québec during the cold season! One of the most majestic is undoubtedly the snowy owl, Québec's official bird, which migrates from Nunavut and northern Québec to our regions in early November. Snowy owls have white feathers and rounded heads with no ear tufts; adults have impressive wingspans of nearly 1.5 metres (5 feet)! You may have to look up to spot one since they tend to perch in high places such as utility poles, fences and rooftops to patiently watch for their prey (small rodents).
As all of the species mentioned in this blog post are wild animals in their natural habitats, please keep your distance when you encounter them and try to disturb them as little as possible. Another great way to admire wildlife in a supervised environment is to visit shelters such as the one at the Ferme 5 Étoiles holiday resort. The staff on site will be happy to tell you all about the wolves, bison, lynx and other Canadian wildlife species that live on this farm.
As you look forward to your next winter trip to Eastern Québec, follow photographers Éric Deschamps and Jean-Christophe Lemay on Instagram. You're sure to be wowed by their amazing photos of the wildlife they encounter on their outdoor adventures!
If you liked this article, you might also like...