The

Québec maritime Blog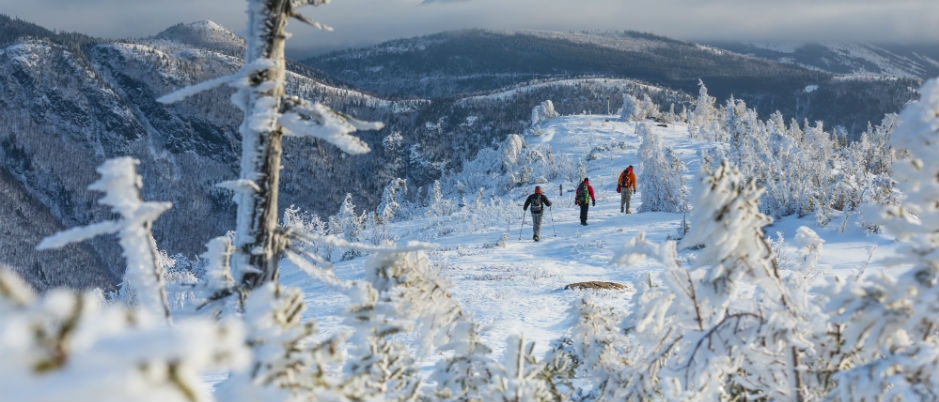 Parc national de la Gaspésie
Steve Deschênes/Tourisme Gaspésie
What to Do in Gaspésie in the Winter
An Interview with Jacques Bouffard
Clean air, mountains and powder snow are the perfect combination for adventure—and that's exactly what Gaspésie offers you during the cold season! A popular snowmobile destination offering 3000 km (1900 mi.) of trails and breathtaking views, the region is also a favourite among backcountry skiers. Jacques Bouffard, a professional guide in the Chic-Choc Mountains, invites you to come and discover his Gaspésie this winter!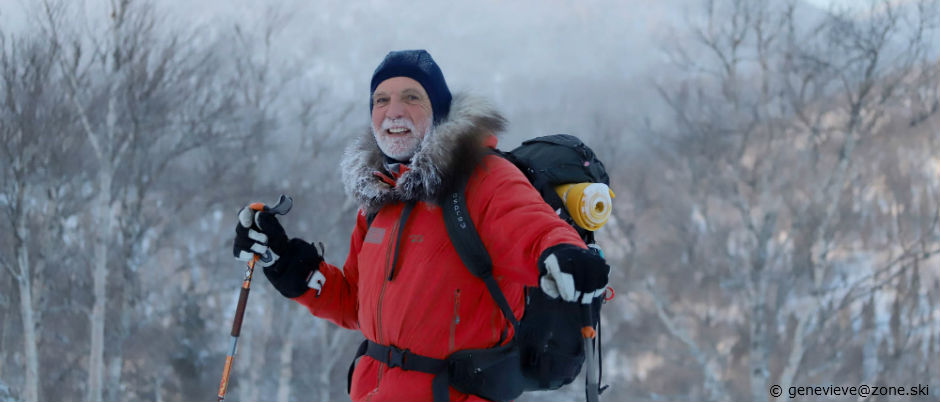 Jacques, a native of Matane, has been passionate about the mountains since he was very young. He is fascinated by them. At around the age of 18, while hunting with his father in the forest behind the village of Cap-Chat, he spotted a light in the distance. It was the antenna on Mt. Logan. "Just knowing there was something on the top of the mountain was so exciting—I thought about it all winter! That April, I went skiing to explore the area."
This was his "first real adventure" and inspired the rest of his career as an explorer. Since then he has participated in numerous international expeditions, including to Antarctica, Yukon and the former USSR. But still his best stories take place in the Chic-Chocs. According to him, "living in Gaspésie is an opportunity to write your own adventure story!"
Katie Jalbert (KJ): Jacques, tell us what's so special about winter in Gaspésie.
Jacques Bouffard (JB): Gaspésie in the winter is a constant source of excitement and wonder. It also has the best air quality—breathing fresh air makes me really happy! And then there are the winter lights, the frozen coastline… And a winter storm is an amazing experience (especially if you're sheltered from the cold)! It's like scenes from a Russian novel.
KJ: You work as a guide at the Auberge de montagne des Chic-Chocs. What kind of experiences does the lodge offer in the winter?
JB: You are given privileged access to the Réserve faunique de Matane, a wildlife reserve that includes several mountains over 1000 metres (3300 feet) high.
You'll be taken to the lodge by snowcat, which is already an experience in itself. We also provide all the gear needed to introduce people to the mountains. After playing in the snow, we get cosy around the fireplace and already people start to interact. Then we head to the dining room and all eat together. Chef Alain Laflamme prepares healthy meals featuring local ingredients. It's a human experience in the great outdoors that's unique in Eastern North America.
KJ: What about Parc national de la Gaspésie?
JB: It's more accessible than the wildlife reserve and the mountains are just as impressive. People can visit the park on their own, with maps. The trails are marked, and lots of information is provided about various itineraries. The park has an interpretation centre and offers several services.
KJ: You work as a guide during the TDLG on Skis and Snowshoes. What is this weeklong sports vacation like?
JB: It's an amazing experience! I've been involved with them for 17 years. I've always thought that this is a worthwhile endeavour: bringing people to Gaspésie to introduce them to winter. The TDLG is organized by exceptional people, and the energy is contagious. It's wonderful to see people who are awed by the beauty of our landscapes.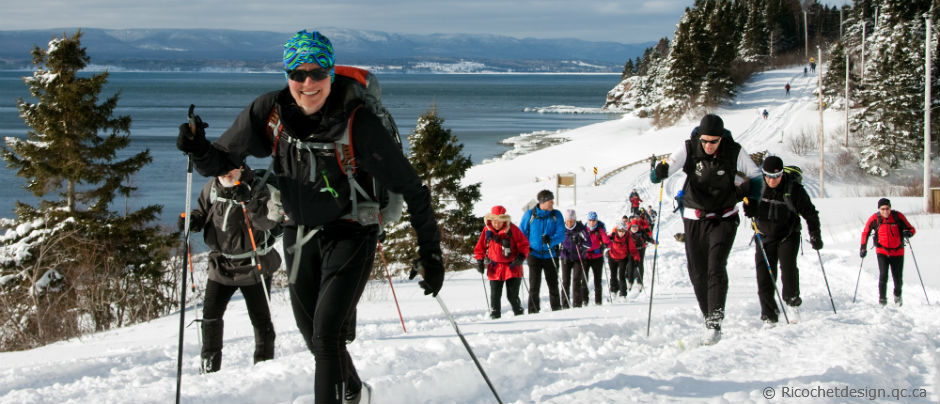 KJ: There are more and more adventure tourism companies in Gaspésie. What are your thoughts about that?
JB: It's fantastic! This is such a positive development for Gaspésie. Young people are more and more daring, and they have a taste for adventure. For example, Chic-Chac, in Murdochville, offers a wide range of activities in the mountains, including catskiing, backcountry skiing and heliskiing.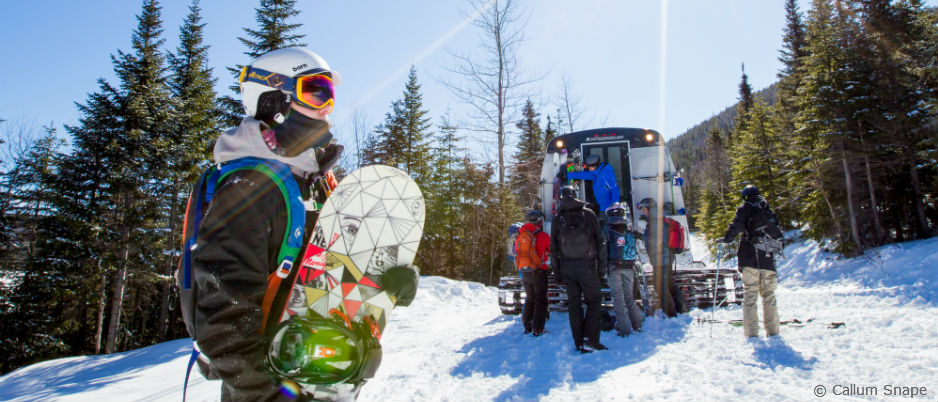 KJ: Do you have any pro tips to make the most of winter in Gaspésie?
JB: Being outdoors means being in a peaceful environment, a setting that can present you with certain challenges, but that you want to control to a certain extent. You must dress warmly, in good winter boots, mitts, a winter hat, etc. But it's not just about having the right clothes, you also need to know how to work with them. As lumberjacks used to do, bring several layers and put them on or take them off depending on what you're doing and how cold it is.
A little reminder: It's important to be vigilant in the Chic-Chocs, since there's always a risk of avalanches. Be attentive to the mountain and comply with safety regulations.
KJ: What do you like to do after a day outdoors?
JB : It's always good to savour a tasty craft beer, Radoune gin (inspired by the forest of Gaspésie) or a hot chocolate from Couleur Chocolat. But above all, I enjoy chatting with people by the fireplace and getting to know them. There's nothing better after a great day outdoors!
Has this interview with Jacques Bouffard inspired you to go on an adventure in Gaspésie's winter wonderland? Many surprises await you in the four corners of this region, including the legendary hospitality of the locals!