The

Québec maritime Blog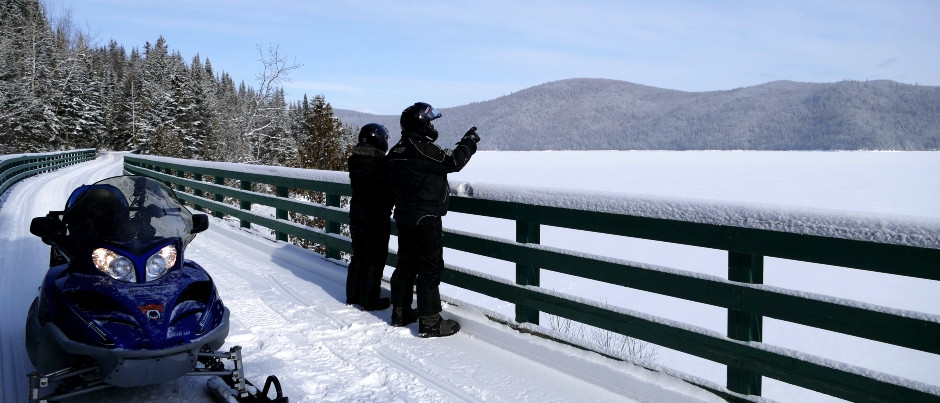 Yves Ouellet/Tourisme Bas-Saint-Laurent
What to See by Snowmobile in Eastern Québec: Lake Témiscouata
Bas-Saint-Laurent obviously has a maritime side to it, with snowmobile trails that run along the coast, but there are also some real gems hidden inland. Through the lush forest, you will encounter several frozen bodies of water, including majestic Lake Témiscouata. Discover what's so special about this lake and where to go to admire it!
Some info
The Témiscouata area has a rich history. Archaeological digs have confirmed that First Nations peoples have occupied this territory for at least 10,000 years! The name Témiscouata comes from Mi'gmaq words meaning "deep lake." Nearly 40 km (25 mi.) long, this lake is the largest in Eastern Québec and the second largest body of water south of the St. Lawrence; 45% of its shorelines are protected by a national park.
In the winter, the snow makes the lake look even more spectacular. You can contemplate it from Trans-Québec trail #85, which runs alongside Lake Témiscouata for several kilometres. You can also ride across several bridges between the Cabano and Notre-Dame-du-Lac areas. You may even spot a lighthouse! Take advantage of this opportunity to stop and soak up the magnificent scenery all around you.
How to get there
From Rimouski, head inland on Trans-Québec trail #35 all the way to Saint-Louis-du-Ha! Ha! You can also ride on this trail from the Kamouraska area. From Rivière-du-Loup or New Brunswick, follow Trans-Québec trail #85 to the lake. To complete your ride around this body of water, follow regional trail #571 from Dégelis to Squatec.
For other ride ideas in Bas-Saint-Laurent, consult the map of snowmobile trails in the region.
Enjoy your snowmobile trip to majestic Lake Témiscouata and keep your eyes peeled: white-tailed deer are often spotted in this area!
If you liked this article, you might also like...