The

Québec maritime Blog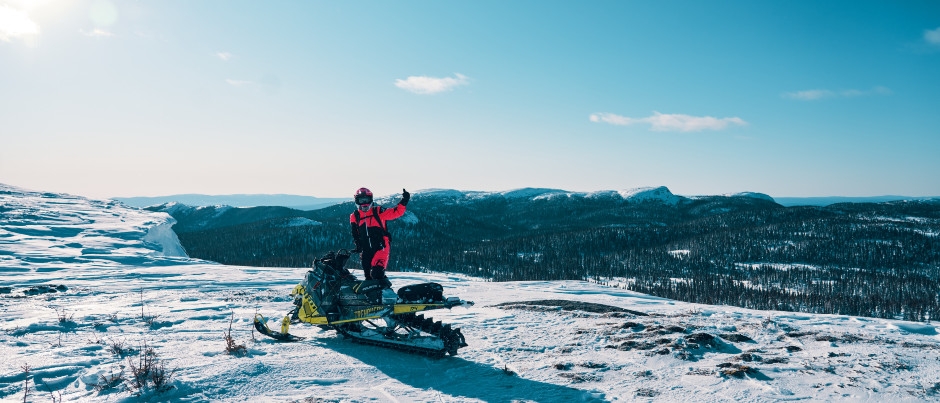 The Groulx Mountains
Guillaume Lacombe/Tourisme Côte-Nord
What to See by Snowmobile in Eastern Québec: The Groulx Mountains
When one thinks of the Côte-Nord region, what comes to mind is an immense, wild and pristine territory. And this is exactly what awaits you in the Groulx Mountains, north of Baie-Comeau. Discover why this area is on so many snowmobilers' bucket lists!
Some info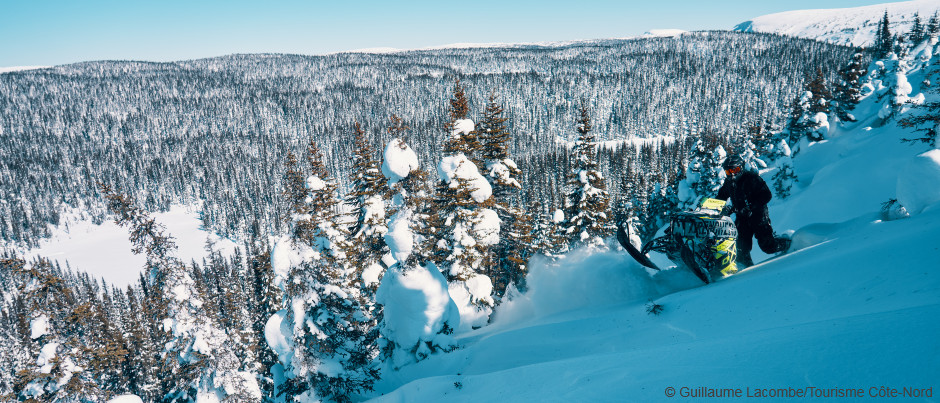 The Innu call them the Uapishka Mountains, which means "white mountains" or "rocky peaks always covered in snow.". Sounds like a winter wonderland, doesn't it? The Groulx Mountains include about 30 peaks over 1000 metres (3300 feet) high and cover an area of about 5000 km2 (1930 sq. mi.), a true paradise for backcountry riding and powder snow enthusiasts! Located east of the Manicouagan Reservoir, which has been nicknamed the "Eye of Québec," these mountains have several unique characteristics, particularly when it comes to their flora and fauna. The vegetation varies depending on the altitude, going from taiga to arctic tundra, and several vulnerable species are found in this area, including woodland caribou.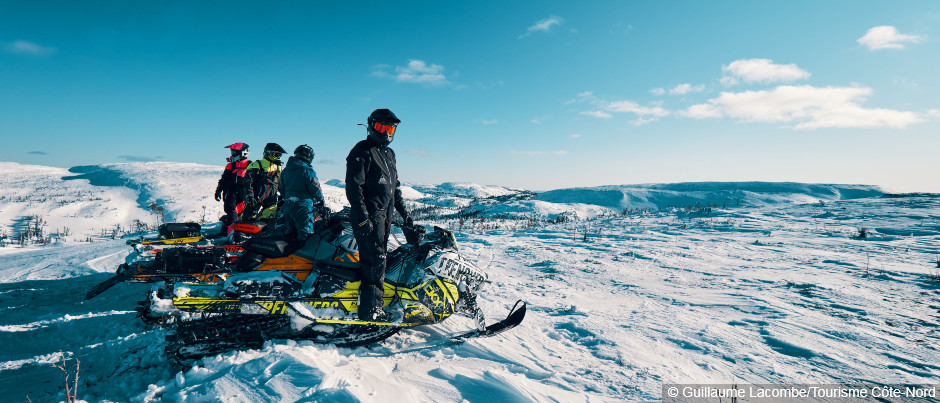 The Uapishka Biodiversity Reserve was created to protect this rich and fragile environment. As a result, very strict rules and regulations govern activities on this territory. For example, you must be accompanied by a guide duly authorized by the Québec Ministry of the Environment and the Fight Against Climate Change when snowmobiling in the Groulx Mountains. Station Uapishka offers a guided package for groups (maximum 6 people) so you can enjoy this experience to the fullest. The team also makes sure that you have all the gear required for this type of outing, including avalanche safety equipment, which is available for rent on site. Make sure you check weather conditions before departing on your trip: temperatures are normally around -30°C (-22°F) but can change quickly in the mountains, falling as low as -55°C (-67°F)!
How to get there
Since there are no snowmobile trails leading directly to Station Uapishka, we recommend that you drive there with your snowmobile in a trailer via Route 389. The station is 335 km (210 mi.) north of Baie-Comeau.
A snowmobile expedition in the Groulx Mountains is sure to be an exciting and memorable experience—one that will make all your snowmobiling friends jealous! Have an amazing adventure!
For snowmobile ride ideas elsewhere in Côte-Nord, consult the snowmobile trail map for this region, which you can view or order on our website.
If you liked this article, you might also like...