The

Québec maritime Blog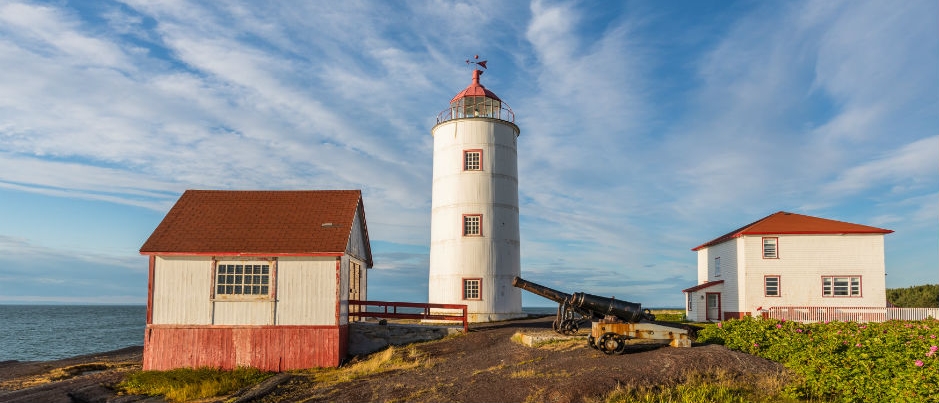 Maisons du Phare de l'Île Verte (B&B)
Mathieu Dupuis
What Unusual Accommodations Are Offered in Bas-Saint-Laurent?
The Bas-Saint-Laurent region features both sea and forest scenery. One way to immerse yourself in these landscapes is to opt for unusual accommodations, which are often located in idyllic surroundings. Here are a few options to add to your itinerary.
A submarine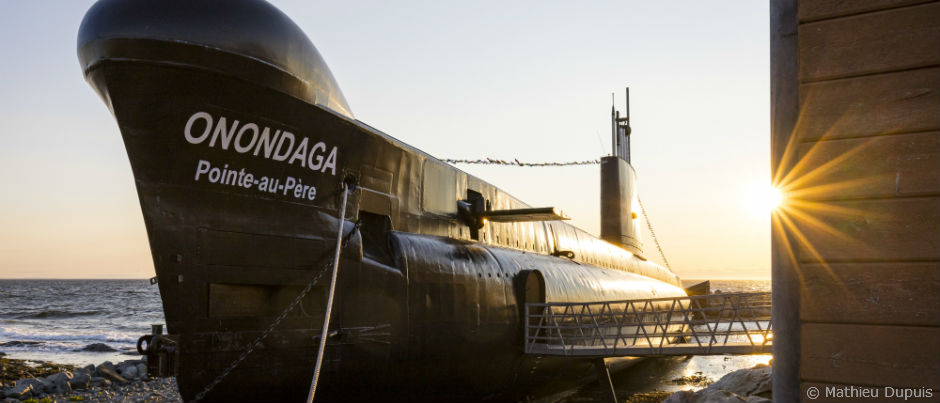 The Pointe-au-Père Maritime Historic Site invites you to play the role of an apprentice submariner aboard the Onondaga for one night. This 90-metre (300-foot) vessel, which operated in the North Atlantic from 1967 to 2000, is now anchored in Rimouski, along the St. Lawrence River. While participating in an experience that is unique in Canada, you'll be asked to fulfill several tasks under the command of the coxswain and can then settle into a bunk to spend the night in an unusual atmosphere.* This is a great opportunity to learn all about the daily lives of the 70 crew members who lived in this submarine for months at a time!
"Tiny house"-style cottages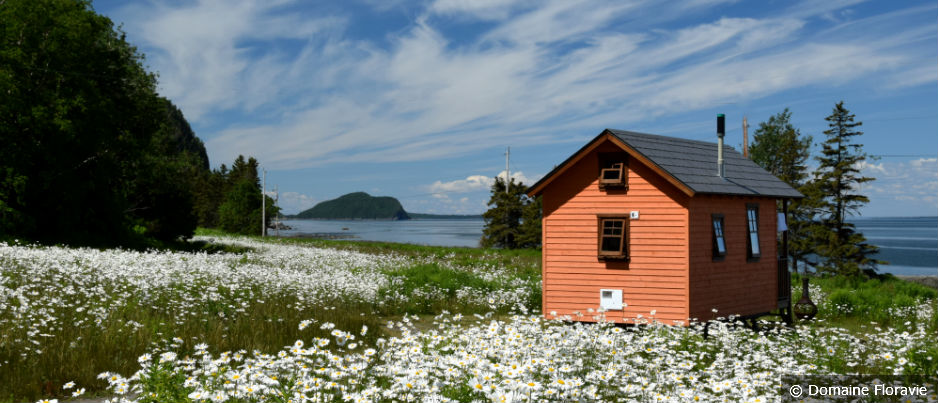 West of downtown Rimouski, in Le Bic, visit Domaine Floravie where you'll find cute eco-cottages on wheels! This site offers 7 colourful "tiny house"-style cottages, which are 20 feet by 10 feet and can accommodate up to 4 people. You'll be impressed by the way these dwellings were designed to make the most of the limited space inside. Enjoy the view of the St. Lawrence River from your cottage as you relax around an evening campfire.
Yurts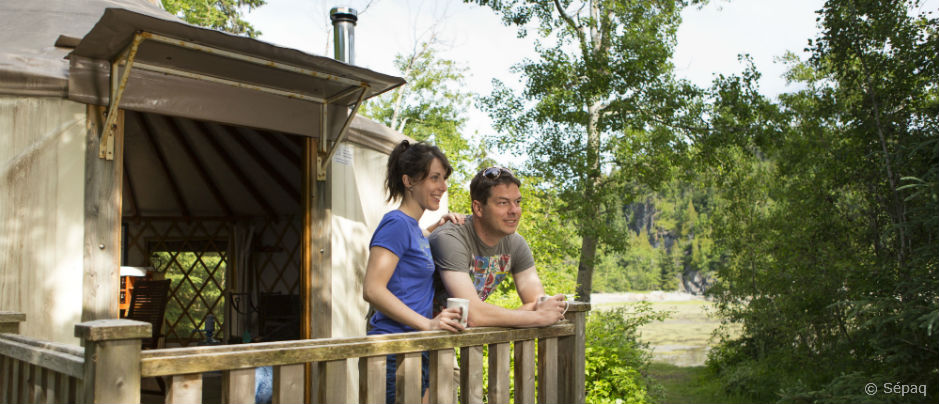 Also located in Le Bic is Parc national du Bic, a coastal park that includes capes, islands and mountains. Why not spend the night in a yurt, the traditional dwelling of nomads living in the steppes of Central Asia? These round four-season tents are cozy, with a unique rustic charm. When evening falls, you can admire the starry sky through the dome window in the ceiling. A total of 11 yurts are available in the Île-aux-Amours and Tombolo sectors.
"Ready-to-camp" (glamping) tents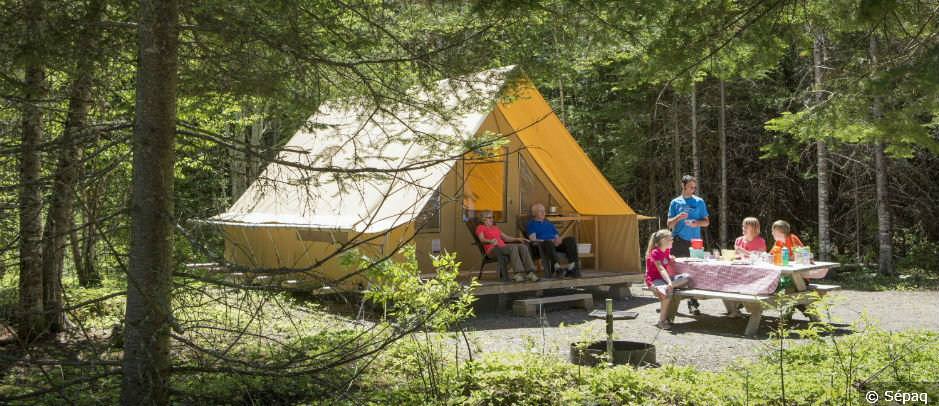 If you enjoy camping but are tired of hauling and setting up all that gear, "ready-to-camp" (glamping) tents are perfect for you! You'll find traditional glamping tents set up in quiet areas surrounded by nature in Parc national du Bic and Parc national du Lac-Témiscouata. These canvas tents, which resemble prospector's tents, include space heaters for cooler nights and all the equipment you'll need to cook your own meals. Parc national du Bic also offers Étoile glamping units, which are cube-shaped wooden structures covered with canvas. Their covered porches give you the opportunity to commune with nature, even in bad weather!
A lighthouse and lightkeeper's houses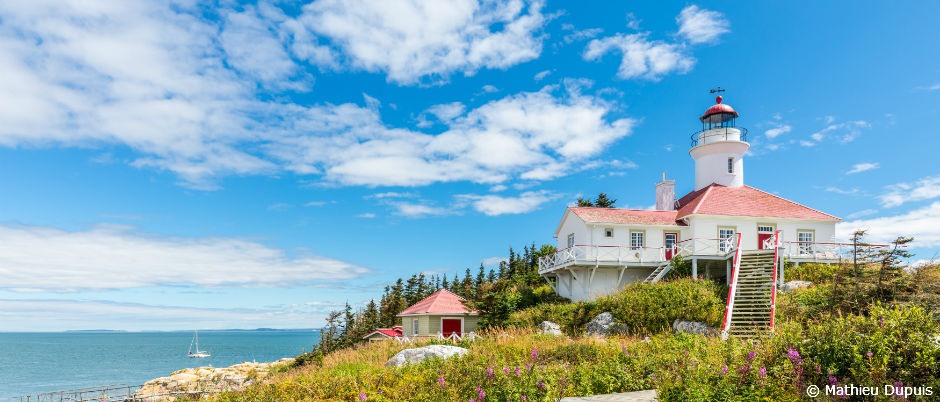 There are two sites in Bas-Saint-Laurent where you can spend the night under the reassuring beam of a lighthouse. On Île Verte (Green Island), the Maisons du Phare (the lightkeeper's house and the assistant lightkeeper's house) offer 9 pretty rooms, each with a name that evokes the rich history of this area. Just a few steps away from your room, climb to the top of Québec's oldest lighthouse! A little further west, off Rivière-du-Loup, Île du Pot à l'Eau-de-Vie (Brandy Pot Island) is home to a charming lighthouse of the same name. The lightkeeper's quarters were integrated into the base of the lighthouse, which has a distinctive design. They have now been restored and turned into 3 attractive rooms furnished in the spirit of the 19th century. This means you can access the tower without setting foot outside. So, are you ready to stand watch at the gateway to the continent like the lightkeepers of old?
Do these lodging options awaken the adventurer in you? Bas-Saint-Laurent awaits you for a memorable vacation, day and night!
---
*This activity is offered in French only.
If you liked this article, you might also like...