The

Québec maritime Blog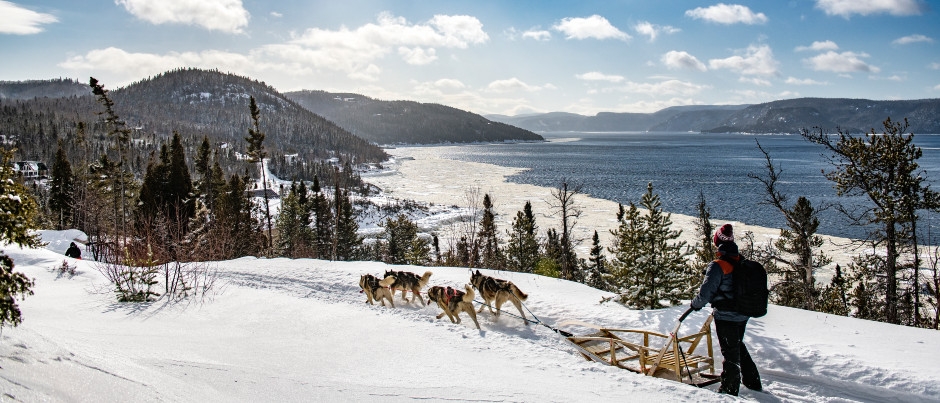 Overlooking the majestic Saguenay Fjord
Sébastien St-Jean/Tourisme Côte-Nord
Winter Fun at the Ferme 5 Étoiles Holiday Resort
A true paradise is hidden some 15 minutes away from Tadoussac, in the Côte-Nord region. Nestled along the majestic Saguenay Fjord, the Ferme 5 Étoiles holiday resort combines a prime location with a range of diverse and original activities to make the most of winter in Québec.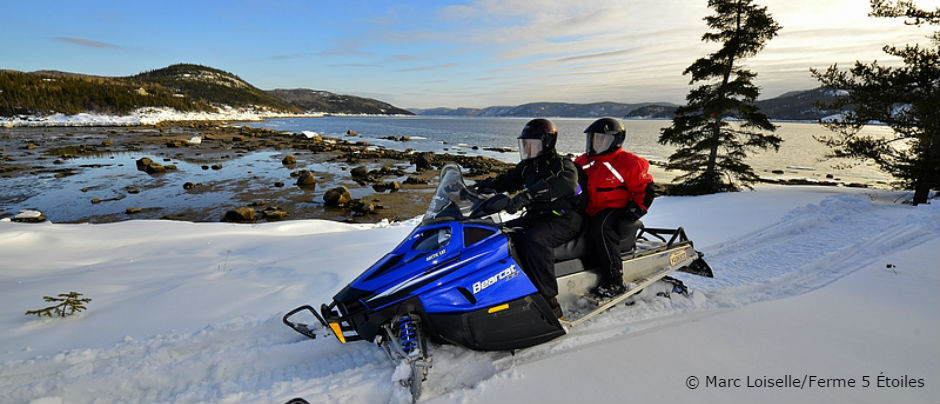 The area is an exceptional site for snowmobiling. Accessible from Trans-Québec trail #3 (from Tadoussac) and trail #93 (from Valin Mountains), the Ferme 5 Étoiles holiday resort is the perfect stop for passing snowmobilers. In addition, it offers guided trips from a half-day to five days, and even introductory trips. Who knows, the breathtaking views on the fjord, especially from Cap Sainte-Marguerite – the nicest according to many – might arouse new passions for you!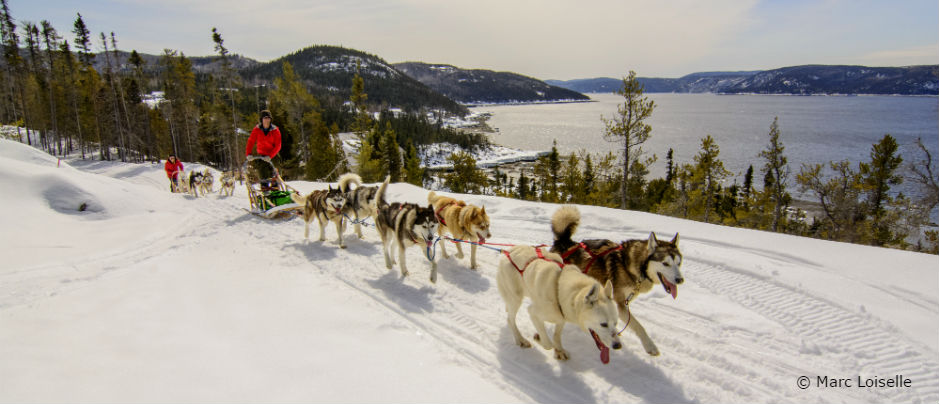 Have you ever dreamt of putting yourself in the shoes of old explorers travelling through Northern countries and dealing with the harshness of the elements? Guides at the Ferme 5 Étoiles holiday resort show you the principles of dogsledding on a circuit during which you learn to control your team's energy. And why not try out ice fishing? After drilling a hole in the thick ice, you can tease the fish out of the water and you may catch a nice wild brook trout for your dinner.
The area around the Ferme 5 Étoiles holiday resort is also criss-crossed by snowshoe and ski trails. Several itineraries are possible, from a few hours to a few days, with lodging in a hut or a yurt. Guided trips are also offered with lunch cooked over the fire. Keep your eyes open: wildlife is abundant in the surroundings. Watch for tracks in the snow and be on the lookout at every turn!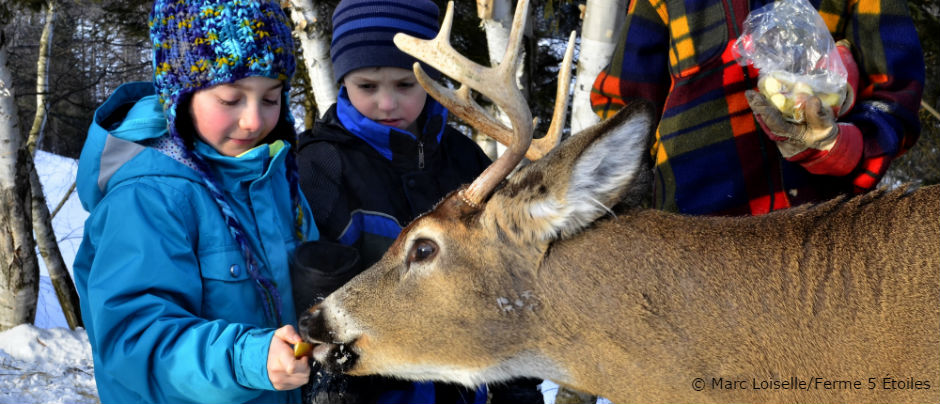 If you don't have a chance to encounter wild species while you play in the forest, you can still see some from very close in the Ferme's natural parks. The guides will tell you all the secrets about species representative of the Canadian wildlife, including moose, silver fox, deer and wolf.
When it comes to lodging at the Ferme 5 Étoiles holiday resort, options are plentiful. There are the classics: motel, apartments, cottages and chalets, some of which have a view on the fjord and several are equipped with a fireplace for a warm and relaxing atmosphere. But for an unbeatable charming and rustic experience, spend the night in a yurt, a large round-shaped tent with a wood floor and a skylight.
And after your busy day outside, the Ferme 5 Étoiles holiday resort gives you the opportunity to calm down in its relaxation centre, which includes a spa, a sauna and a massage therapy centre. Inviting, isn't it?
Different packages have been designed for snowmobilers, outdoor enthusiasts and people looking for relaxing holidays, including lodging, meals and various activities. Come around and spend some time close to nature in this paradise of the Côte-Nord region!
If you liked this article, you might also like...