The

Québec maritime Blog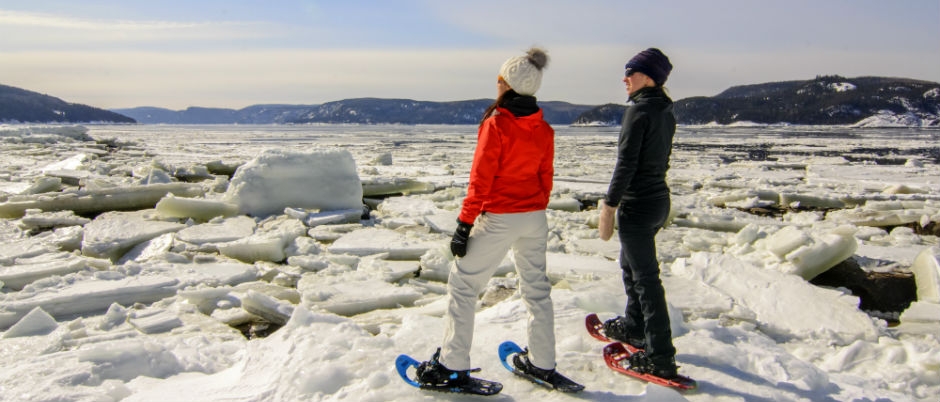 What to Do in Côte-Nord in the Winter
An Interview with Coralie Dumais
Côte-Nord, which extends from Tadoussac to Blanc-Sablon, offers over 1300 kilometres of coastline and a vast territory ranging from the boreal forest to the taiga. Land of the Innu and Naskapi, it is worthy of the greatest adventurers. In the winter, the snow cover gives you the opportunity to explore the region and enjoy a magical wonderland in a thousand and one ways: snowmobiling, dogsledding, skiing, snowshoeing, ice climbing and more!
To find out more, we interviewed Coralie Dumais, who grew up in this region and came back to set up an outdoor company, which she operates with enthusiasm with her partner, Frédéric Fournier. She first completed a degree in preschool and elementary education and was then inspired by her love for the mountains to specialize in outdoor intervention. Pedagogy is therefore at the heart of her philosophy as an entrepreneur.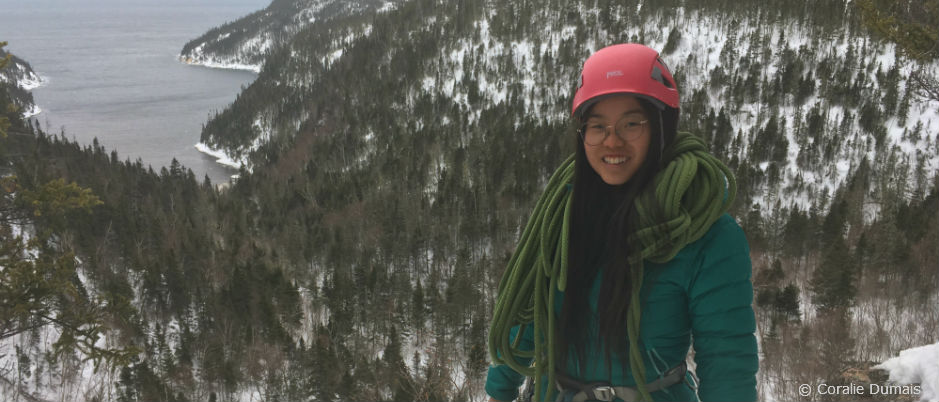 As soon as we met this young traveller with an infectious smile, we instantly wanted to explore her region from a different angle!
Katie Jalbert (KJ): Coralie, can you please tell us about your outdoor company and what you offer in the winter?
Coralie Dumais (CD): One of the goals of Attitude Nordique is to share our passion for the outdoors through guided activities and specialized training. We offer equipment rentals, day camps, customized packages and winter field trips as well as remote training and survival courses. We have several projects in the works that will be launched by next year, including winter kayaking!
KJ: What do you have to offer to those who love the mountains?
CD: The Groulx Mountains are an experience not to be missed! They are located in a territory that has been designated a World Biosphere Reserve by UNESCO. There are no words to describe the wild beauty of these mountains. Everything is so quiet. You feel alone in the world surrounded by immensity. It's like being in the Far North, but you're only a few hours from the city.
You can go there on your own, but you'll need to have solid orienteering and outdoor adventure skills. Attitude Nordique are the outdoor experts for this area. And for those who want to explore the mountains in complete safety, we offer guided backcountry skiing excursions.
KJ: Côte-Nord attracts many snowmobilers every year. I imagine that the conditions for this sport are particularly good in this region?
CD: I'm always impressed when I meet people who have driven 8 hours from Montréal and then set off on a snowmobile adventure. But I understand them! The snow conditions in Côte-Nord are exceptional, and the mountainous terrain presents some exciting challenges. Snowmobiling is integral to the Côte-Nord way of life. In addition to allowing you to visit picturesque villages such as Tadoussac, Les Bergeronnes and Les Escoumins, the trails of Côte-Nord are also renowned for their width. The region is home to magnificent bodies of water and snowmobile bridges, including the one across the Manicouagan River, which is simply breathtaking!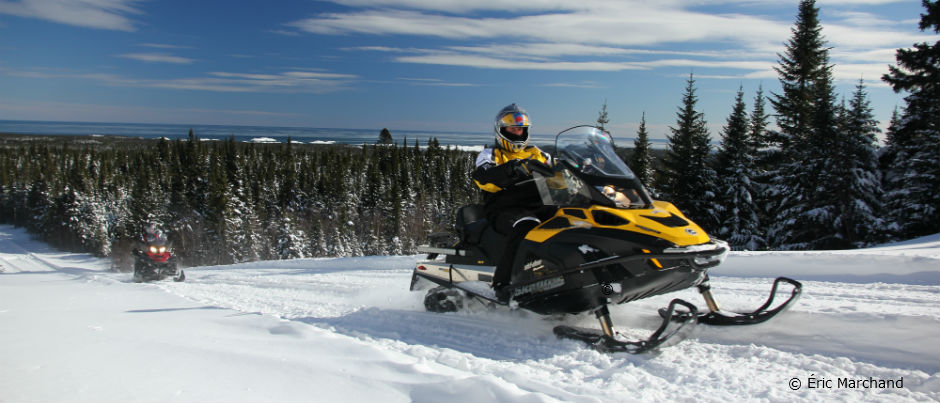 KJ: We know that fatbiking is gaining in popularity. Are there trails in Côte-Nord for those who enjoy this sport?
CD: Absolutely! We offer miles and miles of coastline where you can ride along beaches and admire huge glaciers. There are also many forest trails, such as those found in the Amédée River area.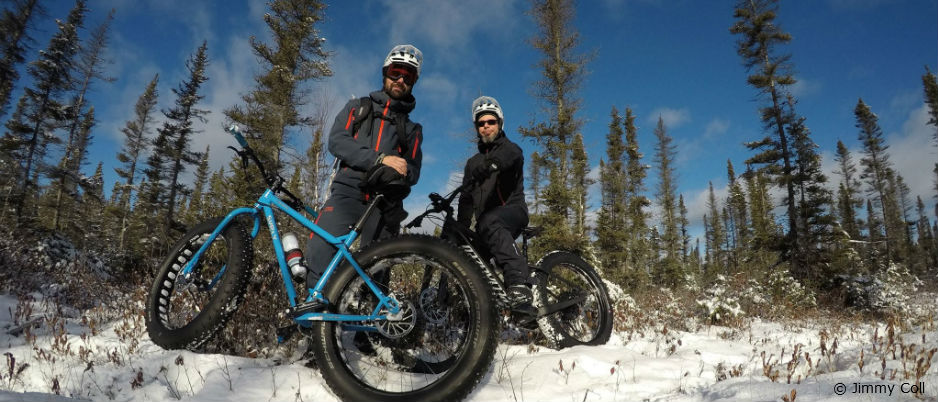 If you want to try out this sport, you can rent a fatbike from Mon Vélo. Attitude Nordique offers 3-day expeditions in the Groulx Mountains, which include transportation, meals and overnight stays (at Uapishka Station and in a prospector's tent). We're having lots of fun in the mountains!
KJ: Côte-Nord is associated in people's minds with huge glaciers. It must be an ice climber's paradise, right?
CD: It's a climbing mecca! I love this sport, and the region offers many walls that are over 35 metres (115 feet) high, which will thrill even the most experienced climbers. As a climbing guide, I also try to make this sport open to all by offering introductory courses on more accessible walls.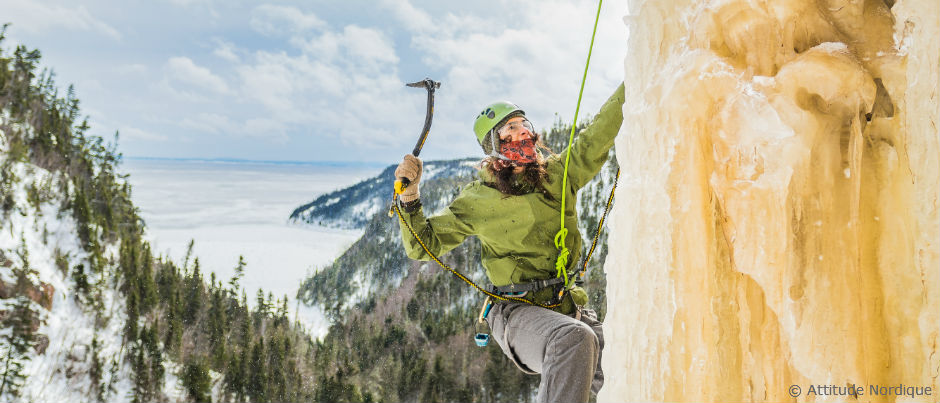 KJ: Do you have any pro tips to make the most of winter in Côte-Nord?
CD: There are many outdoor companies that offer the opportunity to try various activities in the winter. Be brave and try something new: there's nothing to be afraid of, since all these activities are supervised by professionals. Also, don't worry about being cold. When you keep moving, you'll stay warm. Drink plenty of water and wear clothing in layers. Keep in mind that it's when you dare a little that you really discover your own strengths!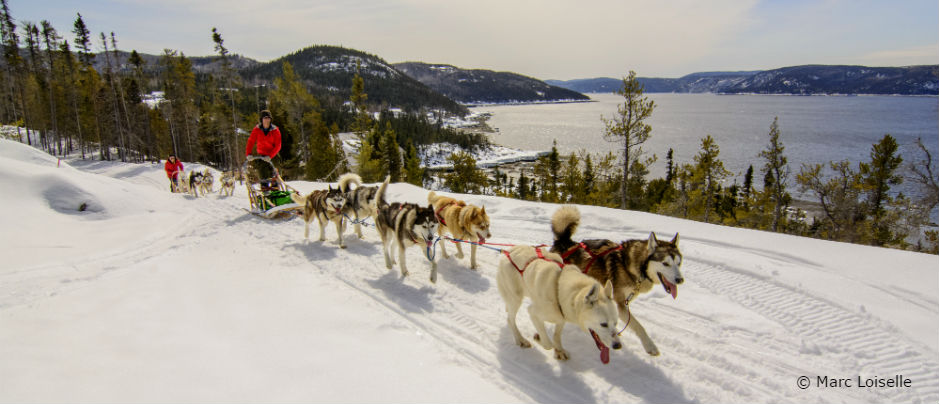 Winter enthusiasts like Coralie are found throughout the region of Côte-Nord. For example, you can meet some of them at the Ferme 5 Étoiles holiday resort. This family farm offers multi-activity stays during which you can go snowmobiling, ice fishing, dogsledding, snowshoeing and wildlife watching. If you visit Sept-Îles in February, don't miss the Festival des Hivernants, a family-friendly festival that invites you to discover the joys of winter while participating in fun cultural and outdoor activities. And if you happen to be in Forestville in February, you can attend the Boréal Loppet, the longest cross-country ski race in Québec!
As you can see, Côte-Nord offers you many opportunities to play outside. What are you waiting for? Visit Côte-Nord this winter!
If you liked this article, you might also like...