The

Québec maritime Blog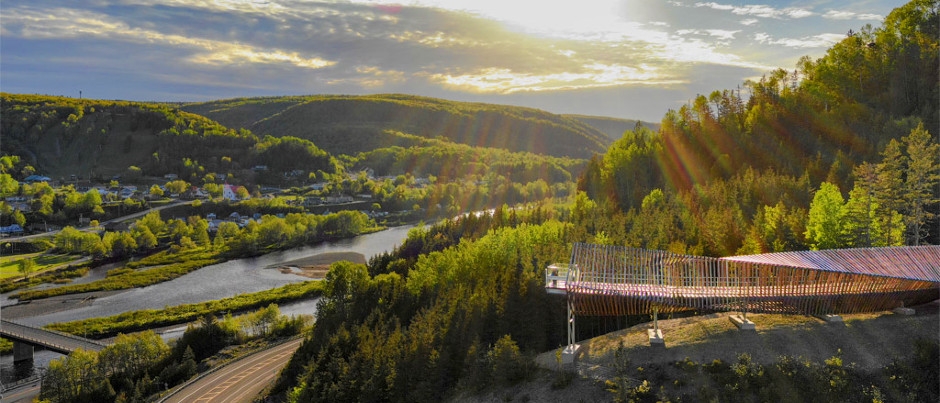 The Deux-Rivières Lookout
La Semelle Verte
Wow-Provoking Panoramic Views in Eastern Québec!
The sea, rivers, lakes, mountains, fields… Vast natural landscapes are found throughout the maritime regions of Québec, much to the delight of outdoor enthusiasts as well as those seeking peace and relaxation. It can be hard to figure out the best places to go to see the most beautiful views, which is why we've prepared this list to get you started!
Bas-Saint-Laurent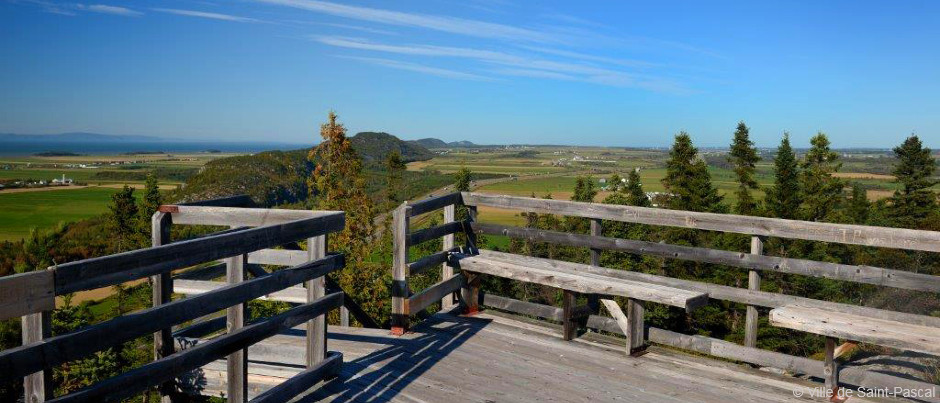 Montagne à Coton (Saint-Pascal): Dotted with five lookouts, this 150-metre (500-foot) mountain gives you an unobstructed view of the backcountry, the islands in the St. Lawrence and the coastal villages in the Kamouraska area. The mountain was named after Father Coton, a hermit who lived here in about 1855.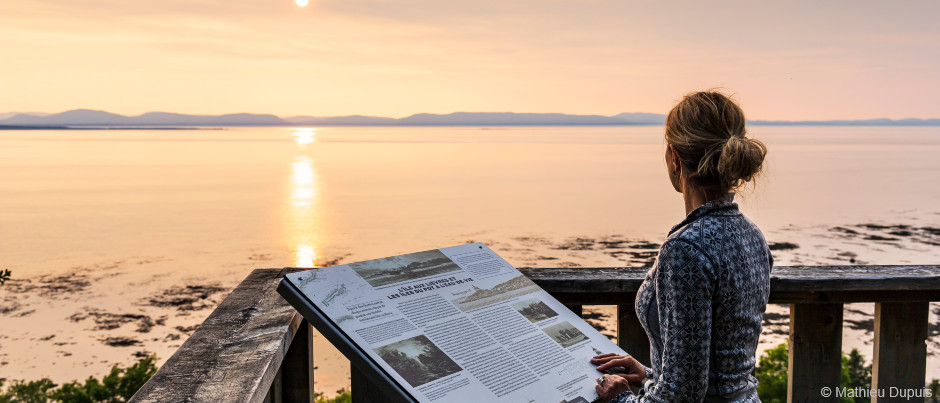 Belvédère de l'Anse lookout (Rivière-du-Loup): This is definitely a place to go watch the sun set! Easily accessible from Route 132, this site overlooks Parc de la Pointe and several islands in the St. Lawrence Estuary that are seabird sanctuaries.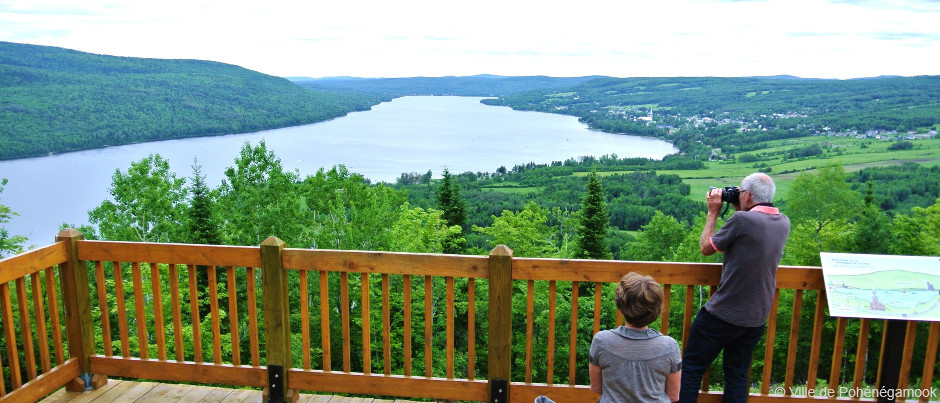 Belvédère de la Croix de la Montagne (Pohénégamook): Soak up the view of the lush forest in the Témiscouata area as well as of Lake Pohénégamook from this wooden platform built into the mountainside. At night, a huge cross lights up on the mountain, which is where the lookout got its name (belvédère de la croix means "cross lookout").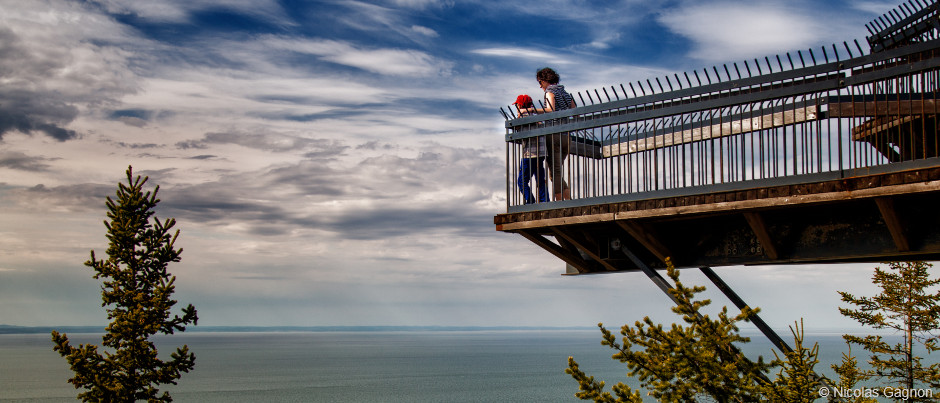 Belvédère Beaulieu lookout (Saint-Simon): Also called the Porc-Pic lookout, this platform will give you the impression of floating between sea and sky! To get there, you'll need to hike a 2-km (1-mi.) trail with steep inclines.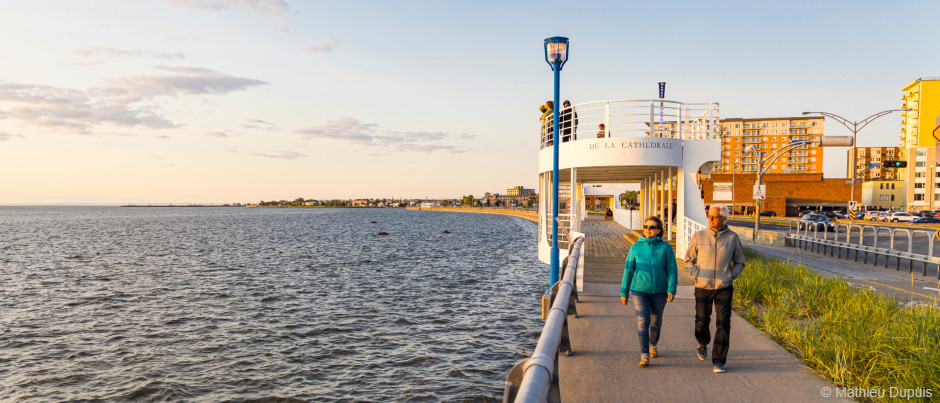 Promenade de la Mer boardwalk (Rimouski): Along this 4.3-km (2.7-mi.) boardwalk bordering the St. Lawrence Estuary, you'll find two lookouts designed to resemble the white ships of yesteryear. They're perfectly spaced out for you to stop for a break while admiring the view and breathing in the salty air. They also happen to be great places to enjoy an ice cream!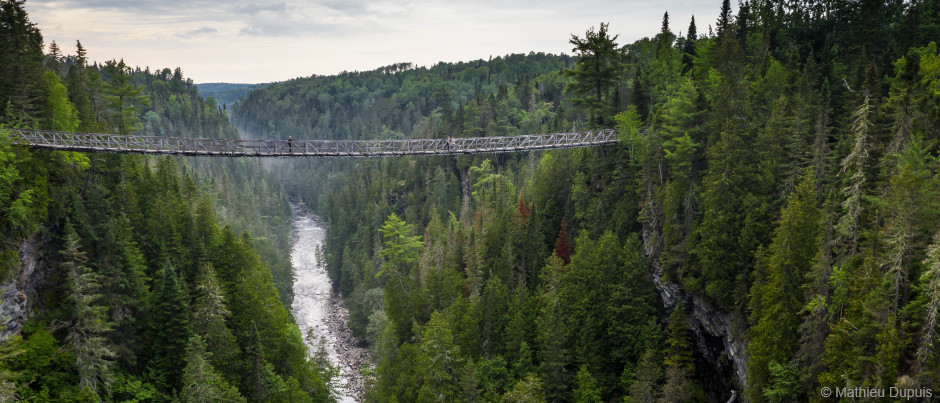 Footbrige in Canyon des Portes de l'Enfer (Saint-Narcisse-de-Rimouski): From the middle of the highest suspension footbridge in Québec (which is 63 metres, or 205 feet, high), you can imagine the brave log drivers who used to travel down the Rimouski River (right under your feet) on huge logs! The view over the canyon from the bridge is truly breathtaking!
Gaspésie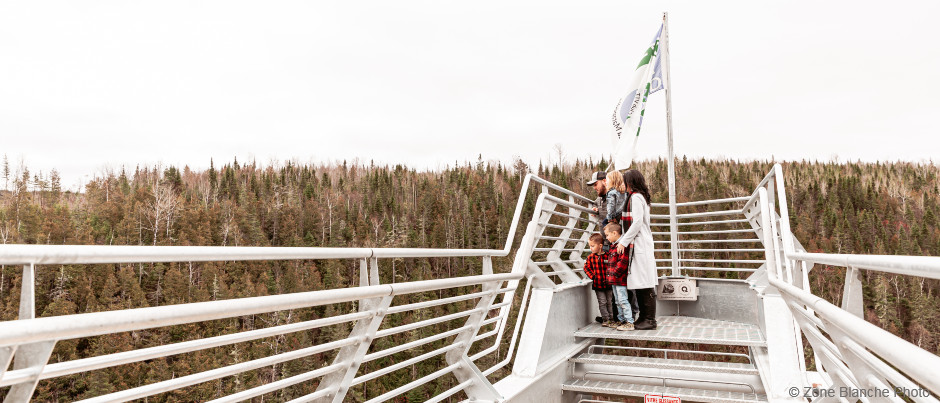 Chute à Philomène lookout (Saint-Alexandre-des-Lacs): Built in the mountains of Matapédia is a 21-metre (70-foot) suspended platform overlooking the Chute à Philomène, one of the most beautiful natural attractions in this area. You can also hike a trail to the foot of the waterfall to admire it from another angle. It's the perfect place for a picnic!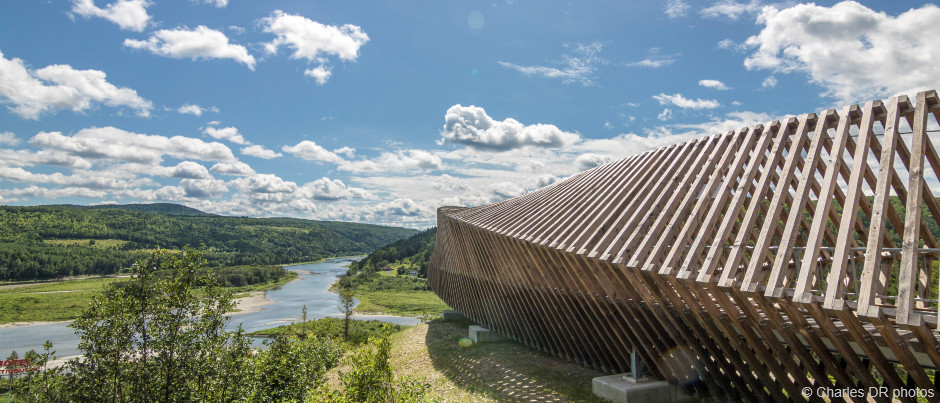 Route des Belvédères scenic drive (Matapédia-et-les-Plateaux): Four lookouts offering breathtaking views of mountains and rivers are located in different villages along this scenic drive. All four have been recently constructed (or are about to be redone) to feature exceptional architecture, like the one in Matapédia, which is a twisted wooden tunnel that lights up at night!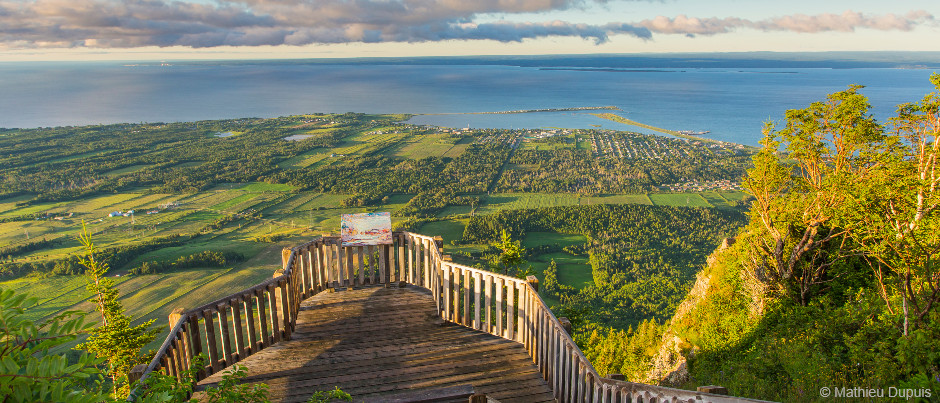 Mt. Saint-Joseph lookout (Carleton-sur-Mer): The most spectacular view of Chaleur Bay awaits you from this lookout! Facing south and offering views of the mountains, fields and sea, this site is also a gathering place where various activities are offered in the summer.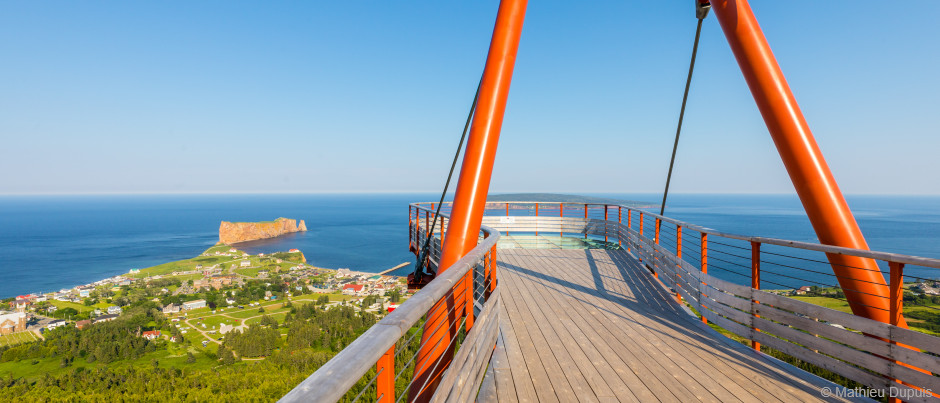 Glass platform in the Percé UNESCO World Geopark (Percé): In addition to providing an amazing view of Percé Rock, Bonaventure Island and the charming village of Percé, this suspended glass platform will give you the thrill of stepping out above the void! For more thrills, you can also launch yourself into the air on a zipline (not available in 2023).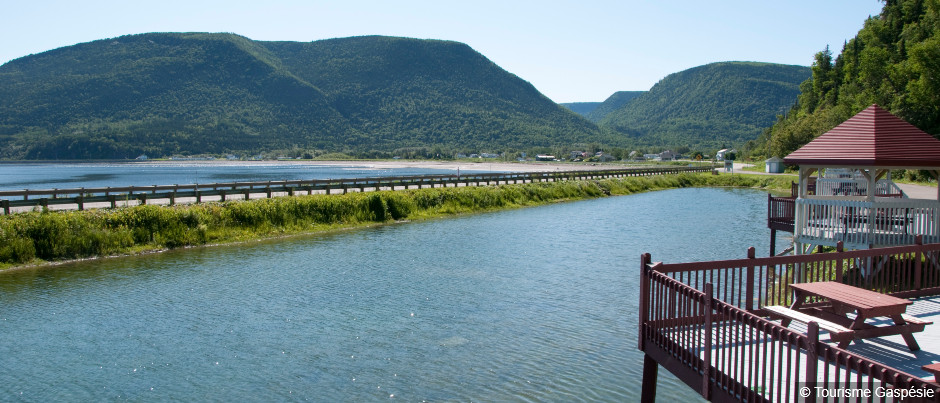 Pierre-Drapeau lookout (Rivière-à-Claude): Named after a pioneer of this hamlet located in the hollow of a cove, the Pierre-Drapeau rest area is a little haven of peace, ideal for a picnic with the sounds of the waves in the background.
Côte-Nord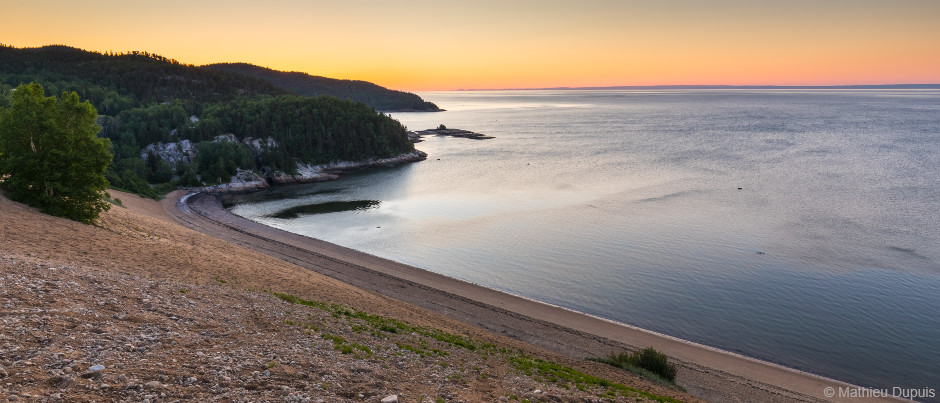 Lookout on the De l'Estuaire trail (Tadoussac): The De l'Estuaire trail (800 metres / 0.5 mi. round-trip) will lead you to a view of the famous sand dunes of Tadoussac as well as of the St. Lawrence Estuary. In the fall, the lookout is a popular place to observe raptors and other migratory birds.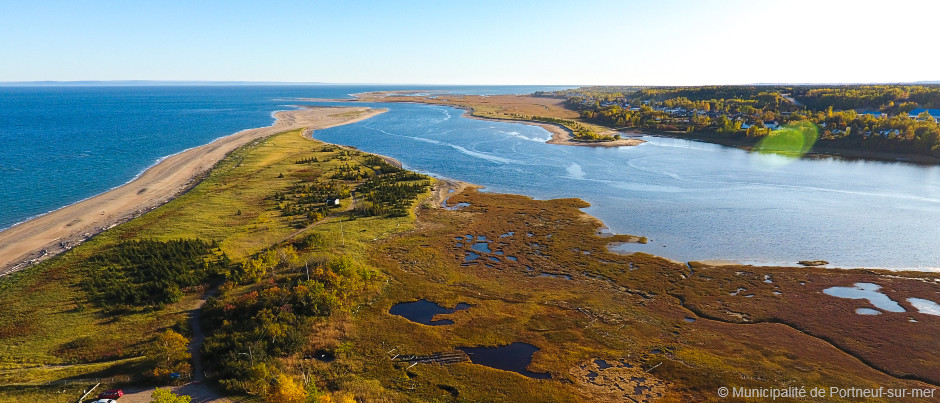 Portneuf-sur-Mer lookout (Portneuf-sur-Mer): To get to this lookout, follow the trail (2 km / 1 mi. round-trip) through a coniferous forest with a view of the Portneuf River. Once you reach the lookout, which faces a series of long sandy beaches, you can admire the St. Lawrence in all its glory. A staircase will take you down to the beach.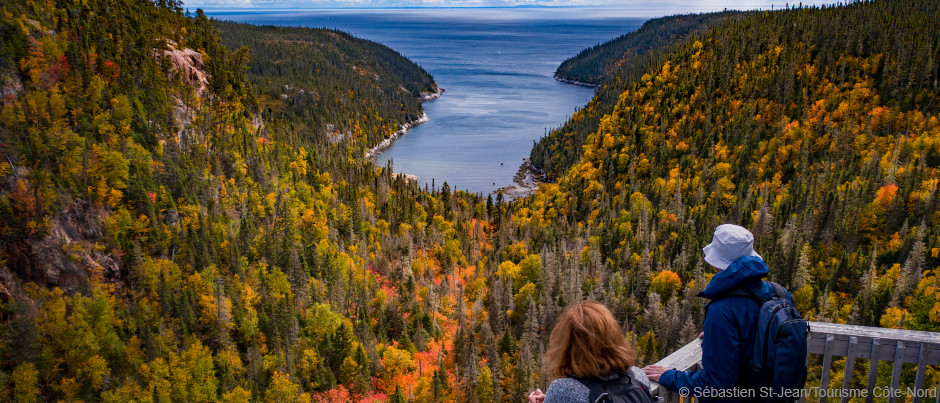 Fjard St-Pancrace lookout (Baie-Comeau): From a height of 600 metres (2000 feet), you can admire a spectacular panoramic view! From this wooden platform, you can clearly see the cove of the same name, which was used by smugglers during the Prohibition era.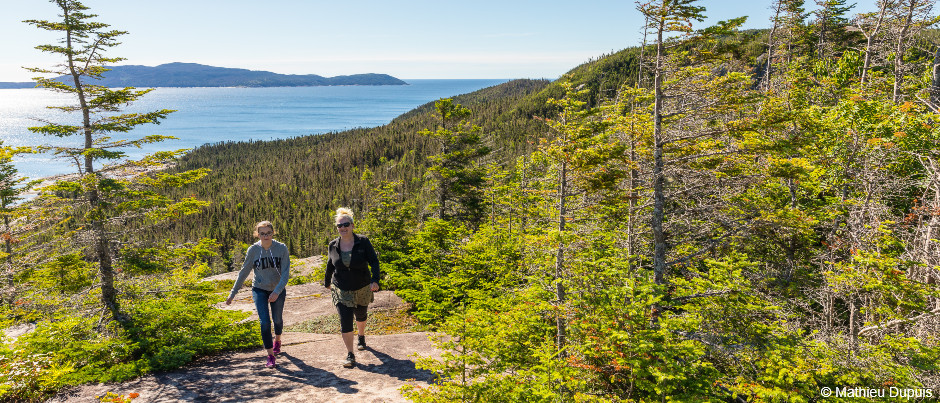 Grande-Basque Island lookout (Sept-Îles): The Sept Îles Archipelago is a highly biodiverse environment that is also a popular hiking destination. One of the most beautiful viewpoints (with a 360°-degree view) is from the natural lookout on Grande Basque Island, a rocky plateau from which you can admire the sea and the neighbouring islands.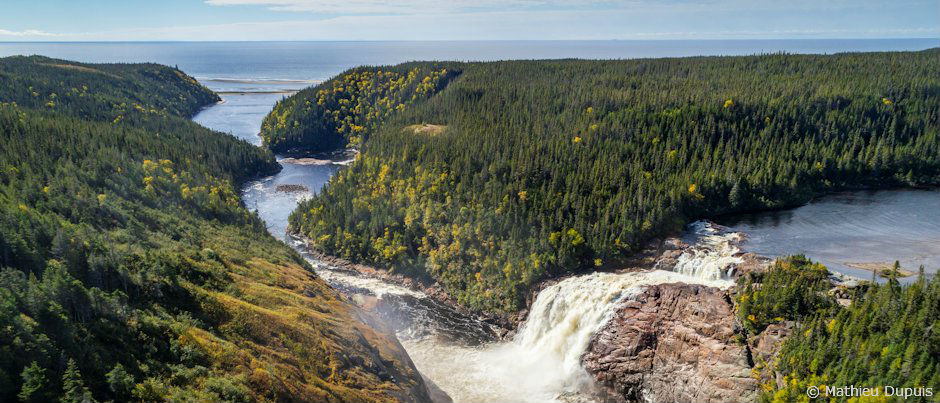 Chute Manitou waterfall (Rivière-au-Tonnerre): A must-see in the Minganie area, this 35-metre (115-foot) waterfall in the boreal forest is sure to impress you! You can contemplate it from various angles as you climb down and then back up the stairs (which also offer landings where you can stop and admire the view).
Îles de la Madeleine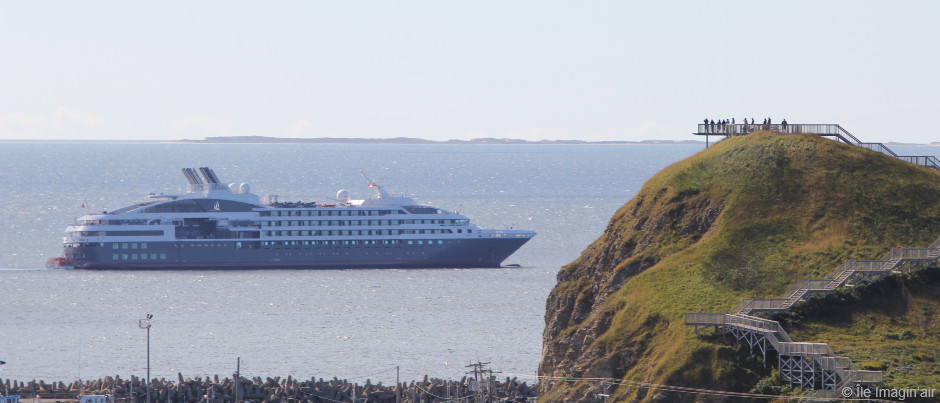 Sentier du Littoral lookout (Cap-aux-Meules): Climb 185 steps from Chemin du Quai to the highest point on Cap aux Meules Island and enjoy a panoramic view of the bustling fishing harbour.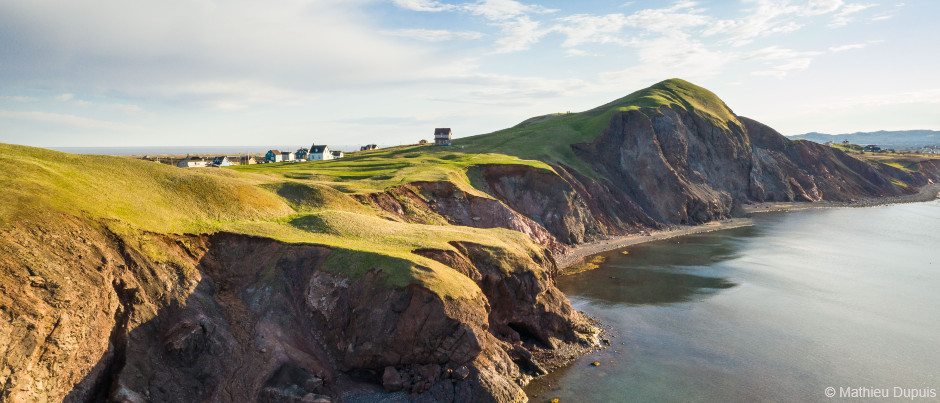 Réserve Naturelle des Demoiselles (Havre-Aubert): Offering an unobstructed view of the water, this site apparently used to be frequented by sailors' wives who were trying to spot their husbands at sea.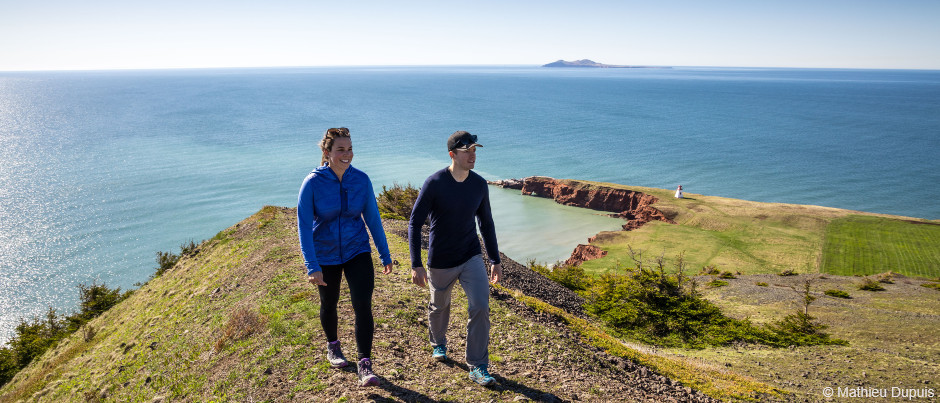 Butte Ronde and Butte à Mounette (Havre-aux-Maisons): A hiking trail will lead you to these two hills, which are great places to admire the surrounding fields of wildflowers as well as the colourful houses that are so typical of this area.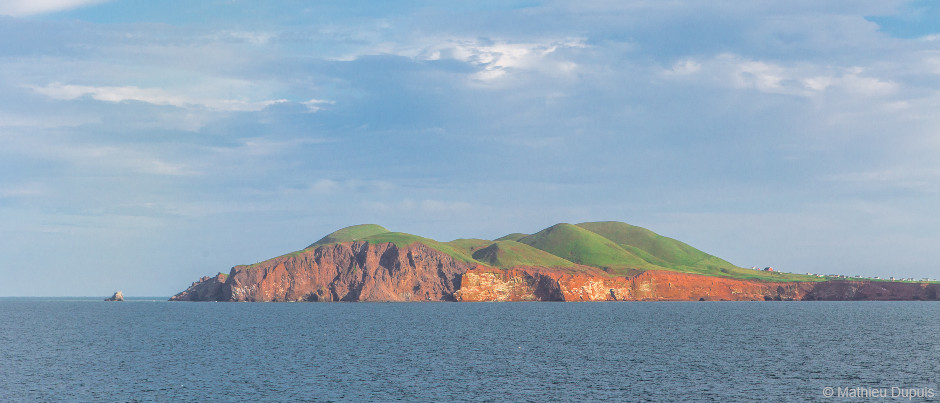 Big Hill (Entry Island): This is a spot you won't want to miss: it's the highest point on the Islands at 174 metres (571 feet) above sea level! Entry Island is the only inhabited island in the archipelago that's not connected to the others by road. Stroll through the pastures and contemplate the beautiful and unspoiled rolling green hills.
This is just a sample of the many viewpoints and charming rest areas found throughout our regions. As you may imagine, our national parks are also home to exceptional lookouts worth discovering. No matter where you are, make sure you take the time to enjoy nature and admire the beauty that surrounds you!
If you liked this article, you might also like...