The

Québec maritime Blog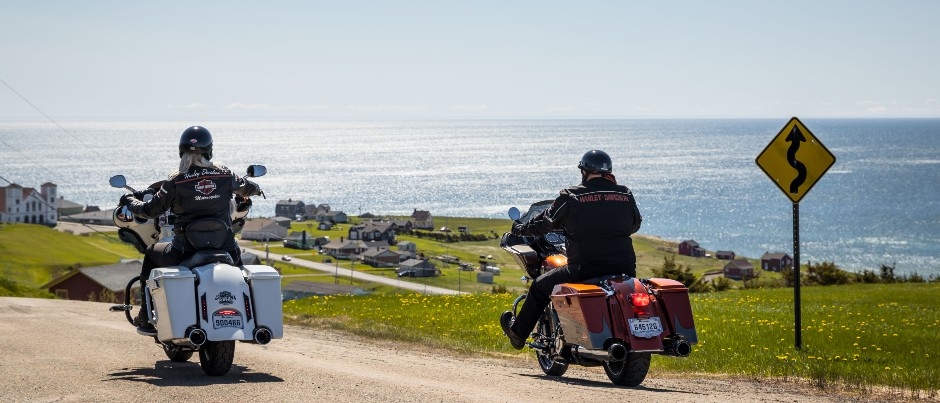 Îles de la Madeleine
Mathieu Dupuis
6 Motorcycle Itineraries to See Eastern Québec from Another Angle
Routes 132 and 138, which run along the south and north shores of the St. Lawrence respectively, are well-known road trip itineraries for good reason. However, the maritime regions of Québec also offer many other options that will lead to new adventures on two wheels!
Bas-Saint-Laurent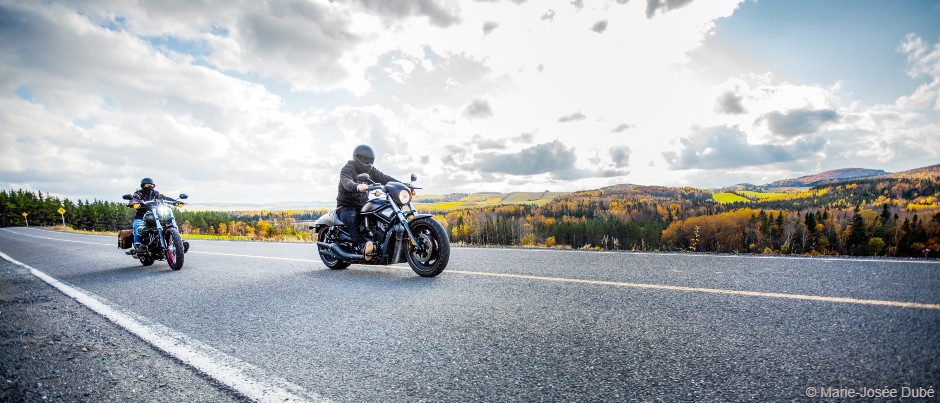 Border Route (Route des Frontières)
Bas-Saint-Laurent offers a multitude of road trip options, including the Border Route, which stretches for over 100 km (60 mi.) from Saint-André-de-Kamouraska to Saint-Jean-de-la-Lande. This area along the border between Québec and the U.S. or New Brunswick is filled with reminders of its political geology, including customs posts, border markers and an international bridge. Enjoy a scenic ride through forests and farmland that will also give you access to many of the region's natural, cultural and recreational attractions. Read the interpretive panels along the way to learn more about local built heritage and natural environments.
What not to miss: Be sure to stop and visit the Amouraska vineyard, the Le Secret des Dieux microbrewery and the Romain Caron covered bridge (the only one left in the area).
Notre Dame Mountains Route (Route des Monts Notre-Dame)
Nearly 200 km (125 mi.) long, the Notre-Dame Mountains Route begins along the sandy shores of the St. Lawrence in Sainte-Luce and will take you through mountains that are 200 million years old all the way to Saint-Jean-de-la-Lande. Enjoy a unique drive through a mountainous area dotted with lakes, rivers, fields and forests. Keep your eyes peeled: birds of prey are plentiful throughout this area and commonly fly over the road.
What not to miss: Outdoor enthusiasts will want to stop and spend some time in Parc national du Lac-Témiscouata and the Réserve faunique de Rimouski, both of which are accessible along this route. For a thrilling experience, you'll also want to visit the Canyon des Portes de l'Enfer, home to Québec's highest suspension bridge, and Domaine Valga, which offers an aerial adventure park.
Gaspésie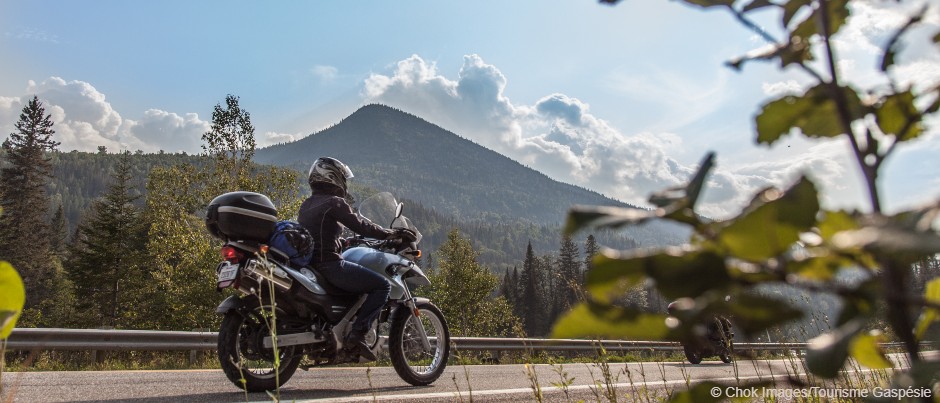 Route 299
If you're a fan of mountainous terrain, then Route 299 is for you! Driving along this ribbon of asphalt dominated by the Chic-Choc Mountains will make you feel small in comparison to these giants, many of which are over 1000 metres (3300 feet) high. This road is also the only one that will take you through the heart of Gaspésie, from Sainte-Anne-des-Monts on the north side of the peninsula to New Richmond and Chaleur Bay on the south. For the entire 150-km (95 mi.) ride, you'll follow the Sainte-Anne and Cascapédia rivers, which meander through forests of conifers. Several salmon observation sites are accessible along the way. If you're lucky, you may also see other iconic wildlife species in their preferred habitats, such as moose and bald eagles. Just before the end of this road, you'll arrive in the Cascapedia-Saint-Jules area, a primarily English-speaking community where you can admire British-style architecture. Once you hit Route 132, you'll have the option to head east towards the tip of the Gaspé Peninsula or west towards Bas-Saint-Laurent via the Matapédia Valley.
What not to miss: Parc national de la Gaspesie is a popular destination for hiking and moose watching, while the Gîte du Mont-Albert hotel offers comfortable accommodations, fine dining and boxed lunches.
Route 198
Starting in L'Anse-Pleureuse, Route 198, which is about 150 km (95 mi.) long, will take you through the heart of the Chic-Choc Mountains. Only a few minutes after your departure, stop at the rest area named after the village where you can take pictures of a beautiful lake surrounded by peaks. The road will then enter the mountains, with Mt. Jacques-Cartier, the second highest mountain in Québec, dominating the landscape. If you're a fan of curves, then this part of the ride is for you! You'll climb to an altitude of over 600 metres (1970 feet), before starting a gentle descent towards Murdochville, a former mining town that has become a popular outdoor destination. Don't miss this opportunity to visit the only settlement found along this road. Shaped by its copper mining past, this town has much to offer. After Murdochville and all the way to Gaspé, you'll ride through a forest interspersed with several rivers and lakes. Soak up the calm of this area and be sure to stop and stretch your legs along the way, such as by the banks of the York River, where you can admire several huge inuksuit built by members of the Mi'kmaq First Nation, which has inhabited this area for nearly 3000 years.
What not to miss: Visit the Murdochville copper mine to learn more about the town's history. You can also stop at Chic-Chac, which offers a multitude of outdoor activities.
Côte-Nord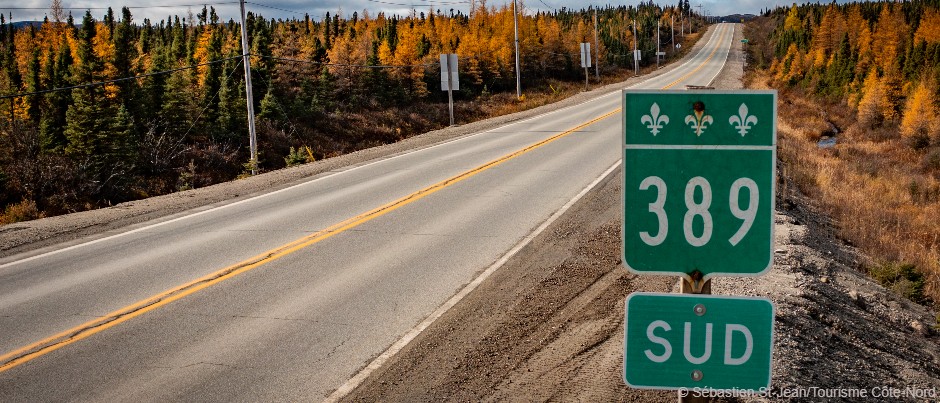 Route 389
Route 389 combines thousands of years of history with advanced engineering and adventure: as you head north, be prepared for the spectacular! As soon as you embark on the first leg of this journey from Baie-Comeau, you'll immediately experience a complete change of scenery. The first thing you'll notice is a large sign that flashes if segments of the road are closed, which gives you an idea of the harsh weather that can hit this 570-km (355 mi.) secondary road, the only one in the province to cross the 51st parallel. Of course, you don't have to worry about road closures during the summer months. Instead, you can enjoy a leisurely ride along this winding section of Route 389 all the way to Manic-2 (also known as the Jean-Lesage generating station), the first of two dams you'll encounter along the way. The second is Manic-5 (the Daniel-Johnson dam), which is even most majestic and has been the pride of Québec since the late 1960s. An impressive 1314 metres wide and 214 metres (702 feet) high, this structure is a marvel of Québec engineering. You'll have driven almost half of Route 389 (230 km /145 mi.) to reach it.
Drive another 120 km (75 mi.) and you'll be surrounded by spectacular scenery as you skirt the foothills of the high peaks of the Uapishka Mountains, which overlook the Manicouagan Reservoir, a lake created by the impact of a meteorite. The island at its centre is the second largest in Québec. Next, you'll arrive in Gagnon, a former iron ore mining community that is now a ghost town. It's also the last trace of civilization you'll encounter before you arrive in the Fermont area, 170 km (105 mi.) further north.
What not to miss: Be sure to tour the region's major dams, which are the culmination of a vast and ambitious plan that still inspires admiration some 60 years later—they're also still used as a reference by other countries. You can also discover the Uapishka Station, which offers unusual accommodations, spectacular views and unique activities.
Îles de la Madeleine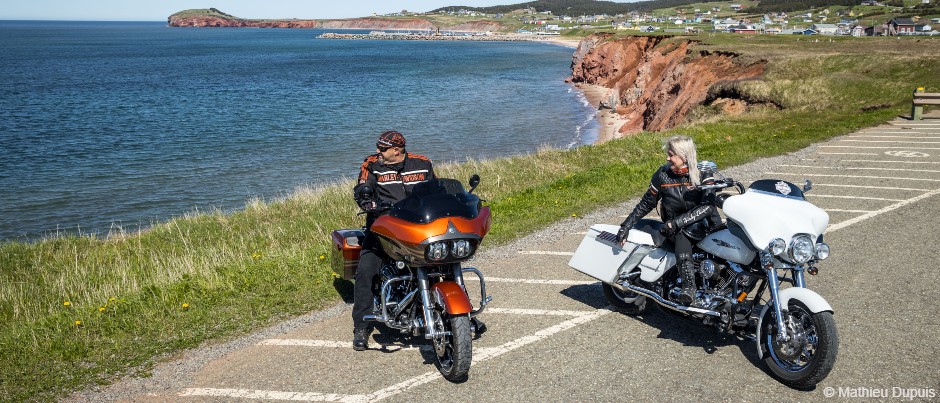 Route 199
Although Route 199 is the shortest road trip presented here since it's only 80 km (50 mi.) long, it offers a unique sensory experience that will take you from one end of this archipelago to the other. On the agenda: salty sea air, breathtaking scenery and the sea as far as the eye can see. Start your trip in Havre-Aubert, where you can breathe in the sea breezes, which are proven to bring on relaxation and a general sense of happiness! As soon as you set off, all your senses will be engaged. Within a few kilometres, you'll feel like you're riding on water as the road stretches over a thin strip of sand between two islands. On both sides of the road: the sea!
You'll soon reach La Martinique, on the next island, and then you'll ride through the hamlet of La Vernière and the village of Cap-aux-Meules. In no time, you'll find yourself on another thin strip of land surrounded by water and then on Havre aux Maisons Island. You'll then ride alongside the huge Grande-Entrée lagoon all the way to Le Buttereau-Vert. Several small lakes dot this thin strip of land. Next, you'll pass by Grosse-Île on your way to Grande-Entrée. This is where your journey along the sea ends. Make sure you stop on the various stretches of sand you pass by to go for short strolls and breathe in the island air.
What not to miss: Visit the La Grave heritage site to soak up some local history and Atelier Côtier to purchase unique souvenirs. If you're interested in kitesurfing, don't miss this opportunity to try out this wind and water sport in the archipelago's shallow lagoons!
Did any of these itineraries make you want to hop on your motorcycle and explore our regions? Visit our Road Trip Ideas page for more information (including accommodations) as well as other road trip itineraries!
If you liked this article, you might also like...