The

Québec maritime Blog
Parc national d'Anticosti: A Gem in the Middle of the Gulf of St. Lawrence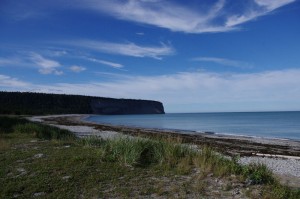 Untamed landscapes, a rich and abundant wildlife, a spectacular geography... Anticosti Island, in the Côte-Nord region, has everything to pique your interest. Equal in size to Corsica, the island boasts a population of over 115,000 white-tailed deer and one of the highest concentration of bald eagles in Eastern North America. Anticosti invites for discovery at your own pace, strolling along its rivers and in its canyons, on its high cliffs overlooking the sea and on its pebble beaches where you can watch seal haul-outs and spot some of the shipwrecks along its shores. The island was given the name of "Graveyard of the Gulf" because of the some 400 shipwrecks recorded in the area in the last 400 years.
Vauréal Falls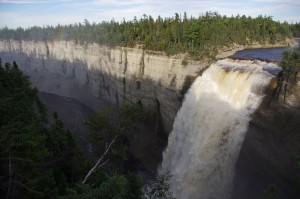 Vauréal Falls © Le Québec maritime
About 75 metres (250 feet) high, the Vauréal Falls are one of the island's main attractions. Hike along the riverbed all the way to the waterfall, in a 3.2-km (2-mi.) long canyon carved in limestone. The viewpoints are stunning: the walls of stratified rocks on both sides of the canyon reach 90 metres (295 feet) in some sections, and each metre represents roughly 15,000 years of marine deposits. Take a break to have a closer look at the fossils that are plentiful in the canyon; over 600 fossil species have been recorded to date. The canyons at Brick River and Observation River are also exceptional locations to see beautifully preserved fossils.
Grotte à la Patate Cave
Another fascinating attraction on the island, Grotte à la Patate (literally "Potato Cave"), which is roughly 625 metres (2050 feet) long, ranks among the longest underground cavities in Québec. Get a helmet and a headlamp, which you can rent at McDonald Visitors Centre, and explore the cave on your own or go on a tour with a park warden to get all the information on its features.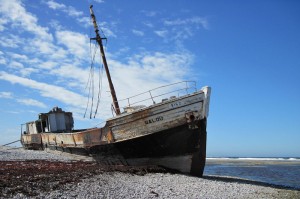 The Calou shipwreck on Anticosti
© Le Québec maritime
And to make sure you're not missing anything on the island's attractions, head out to explore Parc national d'Anticosti in a 4-hour tour, during the "A Thousand Marvels" activity. In your vehicle, you'll follow a park warden who will provide you with countless information on the island's characteristics along the way through a radio system and at predetermined stops during the itinerary.
Where to stay?
Sépaq offers various 3-, 4- or 7-day packages, including air transportation to the island from Mont-Joli, Montréal or Québec City, lodging, vehicle rental, and even your meals. You can stay in an inn or a cabin or, if you want to get even closer to nature, opt for a camping package!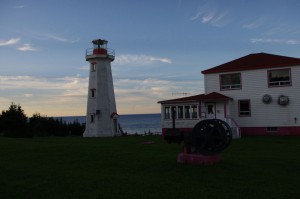 Pointe-du-Nord Lighthouse at sunset
© Le Québec maritime
Pourvoirie du Lac Geneviève d'Anticosti also offers lodging in fully-equipped 4-star cabins, located in a lovely environment by a lake, and in former lightkeepers' houses right by the sea. Both options are available within an inclusive package including vehicle rental and air transportation to the island, or independently.

Horseback riding, ATV rides, day fishing, there is so much to do on Anticosti… come over to the island and enjoy a real change of scenery for your vacation!
If you liked this article, you might also like...