The

Québec maritime Blog
Seal Watching in the Îles de la Madeleine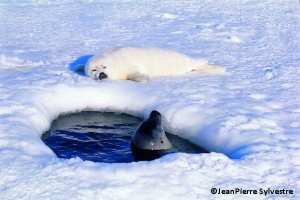 In late February or early March, tens of thousands of harp seals give birth to their pups on the ice surrounding the Îles de la Madeleine in the middle of the Gulf of St. Lawrence. For several weeks each year, you can participate in a seal-watching excursion with Château Madelinot to observe the whitecoats (seal pups) up close.
During the excursion, great care is taken to ensure that the seals are not unduly disturbed by the presence of visitors.
How does it work? Each participant is supplied with Mustang Survival apparel, which provides protection against all types of maritime winter weather. (You must still wear your own winter clothing under the survival suit.) You will then be taken by helicopter to the ice, where you can observe the seals at close range for a short period. (The whole excursion lasts three hours.) With front-row seats to watch the seals and their pups, you'll have many opportunities to record this incredible experience, so don't forget your camera!


If you liked this article, you might also like...