The

Québec maritime Blog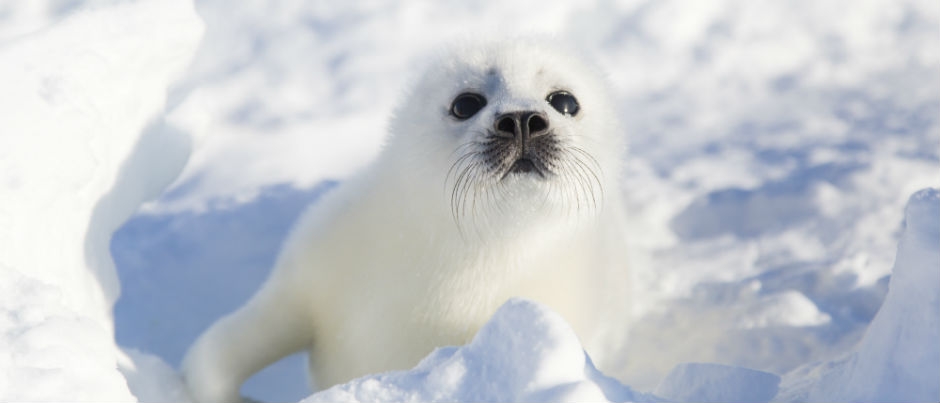 Whitecoat on the ice
Stéphanie Giacomotto
Seal Watching: The Story of an Extraordinary Adventure
Harp seal watching on the ice surrounding the Îles de la Madeleine is a unique and exhilarating experience. Under a blue sky and surrounded by ice and snow as far as the eye can see, you can't help but feel really small. And then comes your encounter with the seals: white pups (called whitecoats) that will stare intensely at you with their little black eyes. Stéphanie Giacomotto, from Nord Espaces, recently participated in a seal-watching adventure offered by Château Madelinot. We asked her to tell us about it.
Le Québec maritime (LQM): When did you participate in this seal-watching excursion?
Stéphanie Giacomotto (SG): In February 2015, so in the middle of the winter. Cold northern weather and winter's blue skies were definitely part of the experience!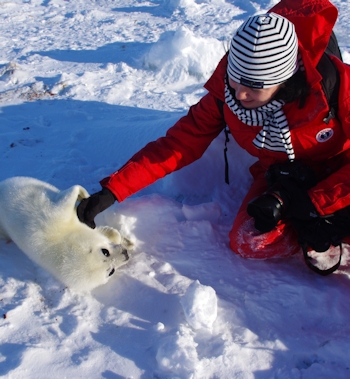 Enjoying direct contact with seals!© Zoé Ross-Lévesque
LQM: Was this the first time you got so close to marine mammals?
SG: Yes, this was the first time I had such direct—and intense—contact with marine mammals. I'd gotten close to whales and dolphins before, while diving. However, when you're diving, you're in a situation where safety must prevail, and in addition, whales and dolphins don't give you the opportunity for such a unique and emotional experience. With seals, you're not a spectator hidden behind a diving mask. You're sharing a moment together. This is why I say that this is the first time I've gotten really close to marine mammals.
LQM: How did you get there? Was the trip long? And were other activities included in the package?
SG: I flew to the Islands from Québec City. The trip takes about 3 hours and goes by quickly: between anticipating what was to come and admiring the stunning landscapes from the plane window, I didn't have time to get bored! My whole stay on the Islands was for four days. Seal watching was the main activity and lasted half a day.
The rest of my trip was devoted to discovering little corners of this remote paradise that are familiar to locals only: we explored the western and central parts of the Islands, which are linked to each other by narrow sand dunes. On the agenda: the Seal Interpretation Centre, sampling À l'Abri de la Tempête microbrews, strolls along the Old Harry Beach (which was named one of the most beautiful beaches in the world by National Geographic magazine), stargazing from the ice, snowshoeing or cross-country skiing in the forest, a photo safari at sunset at Belle-Anse, etc.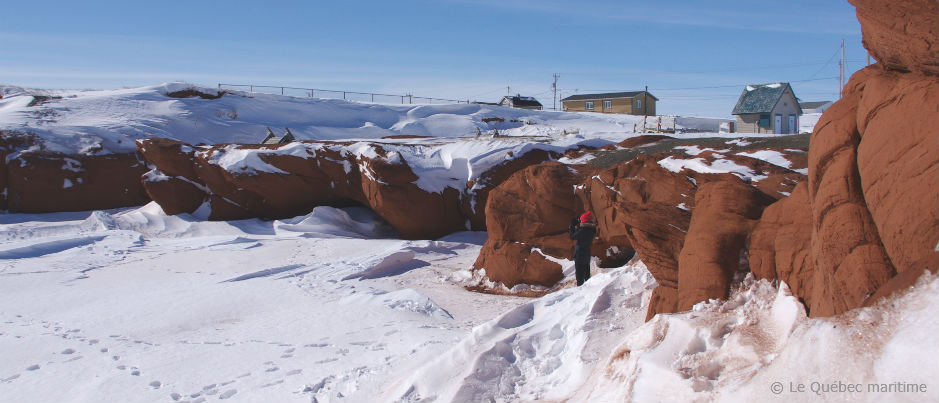 Back in France, it's no coincidence that I designed a program I called L'éveil des blanchons (Discovering the Whitecoats): I wanted to give other travellers the opportunity to experience the beauty of nature in Canada as I had and to enjoy a unique adventure that combines culture, nature, excitement, beauty and even silence.
LQM: How did you feel before you saw the seals?
SG: Like any traveller who wants to get close to these mammals and recognizes that this moment will be the highlight of the trip, I knew that I was about to experience something extraordinary and that I was incredibly lucky to have this unique experience that so few people get to have. We needed to get up early? Not a problem! The whole group was up and ready to go at the designated time. And we all had something in common: a sense of excitement because we knew we were about to embark on a unique and marvellous experience and we also knew we would head home with extraordinary photos and memories.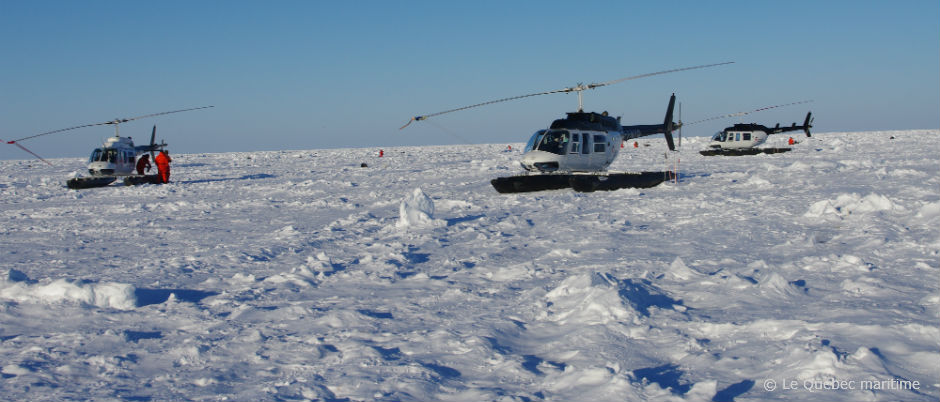 LQM: For how long did you observe the whitecoats on the ice?
SG: A few seconds… no, a few weeks… Actually, two extraordinary hours that seemed to fly by but were also so rich and intense. I never felt too cold. The beauty of the ice, the fact that we were in the middle of the ocean, in a place that's even more magical than a film set, made time seem to stand still. When it was time to go, I looked at my watch and couldn't believe we'd already been there for two whole hours. Only two hours...
LQM: How many whitecoats do you think you saw that day?
SG: I'd say there are two distinct moments worth mentioning: as the helicopter was about to land and when we were on the ice. Before we landed, everyone was peering out the windows—it's a spectacular sight to see thousands of seals at once! I'm not exaggerating: there were so many! Once on the ice, I estimate I saw about a hundred whitecoats, so I had many to choose from as I approached them and looked them straight in the eyes.
LQM: Were you able to take pictures or film the seals?
SG: Oh absolutely! I took pictures, filmed them, had pictures taken of me… close-ups with a single seal and also from farther away. There is such a feeling of serenity on the ice that we felt no apprehension and were perfectly at ease. You get close to the seals, take pictures, have pictures taken quite naturally.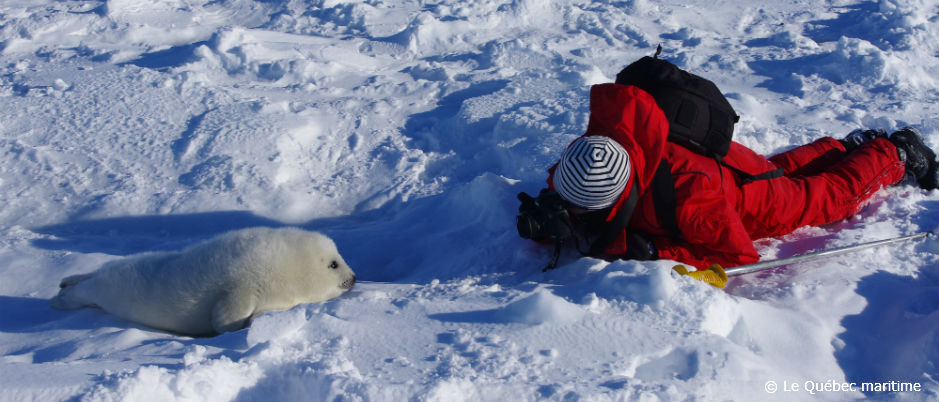 LQM: Can you tell us more about what it was like on the ice and how you felt?
SG: Once on the ice, we walked slowly and quietly, with a walking stick to avoid slipping. We were far from everything, far from the noise and stress of the city. White surrounded us. We were outside time. We were each free to wander as we wished—under the watchful eye of our guide, of course. We were all deeply aware that we were experiencing something truly exceptional. We recognized that we were a privileged few and that made us respectful. The anticipation we'd felt before leaving had turned into a feeling of elation that is hard to explain because it's so personal. Was it freedom? A feeling of having reached the ends of the earth? The silence was broken only by the cries of the whitecoats calling for their mothers. Whatever the case, we all felt like we were in an otherworldly place where we wanted to drink in the whole experience, be fully present, not miss anything, while staying calm, serene, zen… It was like a very pleasant dream that we knew that we had to eventually wake up from. We took photos of each other and, finally, despite each having our own intense experience, we were able to forge strong bonds within our group.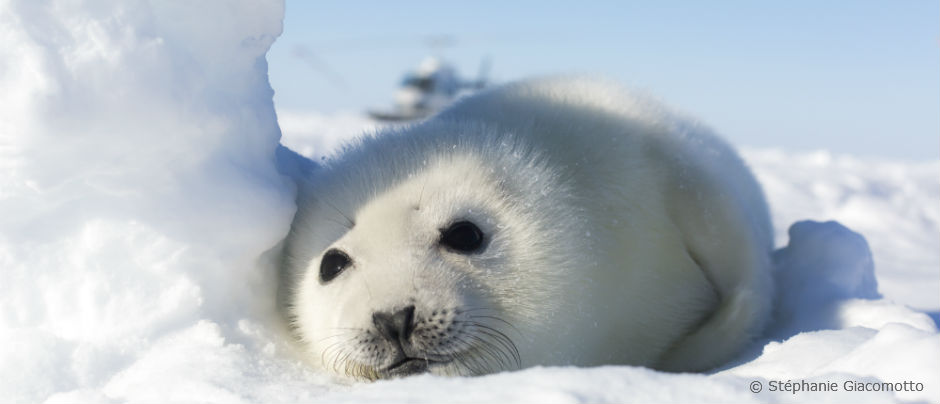 LQM: If you had to summarize this experience in one sentence, what would you say?
SG: It's an intense, otherworldly experience that will mark you forever with its simple beauty; an incredible once-in-a-lifetime privilege.
LQM: What advice would you give to tourists who want to see the seals?
SG: This is a trip that will touch you deeply, so be prepared to live through something extraordinary. If you're going just to see, you're missing something. Talk to your tour operator about this trip, to make sure it corresponds to your needs. Because of variability in the weather, the number of seals and the environment, no two trips are alike. You will want to savour each second of this intense experience, which means you need to prepare yourself for it. Be respectful, so that visits to observe the whitecoats will remain available for others in the future. Choose the right tour operator: this is not an everyday experience.
LQM: Would you do this again?
SG: When do we leave?
If you liked this article, you might also like...