The

Québec maritime Blog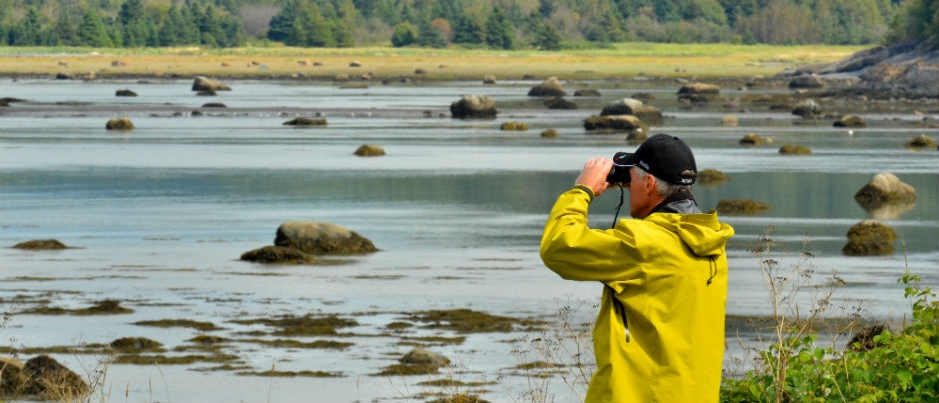 Bas-Saint-Laurent is a great place to observe birds
Marc Loiselle
Bird Watching in Bas-Saint-Laurent: A Fun Fall Activity!
Bas-Saint-Laurent is a great place to observe many wildlife species, particularly birds. Bordering the St. Lawrence, the region provides rich feeding grounds for many birds during their fall migration. To find out more about bird-watching sites and what species to look out for, we spoke to Jean-Étienne Joubert, a naturalist with Comité ZIP du Sud-de-l'Estuaire (PDF), a local environmental organization.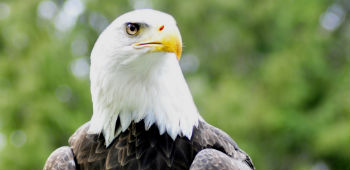 Bald eagle at Parc national du Lac-Témiscouata© Sépaq
According to Mr. Joubert, this region is made for bird watchers. "Bas-Saint-Laurent lies along the south shore of the St. Lawrence Estuary, which is an important migration route for waterfowl as well as land birds such as birds of prey," he explained. In addition, the south shore of the estuary has many low-lying coastal areas where there are marshes that serve as nesting and staging areas for migratory birds, including several species at risk such as short-eared owls, Nelson's sharp-tailed sparrows and yellow rails.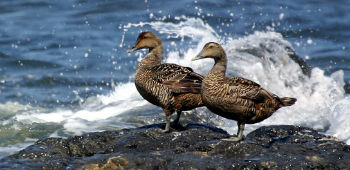 Common eiders© Jacques Larivée
Another factor that draws birds to this region is the mingling in the estuary of the fresh water of the majestic St. Lawrence River with the salt water of the North Atlantic. Last but not least, the Bas-Saint-Laurent region is a mosaic of habitats, including deciduous, mixed and coniferous forests; beaches; salt marches; eelgrass beds; cliffs; river mouths; and, of course, many islands!
A host of observation sites
From east to west along the St. Lawrence, many bird-watching sites are accessible to beginner and experienced birders alike. Here are few suggested by Mr. Joubert:
Gros Ruisseau marine rest area, Sainte-Flavie
Mouth of the Mitis River, Grand-Métis
Saint-Barnabé Island, Rimouski (check the ferry schedule)
Pointe-au-Père National Wildlife Area, Rimouski
Pointe-au-Père wharf and Anse au Lard à l'Est, Rimouski
Littoral shoreline trail, Rimouski
Éboulis and Draveur trails, Parc Beauséjour, Rimouski (download a trail map, in French only)
Mouth of the Hâtée River (accessible via Domaine Floravie), Le Bic (Rimouski)
Pointe-aux-Anglais, Parc national du Bic, Rimouski
Wharf at the Bic marina, Rimouski
Parc national du Bic (the Raoul-Roy lookout is a great place to watch migrating raptors)
Trois-Pistoles wharf and Trois-Pistoles River
Route Verte cycling trail, particularly in Anse des Rioux, Trois-Pistoles
Île Verte (check the ferry schedule)
Parc côtier Kiskotuk, along with the Gros-Cacouna marsh and the Baie de l'Isle-Verte National Wildlife Area, Rivière-du-Loup (from mid-August to mid-September, you can participate in duck banding; find out more by visiting the Maison Girard Interpretation Centre in L'Isle-Verte)
Île aux Basques (contact the island's guardian to make a reservation)
Île aux Lièvres (contact Société Duvetnor for the ferry schedule)
Saint-André-de-Kamouraska marsh, on the outskirts of the village of Saint-André-de-Kamouraska
Rest area along the Route verte cycling trail in La Pocatière
Other bird-watching areas that are a little farther from the coast include the Neigette Falls (in Saint-Anaclet), the Village des Sources (in Sainte-Blandine), the Canyon des Portes de l'Enfer (Hell's Gate Canyon), Saint-Mathieu Lake (in Saint-Mathieu-de-Rioux) and Parc national du Lac-Témiscouata.
Species to watch out for in the fall
Here are some of the species that the Bas-Saint-Laurent region is known for that you can see in the fall:
Surf scoters© Jacques Larivée
You can also observe the following species: mallards, several species of seagulls, common teals, common goldeneyes and Barrow's goldeneyes, peregrine falcons, bald eagles, northern harriers, double-crested cormorants, several small passerines (buntings, thrashers, warblers, etc.), common and red-throated loons, snowy owls, black-crowned night-herons, brown-capped chickadees, blue jays, etc.
For more information: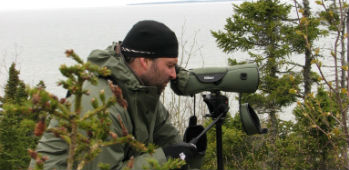 Jean-Étienne Joubert© Comité ZIP du Sud-de-l'Estuaire
Jean-Étienne Joubert's interest in ornithology began at the age of 8. He has worked for various organizations creating bird inventories and raising public awareness of environmental issues. His training as a visual arts teacher enables him to develop teaching tools to bring the world of science closer to the general public. He has been working as an ornithologist and project manager in charge of environmental education for Comité ZIP du Sud-de-l'Estuaire since 2009. This organization is one of 13 working to promote and protect the St. Lawrence from the border of Ontario to the Îles de la Madeleine. Each ZIP committee (ZIP stands for "area of prime concern") covers a specific territory and this particular committee is responsible for the 380 kilometres (240 miles) of shoreline from Montmagny to Matane. The mission of the organization is to promote and support, through regional consultation, various actions focused on protecting and conserving the St. Lawrence, restoring disturbed ecosystems and maintaining access to the estuary within a context of sustainable development. The organization has undertaken various shoreline restoration projects and scientific studies; it also raises public awareness of local flora and fauna and coastal hazards. One of their projects earned them the Phénix de l'Environnement Prize, the highest environmental recognition awarded in the province of Québec.
If you liked this article, you might also like...