The

Québec maritime Blog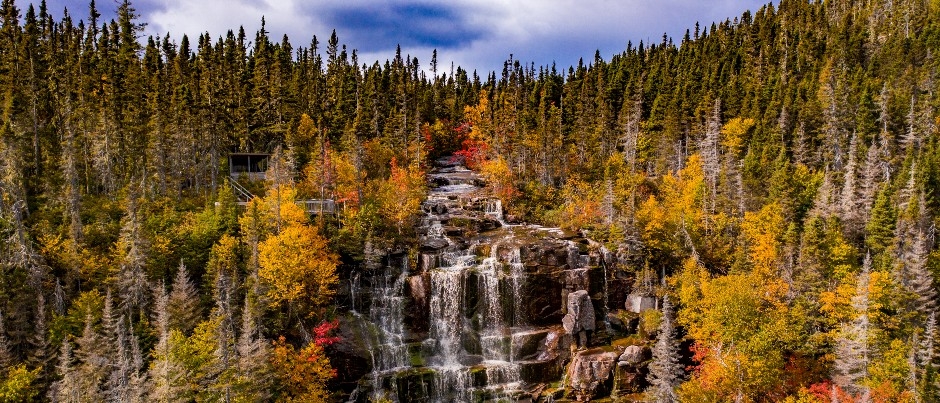 Baie-Comeau, Côte-Nord
Sébastien St-Jean/Tourisme Côte-Nord
Discover Côte-Nord in the Fall!
Over a distance of 850 km (530 mi.), Route 138 will take you through a string of villages across Côte-Nord from Tadoussac to Kegaska and give you access to pristine wilderness. This vast territory has much to offer to anyone who ventures there. As of September, when the region is blanketed in warm colours, it offers even more! Here are a few attractions that are sure to make you want to visit Côte-Nord in the fall.
Adventures in nature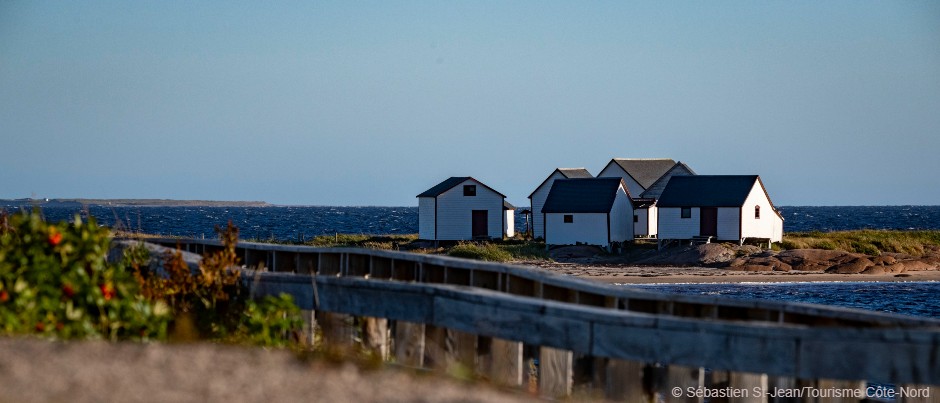 Hiking, cycling, sea kayaking, stand-up paddle boarding (SUP), canoeing… there are so many outdoor activities that allow you to admire the beautiful fall colours in Côte-Nord. From mudflats and marshes to the boreal forest, a nature getaway in this vast maritime region of Québec guarantees spectacular sights. Enjoy a multitude of outdoor adventures with Attitude Nordique or rent equipment at the Lac des Rapides outdoor recreation centre to make the most of this season.
There's no better place to soak up the magnificent landscapes of the boreal forest than in the national parks of Côte-Nord. Parc national du Fjord-du-Saguenay, near Tadoussac, is a great place to go hiking and offers trails of various lengths that are suitable for everyone. From the top of the mountains in this park, you can admire splendid views of the Saguenay Fjord against a backdrop of yellow, orange and red leaves.
For a fall hike through surprising alpine landscapes, the Uapishka (Groulx) Mountains are sure to impress you. This paradise for experienced hikers is accessible from Baie-Comeau via Route 389, which will take you through the Manicouagan-Uapishka World Biosphere Reserve, home to the Manicouagan Reservoir, which was created by the impact of a meteorite. Stay at the Uapishka Station while you explore this fascinating area.
Along the shores of Côte-Nord, the fall light gives a whole new dimension to the waters of the St. Lawrence. The many beaches of the region are ideal for enjoying this light, such as those located in Tadoussac, Pointe-aux-Outardes, Pointe-aux-Anglais and Pointe de Moisie. The beach in Natashquan, which is about 7 km (4 mi.) wide, is particularly beautiful: be sure to take photos of the red carpets of mosses and lichens covering the ground, the trees and the rock walls in this area.
If you'd prefer to explore the fall landscapes of Côte-Nord during a road or bike trip, the villages bordering the St. Lawrence are sure to charm you. Whether you're travelling by car, motorcycle or bike, Route 138 will give you many opportunities to contemplate the contrast between the deep blue of the sea and the shimmering colours of nature. To admire impressive sunsets, be sure to stop at the wharf in L'Anse-de-Roche near Sacré-Coeur as well as at the scenic rest areas found on the Manicouagan Peninsula. You'll also want to admire one of the region's most beautiful views at the Fjard St-Pancrace lookout.
Imagine being able to soak up incredible panoramic views from the air! This is what Totem Aviation offers you in the Les Escoumins and Tadoussac areas. Board a small plane and go for a spin over the St. Lawrence Estuary, the Saguenay Fjord, coastal villages, large expanses of forest and more in the fall light. Flights that will take you as far as the Manic-5 dam are also available!
Wildlife observation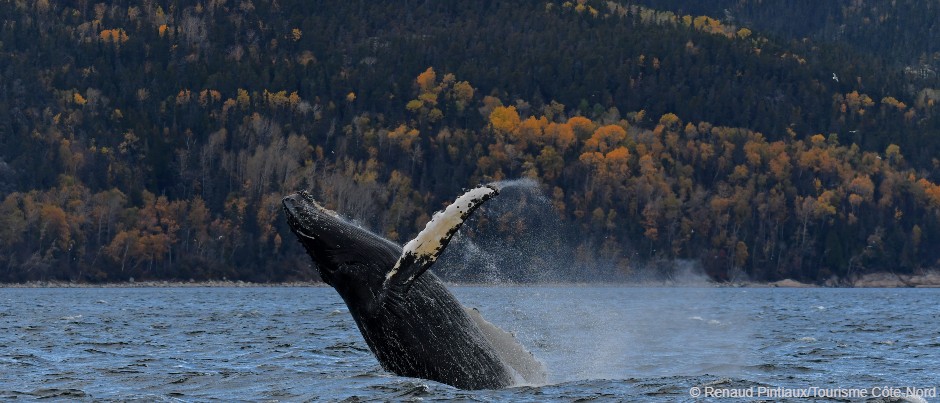 Fall is also the best season to see marine mammals in Côte-Nord. Whales congregate in great numbers at this time of year and can be observed until at least mid-October. As many as 13 species frequent the waters of the St. Lawrence, including belugas, minke whales, fin whales, humpbacks, harbour porpoises and blue whales. You can admire them during a sea excursion, of course, but they can also be observed from the shore in such places as the Cap-de-Bon-Désir Interpretation and Observation Centre and the Marine Environment Discovery Centre. Be sure to also visit the Marine Mammal Interpretation Centre (CIMM), where you can discover a collection of whale skeletons and learn more about these giants of the sea and the scientific research that focuses on them.
Located in a major bird migration corridor, Côte-Nord also welcomes thousands of birds of prey and numerous boreal species every fall. Parc Nature de Pointe-aux-Outardes is a popular location to watch them. Ranked among the top five bird-watching sites in Québec, especially in the fall, this nature park welcomes up to 255 species every year. The Portneuf sandbar is also a natural bird-watching site, as is Tadoussac, which hosts a migratory bird festival every September.
You are also quite likely to encounter other wildlife species during hikes in national parks and wildlife reserves, including moose and white-tailed deer. You can also participate in excursions with experienced guides to see these animals. You can even observe black bears from the safety of a shelter, an exciting activity that's offered at the Ferme 5 Étoiles holiday resort in Sacré-Coeur, among other places.
Fall flavours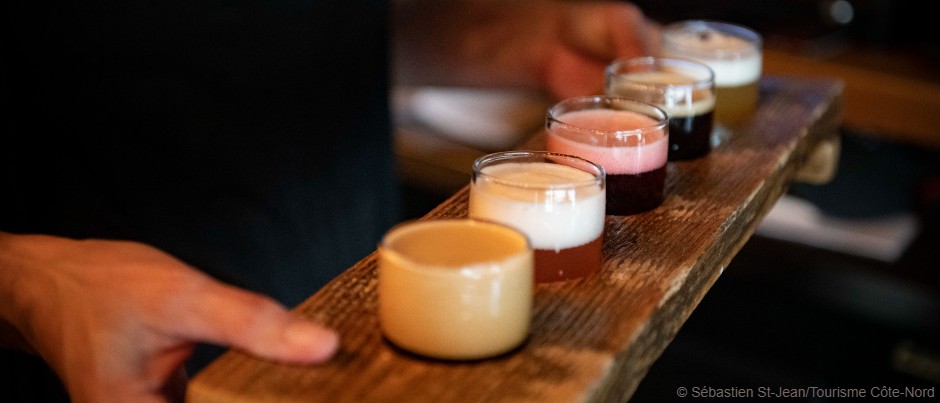 Fall is also harvest season, which means it's a great time of year to discover fresh local products in the public markets throughout the region. Seafood lovers are also in for a treat: some seafood species are fished until October, including northern shrimp, Stimpson's surf clams and Minganie scallops, while green sea urchins and razor clams are available until Christmas. Where can you savour these species? Many of the region's fine restaurants serve them along with edible plants, wild mushrooms, wild spices and other delicious ingredients harvested from the boreal forest!
Looking for a fun rainy-day activity? Go on a tour of the region's microbreweries and distilleries and taste the many beers, cocktails and spirits made locally.
Fall in Côte-Nord definitely offers lots of opportunities for adventures and activities!
If you liked this article, you might also like...