The

Québec maritime Blog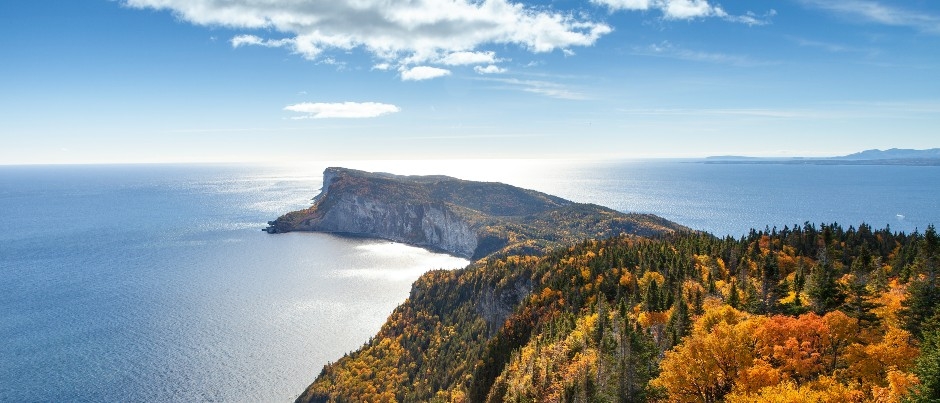 Forillon national park
Roger St-Laurent
Discover Gaspésie in the Fall!
Home to stunning sea and mountain scenery, Gaspésie is photo-worthy in all seasons. However, in the fall, the contrast between the bright blue of the St. Lawrence and the shimmering hues of the leaves on the trees makes the landscapes even more beautiful. Discover how to make the most of your visit to this maritime region of Québec during the most colourful season of the year!
Adventures in nature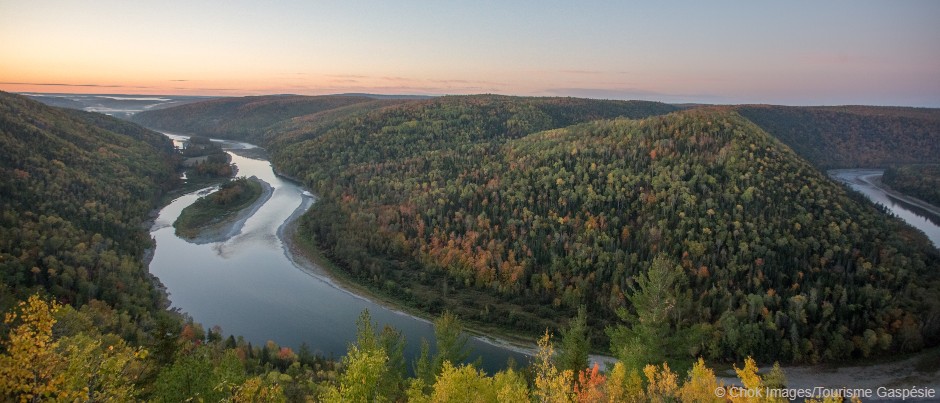 Fall in Gaspésie is not only an opportunity to feast your eyes: visiting Eastern Québec at this time of the year also has many other advantages, including milder weather, fewer tourists and no bugs! To be able to explore a slew of trails in complete peace surrounded by flamboyant landscapes is a dream come true for outdoor enthusiasts. Some spots are particularly magnificent during this season and can be discovered on foot, during a road trip, on the water or from above.
For example, Forillon National Park, which is surrounded by the waters of the Gulf of St. Lawrence and Gaspé Bay, is a prime destination for hiking. In the fall, the bright colours of the leaves add to the beauty of the landscapes of sea and cliffs that stretch as far as the eye can see. For an amazing view of this breathtaking panorama, simply follow any of the intermediate-level Mont-Saint-Alban trails that lead to an observation tower where you can take in the surrounding scenery at 285 metres (930 feet) in altitude.
Another popular hiking destination is Parc national de la Gaspésie, home to 25 peaks over 1000 metres (3300 feet) high, where you can also admire striking fall colours. Open year-round, the Lac-aux-Américains and Mont-Ernest-Laforce trails are among the easiest and most popular in the park. With a little luck, you'll also spot moose, which are very numerous in this area in the fall.
If you'd rather go mountain biking, ATVing, canoeing or even hang-gliding, Gaspésie offers lots of spectacular trails and clear rivers to discover. If you're in the mood for a road trip, the region's colourful foliage can easily be admired along the Route des Belvedères in the Matapédia Valley. The lookouts along this scenic drive offer great views of the surrounding rivers and mountains from the top of structures with distinctive architecture. Around Matane, take the time to drive along Route 195 to discover the area's historic covered bridges.
The fall landscapes of Gaspésie can also be admired from the suspended glass platform found in the Percé UNESCO Global Geopark, which offers a dizzying view of the surrounding area. Jutting out of a cliff on Mt. Saint-Anne at an altitude of 200 metres (660 feet), this platform is also the departure point for the geopark's zipline (not available in 2023).
In Carleton-sur-Mer, the lookout at the top of Mt. Saint-Joseph offers a panoramic view of the coastline and Chaleur Bay from an altitude of 555 metres (1820 feet). From this spectacular observation site overlooking Cap Ferré, you can soak up the blazing colours of the bay's coastal plain as well as the majestic mountains in the region's interior.
Another view worth seeing is from the top of Mt. Saint-Pierre where you can take in the St. Lawrence Estuary and the Mont-Saint-Pierre glacial valley. You can also feast your eyes during the ascent in a 4x4 bus. This guided excursion is offered by Carrefour Aventure until early October, with the option of doing the tour at sunset.
To admire a view from even higher up, visit Projet Éole and climb the world's highest vertical-axis wind turbine. frome the top of the 110-metre (360-foot) tower, soak up a panoramic view of the St. Lawrence and the Chic-Choc Mountains. The building under the tower houses an experimental energy plant where you can learn all about how electricity is produced using wind power.
Wildlife observation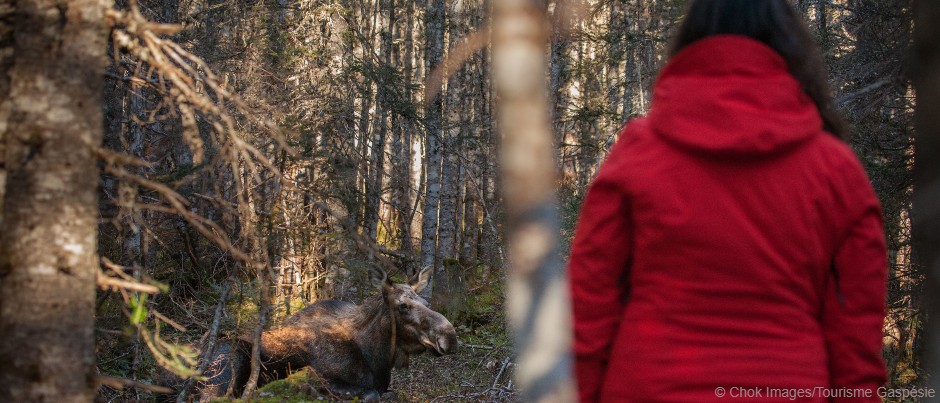 Fall in Gaspésie is also a perfect time of year to observe wildlife. In addition to the moose found in Parc national de la Gaspésie, many species of birds can be observed throughout this region, much to the delight of bird watchers. For example, you may spot a great horned owl, golden eagle, fox sparrow, merlin or American three-toed woodpecker from the top of Mt. Albert, at an altitude of about 1155 metres (3790 feet).
Whales and other marine mammals are also very numerous in Gaspésie in the fall. You have many opportunities to observe them safely and without disturbing them from Percé or Forillon National Park, from the shore or in a sightseeing boat or Zodiac. From blue whales and grey seals to common dolphins and minke whales, extraordinary encounters await you during guided sea excursions!
Until mid-October, you can observe northern gannets on Bonaventure Island in Parc national de l'Île-Bonaventure-et-du-Rocher-Percé, which is home to the largest migratory bird refuge in North America. Over 110,000 of these birds live on the island from spring until fall in the world's most accessible northern gannet colony!
Fall flavours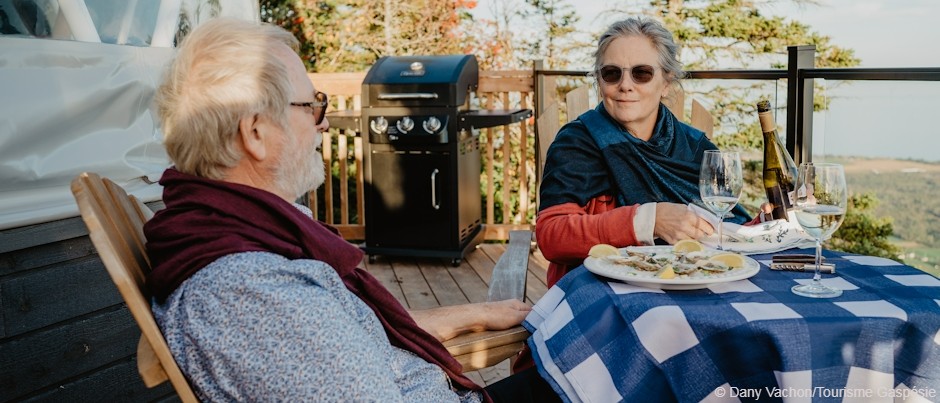 Sea, forests, farmland… Gaspésie has no shortage of resources to produce good food, which is featured on menus throughout the region. Until late September, seafood lovers can even fish for their own, accompanied by a guide from Pêche Sportive Baie-des-Chaleurs. You can then eat the plaice, mackerel, striped bass or Atlantic salmon you've caught. Fishing excursions on the St. Lawrence are also possible in Matane with Destination Haute-Mer aboard a boat specifically designed for sea navigation.
The largest public market in Gaspésie also takes place in the fall, during the Festival La Virée Trad in Carleton-sur-Mer. About 50 food producers and artisans will introduce you to regional flavours at this friendly and festive event showcasing traditional music and dance.
Fall is also the season of beer festivals, including Oktoberfest Gaspésien in Percé. This is a great opportunity to taste dozens of microbrews made in the region and throughout the province of Québec. In addition, fall is wine harvest season. Did you know that Gaspésie is home to a little corner of Italy at the magnificent Carpinteri vineyard, only a few kilometres southwest of Matane? You can go for a stroll in the vineyards and taste their products for free every day until the end of November.
To admire a natural show of colours and enjoy exceptional activities, Gaspésie is a fall destination of choice!
If you liked this article, you might also like...