The

Québec maritime Blog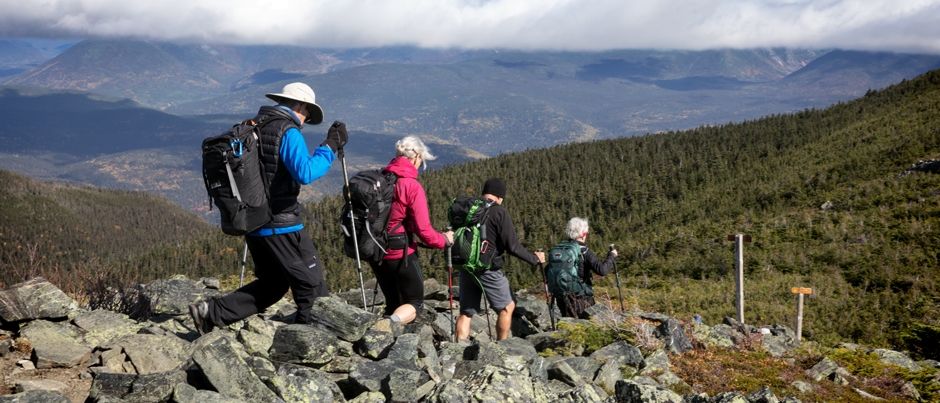 Fall TLDG in Gaspésie: An Amazing Human Adventure!
TDLG. For those in the know, these four letters say it all. They stand for Traversées de la Gaspésie, which literally means "Gaspésie crossings." It's plural because there are two annual events. The first, a winter "crossing" that began in 2002, was the initiative of a group of cross-country skiing enthusiasts led by Claudine Roy, a tireless businesswoman born and bred in Gaspésie. She's also an enthusiastic ambassador for this immense region (as large as the state of Maryland) that is bathed in the waters of the St. Lawrence.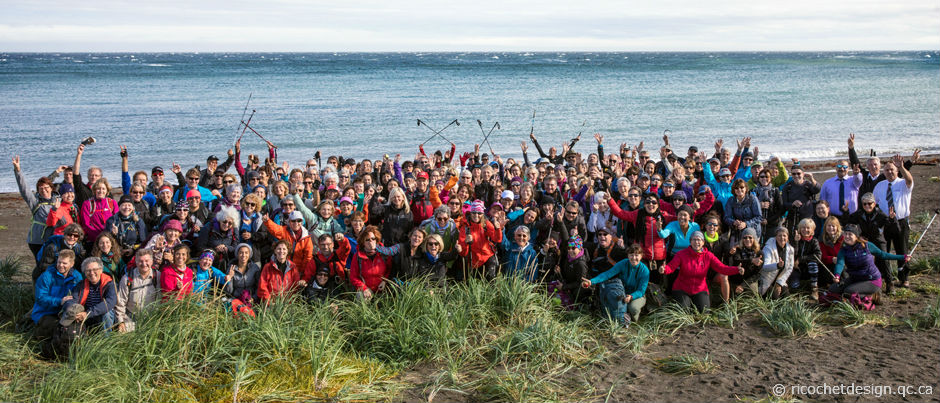 The Fall TDLG (originally known as the TDLG on Foot) was first offered in 2014 and includes all the elements that have made the Winter TDLG such a success: an outdoor athletic challenge (which is non-competitive; everyone goes at their own pace), discoveries (mainly culinary and cultural) and lots and lots of fun! Those who have already taken part in these two events, including a contingent of enthusiastic repeat participants, will concur: the TDLG is first and foremost an amazing human adventure! It's an opportunity to get back to the essentials, spent beautiful moments in nature with others and share good vibes. As Claudine Roy likes to repeat like a mantra: "To life, which unites us all!"
A feast for the eyes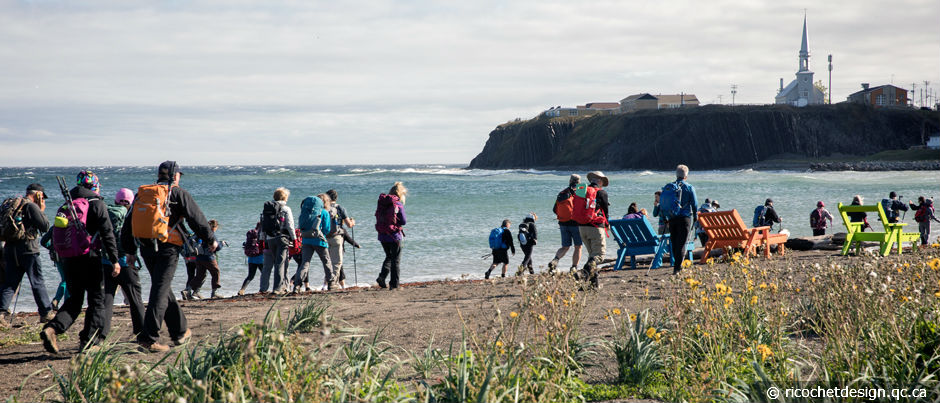 So, what is the Fall TDLG all about? I had the opportunity to participate in this event in 2017, after enjoying the cross-country skiing and snowshoeing version. Since I'm a hiking enthusiast, I had high hopes for the Fall TDLG and wasn't disappointed! It must be said that when it comes to spectacular landscapes, the region of Gaspésie is particularly blessed. As you trek, you can feast your eyes every day for a week on a mix of breathtaking sea and mountain scenery.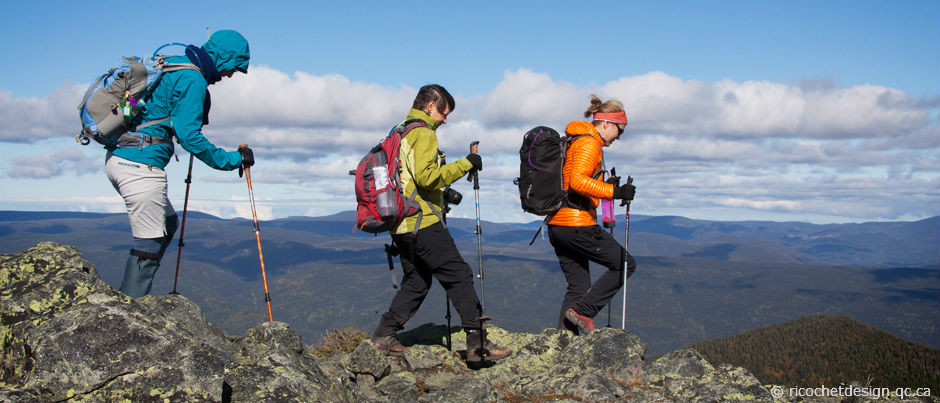 During the TDLG, participants hike an average of 15 km (9 mi.) a day and are welcomed at the end of each day's trek with a celebratory shooter. Most of the time, a bus will take you to the starting point of the day's hike and then back to your lodgings at the end of the day. While the route changes every year, the event always features some of the region's most popular attractions. For example, Parc national de la Gaspésie is always part of the Fall TDLG, as is the massive and comforting Gîte du Mont-Albert (located in the park). This hotel is nestled at the heart of a sea of mountains over 1000 metres (3300 feet) high, including famous Mt. Albert and the Cuve du Diable (Devil's Gulch). Almost lunar in places, this spectacular setting is well worth the effort it will take you to reach it!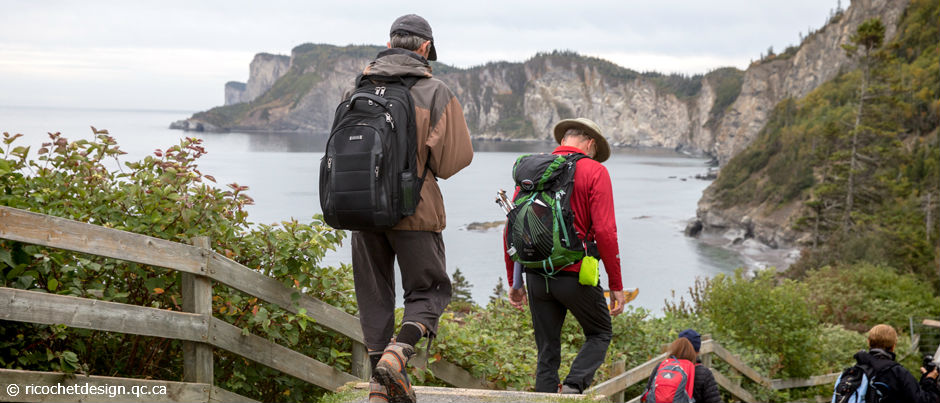 Forillon National Park, at the tip of the Gaspé Peninsula (not far from the town of Gaspé), is the TDLG's crowning finale since it's where your trek will end. Don't miss the panoramic view from the top of the Mt. Saint-Alban tower. The Grande-Grave Heritage Site, which you'll visit on the same day, is another must-see attraction. Here you can usually enjoy traditional local music featuring guitar and fiddle.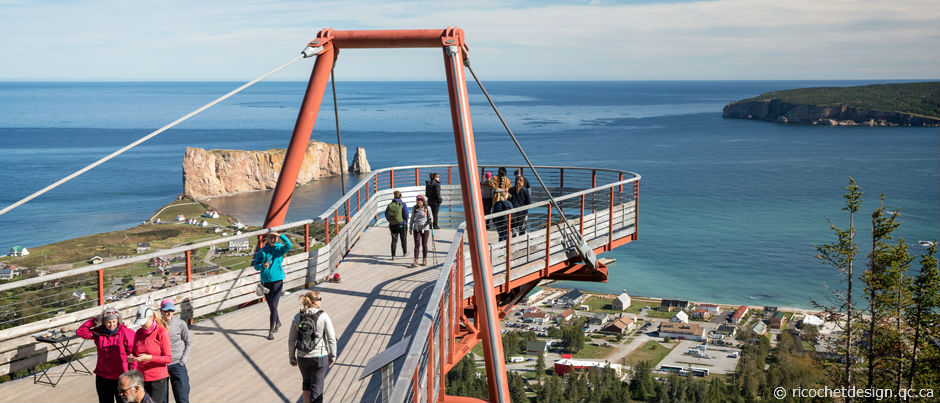 And, of course, fall adds to this feast of inspiring landscapes: the mild weather is ideal for hiking, and the colourful fall foliage makes this season perfect for contemplation!
An incredible team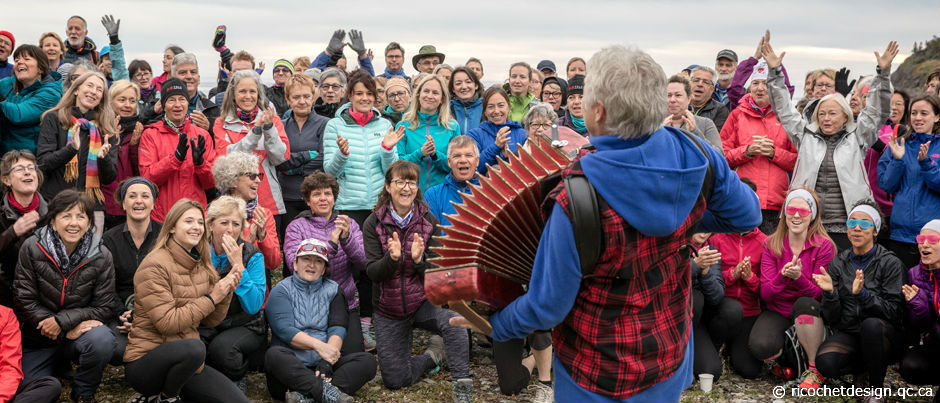 As mentioned before, the Fall TDLG, like its winter counterpart, is much more than a physical challenge. It's also an opportunity to soak up a unique atmosphere and enjoy fun extras while an incredible team of volunteers makes sure you have a good time. One of the key team members is Sylvie Gallant, whose main role is to spread joy: she galvanizes the troops every morning with her faithful accordion and will welcome you back in a similar fashion at the end of every day. But there's also Nancy Gauthier, a certified trainer from Cardio Plein Air, who leads an invigorating warm-up every morning. And actress and author Sophie Faucher, the event's spokesperson for the past several years, who will keep the mood light… Of course, the TDLG ambassadors may change from year to year, but you'll always be in good hands and surrounded by positive energy!
In the evenings, you can participate in the various activities on offer, including talks, dancing, poetry readings and more. You can also watch video clips that recap the main events of the day and are sure to keep spirits high!
Theme night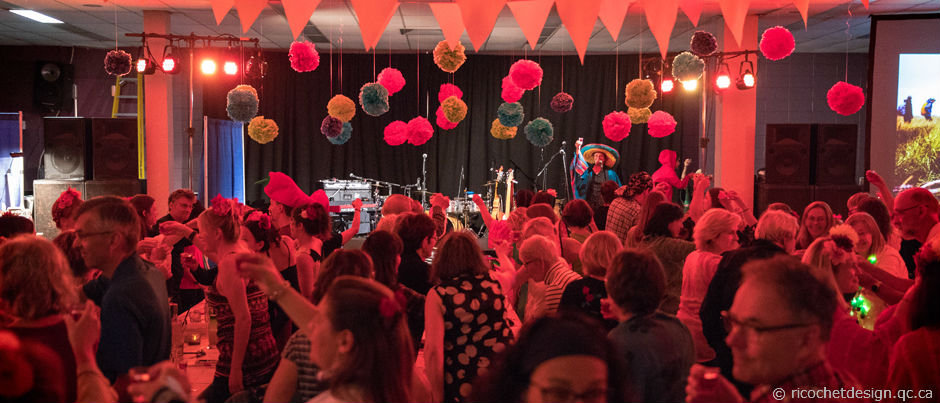 To mark the end of this crazy adventure, the Fall TDLG traditionally closes with a theme costume party. In 2017, the theme was the 1950s (particularly the movie Grease) and the party featured period outfits, cars and other objects, including a cotton-candy machine that took us back to childhood with its sticky-sweet smell. Some participants ended the evening at the Brise-Bise, a bistro bar and music venue that's a real institution in Gaspé. (They are also famous for their shrimp poutine!) The next day, the bistro hosted the final breakfast. Time for goodbyes before a well-deserved rest for the TDLG crew…
For more information or to reserve your spot, visit tdlg.qc.ca.
Practical info
How to get there
All TLDG packages include round-trip transportation by chartered coach, with departures from Montréal, Québec City, Rimouski, Matane or Gaspé. You can also drive directly to the Fall TDLG departure point (however, you won't be able to use your vehicle for the duration of the event). Another option is to fly: Canada Jazz offers daily direct flights from Montréal and Québec City to Gaspé.
For more info about flights, visit flyjazz.ca.
Where to stay
Here again, TDLG takes care of everything! You can choose from several accommodation packages, the most expensive of which includes a room with a private bathroom every night. If you're on a tighter budget, you may want to opt for the "friends' occupancy" package, which means you'll be lodged in a group of 4 or 8 people in hotel or motel rooms or in a hut at the Gîte du Mont-Albert, at the heart of Parc national de la Gaspésie.
What to pack
For logistical reasons, you'll need to pack fairly light: your luggage shouldn't weigh more than 20 kg (44 lbs). The TDLG website provides a list of the gear you'll need. Good hiking boots are a must, obviously, and it's strongly recommended that you wear them before the event, to break them in and avoid blisters. And don't forget to pack your smile—it'll help you get into the mood for this funtastic and unforgettable experience!
If you liked this article, you might also like...