The

Québec maritime Blog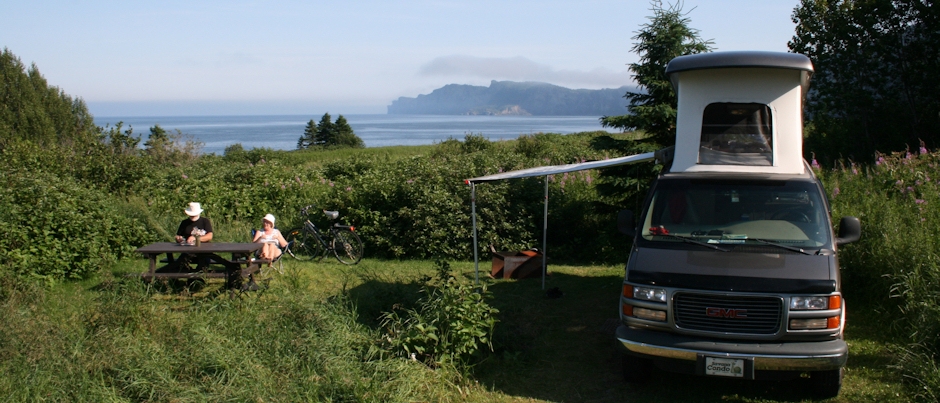 Camping Cap-des-Rosiers
Serge Ouellet / Parks Canada
Forillon National Park: An Invitation to Land's End!
If you love the great outdoors and camping, Forillon National Park in Gaspésie is where you want to be! Semi-serviced campsites and wilderness camping are both available.
Semi-serviced campsites
Forillon National Park offers 368 semi-serviced campsites in four different areas of the park.
Cap-Bon-Ami is an unwooded campground offering 36 tent sites without electricity and 2 yurts. Open from June 21 to September 2, 2013, it is near a hiking trail and lookout. Explore magazine recently ranked it among the top 25 campsites in Canada. Read what they thought of the campground.
The semi-wooded Des-Rosiers Campground is also open from June 21 to September 2, 2013, and offers 156 sites (42 with electricity, 108 without, 1 yurt and 5 "ready-to-camp" tent trailers). Located near the sea, it provides stunning views of the cliffs.
Camping Bon-Ami © Robert Baronet / Parcs Canada
Petit-Gaspé is a wooded campground offering 167 sites (35 with electricity, 128 without, 1 yurt and 3 "ready-to-camp" oTENTik tents). You can camp there from May 17 to October 13, 2013. The nearby Recreation Centre give you access to many services (pool, laundromat, bike rentals, etc.), making this an ideal destination for a family camping trip.
Are you looking for "ready-to-camp" options? Try out the park's new oTENTik tents, which are a cross between a traditional tent and a rustic cabin. The OTENTik Campground offers 7 of these dwellings along with a building housing toilets, showers and a space to cook and eat.
Wilderness camping and lean-to shelters
Backcountry wilderness campsites give you the opportunity to sleep under the stars! There is no cost for camping at backcountry sites, but registration at the reception centre is mandatory. Two lean-to shelters with three walls make it possible to camp without bringing any tent. They are located in the same area of the park as the backcountry sites and cost $15 per person per night. Dry toilets and picnic tables are available nearby.
Reservations
Reserve your campsite online at www.reservation.parcscanada.gc.ca.
For information:
Forillon National Park
122, boulevard de Gaspé
Gaspé (Québec) Canada
G4X 1A9
Toll-free: 1-888-773-8888
www.quebecmaritime.ca/parcforillon
If you liked this article, you might also like...