The

Québec maritime Blog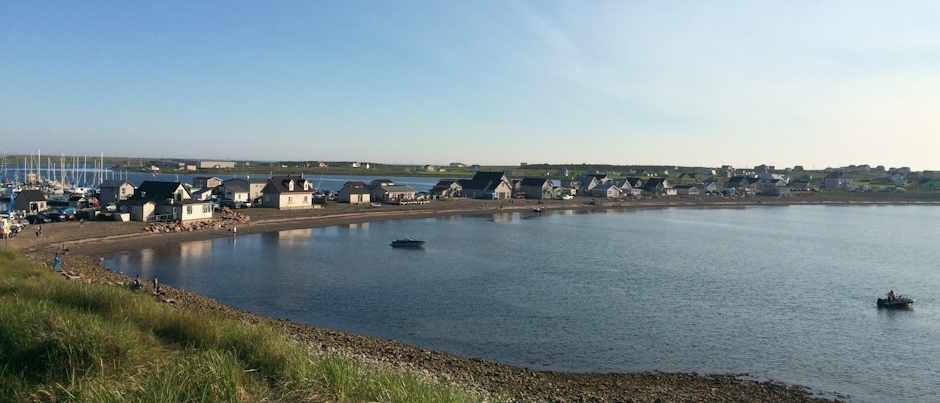 La Grave heritage site
Lisa-Marie Boulanger
My First Visit to the Îles de la Madeleine
I wasn't dreaming… I really was in the enchanting setting of the Îles de la Madeleine. All my senses had been awakened since I'd set foot on the Islands. The brick-red cliffs, the warm sand beneath my feet and a gentle breeze on my skin all confirmed that I was officially on vacation in one of the most beautiful parts of Québec. During my whole trip to this region, I constantly had the words of a Roch Voisine song running through my head, about being alone on the sand and contemplating the sea as if in a dream... Here's a brief account of my dream vacation in this beautiful archipelago, which I was thrilled to finally get a chance to explore.
This trip was the result of meeting my love, who's originally from the Îles de la Madeleine, but now lives in Bas-Saint-Laurent. When he suggested a two-week trip to the Islands, how could I say no? It was therefore with much excitement that I left Rimouski and headed to Souris, in Prince Edward Island, where the CTMA ferry would take us on a five-hour crossing to our destination.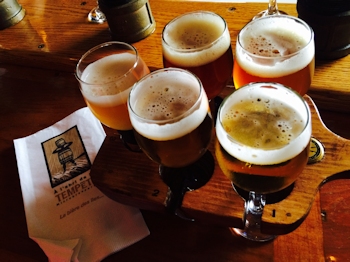 Beer tasting at the À l'Abri de la Tempête microbrewery© Lisa-Marie Boulanger
I had barely set foot on the Islands when we heard that bad weather was predicted for the entire first week of our vacation. But so what? Neither rain nor wind was going to keep me from enjoying my stay on the Islands, because there's so much to do there! We browsed the shops, admired incredible views and ate in many good restaurants as we explored the 85-kilometre (55-mile) long archipelago.
I kept track of all my favourite experiences, from stunning sights to the multitude of flavours that tantalized my taste buds, not to mention the music of the Islands with its enchanting and irresistible melodies!
Here's what I recommend based on what we saw during the first week of our stay:
Entry Island: for a complete change of pace as you travel back in time.
À l'Abri de la Tempête microbrewery: to taste local beer in an exceptional site.
Verrerie La Méduse glassworks: to admire glassblowers at work (an impressive sight!).
Les Pas Perdus bistro: for their friendly and welcoming staff, not to mention their poutine made with Pied-de-Vent cheese—if you have a hearty appetite, be sure to ask for extra! Their menu is varied and features fresh and tasty seasonal ingredients. They also have a show venue right next door.
Auberge Havre-sur-Mer: for the massage centre with a stunning view of Bassin.
Atelier Côtier: for the 1001 products made with sand from the Islands—you'll want to pick up a souvenir to remind you of your trip!
Decker Boy: for their seafood pizza, which is unbelievably good!
Fumoir d'Antan Smokehouse Economuseum: for exquisite fish smoked on site. Be sure to also tour the facilities to learn about the smoking process.
Fromagerie du Pied-de-Vent cheese factory: for delicious cheeses made on site. Keep an eye out for the cow crossing sign! The herd crosses the road twice a day, going from the field to the barn.
Finally, during our second week, the sun came out! Sure, there are lots of things to do and see even in the rain, but what joy to see the sun shining on the cliffs and feel a gentle breeze on my skin...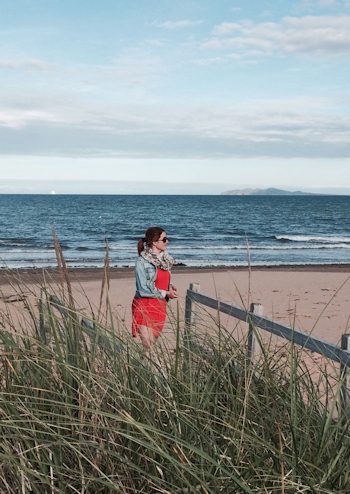 A sunny day at the beach!© Lisa-Marie Boulanger
A tip: when you're visiting the Islands, be sure to always have spare clothes with you. I kept my bathing suit, a towel, a fleece and my raincoat in the back of my car at all times. The weather is changeable, so if you want to make the most of the beaches when the sun peaks out, you have to be prepared!
So that's what we did! We headed to magnificent Sandy Hook Beach on Havre Aubert Island and enjoyed the golden sand that sang under our feet. I'm not kidding—you have to check it out! This beach also hosts a popular sand castle contest every summer in August, which is not to be missed. (Note that the Islands boast over 300 kilometres, or 190 miles, of beaches, so you have many other options too!)
What I loved the most about Havre Aubert Island were the endless sand and the La Grave heritage site, which has a festive atmosphere from morning to night. Breathing in the sea air, chatting with the locals, going with the flow—that's what the Îles de la Madeleine all about. As they say in the Islands: "Time doesn't belong to a clock, it belongs to you!" So forget about what time it is and just enjoy every moment you're there.
Since all good things must come to an end, we eventually had to think about heading home. Leaving was bittersweet: my first visit had been a dream come true and I left with many happy memories. I was awed by the magnificent beauty of the Islands and touched by the warm welcome I received... I'm already dreaming of my next visit!
Start planning your trip to the Islands by visiting our Îles de la Madeleine section. You can also consult our road trip itinerary, which will help you discover the archipelago.
If you liked this article, you might also like...