The

Québec maritime Blog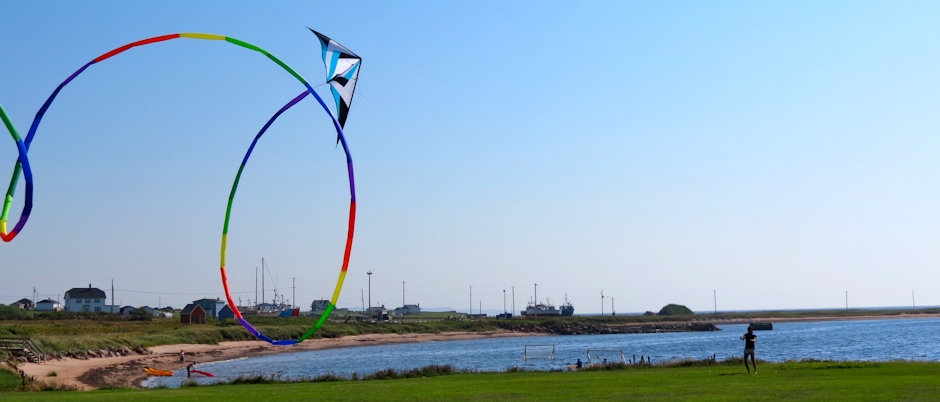 The Islands are a great playground for wind sports enthusiasts
David Lang
Fill up on Fresh Air in the Îles de la Madeleine
Sea, land and wind: three elements that haven't just shaped the Islands' exceptional landscapes, but also provide settings for exciting and sometimes unusual outdoor adventures…
"Don't worry, my friend, you're in no real danger. All you need to do is keep your body as relaxed and loose as possible whenever the waves propel you against the cliffs!" A visit to the Îles de la Madeleine is an opportunity to take to the water and explore the surface caves in the cliffs, carried by the waves of the Gulf of St. Lawrence. Well supervised, protected by a helmet and kept warm by a thick wetsuit, you'll be tossed from side to side by the sea as the waves drive you against the red sandstone walls and occasionally lift you up to a higher level.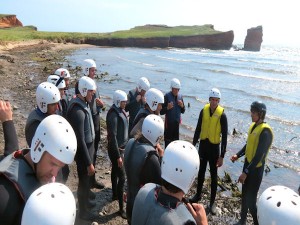 Safety instructions before setting off © David Lang
By the end, you'll feel like you've been in a giant whirlpool bath: you'll be thoroughly clean (even your sinuses!) and will realize you've just experienced something truly extraordinary. This activity, called "The Caves," is offered exclusively by Auberge La Salicorne on Grande-Entrée Island—there's probably nowhere else in the world where you can enjoy such an escapade. And what better way to be introduced to the joys of Madelinot-style outdoor adventure!
From sea to sky
On the Islands, whether we're talking about regional products, art or active outdoor activities, nature and imagination are always part of the picture. But back to the water. Those red cliffs carved into fantastic shapes that you got so intimately acquainted with while exploring the caves are one of the Islands' trademarks, as are the endless sandy beaches that surround the archipelago for 300 kilometres (190 miles). This stunning seaboard is ideal for sea kayaking, a popular and accessible sport. Head to Parc de Gros-Cap, in Étang-du-Nord, to see for yourself. This park is a magical place: a campground and youth hostel are perched on a small peninsula surrounded by carved cliffs and offering a nearly 360° panoramic view. You can reserve the excursion of your choice—preferably with a guide—by kayak or trimaran. Nearby, you might spot people seemingly walking on water, who let out peals of laughter whenever a seal swims by. They're stand up paddle surfing (SUP), which is one of North America's fastest growing water surf activities. This sport is a great way to surf the waves as well as explore the coast when the sea is calm.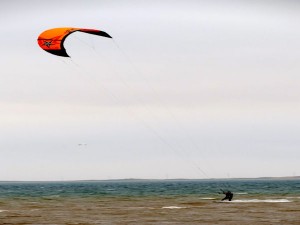 A playground for kitesurfers © David Lang
Aérosport offers you the opportunity to try it out, along with the more traditional surfing, kayaking or sailing. And if you thought walking on water was impressive, what about flying across it? Thanks to optimal wind and sea conditions, the Îles de la Madeleine are a mecca for kitesurfing enthusiasts from around the world. Take advantage of your visit to try out this spectacular sport or admire the acrobatics of others. You can also try the land-based versions: recreational kiting, stunt kiting, power kiting or kite buggying. As you'll soon realize, the Madelinot skies are home to more than seabirds!
Adventures on land
Just because you don't have sea legs doesn't mean you'll be bored on the Islands—far from it! The archipelago's endless beaches, capes, lagoons and rolling green hills offer superb hiking opportunities. One hike you won't want to miss is to the top of Big Hill, on Entry Island, which is only accessible by boat. At 174 metres (570 feet) above sea level, Big Hill is the highest point of land in the archipelago—your reward at the top is a truly amazing view.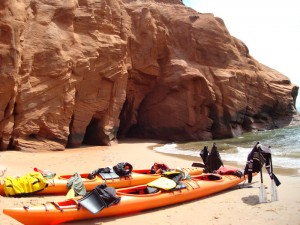 Sea kayaking on the Islands © Vert et Mer
With six of its islands linked together by a single 85-km (53-mi.) road and many side roads and country lanes to explore, the archipelago is a cycling paradise. Actually, like many outdoor lovers who visit the Islands, cyclists come here on pilgrimage. Visiting the Islands is akin to a spiritual experience, where you worship the gods of sea, land and wind. The only missing element is one you provide: the intensity of your emotions as you explore the many facets of this beautiful archipelago!
If you liked this article, you might also like...