The

Québec maritime Blog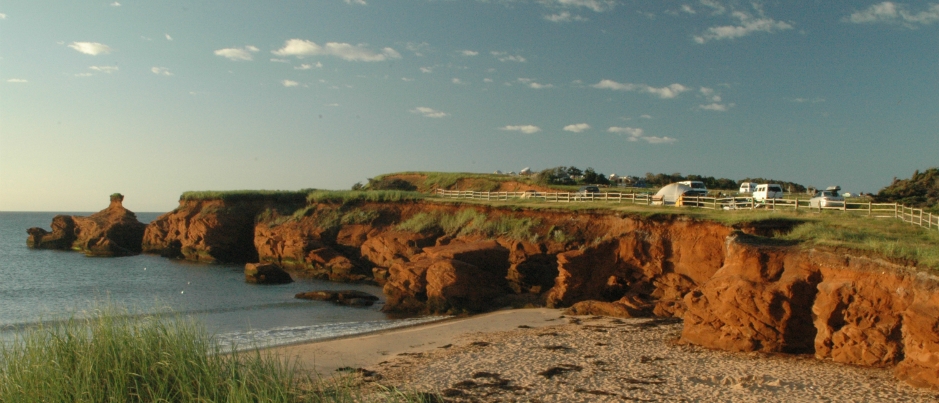 Parc de Gros-Cap : a dream location
Parc de Gros-Cap
Îles de la Madeleine: Vacation Stay at Parc de Gros-Cap
If you're looking for somewhere to stay during your next vacation in the Îles de la Madeleine, why not try Parc de Gros-Cap? This park offers a variety of lodging options as well as a multitude of outdoor and cultural activities that will immerse you in life on the Islands. There's so much on offer that you can easily spend several days here while you explore the many attractions of this archipelago in the middle of the Gulf of St. Lawrence.
As soon as you arrive in the park, head for the beach and take in the spectacular view from the cliffs. Few spots in the province of Québec provide such a 360° view. Gros-Cap is a peninsula that is quiet but centrally located and thus ideal for your daily explorations. You can also visit Entry Island by taking part in an excursion in the company of certified guides. At low tide, you are likely to encounter people clam fishing on the reef flats.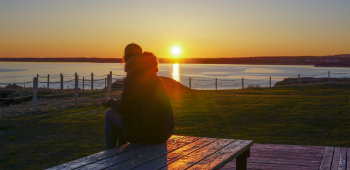 In Parc de Gros-Cap, you are guaranteed a good view of glorious sunsets© Jennifer Doré Dallas
After spending the day meeting the locals or visiting the various islands that make up the archipelago, relax and take in a spectacular sight: the sunsets at Gros-Cap are magical and photo-worthy events!
As night falls, you can listen to the waves crashing against the red sandstone cliffs, which this region is famous for. From your campsite, "ready-to-camp" cabin or hostel room, the sea breezes will gently lull you to sleep. Believe me, there's no better vacation than a stay right by the sea!
Lodging
Parc de Gros-Cap offers a variety of lodging options for all tastes. Set up your tent in one of the campsites (with or without services) or opt for a more remote tent platform that provides a feeling of solitude. Each site has a picnic table to simplify meal times.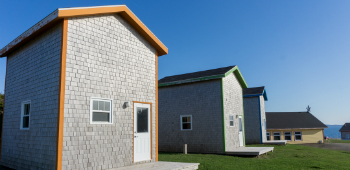 The rustic cottages called Les Salines can accommodate up to 4 people in complete comfort© Jennifer Doré Dallas
If you don't feel like hauling all your camping gear, you can opt for the park's rustic cabins called Les Salines. Colourful and well equipped, they make your stay in the archipelago easy. Whether you camp or stay in a cabin, you will have access to a service building that contains washrooms, showers and laundry machines. Children can also enjoy the new play area.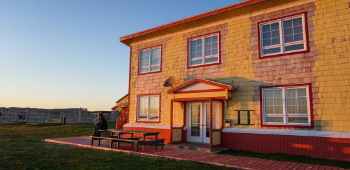 Auberge de Gros-Cap is located at the tip of the Gros-Cap© Jennifer Doré Dallas
Located at the tip of the Gros-Cap Peninsula, the hostel offers nine rooms (private, family and dormitories) as well as a shared kitchen, dining room, lounge and picnic tables that will make you feel at home. Continental breakfast is included and gives you the opportunity to exchange tips with other travellers before heading out for a day of adventure. Double rooms are also available in the Montreuil pavilion.
Activities
Converted from a marine biology laboratory into a hostel, Parc de Gros-Cap is a social enterprise founded by residents who wanted to preserve this unique natural area for locals and visitors to enjoy. The rich variety of activities on offer only adds to the appeal of this location.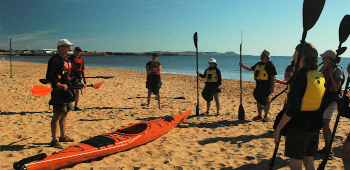 Parc de Gros-Cap offers sea kayaking and sailing excursions, classes and expeditions© Parc de Gros-Cap
The peninsula is a favourite among sea kayakers and kitesurfers. Excursions are available for beginners to hardcore enthusiasts. You can rent a sea kayak and go on an excursion on your own or take lessons with certified teachers.
If you'd rather go sailing on a trimaran, join one of the park's experienced guides and take off to see the Islands from another angle, with the wind in your hair!
Summer program
Do you love playing in the sand and creating ephemeral works of art? Participate in the many sand castle workshops offered (in French only) on Mondays and Wednesdays at 10 a.m. for the rest of the summer.
Every Wednesday, renowned island storyteller Nicolas Landry shares local legends at the park's theatre. You may even want to come back for the Festival international Contes en Îles in September when dozens of storytellers from all over the world meet to tell their stories. (Both activities are in French.)
On Thursdays at 8 pm, come and listen to music jams featuring local and international traditional music, with different performers every week.
In July, you can also join residents at the local annual festival, which has now become a tradition: this year it will celebrate the park's 10th anniversary.
Enjoy your stay on the Islands!
Moi, mes souliers (in French only)
If you liked this article, you might also like...