The

Québec maritime Blog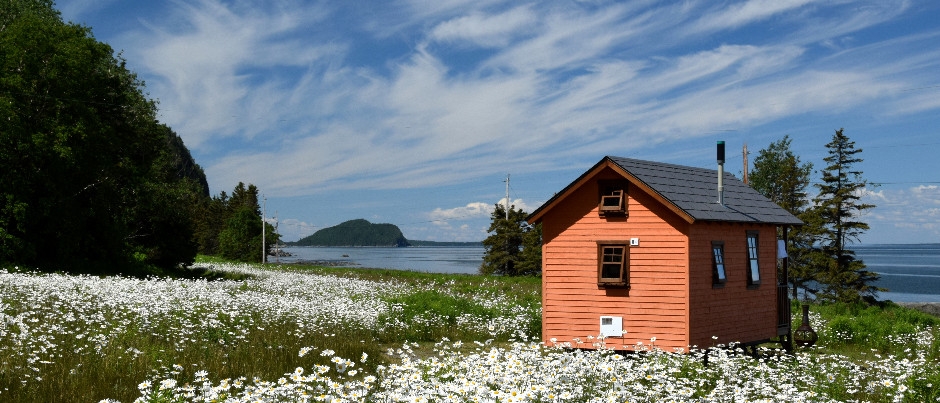 Tiny house at Domaine Floravie
Domaine Floravie
Lodging Options in Harmony with Nature
It can be on an island, along a river, in the mountains or even in the trees. Whatever form it takes, nothing beats a night in a natural environment to experience a privileged moment with the spectacular scenery, the enchanting surroundings and the brisk fresh air of the maritime regions of Québec. There are obviously various lodging options centred on nature in our national parks, but here are some others standing out by their unusual character, their distinctive environment or their relaxing style.
Bas-Saint-Laurent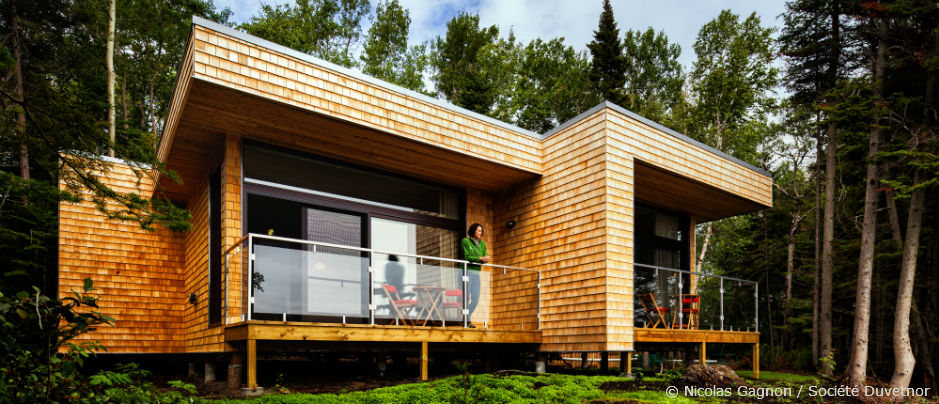 Would you like to experience a true islander's life? There are several options. Head to Pot à l'Eau-de-Vie (Brandy Pot) Island, right in the middle of the St. Lawrence River, offshore from Rivière-du-Loup, where you can spend the night in one of the three antique-looking rooms of the lighthouse. Société Duvetnor also invites you to stay in an inn, a cottage or a wilderness campsite, on nearby Île aux Lièvres (Hare Island), in a unique setting where you can hear the whales blow close to the shoreline in the twilight.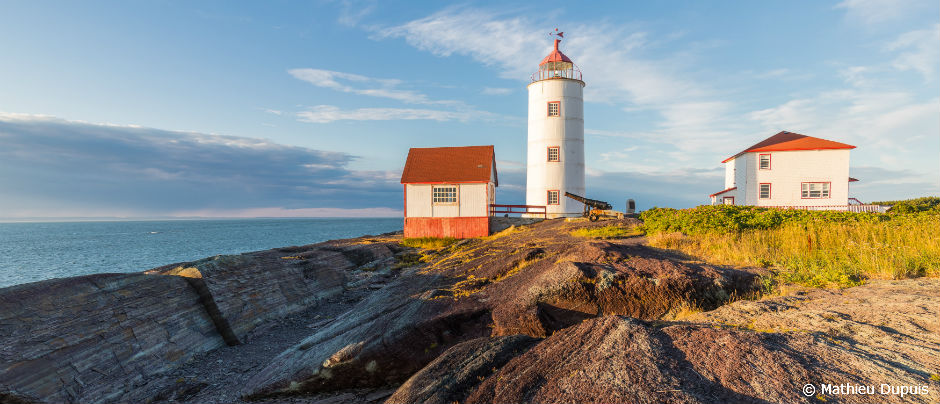 You can also board at Maisons du phare, on Île Verte (Green Island), enjoying a prime location and breathtaking vistas. Located in the lightkeeper's house and the assistant lightkeeper's house, the rooms are as peaceful as it gets.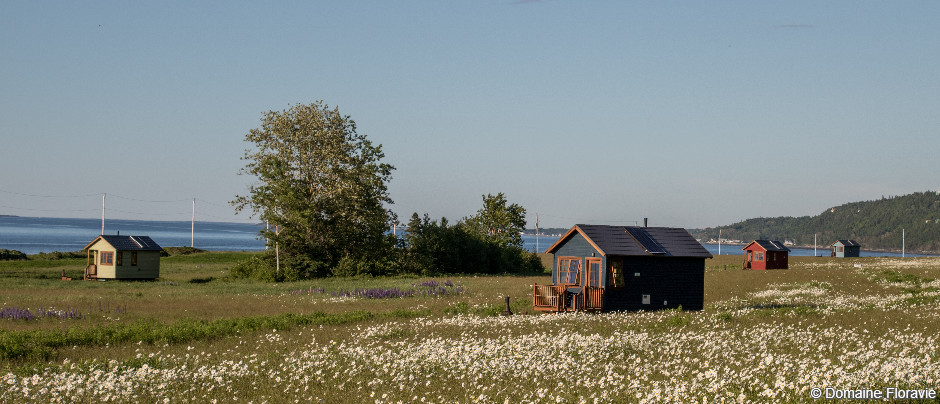 A few kilometres west of Rimouski, along the St. Lawrence River, Domaine Floravie offers seven tiny-house-style eco-cottages. These have a very unique feature: they are mounted on wheels. Conveniently located near the shore in the summer, they can be moved back at the end of the season to protect them from the higher tides experienced in the fall. All the equipment and furniture required to enjoy your stay is provided.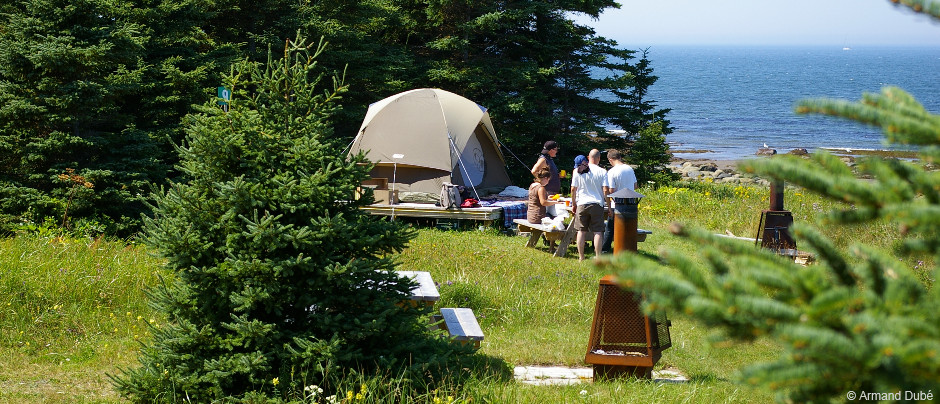 There is no way you can miss Île Saint-Barnabé when you look toward the St. Lawrence River from Rimouski. Some 6 kilometres long but merely 300 metres wide, it is criss-crossed by a network of hiking trails and boasts a nice campground on the north side. And yes, it's the side which provides you with a direct view on the beautiful sunsets on the river.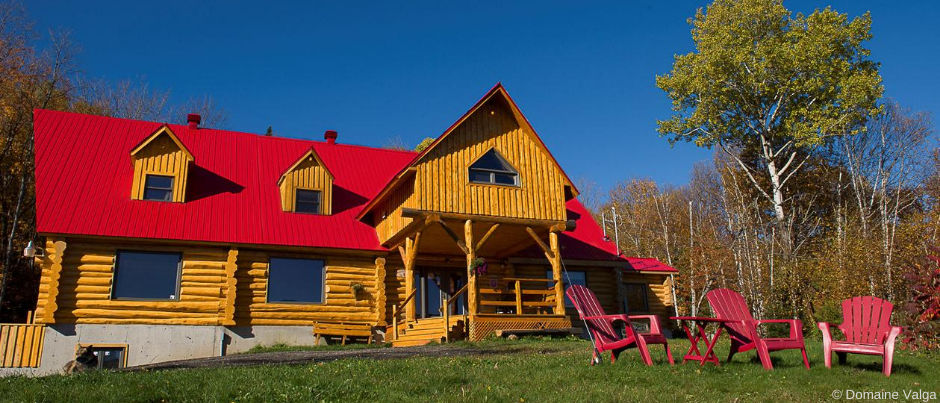 Log buildings are a classic symbol of the great Canadian woods. And the largest log inn in Eastern Québec is found at Domaine Valga, a lovely resort located right on a lake in a forested area, outside Saint-Gabriel-de-Rimouski. If you want a little more privacy, they also offer log cottages available for rent in all-inclusive packages.
Gaspésie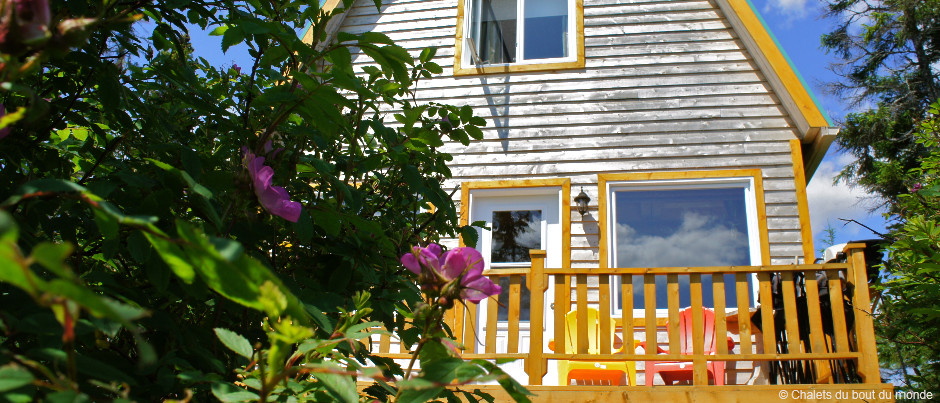 Facing the Saint-Jean Estuary near Gaspé, Chalets du bout du monde provide a central location to make the most of your vacations in Gaspésie. Set pretty much midway between Forillon National Park and Percé, the eight fully-equipped cottages are a short walk away from Haldimand Beach, a 5 km-long stretch of fine sand.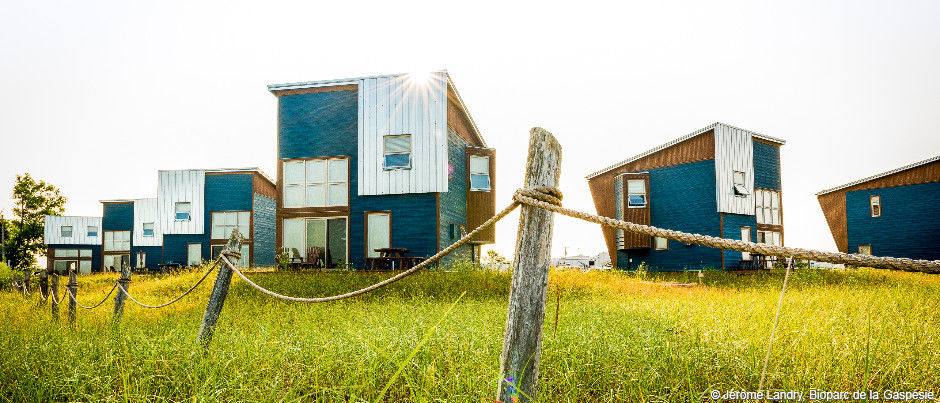 You will find two other interesting options near Bonaventure. There are Chalets du Bioparc, a series of cottages right on a beach along beautiful Chaleur Bay, where you can relax while looking at the sea and enjoying the invigorating sea breeze.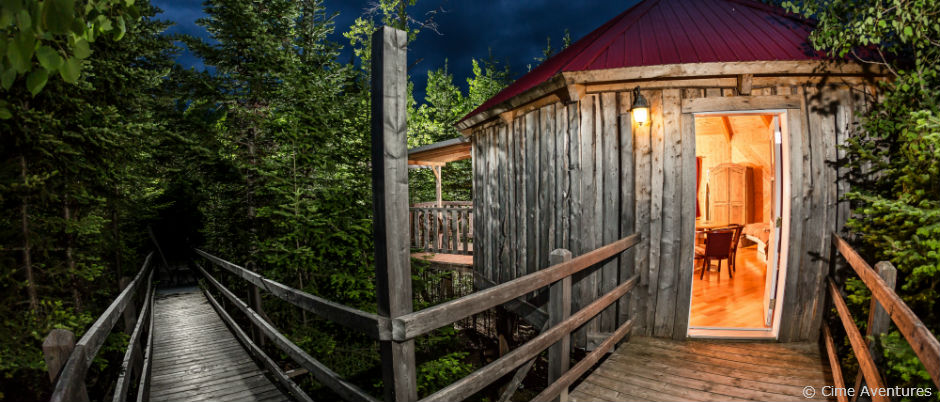 Upriver from the Bay, on the pristine Bonaventure River known as one of the clearest in the world, you get to CIME Aventure, a company offering guided canoeing and kayaking excursions, but which also gives you the opportunity to sleep in a yurt, or to try out a family sized cabins. These are small units perched on wooden pilings in the middle of the forest, the perfect setting for a unique and quiet stay.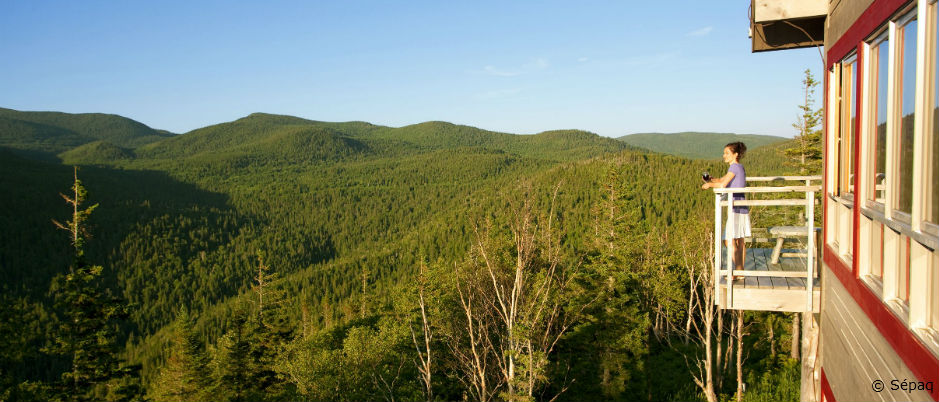 Mountain lovers rejoice, there is something for you! Built at an elevation of 615 m in the Chic-Chocs, Auberge de montagne des Chic-Chocs is the ideal place to break free from your daily routines, in the summer and in the winter. On top of the unmatched comfort of the rooms, the relaxed atmosphere and the delicious cuisine, you will enjoy a privileged access to a 60 km2 area in a breathtaking scenery, a vast playground for all outdoors enthusiasts.
Côte-Nord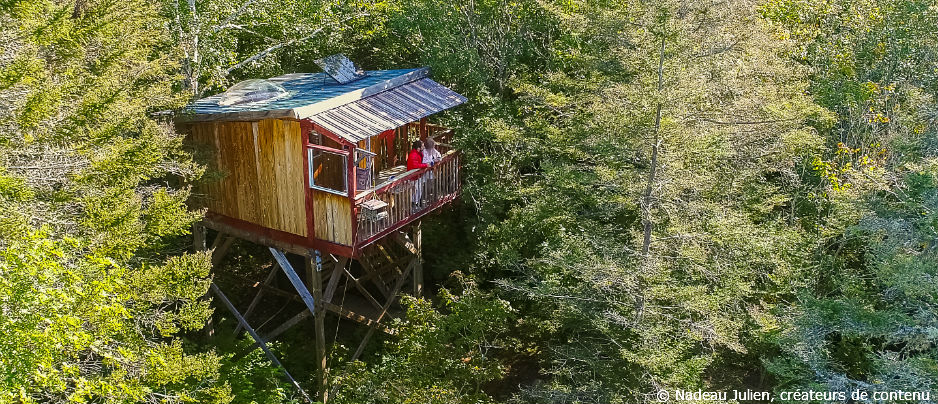 And now, here is a totally unusual concept: sleep in a bubble. Yes, you read that right. At Canopée Lit, in Sacré-Coeur, along the Saguenay Fjord, you can sleep in a clear bubble, perched at the top of a tree, 3 metres above the ground. You will feel like spending the night right under the stars, but in a real bed. You have the more "traditional" option of cabins, but be warned: these are also perched up high.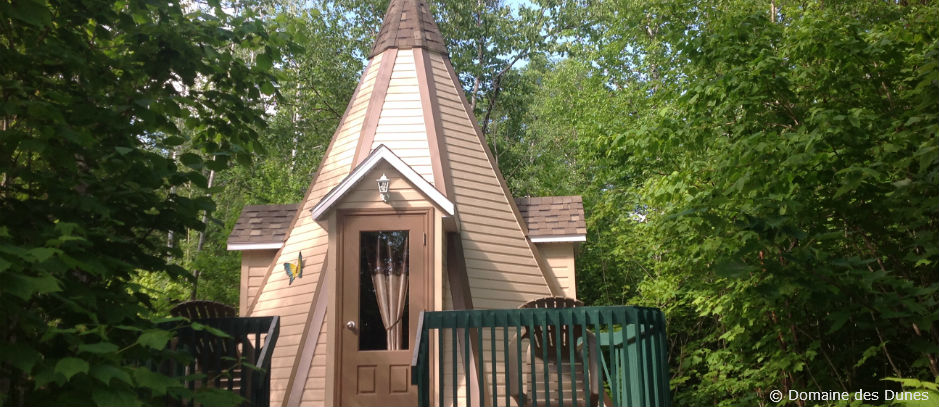 Just a few kilometres from the village of Tadoussac, close to the fantastic dunes overlooking the St. Lawrence River, Domaine des Dunes has 11 fully-equipped cabins, two "ready-to-camp" tents, as well as a teepee, all in a great setting sheltered by birch trees.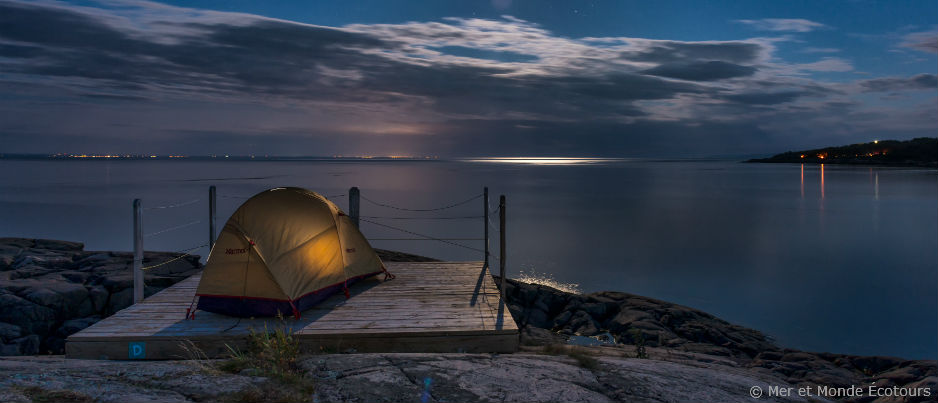 The Les Bergeronnes area is a prime location to watch marine mammals. And it's possible to watch them right from some of the 37 campsites on sand or wooden platforms at Mer et Monde Écotours. And if, after seeing whales from the shore in the morning, you would like the see them from closer, the company offers guided sea kayak excursions.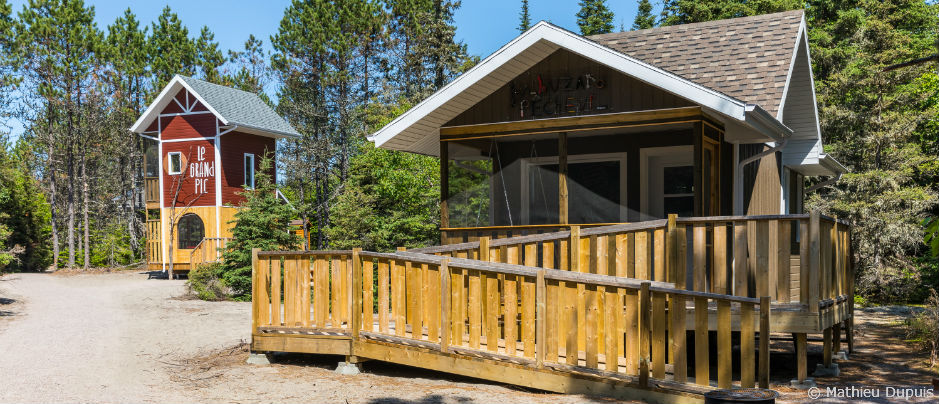 Bird watchers will be pleased by this one. Have you ever thought of sleeping in a giant birdhouse? As strange as it may seem, you can do it at Parc nature de Pointe-aux-Outardes, near Baie-Comeau. Starting in the summer of 2016, the park provides five giant nesting boxes, all made of cedar, which can accommodate up to 20 people in an all-inclusive package. A truly unique glamping experience!
The city of Sept-Îles takes its name from its location in a vast bay protected, as you might have guessed, by seven islands. Only one of those, Grande Basque Island, has facilities for visitors, including several wilderness campsites set up on beaches all around the island. Known as an excellent area for whale watching, Sept Îles Archipelago will undoubtedly please people looking for solitude and peacefulness.
Îles de la Madeleine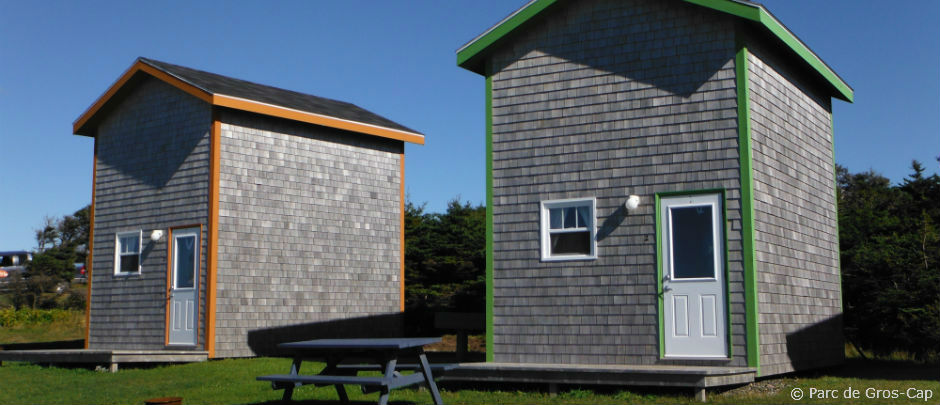 At Parc de Gros-Cap, in Îles de la Madeleine, the Salines attract our attention. These are small cabins whose design is similar to old fishermen cabins. With two floors, they can accommodate up to four people each. All the equipment is included, as well as the sound of waves breaking on the shore and the views on the beautiful red sandstone cliffs. The only thing missing is you!
Whether you wish to feel close to forest wildlife, birds, marine mammals, the starry sky or the sea, you will find in the maritime regions of Québec various types of lodging to surprise you or to relax, as you wish. Browse through the many options available to you!
If you liked this article, you might also like...