The

Québec maritime Blog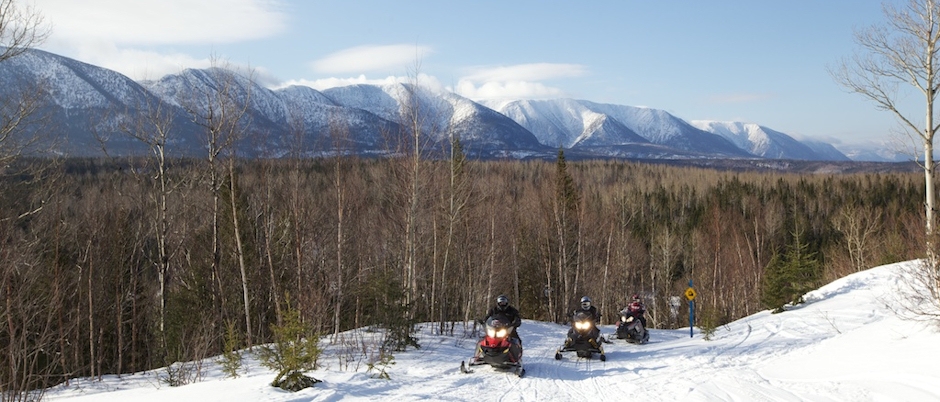 Snowmobiling along the Chic-Chocs
Studio du Ruisseau
Interview with a Snowmobiler: Brent Richardson about Gaspésie
We met Brent Richardson at the Toronto Snowmobile & ATV Show in October. He stopped by our booth to tell us he was planning another trip to the Gaspésie region this winter. He had great things to say about his past experiences, so we asked him if he would answer a few questions to help other snowmobilers who are contemplating a trip to this region.
Le Québec maritime (LQM): You have already toured Gaspésie by snowmobile a couple of times. What keeps you coming back?
Brent Richardson (BR):The scenery and the quality of the trails.
LQM: Were you familiar with the region before touring it by snowmobile? If not, how did you learn about it?
BR: We hadn't heard about Gaspésie before talking to a friend who highly recommended the region!
LQM: Which trails did you ride in Gaspésie?
BR: We've ridden #5, #597, #595 and the trail that crosses through the Réserve faunique des Chic-Chocs [a locally maintained trail that goes from Murdochville to La Cache].
LQM: In your opinion, how does the Gaspésie region compare to other regions in Québec?
BR: It's top notch. It's one of our favourites, if not our favourite.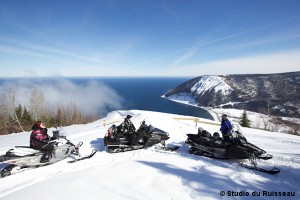 The view on top of Mont Saint-Pierre in Gaspésie
LQM: Did you fall in love with any of the towns or villages you passed through, or with certain sections of the trails, etc.?
BR: We really like Mont-Saint-Pierre!
LQM: Did you prefer certain areas of Gaspésie to others? Which ones and why?
BR: The north shore of the peninsula for sure, and trails #597, #595 and the trail that runs through the Réserve faunique des Chic-Chocs. The last two cross some of the most beautiful landscapes of the region. It's surely some of the best riding we have ever seen.
LQM: Is Gaspésie comparable to other regions in Canada or the US?
BR: No, it's unique because it encompasses all types of riding: mountains, fields, bush trails, etc. You get it all in one area!
Wrapping up…
LQM: How many kilometres do you travel by snowmobile each year?
BR: About 6500 km, although my buddy wants to try and crack 10,000 km this year.
LQM: Do you take several snowmobile trips each season?
BR: We usually plan three trips: one big and two mini. This year, we'll do the Gaspé Bay (10 days), ride around Algonquin Park in Ontario (4 days) and we always do a spring ride in the Cochrane region mid-April (4 days). We usually close the trails.
LQM: What model snowmobile do you ride?
BR: I ride a 2012 Ski-Doo Renegade 800X.
If you liked this article, you might also like...