The

Québec maritime Blog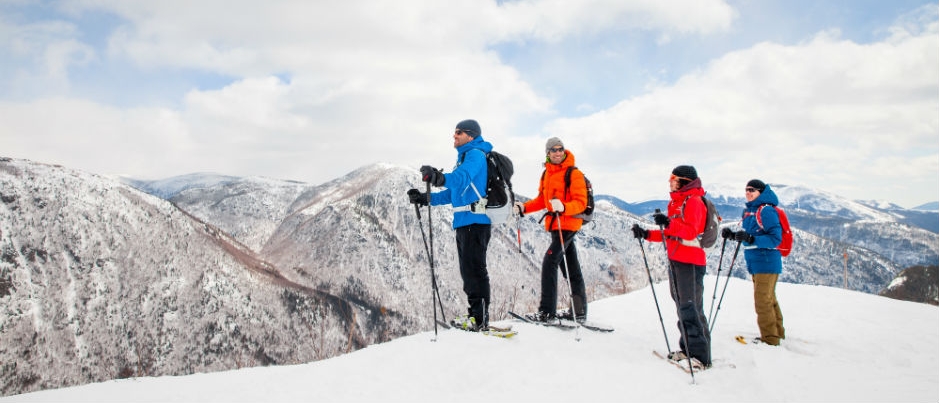 The Chic-Choc Mountains
Roger St-Laurent/Tourisme Gaspésie
Winter Souvenirs of Gaspésie
4 Instagram Photos of Winter in This Region of Eastern Québec
Over the past few years, Gaspésie has become an increasingly popular winter destination. Offering impressive amounts of snow and picture-postcard scenery, it has something for everyone! See for yourself through these photos found on Instagram.
Please note that the activities mentioned in this blog post do not take into account the current context of the pandemic and that we encourage you to comply with all public health directives. Some events may be modified or cancelled. Please contact the companies involved for more details.
Backcountry skiing
Gaspésie is on many backcountry skiers' bucket list because they want to explore the famous Chic-Chocs in Parc national de la Gaspésie or the Réserve faunique des Chic-Chocs. These mountains are famed for exceptional powder snow (the average snowfall on their summits reaches over 7 metres, or 23 feet, per season); there is also little traffic through this immense natural playground. Rely on the expertise of Chic-Chac or Ski Chic-Chocs for a memorable stay!
Wildlife encounters in the Chic-Chocs
Another great way to enjoy this mountain range is by staying at the Auberge de montagne des Chics-Chocs, a cozy lodge nestled at an altitude of 615 metres (2020 feet). Accompanied by experienced guides, you can explore 60 km2 (23 sq. mi.) of mountains, including two 1000-metre (3300-foot) peaks! You'll undoubtedly encounter wildlife during your stay, as shown in this photo (the moose population is particularly dense in this area).
Sports events
Does a weeklong sports vacation in an enchanting setting sound appealing to you? That's what the Winter TDLG offers! Each year, the team prepares a cross-country skiing and snowshoeing itinerary through magical landscapes, in the mountains or along the coast, along with a host of festive activities. You'll see, the energy of this event is contagious, and you'll feel like you're among old friends!
Snowmobiling
If exploring the Gaspé Peninsula by road is magical, it's all the more so by snowmobile! Spectacular panoramas await you, including Percé Rock, the Chic-Chocs and the view from the top of Mt. Saint-Pierre. Gaspésie is also a dream snowmobile destination because it offers 3000 km (1900 mi.) of well-maintained and marked trails, with lots of ride options depending on your interests and how much time you have.
What photos do you dream of taking during a winter stay in Gaspésie?
Be sure to share your best souvenirs of our regions on social media and tag them with the hashtags #quebecbythesea and #quebecmaritime. Happy travels!
Québec maritime Instagram account: @quebecmaritime
If you liked this article, you might also like...