The

Québec maritime Blog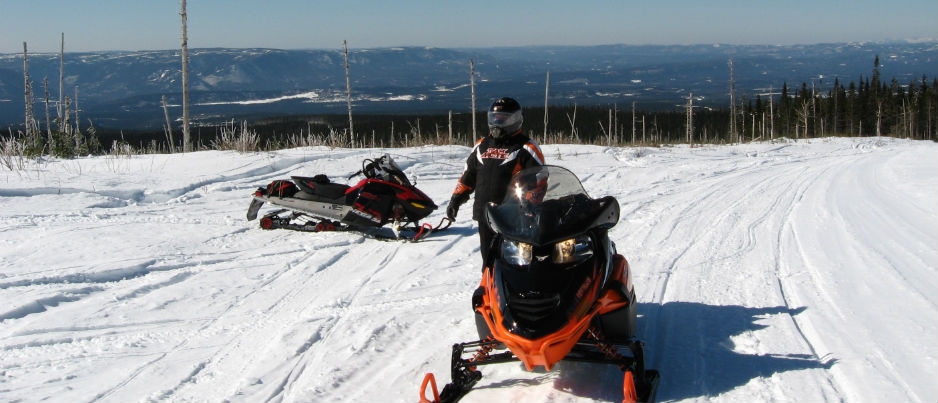 The Chic-Chocs-Forillon Snowmobiling Loop
In Memory of "Le Loup"
March 15th, 8 AM, it's -16°C in Sainte-Anne-des-Monts, in Gaspésie. The sky is clear and the sun is shining in all its glory. I'm about to leave for a two-day ride on the Chic-Chocs-Forillon loop with an old friend of mine, an experienced rider averaging 20,000 km (12 000 mi.) a year. As we're both from the area and familiar with this playground, we know too well that, with this kind of day, Mother Nature will display herself in all her glory!
Our itinerary is set: we'll start from Relais du Vieux Moulin in Sainte-Anne-des-Monts, and go through La Cache, Murdochville and Gaspé to reach Auberge Caribou in Rivière-au-Renard where we'll spend the night. It'll be a long day of over 400 km. The next day, we'll come back along the coast with nearly 300 km to ride.
Sainte-Anne-des-Monts – La Cache
(Trans-Québec trail #5, Cap-Chat River trail, Faribault trail)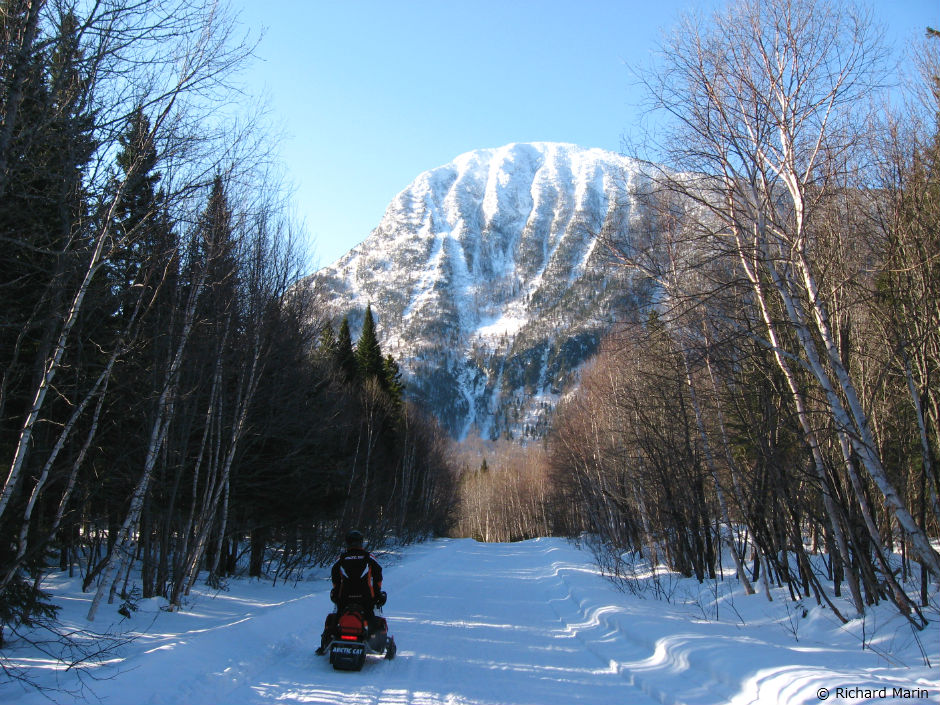 Our first day was really up to our expectations. As we had chosen to take the Cap-Chat River trail, the perfectly blue skies make for truly magical views of our well-known local landmark: the Chic-Chocs Mountains! Those magnificent mountains promise to "wow" any snowmobiler and leave an everlasting mark in his memory. As a bonus, and probably because of the cold weather that day, we see some 15 moose in the area within roughly half-an-hour, including 5 of them at the same time. Obviously, we stop for a while to respectfully make videos and take pictures of these impressive animals. When the way is clear, we head for this unique mountain that stands out in Réserve faunique de Matane and can be seen from miles around: Mount Nicol-Albert. Towering at 750 metres, it gives us the impression that it will fall over on us when we ride by its base.
After going through the Chics-Chocs Mountains, we have a feeling of being isolated, far away from civilization. The trail that we ride on, cutting across this wilder area, is the only evidence of a human presence.
La Cache – Murdochville
(Chic-Chocs trail)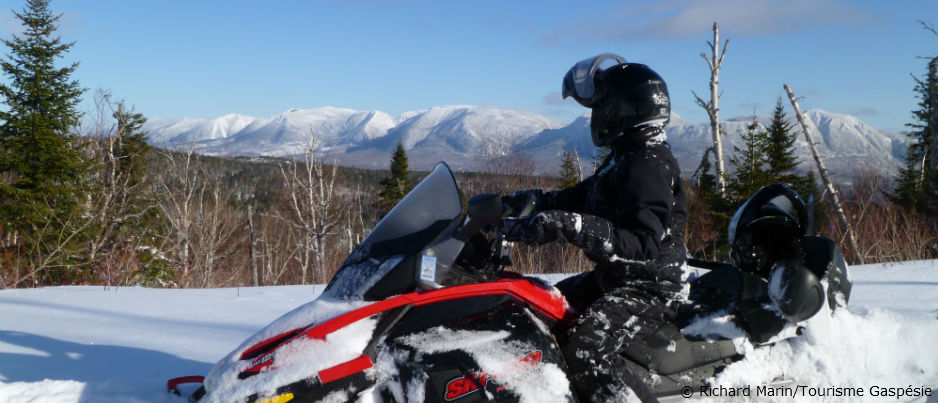 Once we make it to La Cache, we have about a third of our mileage done for the day. After enjoying a good coffee and filling up our tanks, we keep on riding on the Chic-Chocs trail to Murdochville. This is another regional trail well-known for its scenery. I can guarantee that every snowmobiler should experience a ride on this trail on a clear day for scenic views of a "sea of mountains", as we say around here, and snow in vast quantities. Along this trail of over a hundred kilometres, the snow-loaded trees, the frosty mountains and the south side of the Chic-Chocs Mountains and McGerringle Mountains proudly stand in their distinctive way. It's a local trail that's not federated, but well-groomed by the Murdochville Chamber of Commerce. We can see some windmills on the horizon; a sign that we're approaching Murdochville. We stop at Copper Hotel where a good meal awaits us.
Murdochville – Rivière-au-Renard
(trail 597 [Pont Bailey trail], Saint-Jean River trail, Trans-Québec trail #5 [Portage trail])
After a stop at the gas station in Murdochville, we get back on the trail for 190 kilometres to reach our destination for the day, Rivière-au-Renard. This last stretch takes us once again in an uninhabited area for over a hundred kilometres. We truly feel the harshness of winter along the way. The views of mountains and rivers brighten up the trail.
As we approach Gaspé, a slight detour of less than half-a-kilometre off the trail gives us a great view of the Gaspé Bay, cradle of our history, and a major part of the city built around it.
The day comes to an end and we are getting tired after such a long ride. But as we get to Rivière-au-Renard at sunset, we are thrilled by a stunning show of lights and shadows on the half-frozen St. Lawrence and on the shore. Ice flows take an orange colour, houses slowly disappear in the dark and the town lights illuminate the landscape as we get to our destination. We receive a warm welcome by the people at Auberge Caribou, and after a fulfilling dinner at Bistro La Révolte, we enjoy a good night sleep, doubly appreciated by my riding partner who is nearly 60 years old.
Rivière-au-Renard – Sainte-Anne-des-Monts
(Trans-Québec trail #5)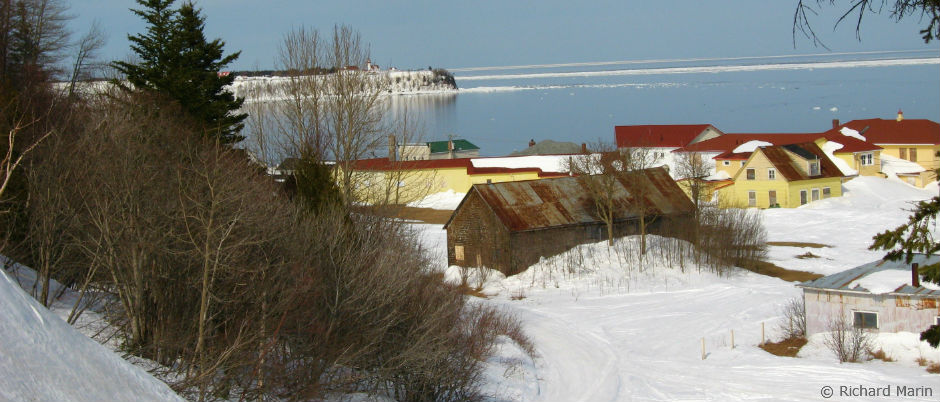 The next day, we once again have sunny and cold conditions for our trip back by the coast. The panorama is completely different from the day before: 300 kilometres of trails that meander along mountains, valleys and the seaside, offering frequent vistas on the St. Lawrence. Some fifteen towns and villages add to the scenery. We see many windmills along the way, appreciating their imposing size compared to our modest snowmobiles. Their construction led to a reorganization of the trail network and we have to share some ten kilometres of trails with cars… the only downside of our trip. But we quickly forget all of that when we ride on the top of Mount Saint-Pierre. This breathtaking viewpoint should not be missed; it's also one of the region's landmarks.
Back at Relais du Vieux Moulin, we meet many of our buddies and we tell them about our trip. We also talk about how lucky we are to live in this area and to be able to enjoy such a beautiful environment.
Well, that was a two-day dream trip for a snowmobiler! Two days that I'll never forget, because my riding partner, "Le Loup", departed this world on December 31st last year. As he told me many times during our trip: "Every snowmobiler must see this at least once in his lifetime!" In his memory, I really wanted to pass on his advice to all snowmobilers. It's all yours now to come over and enjoy it! And don't forget your camera: you'll need it!