The

Québec maritime Blog
Snowmobiling in Gaspésie: Front-Row Seats to Admire the Chic-Chocs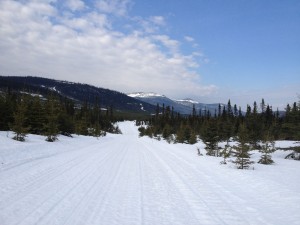 I finally understand why snowmobilers love Gaspésie so much. Not that I didn't believe them, but it's hard to grasp to what extent this is a great place to go snowmobiling if you haven't seen it for yourself. Last week, I finally got the opportunity to snowmobile in this region.
Given the mild weather of late March, I was in search of snow! As the Gaspé Peninsula usually boasts great trail conditions even at this time of year, we decided to head there for a quick trip. We chose to start in Murdochville and ride in the surrounding area. From there it's easy to access various trails, including Trans-Québec trail #5, trail #597 and local trails.
Very early Tuesday morning, we opted for the Chic-Chocs trail, which starts in Murdochville and leads to regional trail #595. It offers stunning views of the Chic-Chocs Mountains on its way through the wildlife reserve of the same name. This was the first time I had the opportunity to admire these mountains from such an impressive angle.
Like many snowmobile trails in Gaspésie, the Chic-Chocs trail meanders through the mountains, which means lots of riding up and downhill. I must admit that I still find it hard to turn while going downhill! It's worth the effort, though, because the views from the top are so spectacular: mountains as far as the eye can see.
The Chic-Chocs trail is part of the Chic-Chocs – Forillon loop. Although it's not federated, it's well marked and groomed by the Murdochville Chamber of Commerce.
We arrived at La Cache around lunchtime. Most people who snowmobile in Gaspésie are familiar with this spot. It's the only place to buy gas on trail #595.
In the afternoon, I had my first experience of spring snowmobiling: it was a balmy 14°C! It's rare that one can ride a snowmobile with an unbuttoned coat and open visor. I was even wearing my very fashionable sunglasses, as you can see in the picture below. We took advantage of the good weather to eat our lunch outside near a small creek. Despite the exceptional temperature, the trail conditions were good and we enjoyed a great ride.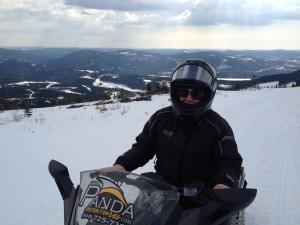 Back in Murdochville that evening, a hot shower and good meal awaited us at the Copper Hotel, the only hotel in town. I was even crowned "Mayor" of the hotel on Foursquare®.
In total, we covered a little over 200 kilometres (125 miles) that day. Steve, our guide at Panda Aventures, told me that this was a good day for someone who's not accustomed to snowmobiling. I can tell you that by the end of the day, I was exhausted but very happy. I was particularly impressed by the scenery on the Chic-Chocs trail throughout the day.
My snowmobile season is now over, but I'm definitely hooked—I now want to explore the entire network of trails in the Gaspé Peninsula. I've also apparently covered enough miles to officially call myself a snowmobiler. I'm already looking forward to next year!
If you liked this article, you might also like...