The

Québec maritime Blog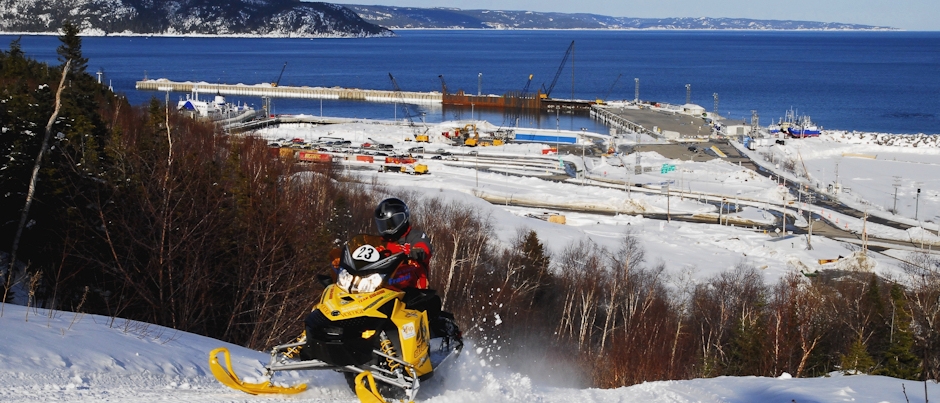 Snowmobiling on the trails of Côte-Nord
Marc Loiselle
Interview with a Snowmobiler: Serge Charrette on Côte-Nord
We met Serge Charrette at the Toronto Snowmobile & ATV Show a couple of years back. He had stopped by our booth to tell us he had had a great time riding the trails of Côte-Nord so we asked him if he would answer a few questions to help other snowmobilers who are contemplating a trip to this region.
1. Le Québec maritime (LQM): You have toured Côte-Nord by snowmobile. Is it a region you have visited more than once?
Serge Charrette (SC): Yes, four or five times by snowmobile, once by motorcycle and once in a truck.
2. LQM: Were you familiar with the region before your first snowmobile trip? If not, how did you first learn about it?
SC: I first toured the region by motorcycle.
3. LQM: Have you explored the regions of Gaspésie and Bas-Saint-Laurent by snowmobile as well?
SC: Yes, several times for both regions.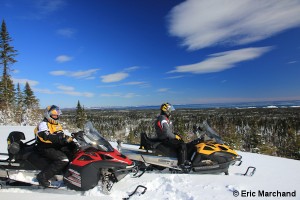 4. LQM: Which trails have you ridden in Côte-Nord?
SC: I've travelled from one end to the other: all the way from Tadoussac to Blanc-Sablon.
5. LQM: How does the region of Côte-Nord compare to other regions of Québec?
SC: It's a beautiful region. All the regions of Québec are very enjoyable to explore by snowmobile.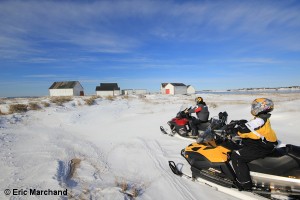 6. LQM: Did you fall in love with any of the towns or villages you passed through, or with certain sections of the trails, etc.?
SC:
The White Trail [which runs from Kegaska to Blanc-Sablon] is very special. The villages are isolated from the rest of the province of Québec because there are no roads in this area, only snowmobile trails in the winter.
The Sept-Îles trails are very large and usually very beautiful.
7. LQM: Did you prefer certain areas of Côte-Nord to others? If so, which ones and why?
SC: The White Trail because it's in such a remote area.
8. LQM: Which area(s) have the best scenery?
SC: Between Tadoussac and Les Escoumins, in the Port-Cartier sector and along the White Trail.
9. LQM: What would you say to snowmobilers who are hesitant about Côte-Nord because the trail doesn't loop?
SC: It's worth it and if you want a loop ride you can always cross to the south shore [to Gaspésie] from Godbout or Baie-Comeau.
10. LQM: Have you had the opportunity to cross the Manicouagan snowmobile bridge?
SC: Yes, it's a wonderful initiative of the local snowmobile club. It's really worth seeing—the bridge is very impressive.
Matane–Baie-Comeau/Godbout ferry
11. LQM: Have you had the opportunity to take the Matane–Baie-Comeau/Godbout ferry with your snowmobile? If so, tell us about your experience.
SC: Yes, it's really easy to take the ferry. It costs something, obviously, but it's worth it because it means you can avoid retracing your steps and instead can opt for a loop ride.
Wrapping up…
12. LQM: How many kilometres do you travel by snowmobile each year?
SC: About 12,000 km.
13. LQM: Do you take several snowmobile trips each season?
SC:
One 10- to 12-day trip
One or two 5- to 7-day trips
Every weekend (usually 3 days)
14. LQM: What model snowmobile do you ride?
SC: A Ski-Doo Renegade 1200X.
Thanks Serge! Enjoy the snowmobiling season!
If you liked this article, you might also like...