The

Québec maritime Blog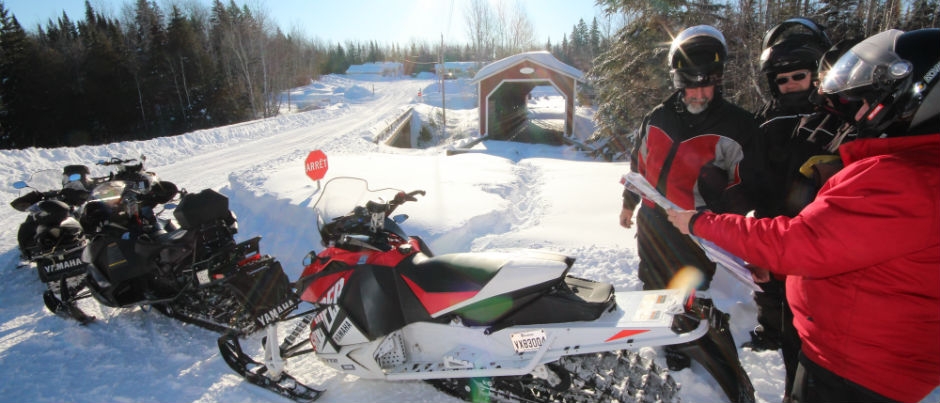 Don't forget your snowmobile trail map!
Éric Marchand
Preparing for a Snowmobile Trip in the Maritime Regions of Québec
What You Will Need for Your Expedition
Are the snowy landscapes of Gaspésie, Bas-Saint-Laurent and Côte-Nord inspiring you to plan your next snowmobile expedition? We've prepared a list for you of what you'll need to ensure a hassle-free trip.
Documents
Trail permit from the Québec Federation of Snowmobile Clubs (FCMQ) (which you can purchase online)
Proof of liability insurance with minimum coverage of $500,000 (included in the trail permit)
Your snowmobile's registration certificate
Your driver's licence (to cross public roads)
Proof of age (provided by the driver's licence)
Life and personal accident insurance
Rental contract (if you have rented your snowmobile)
Competence certificate (if you're a 16- or 17-year-old snowmobiler)
Valid passport (if you're not a Canadian citizen)
Electronic Travel Authorization (eTA) (if you're not a Canadian citizen and you're planning to fly to Canada, read this blog post to see if you need an eTA)
Gear
Protective helmet with visor
Thin balaclava to wear under the helmet
Layers of clothing that dry quickly
Snowmobile jacket and pants (specifically designed so you'll be comfortable while riding)
Snowmobile boots
2 or 3 pairs of gloves
Swimsuit (many hotels have pools or spas!)
Just in case…
Cell phone (for safety reasons and to take photos! Note that some areas don't have cell phone coverage)
GPS (be sure to update your maps before you leave)
Spare snowmobile belt in case of breakage
Toolkit for repairs (often provided with the purchase of your snowmobile)
First-aid kit
Matches
Flashlight
Hazard tape
Hatchet
Rope
Water and granola bars
Tip #1: To prevent breakdowns, make sure you maintain your snowmobile regularly. Be sure to also check the oil level and fill up with gas before you leave.
Tip #2: Leave a copy of your itinerary with someone who is not travelling with you.
To find your way…
Paper copies of snowmobile trail maps (order them here)
Services Guide on Snowmobile Trails of Québec (available in some snowmobile clubhouses)
iMotoneige app (which provides easy access to all of Québec's snowmobile trails without needing a data plan or cell phone signal)
Did you know that many snowmobile packages and guided excursions are offered in our regions? Find out more about these options and what they include. Visit our Snowmobiling section to start planning your trip!
This list is obviously not exhaustive, but it includes all the basic items you'll need to enjoy a hassle-free snowmobile trip in our regions. What would you add to it? Let us know in the comments below.
Written in collaboration with Denis Langevin and the Québec Federation of Snowmobile Clubs (FCMQ)
If you liked this article, you might also like...