The

Québec maritime Blog
Johanne Vigneau: A Taste of the Islands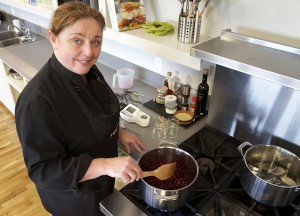 Johanne Vigneau is the chef/owner of La Table des Roy, a renowned restaurant on the Îles de la Madeleine. Recently, she also open Gourmande de Nature, a gourmet boutique. For over 25 years, she has been showcasing local ingredients and products in the delicious meals she offers her guests. To find out more about her, we asked her a few questions…
Le Québec maritime (LQM): Are you originally from the Îles de la Madeleine? If not, how long have you lived here?
Johanne Vigneau (JV): I was born on the Islands, in beautiful Bassin, on Havre Aubert Island. I'm one of 10 children and when my father was not out fishing on his boat, he was farming, salting fish or getting things ready for the winter. One of the first things I learned about food as a child was that fresh fish smells like the sea, all lobster parts are edible, and salt cod is for special occasions.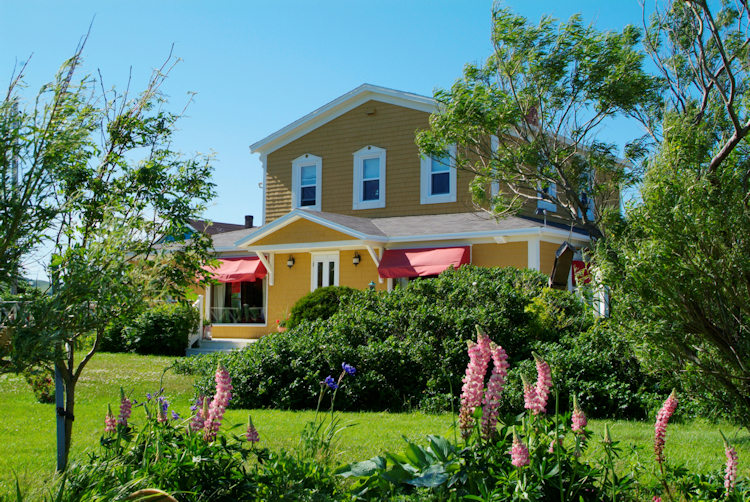 The restaurant La Table des RoyPhoto credit: La Table des Roy
LQM: How long have you been working at La Table des Roy?
JV: When I was a student, my first job was working as a dishwasher at La Table des Roy. The restaurant was opened by Francine Roy and her husband André, in the house where I grew up. While working there, I fell in love with the world of gastronomy, which up until then I knew nothing about. Every day was a revelation. I was fascinated, so I observed and learned and eventually became the chef's assistant. In 1986, the owners decided to sell the restaurant and return to the mainland. That's when I realized how attached I was to the house of my childhood, which evoked so many memories. Having gained confidence in myself, it was no longer an impossible dream for me to buy back my father's house and maintain the excellence of La Table des Roy, a significant challenge. But I had to think about it first.
After much consideration, I took the plunge and bought the restaurant. I've always thought that I was in the right place at the right time and that I was destined to spend my life on the Islands. Since then, I've been the only one in charge and I continue to maintain the reputation of La Table des Roy.
LQM: Tell us more about your work.
JV: My work is to live up to my restaurant's high standards and continue to surpass myself. I develop new recipes and menus every season. Our ingredients are always high quality, fresh and innovative—it's then up to my team to turn them into the tastiest dishes possible without compromising their authenticity in the process. In my restaurant, what's most important is to bring together a talented team that shares my passion for excellent food…
LQM: Tell us more about what the Islands have to offer…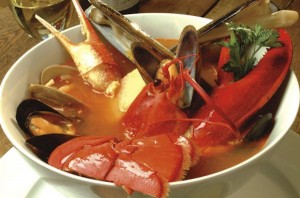 One of the many delicious offerings at La Table des Roy ©La Table des Roy
JV: Throughout the years, I've become a spokesperson for ingredients and products from the Islands. I like to pay tribute to the work of local small-scale fishermen, food producers and farmers, who want to offer their best products to the public. I'm inspired by these people, who are concerned about the environment and also want to make wild products available. My philosophy in the kitchen is to never do anything that might compromise the quality of my ingredients; I therefore cook fish and seafood very simply. I prefer playing with complementary flavours and textures by integrating elements inspired by Asian cuisine, for example. Fresh means local, which for me is more of creed than a fashionable concept.
LQM: A few years ago, you started the Gourmande de Nature workshop and gourmet food store. How did you come up with the idea for this project?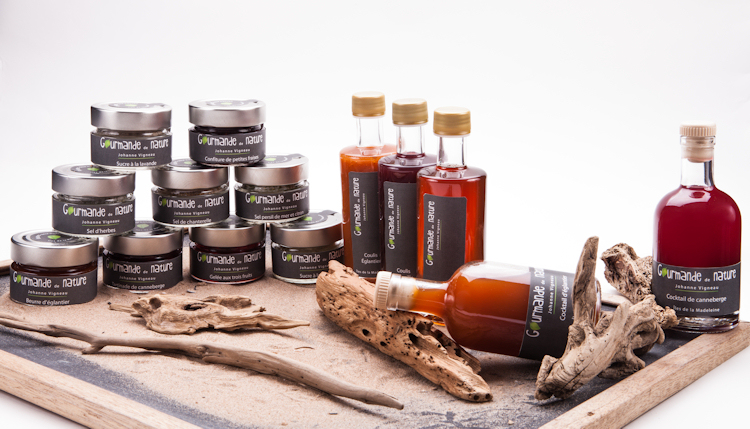 Some of the Gourmande de Nature artisanal productsPhoto credit: Gourmande de Nature
JV: For some time, I'd been thinking of developing a line of gourmet products under my own name. I wanted to include jams and coulis made with local wild berries, and therefore promote local products. I was interested in a nearby business, Douceurs des Îles, which was producing small batches of jams, including rosehip butter. I now own this business and I'm pursuing my dream, which has evolved over time. For a while now, the restaurant has been offering rosehip jam with Pied-de-Vent cheese, a combination my guests love. You could say it's my own love of rosehip jam that led to the creation of Gourmande de Nature!
The project was truly launched when I bought and completely renovated the old Bar des Îles in L'Étang-du-Nord. My goal was to transform the space into a hub of flavours. After a few setbacks, I finally had a professional kitchen built and started producing my jams.
In addition to the products I make, I also sell products made by others. It went without saying that my jams would be sold in a beautiful boutique. And because I know gourmets, I knew that they'd want to stock up on other treats: fine oils, kitchen accessories, delicious gifts for others, etc. And since a kitchen is all about sharing, I was also inspired to offer culinary workshops, which are an opportunity to share all kinds of food-related things: recipes, techniques, tricks and tips, culinary passions…
My first season of workshops was a resounding success. More than ever, I'm proud to be a lover of good food and I love the fact that I can share that with others.
LQM: What do you like the most about meeting and interacting with tourists?
JV: For me, good food, a good restaurant, a good boutique and good products are first and foremost about the people who are appreciating them. My work allows me to meet and interact with many of these people, which I really enjoy.
LQM: Do you have a special place in your region where you go to relax?
JV: During busy times of the year, when I need to clear my thoughts, I take a few minutes and go and sit on the edge of a cliff in the L'Étang-du-Nord fishing harbour. The endless horizon and sea air revitalize me.
LQM: Name another person involved in the tourism industry from your region or another maritime region of Québec that you admire and tell us why.
JV: Réginald Poirier, from Domaine du Vieux Couvent, for his charisma, his personality and his pride in being a Madelinot. He's one of the best ambassadors for the Îles de la Madeleine today. I think he's great and I really enjoy being around him when he's talking to visitors.
LQM: Name three of your favourite locations in the region that you would recommend to tourists and tell us why.
JV: My three favourites are:
Parc de Gros-Cap, which I love—it's an especially great place to go kayaking
The L'Étang-du-Nord fishing harbour, where you can admire magnificent sunsets
The lighthouse and cliffs at L'Étang-du-Nord, where you can go hiking in strong winds in the fall
LQM: Do you prefer the land or the sea?
JV: I'm a sea lover—the best scallop I ever ate was underwater while scuba diving. Had I not chosen to work in the tourism industry, I'd spend my summers boating, diving, etc.
LQM: Sunrise or sunset?
JV: Sunrise. I love this time of day because everything is still and calm.
LQM: Winter or summer?
JV: I like all seasons, but fall is my favourite, for the big storms, big waves, walks on the beach… The wind is so strong, you feel like you're getting a body massage!
LQM: Name another maritime region of Québec that you love and tell us why.
JV: Côte-Nord, for its pristine wilderness and marine environment.
Be sure to visit the La Table des Roy restaurant and the Gourmande de Nature gourmet food store when you are next on the Islands!
If you liked this article, you might also like...