The

Québec maritime Blog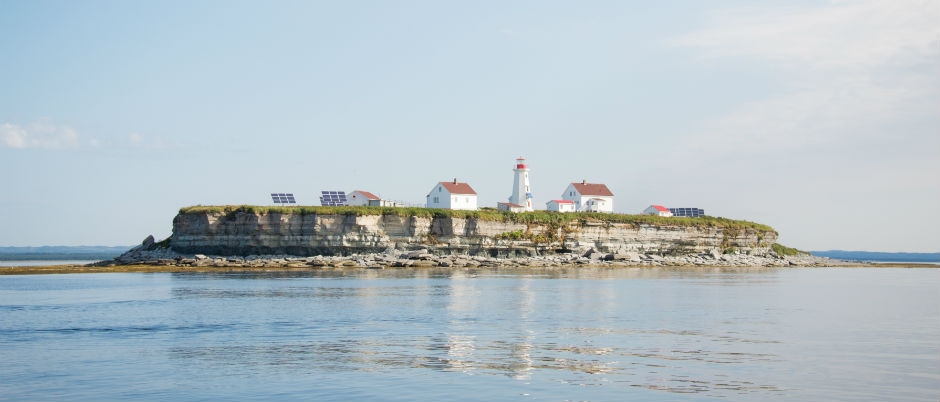 Île aux Perroquets
Optik 360 / Tourisme Côte-Nord
What Unusual Accommodations Are Offered in Côte-Nord?
Côte-Nord is a great place to visit for a complete change of pace—all the more so if you stay in unusual accommodations! All along the Whale Route, you'll find fabulous places to spend the night surrounded by nature. Here are a few to add to your itinerary.
Treetop cabins and bubbles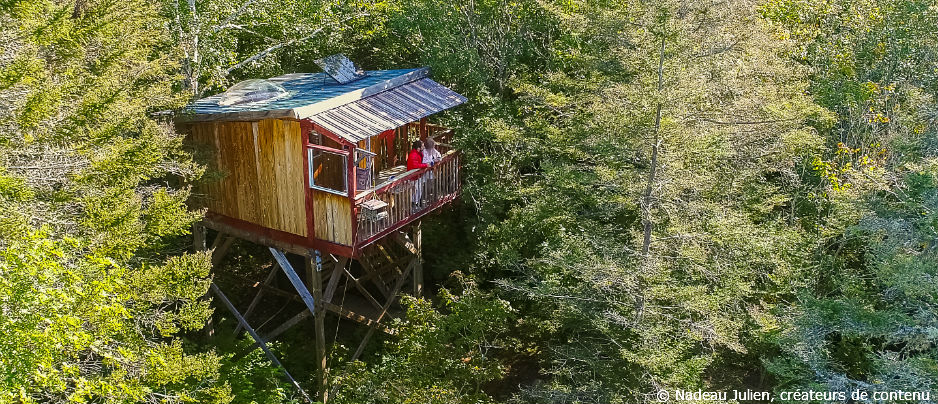 What could be more soothing than admiring the starry sky while snuggling under the covers? This is what Canopée Lit offers you! In the middle of the forest in Sacré-Coeur, you can opt to stay in a cabin with a glass dome above the bed or a completely spherical and transparent bubble. Are you tempted by this "on top of the world" experience?
Campsites near the whales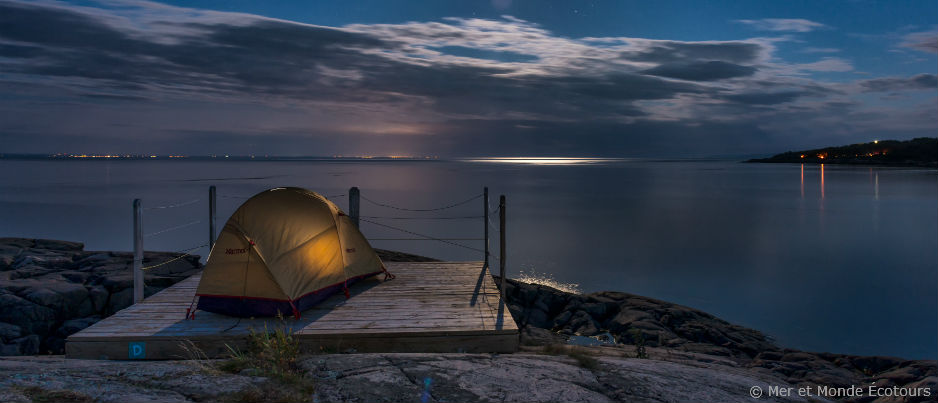 A memorable experience awaits you at Paradis Marin and Mer et Monde Écotours. Pitch your tent along the St. Lawrence Estuary and soak up the beauty of your surroundings! Keep an eye on the water and you may spot whales feeding near the surface. You'll feel like you're dreaming when you wake up to the sounds of these majestic marine mammals just outside your tent…
Yurts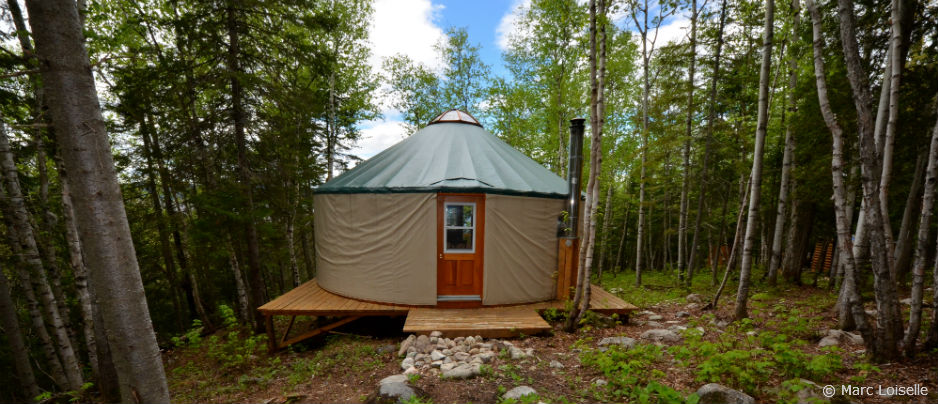 Are you familiar with yurts? These round tent-like structures are the traditional dwellings of Mongolian nomads. Yurts combine the comforts of a cottage with the rustic charm of camping. In Côte-Nord, you can try out this type of lodging at the Ferme 5 Étoiles holiday resort or on an island in the Sept Îles Archipelago, both of which also offer enchanting settings!
A teepee like no other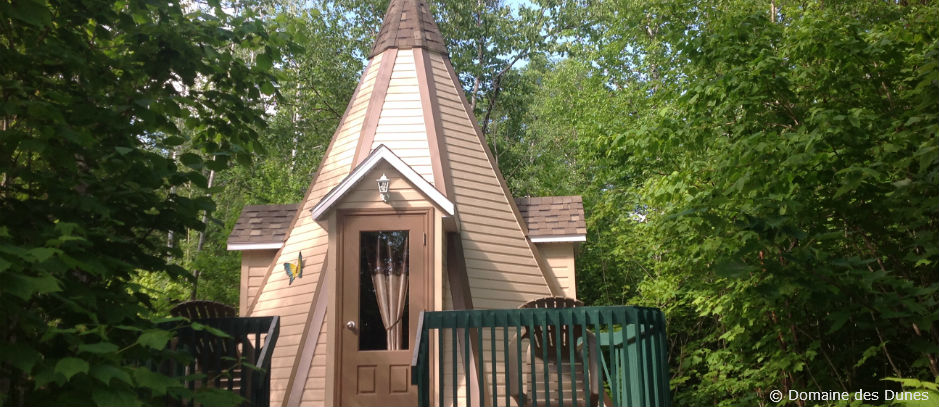 In Tadoussac, you can spend the night at Domaine des Dunes in a small wooden cottage in the shape of a teepee! It includes electricity, a double bed and a micro kitchen. Enjoy relaxing on the front porch while breathing in the fresh air of the birch forest. If you're feeling adventurous, you can also try out their outdoor ropes course!
Giant birdhouses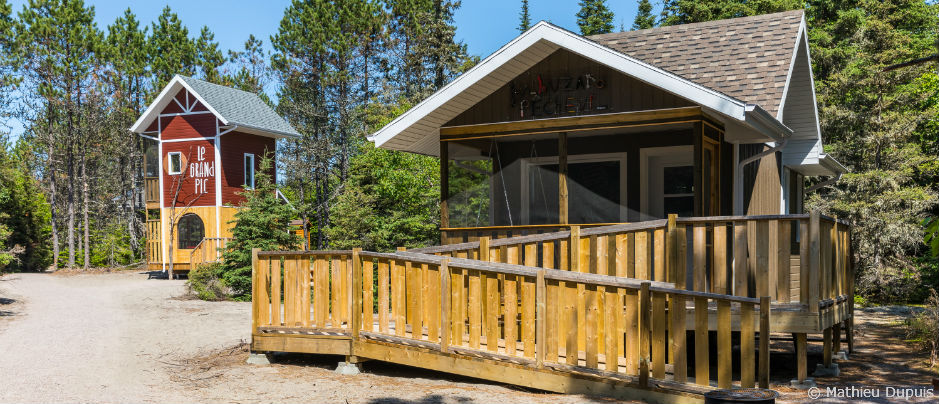 For a night (or more!), sleep like a bird in a giant birdhouse at Parc Nature de Pointe-aux-Outardes. Built in a red pine forest, these glamping units are named after local birds, which also inspired the design and décor of each cottage: Le Balbuzard Pêcheur (western osprey), Le Grand Pic (pileated woodpecker), L'Hirondelle des Rivages (bank swallow), etc. Enjoy a stay in harmony with nature!
Lightkeeper's houses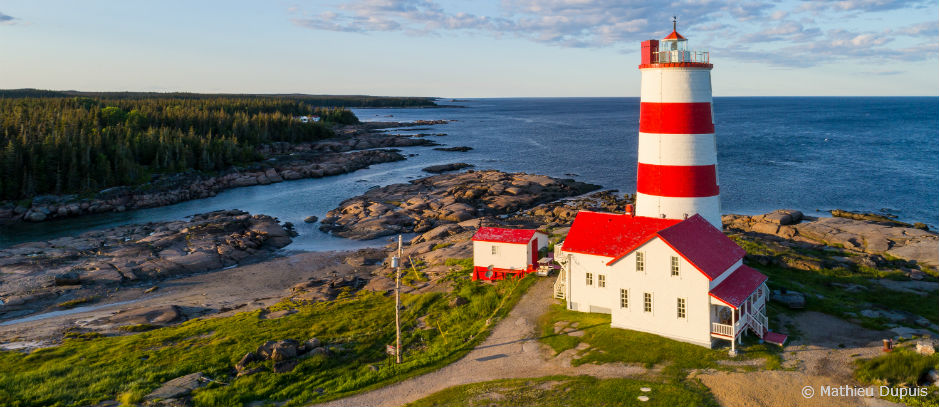 Are you a history buff? Then you'll want to stay in a lightkeeper's house at the Pointe-des-Monts Lighthouse, Île aux Perroquets Lighthouse or Pointe-Nord Lighthouse (on Anticosti Island). Whichever lighthouse you visit, you'll be amazed by the surrounding maritime scenery and the rich history of these sites. In addition to spending a cozy night in one of these houses, you can also learn more about the lives of the lightkeepers and their families—and appreciate how challenging their work was!
"Ready-to-camp" (glamping) tents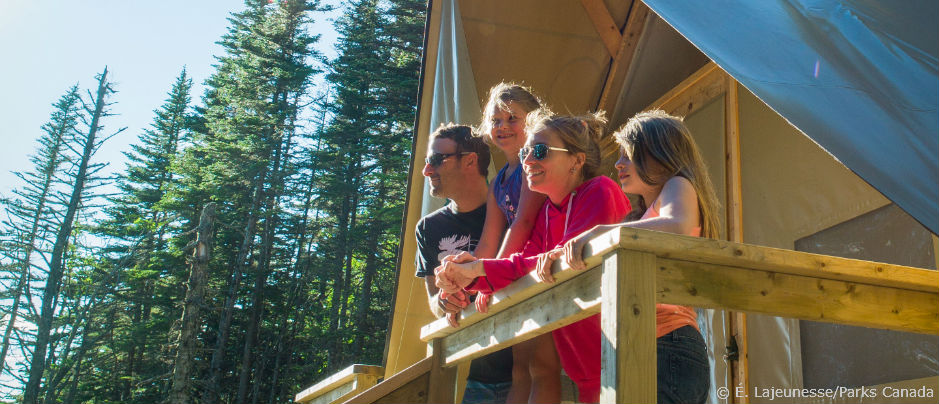 The advantage of "ready-to-camp" glamping tents is that you get all the benefits of camping without any of the hassles, which makes these tents very popular. All you have to do is relax and enjoy a beautiful natural environment! Here are some sites where you can find these tents: Parc national du Fjord-du-Saguenay, Domaine des Dunes, Mer et Monde Écotours and the Mingan Archipelago National Park Reserve.
Are you ready for an adventure in Côte-Nord? Enjoy an authentic experience in these unusual accommodations!
If you liked this article, you might also like...