The

Québec maritime Blog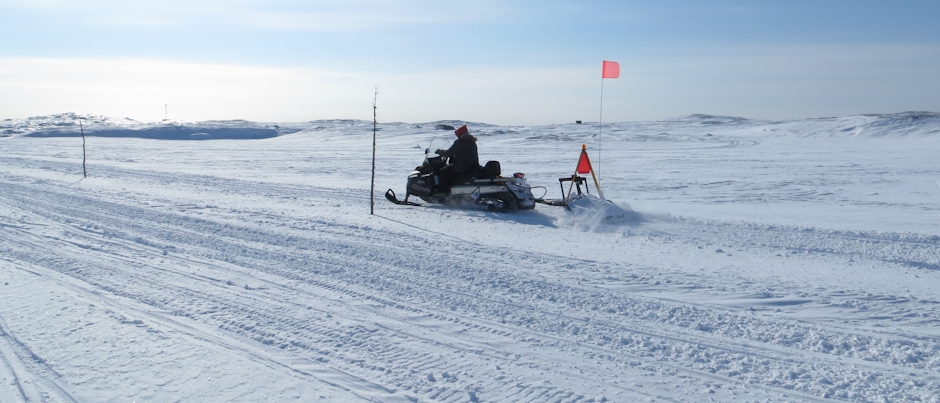 The White Trail
Catherine Allard/Tourisme Côte-Nord - Duplessis
My Latest Snowmobile Trip on Québec's Lower North Shore
I was born in Tête-à-la-Baleine, a small Francophone village on Québec's Lower North Shore. For two years now, I've been working for Coopérative de solidarité en tourisme équitable (Voyage CoSte). Because winter is the only time of the year that all the communities are linked altogether – thanks to the White Trail – I take advantage of this opportunity to head out and meet members of our coop living in that part of the shore. And obviously, I do it on a snowmobile! Raised in this beautiful natural cradle covered with a carpet of lichen and cloudberry, and surrounded with archipelagos, seabirds, seals, whales and icebergs, I've traveled this land for years on my snowmobile going from one carnival to another. It's always with intense emotion that I go back home.
Be well-prepared
I'll be travelling with three people from Minganie who want to explore this part of the Côte-Nord (Duplessis) region all the way to the border of Labrador. I'll act as their guide!
Despite my eagerness to start this great adventure, I endeavour to get all the essential preparations done so that we have a safe trip. Even if I know the area, and especially because I know it so well, I make sure I have all the following items: a satellite phone and a calling card (there's no cellular signal on the Lower North Shore, except in some villages in Minganie), a first-aid kit, a shovel, candles, safety flares, a lighter, dry food, tools and spare parts for our snowmobiles, a 25-liter gas can, contact information for the various services and, most importantly, a map of the snowmobile trail. My itinerary is divided into 7 days, and I plan a couple of buffer days in case of bad weather.
The plan is to start our trip in Kegaska. We spend the night at Auberge le Brion before the big departure. I'm looking forward to get on my snowmobile and experience once again this feeling of abandon, riding through this beautiful wilderness. I can feel it already.
Let the adventure begin!
Kegaska – La Romaine (58 km)
When the sun gets up high in the sky, we're already on the last portage on the outskirts of Kegaska. Here we are, alone in the middle of nowhere, riding across lakes and rivers, and over hills. The vast extent of blue on the horizon reminds us that we are riding alongside the Gulf of St. Lawrence. A few hours later, we get to the village of Unamen Shipu/La Romaine. Some 120 people live in the francophone village of La Romaine, while Unamen Shipu, one of the most important native communities on the shore, has nearly 1200 residents.
Our accommodation for the night: Hôtel Mme Ruby
La Romaine – Chevery – Harrington Harbour (133 km)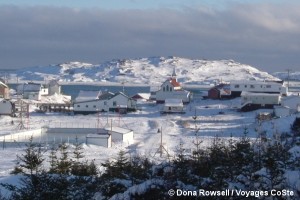 Even if I've left the Lower North Shore, it has never left me. Getting back to my roots feels like a real gift for my birthday which is today. It's cold (‑40 °C) and still dark outside. The weather conditions are looking relatively good. We have planned to meet some people of the community before heading out for our two-hour ride to Chevery. I'd like to push a little further to Harrington Harbour and show this true gem of the Lower North Shore to my partners. The route to Chevery is dotted with lakes and mountains. It's freezing cold and the wind blows from the west. I must say that the soup I order upon my arrival at Misty River Motel feels like a real treat. Rested and full, we head out again on the White Trail towards Harrington Harbour, located on an island in the Gulf of St. Lawrence some twenty kilometres past Chevery. We cross an ice bridge, an experience that my fellow riders find quite special. The expression on their faces says it all, and my pride towards my part of the country is equal to their wonder. We get back on our snowmobiles to climb on the west side of the island. Once at the top, I introduce them to Harrington Harbour, one of the ten most beautiful villages in Québec. It's absolutely unique, because of its geomorphology, its boardwalks, its English culture, etc. It's inhabited by an Anglophone community of 350 people, proud, enthusiastic and supportive of each other. Unfortunately, our visit is short because we are expected in Chevery for the night.
Our accommodation for the night: Misty River Motel / Bar & Restaurant
Chevery – La Tabatière (a little over 100 km)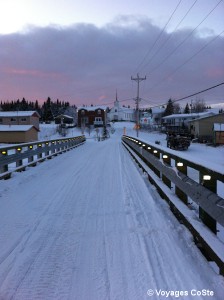 We get on our snowmobiles a little later than we had planned today. Our innkeeper told us this morning that the helicopter service to Harrington Harbour was still operational so I suggest to my friends that we take advantage of the opportunity and fly over Harrington. It's a great opportunity to appreciate the landscape from a different perspective and we are not going to miss it! Back on the ground, we start our ride to La Tabatière In that area, the trail zigzags on the frozen sea through the 600 islands and islets of Tête-à-la-Baleine archipelago. What a feeling! Even if I have ridden this a hundred times, it gives me an impression of novelty every time.
After some warm drinks and a couple of lobster and crab sandwiches, we are ready to move on to La Tabatière. I decide to take the route towards Mutton Bay. This small village, partially built on an island, is very picturesque. After a half-hour ride in the mountains from which we enjoy panoramic views of the St. Lawrence, we reach La Tabatière. The view on the village from the bay provides me with a great opportunity to explain to my friends the history of this community revolving mostly around seal fishery. Some old foundries used to render seal blubber into oil are still visible.
Our accommodation for the night: Auberge de La Tabatière
La Tabatière – St. Augustine
The sun shines brightly when we get back on the White Trail. We ride trails through portages and bays for a few hours before reaching St. Augustine. We see fishing cabins on the river, as well as several people drinking beer or coffee while fishing. Some wave at us, inviting us to join them. Fishing seems to be good. But since we have an issue with one of our snowmobiles, we try to find a garage before closing time. We manage to find fairly easily a mechanic to help us, and who tells us that the problem will be fixed for the next morning. This is great! We feel like home when we get to St. Augustine; people welcome you with arms wide open!
Our accommodation for the night: Pension de la Côte
St. Augustine – Blanc-Sablon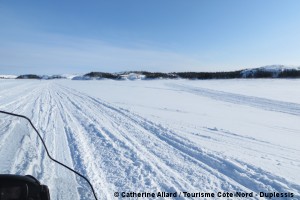 This section of the White Trail goes through lakes and over mountains. We hit a wind storm and the temperature hovers around ‑40 °C. Sounds like it'll be cold up high! We meet hundreds of snowmobilers along the way. People from all over the Lower North Shore meet up in St. Augustine this weekend for a major hockey tournament. It will be an opportunity to get together and celebrate. Thanks to the White Trail, winter is the only time of the year that all the communities are linked together. We make it to Vieux-Fort Bay. The view on the village is stunning. We transfer our gear in the truck waiting for us and we head out on Route 138 toward Blanc-Sablon. We pass the villages of Middle Bay and Brador, slowing down to take some pictures. The village of Lourdes-de-Blanc-Sablon, with its lunar scenery, impresses my friends. After settling down at the inn, we take a few hours to explore the area all the way to Labrador. I show to my friends the site along Blanc-Sablon River and talk about the archaeological digs that are being done here. This site tells some 9000 years of the Shore's history. We are the cradle of a great country. The next day, we go back to St. Augustine to hang out at the arena while the hockey tournament is in full swing, before heading out on a side trip off the beaten path!
Our accommodation for the night: Auberge Motel Quatre saisons
Off the beaten path in St. Augustine archipelago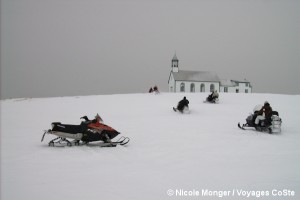 There is no actual trail to get out of the archipelago. Only locals know the way. That's why we hire a guide to explore the area.My friends are amazed by the summer village on the islands: the hundred-year-old chapel on Providence Island, Jos Hébert's house on Passe Island, the post office on Rigolet Island, etc. This tour, on the footsteps of Jos Hébert, is done by boat in the summer and by snowmobile in the winter. It took 20 years to develop it with limited means and, still today, very few people come to appreciate this living heritage. The storm sets in during our tour. Our convoy of snowmobiles moves on carefully. It's out of the question to venture to either sides because we are on the frozen sea and the visibility is zero. I think about my ancestors who survived extreme conditions when they settled along this shore in the early 19th century. They are true examples of courage and pride. Without their determination and originality, this austere territory would not be occupied. Transhumance made our brave fishermen take root on this arid land. Cartier was probably right during his first voyage along the North Shore, when he called it "the land God gave to Cain". People still work hard to tame this rugged and wild shore. It's a passionate tango between man and nature…
Our accommodation for the night: back to Tête-à-la-Baleine at Auberge de l'Archipel
After a goodbye filled with emotion, I leave my cradle. Trail maintenance staff of the Ministry of Transport has been working on the White Trail since early this morning. With all the snow that fell just a few hours ago, the trail is in perfect condition. We ride at good speed among breathtaking scenery. When will I see again this gem of the end of the world, this special place where man and nature are one? Isn't it the best heritage to share with present and future generations which, with today's fast-paced life, lose sight of its real meaning? On my snowmobile, the immensity of this world that's so much a part of me flies by. This is the end of my adventure on the footsteps of Jos Hébert…
Contact Voyages CoSte to inquire about the guided tours.
These words were taken from Alberte Marcoux travel diary.
If you liked this article, you might also like...