The

Québec maritime Blog
My Trip in Bas-Saint-Laurent: Discover the Region along the Navigators' Route
Let me tell you a secret. I'm always inclined to approach people who, road map unfolded on the hood of their car, are trying to locate themselves. Sometimes they thank me, politely refusing my help. Other times, I meet some truly amazing people who are exploring Québec for the very first time.
Why take the Navigators' Route?
Last fall, I gave a hand to two Belgian couples who were starting a 20-day trip in the Québec maritime regions. They had their itinerary all set up: a visit of Bas-Saint-Laurent, a short stay in the Gaspé Peninsula to take the Matane – Baie-Comeau Ferry and a drive back to Montréal through the Côte-Nord – Manicouagan region. Their itinerary totally made sense, but in the Bas-Saint-Laurent region, they were mostly travelling on Highway 20. Don't get me wrong, I have absolutely nothing against the highway, but it bypasses so many of the region's gems that I couldn't help suggesting them to tweak their itinerary a bit and take the Navigators' Route. Here's why.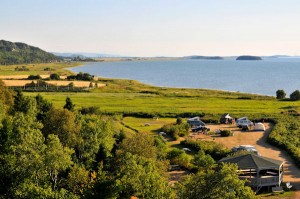 Kamouraska's coastline © Marc Loiselle
The Navigators' Route translates to magnificent view along the St. Lawrence. The Charlevoix and Manicouagan regions on the north shore reveal themselves from a totally different angle; a beautiful landscape embellished with the islands that give such a special character to the scenery!
Heritage, delicacies and nautical activities
The Navigators' Route runs across some of the most picturesque villages of the province, such as Kamouraska, Cacouna and Notre-Dame-du-Portage where you can, not only appreciate the richness of the region's heritage, but also satisfy your hunger at one of the many gourmet stops along the way. Why not take this opportunity to fill your picnic basket with some of the local products available, and savour them at a rest stop by the St. Lawrence?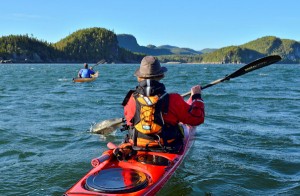 Kayak excursion in Bic National Park © Marc Loiselle
Beyond the scenery, you'll find many interpretation sites along the Navigators' Route offering various cultural and sport activities. Whether you're visiting an island, going on a whale watching cruise or heading for a sea kayak tour, you'll discover why the St. Lawrence is such a big part of our history and of our daily lives.
Ready to start planning?
To plan your trip, make sure to order the brochure about the Navigators' Route and the Saveurs et Gourmandises du Bas-Saint-Laurent (in French, but still useful!), where you'll find all the good addresses for the best delicacies and local products around. You'll then have everything you need to plan your trip! Visit our page on the Navigators' Route for more information.
Haven't ordered our brochures yet and you're just about to leave? Keep an eye out for a tourist information centre where you'll be able to get them. Enjoy your trip!
---
For more information:
Tourisme Bas-Saint-Laurent
148, rue Fraser, 2e étage
Rivière-du-Loup (Québec) G5R 1C8
Canada
Toll-free: 1-800-563-5268 (Canada and United States)
http://www.bassaintlaurent.ca/en/tours-and-trails/navigators-route
If you liked this article, you might also like...