The

Québec maritime Blog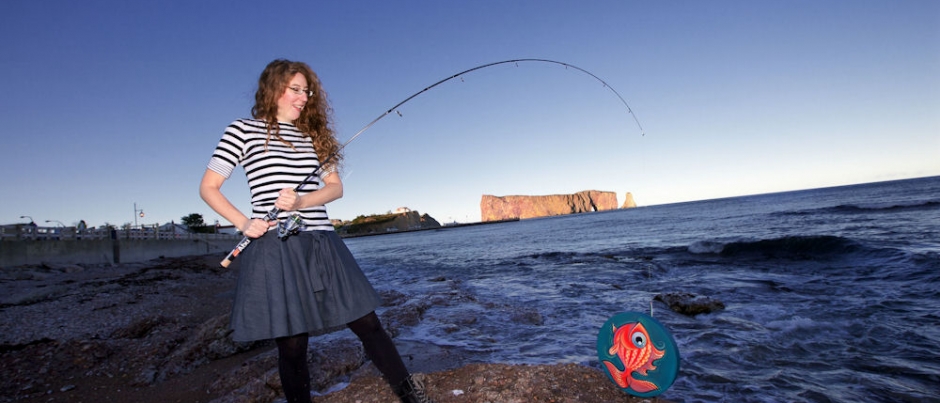 Mylène Henri with Percé Rock in the backround
Robert Baronet
Portrait of an Artist: Mylène Henry
Mylène Henry was born in Bonaventure, in the Chaleur Bay area, in Gaspésie. She's been a professional illustrator and painter for 15 years. She creates illustrations for children's storybooks, posters for festivals and stationery collections, as well as her own paintings.
In the winter, she lives in Montréal where she paints beautiful scenes of her native Gaspésie, using acrylic paint as her medium. For the past 7 years, she has been welcoming visitors in her own art gallery in Percé.
Le Québec maritime (LQM): What are your inspirations in the region?

Mylène Henry (MH): Everything about Gaspésie inspires me! The stunning scenery, wildlife, vegetation, folk legends, people, sea, underwater life. My paintings are very often filled with small details. I like to paint what isn't visible to the eye but can be left to the imagination, like, for example, a whale and a diver swimming underwater next to northern gannets looking for big mackerels.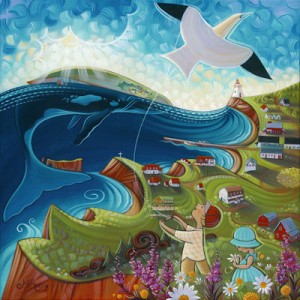 Percé from the sky
© Mylène Henry
LQM: Do you have a special place where you go to get inspired?

MH: I like views from the skies. I flew over Percé in a helicopter last summer! I'm inspired by painting places I know well from a different perspective.
LQM: What do you appreciate most in opening your doors to tourists?

MH: I love to meet people who come from afar. As I stay around Percé all summer, I travel through the people I meet.
LQM: Is there another artist from one of the maritime regions of Québec that you admire?

MH: I admire the works of Yves Gonthier for his spontaneity and his energy, and Nathalie Boissonnault for her imagination.
LQM: Name three of your favourite locations in the region and tell us why you love them.
MH:
Bonaventure Island, from where you get such a beautiful view of the Percé coast. A walk on the trails takes you to the northern gannet colony. Watching those birds from so close is such a unique sight.
The beach in Coin-du-Banc, only 10 km (6 mi.) from Percé. The water is turquoise and, in my opinion, it's the nicest beach on the Gaspé Peninsula.
The crevice, located at the top of Mt. Sainte-Anne, Percé's backdrop. From the Gargantua Inn, a trail takes you there. It offers a lovely viewpoint for sunsets.

Mylène with one of her painting
© Mylène Henry
LQM: Do you prefer the land or the sea?

MH: I'm fascinated by the sea, but unfortunately, I don't have sea legs! I love everything about the sea, but I prefer watching it safely from the shore!
LQM: Sunrise or sunset?

MH: In Percé, sunrises are nicer. You have to be an early bird in the summer, because the sun rises at about 4 a.m. on the easternmost tip of Québec.
LQM: Winter or summer?

MH: I paint very little in the winter. The colours of spring, summer and fall stand out in my paintings. However, I just got back from the Winter TDLG, a cross-country skiing event. I had such an amazing week discovering the hinterland of the peninsula in the winter. Something like 2 metres (6 feet) of snow fell within a week, during our trip from the Chic-Choc Mountains to Forillon National Park. The snowy landscapes are stunningly beautiful. It now remains for me to paint the beauty of the Gaspesian winter, with plenty of multi-coloured skiers.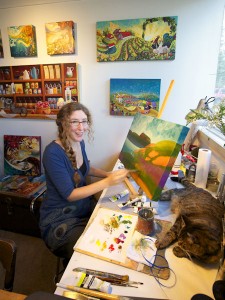 Mylène in her studio
© Robert Baronet
LQM: What's your guilty pleasure?

MH: I blend into the crowds of tourists in the summer and enjoy an ice cream cone just like all the people who are on vacation while watching boats leaving the wharf for Bonaventure Island.
LQM: Name another region in Eastern Québec that you like and tell us why.

MH: The Îles de la Madeleine. My father is a Madelinot and I liked listening to my grandmother Henry telling me about life on the Islands from the 40s to the 70s. That's a place of an exceptional beauty. The Îles de la Madeleine have everything to nurture the imagination of a painter: bright-coloured shingle-sided houses, the ever-present sea and fishermen's tales, each more unbelievable than the next!
If you're in the Percé area, visit Mylène Henry at her gallery!
224, Route 132 Ouest
Percé (Québec) Canada
G0C 2L0
www.mylenehenry.com
If you liked this article, you might also like...