The

Québec maritime Blog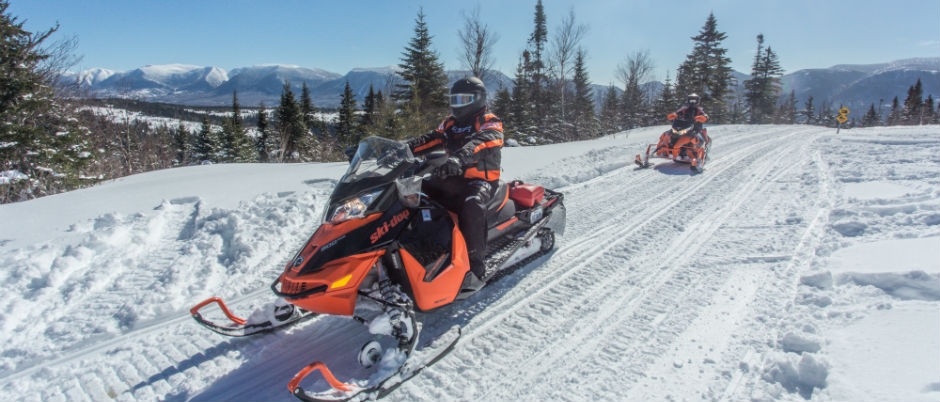 Snowmobilers with the Chic-Chocs in the background
Chok Images/Tourisme Gaspésie
Snowmobile Trip in the Gaspé Peninsula: 7 Must-See Sectors!
For breathtaking views of sea and mountains, Gaspésie, which offers 3000 kilometres (1900 miles) of snowmobile trails, is not to be missed. Whether looping around the region on the Bas-Saint-Laurent – Gaspésie Snowmobile Tour (on Trans-Québec trail #5) or riding local and regional trails that cut across the peninsula, snowmobilers who visit this region are in for a truly exciting adventure!
I asked seasoned riders to give me tips about their favourite spots in Gaspésie. Here are their top 7 ride ideas:
1. Mountaintop view in La Rédemption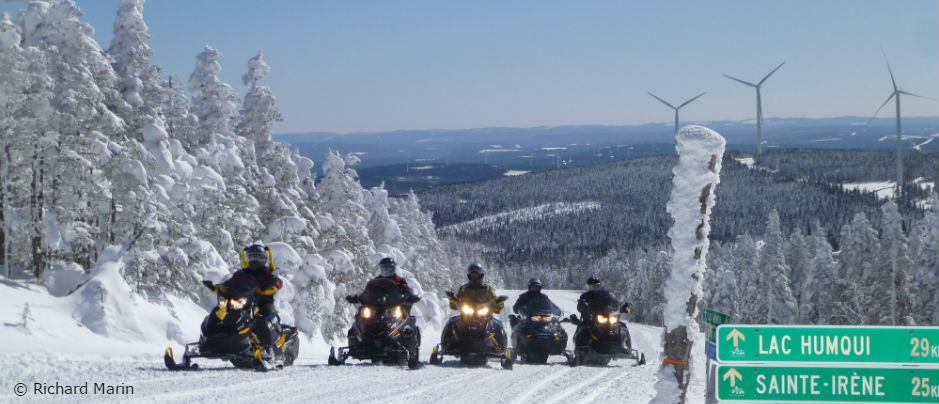 Gaspésie provides snowmobilers with many opportunities to ride to the top of mountains. The Saint-Pierre Mountain in La Rédemption, which is reached via trail #587 N, offers a 360°-view of the St. Lawrence, a wind farm and the Matapédia Valley. By all accounts, it's a breathtaking view not to be missed!
2. Mt. Saint-Joseph
Snowmobilers love the local trails maintained by the Mont Carleton snowmobile club because they take you into the mountains where you can admire impressive views of Chaleur Bay in all its winter glory. The top of Mt. Saint-Joseph offers a particularly spectacular view! Be prudent on this trail, however, since it's not maintained and is also used by snowshoers.
3. Between La Martre and Grande-Vallée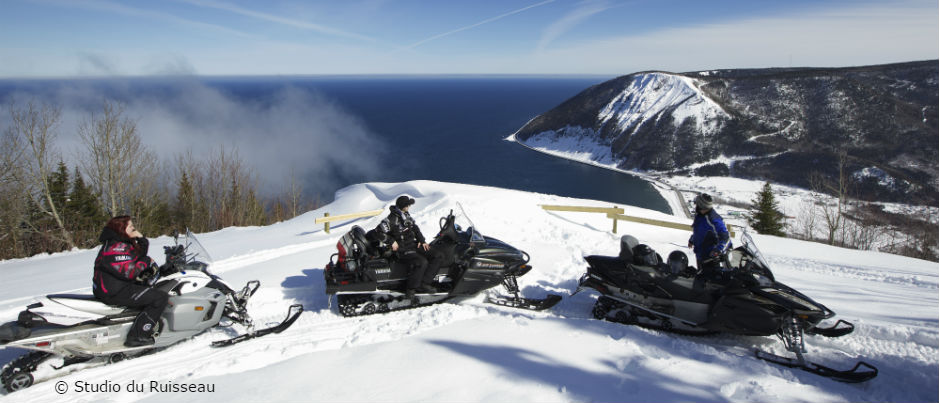 This section of Trans-Québec trail #5 offers impressive views of the St. Lawrence before taking you deep into the mountains. Only snowmobiling allows you to discover Gaspésie this way!
4. Percé in winter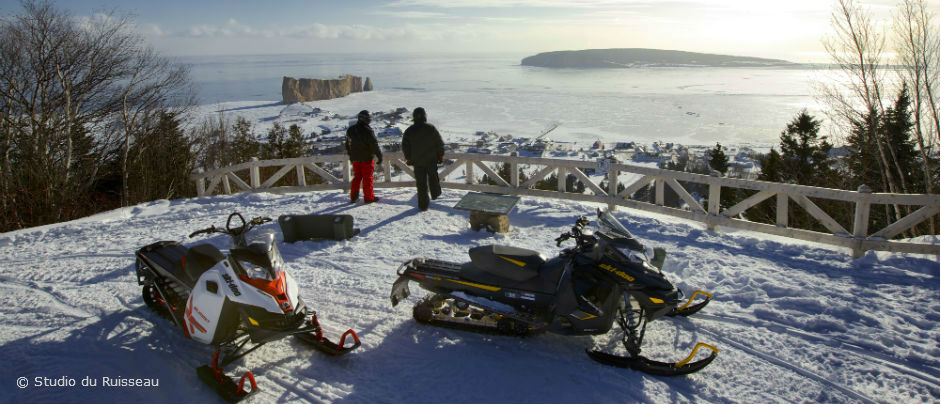 Percé Rock is the most well-known symbol of the Gaspé Peninsula, and it's just as impressive in winter! To get there, take the local Percé trail via Trans-Québec trail #5.
5. Piston Alley
Local snowmobilers recommend taking trail #597, which intersects with Trans-Québec trail #5 at the level of the Mercier River. This trail runs along part of the Réserve faunique des Chic-Chocs and cuts across the Gaspé Peninsula all the way to Chandler. A section of the Bailey Bridge trail called Piston Alley is well known and very popular with snowmobilers. I'll let you guess why!
6. Murdochville's wind turbines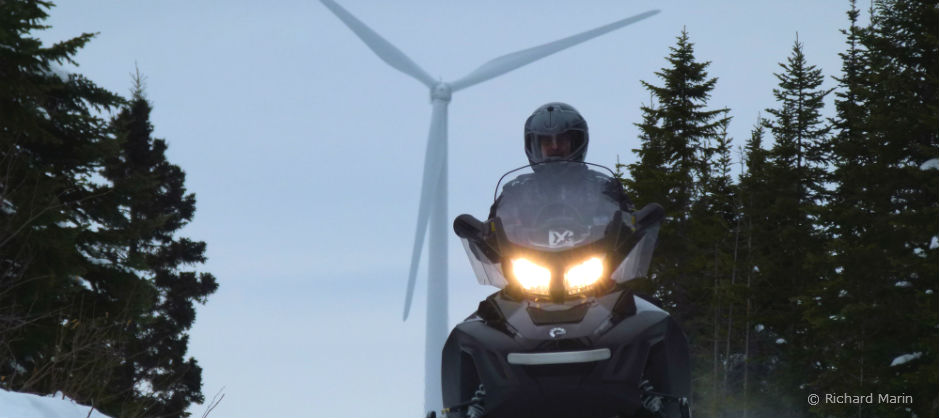 Want to see for yourself how tall Gaspésie's wind turbines are? Trail #597 takes you right by these structures at the Murdochville wind farm. It's hard not to be impressed! From what I've heard, this is one of the only places where you can snowmobile that close to wind turbines!
7. The Great Gaspé Peninsula Tour counter-clockwise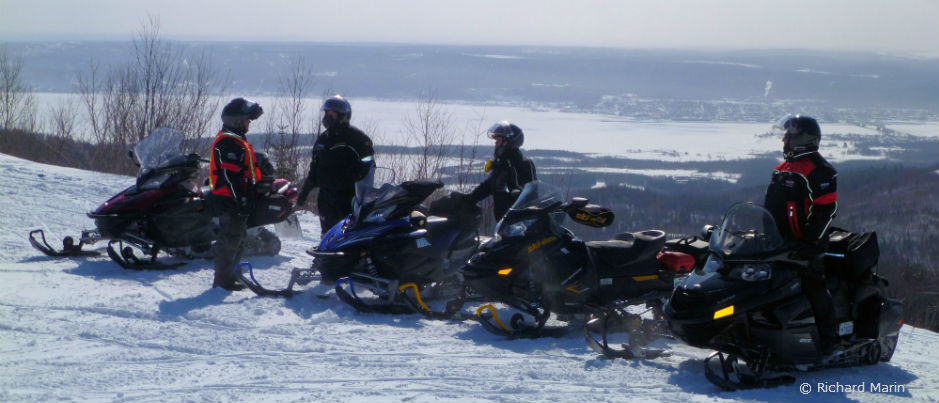 If you've already experienced the Bas-Saint-Laurent – Gaspésie Snowmobile Tour or just want to see it from a different angle, snowmobilers in the area suggest starting on the south side of the peninsula and going around counter-clockwise. The views are different but just as beautiful, and traffic is also lighter in this direction.
I strongly recommend that you consult the Gaspésie trail map online or order the print version. It will be much easier for you to pinpoint the spots mentioned above.
Visit our Snowmobiling section to start planning your trip!
Have you ever snowmobiled in Gaspésie? Have I missed other notable sights? Please let me know in the comments below!
Thank you to Steve Gaudreau and to Gary Pruitt from BonVoyage Snow Adventures for their great recommendations!
If you liked this article, you might also like...