The

Québec maritime Blog
The Groulx Mountains
Guillaume Lacombe/Tourisme Côte-Nord
Guided Snowmobile Excursions in Eastern Québec
Follow the Guide!
A true paradise for snowmobilers, Eastern Québec receives large amounts of snow every winter and offers top-quality trails that provide access to unique landscapes. Why not take part in a guided snowmobile excursion to make the most of our regions in the winter? Discover welcoming and family-friendly businesses that offer very interesting snowmobile packages…
Off-trail riding in a private maple grove
In Saint-Gabriel-de-Rimouski, in Bas-Saint-Laurent, Domaine Valga invites you to enjoy the Xtreme Valga experience! In the company of experienced guides, participate in an off-trail excursion on private property and master the art of riding in powder snow! Please note that you must have your own snowmobile and that only off-trail outings with a guide are permitted on the site. Whether you're a beginner or expert, you'll have lots of fun in the fields and mountains as well as among the mature trees in the maple grove. Don't hesitate to ask your guide for tips! Combine your outing with a good hot meal and a night at the log inn or in a log cabin. Domaine Valga is also a snowmobile clubhouse, so this is the perfect opportunity to meet and chat with other snowmobile enthusiasts!
How to get there by snowmobile: Take trail #579 from Trans-Québec trail #5 (TQ5).
Magnificent views of the Saguenay Fjord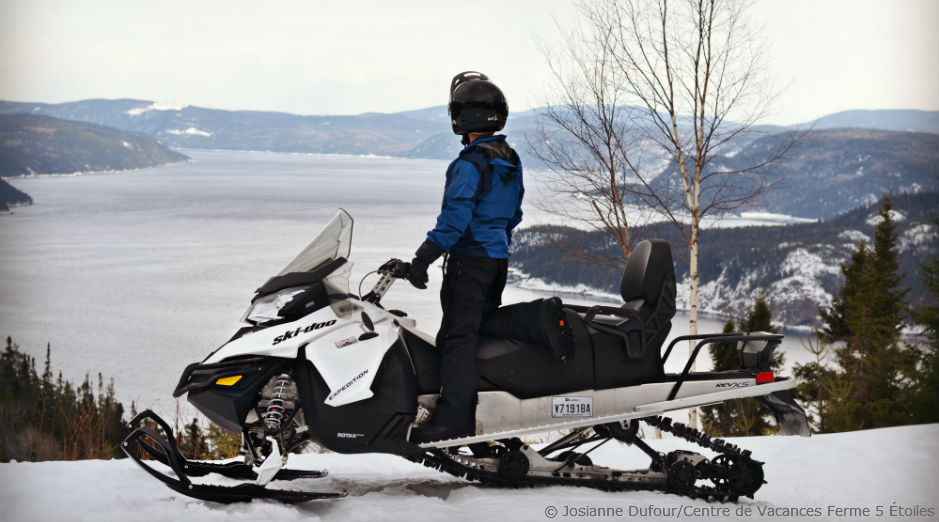 Other exciting excursions await you in Côte-Nord! The Ferme 5 Étoile holiday resort, in Sacré-Coeur, offers guided tours through wide-open snow-covered areas. You'll discover stunning views of the Saguenay Fjord, especially from Cap Sainte-Marguerite (which offers the best view, according to many), but also of the St. Lawrence and Tadoussac Bay. The resort can customize their packages to your needs and offers outings lasting from half a day to 5 days. Beginners can also rent a snowmobile and learn how to ride it. You're sure to fall under the spell of this site, which offers accommodations, meals and a host of winter activities for the whole family!
How to get there by snowmobile: Take TQ93 from TQ3.
Wild, snowy mountains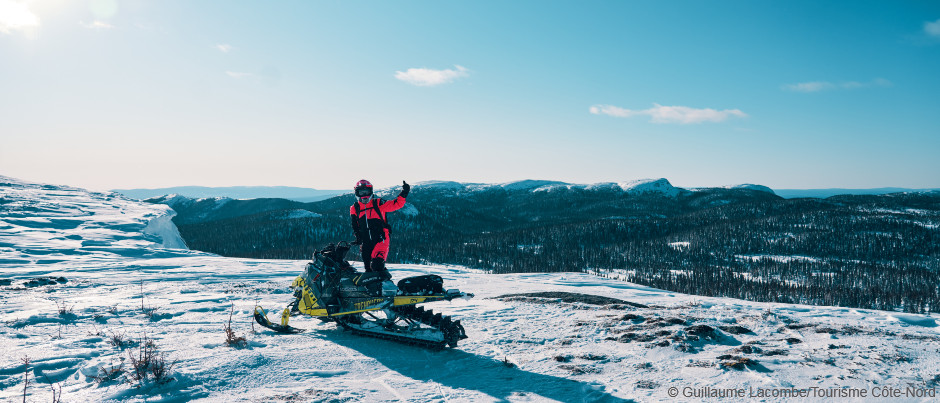 The Groulx Mountains (also known as the Uapishka Mountains, which means "white mountains" in the Innu language) are a huge natural playground for off-trail snowmobile enthusiasts. However, to protect the unique and fragile environment of these magnificent mountains in Côte-Nord, strict rules and regulations govern this activity. (For example, motorized traffic in the summit area is prohibited.) Consequently, you must be accompanied by a guide duly authorized by the Québec Ministry of the Environment and the Fight Against Climate Change when snowmobiling in these mountains. To experience this powder paradise hassle-free, take advantage of the package offered by Station Uapishka! With a maximum of 6 people per group and a limited number of snowmobilers in the area, you'll feel like you're on your own in this vast and remote territory!
How to get there by snowmobile: There are no snowmobile trails to Station Uapishka. We therefore recommend that you drive there with a trailer from Baie-Comeau via Route 389 (335 km / 210 mi.).
Here are some other companies that organize snowmobile trips in our regions:
To plan your next snowmobile expedition in Eastern Québec, visit our Snowmobiling web page. Have a great winter season!
If you liked this article, you might also like...