The

Québec maritime Blog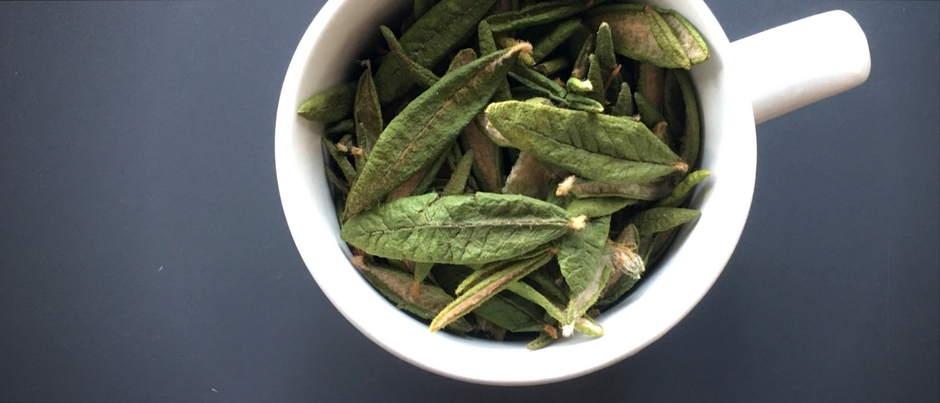 Regional Flavours: Labrador Tea
As its common and Latin names suggest, Labrador tea or Rhododendron groenlandicum (formerly Ledum groenlandicum) was encountered by European explorers during their earliest voyages to the New World. This plant is also known as woolly tea, tundra tea and settler's tea.
Labrador tea is a small, evergreen shrub (about 30 to 120 cm tall, or 1 to 4 feet) with narrow, leathery green leaves that curl under at the edges and have soft, woolly undersides. In the spring, the plant only produces a few leaves; however, since they generally persist for two growing seasons, leaves from the previous year will also be present. In June, tiny white flowers will appear in clusters. At that time, it will be possible to distinguish last year's leaves, which have a rust-coloured underside, from the new leaves, which are lighter in colour. Pick the old leaves (or the flower clusters) to infuse as a tea. Be careful not to confuse sheep laurel with Labrador tea, as the former looks similar but is toxic. Make sure the leaves you pick are woolly on the underside, as sheep laurel's leaves are hairless.
Medicinal properties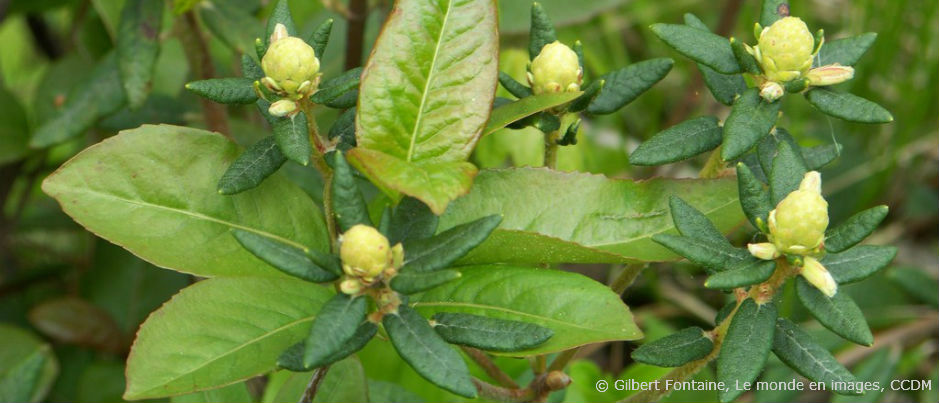 Indigenous peoples were the first to make use of Labrador tea, mainly for its medicinal properties. They used it to treat respiratory, digestive and kidney problems as well as rheumatism, scurvy and headaches; it was also used as a blood purifier and to ease labour. An infusion can also serve as a wash to clean wounds and for insect bites and rashes. Labrador tea leaves were also one of the ingredients used to dye wool brown and stain wood.
Recent studies conducted at Québec universities have shown that the stems of the Labrador tea plant have anti-tumour properties. Another study, conducted with the Cree in Northern Québec, revealed that Labrador tea extracts can be used to treat a number of the symptoms associated with diabetes.
Storage and use
Labrador tea has a strong flavour and is very aromatic. It is therefore a good marinade for game meat. It can also be used to replace mint in spring rolls or vanilla extract in desserts.
High doses of Labrador tea or prolonged brewing may cause cramps and upset stomach due to the plant's high tannin content. It is recommended to drink no more than two cups of tea per day and to steep it for no more than 2 to 4 minutes. Women who are under six months pregnant and children under six should avoid consuming Labrador tea.
To make sure the leaves retain their flavour, store them in an airtight container once they have been dried in the sun or in an oven.
Where does it grow?
Labrador tea is found in abundance in boreal and arctic climates. The leaves can be picked year-round in all the maritime regions of Québec: Bas-Saint-Laurent, Côte-Nord, Gaspésie and the Îles de la Madeleine). The plant usually grows in damp acidic environments such as peat bogs, although it can also be found in drier, rocky places. To ensure the survival of this species and preserve biodiversity, make sure you do not harvest all the leaves off any single plant.
When you next visit the maritime regions of Québec, be on the lookout for Labrador tea on your hikes through the forest. It is easy to identify and harvest. This is a great way to get a taste of the boreal forest!
If you liked this article, you might also like...