The

Québec maritime Blog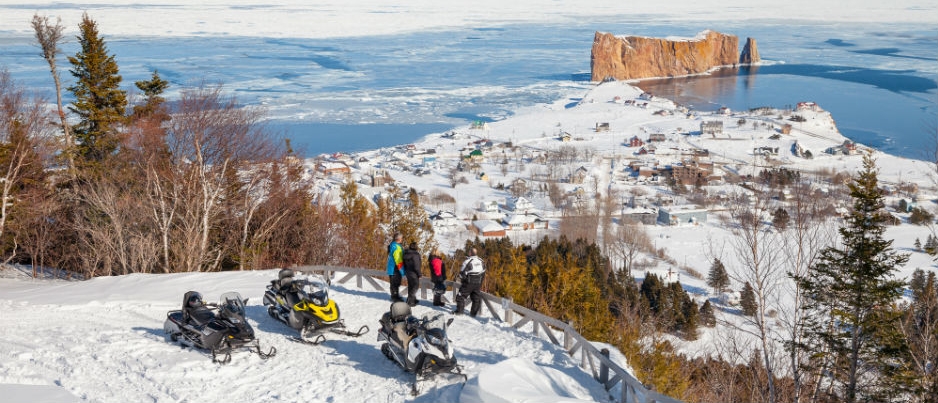 6 Snowmobile Rides to Explore in Gaspésie
Every winter, Gaspésie attracts snowmobilers in search of abundant snow and breathtaking landscapes. Offering 3000 km (1900 mi.) of marked and well-groomed trails as well as snowmobile-friendly accommodations, this region is a great destination for your next snowmobile expedition! Consider including these rides on your itinerary.
Please note that the snowmobile trail between La Cache and Murdochville is closed for the 2024 season due to safety concerns about two bridges along the trail, both of which require major work.
2 to 3 days | 695 km (430 mi.) | loop starts and ends in Carleton-sur-Mer
During this expedition, you'll explore the western side of the Gaspé Peninsula on Trans-Québec trail #5 (TQ5) and regional trails #595 and #587, which will take you along rivers, waterfalls and gorges. Along the way, you can admire beautiful scenic views of the St. Lawrence in Haute-Gaspésie as well as the Chic-Chocs, Chaleur Bay and the Matapédia Valley.
1 to 2 days | 390 km (240 mi.) | loop starts and ends in Sainte-Anne-des-Monts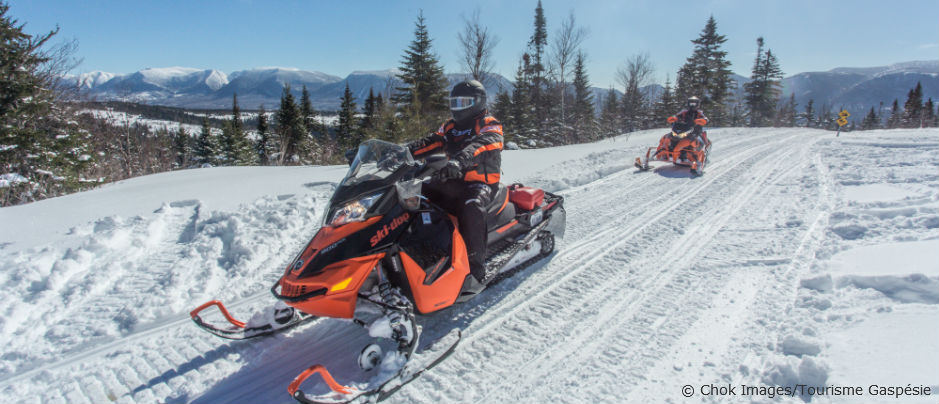 An extension of the Appalachian mountain range, the Chic-Chocs are a must-see by snowmobile! This area is also known for its abundant snowfall. Have a great time riding this loop formed by TQ5, regional trail #597, local trail #10 and regional trail #595.
2 to 3 days | 665 km (415 mi.) | loop starts and ends in Sainte-Anne-des-Monts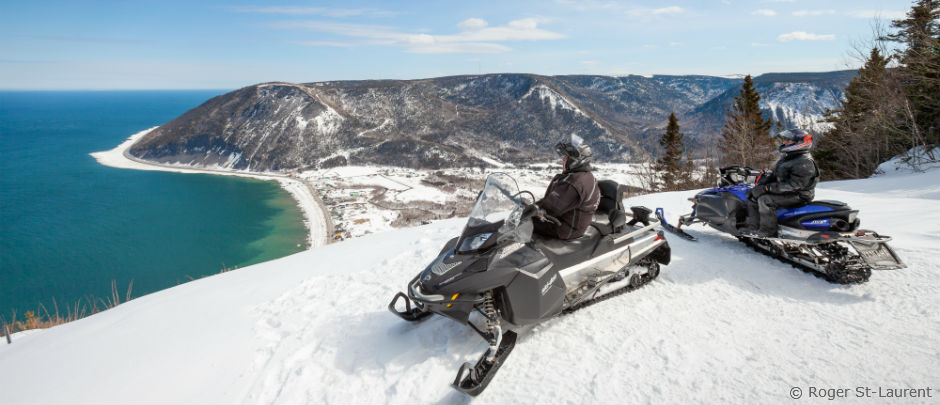 Discover the northern half of the peninsula during this ride that will take you through the Chic-Chocs all the way to Gaspé, on the eastern side of the region. You'll appreciate the diversity of the scenery along this route, which ranges from mountainous to maritime. This loop follows TQ5 as well as trails #13, #597, #10 and #595.
3 to 4 days | 815 km (505 mi.) | loop starts and ends in Sainte-Anne-des-Monts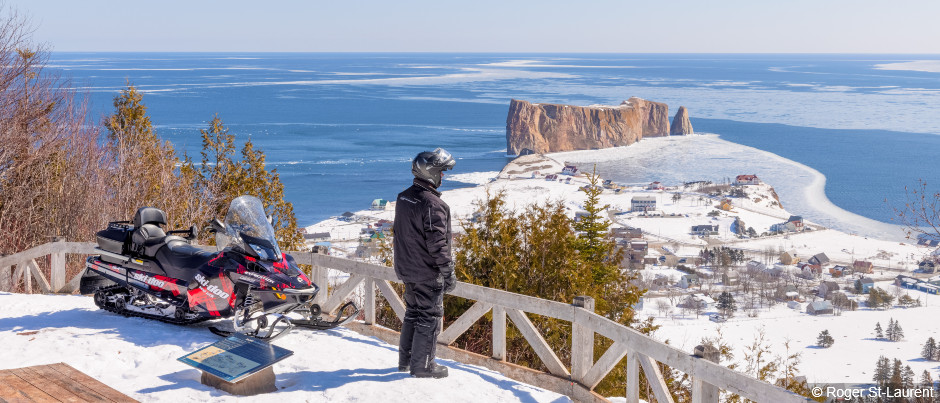 If you don't have time to ride around the entire Gaspé Peninsula but want a taste of what that trip would be like, this ride is for you! It will take you via TQ5 and regional trail #595 to many of the highlights of the region, including spectacular views of the sea, Percé Rock and the Chic-Choc Mountains!
1 day | 260 km (160 mi.) | loop starts and ends in Mont-Joli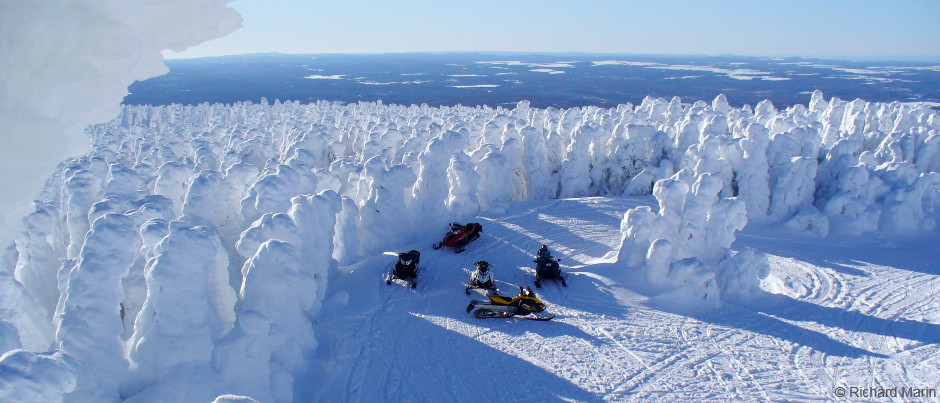 Explore the area known as the gateway to Gaspésie on this loop ride through the snowy landscapes of La Matanie, La Mitis and La Matapédia. As you ride along TQ5, you'll have the opportunity to admire wind turbines and the ice-covered St. Lawrence. In addition, regional trail #587 and several local trails will take you though the mountains, including the Saint-Pierre Mountain, where, under the right weather conditions, you can admire a forest of "ghost trees"!
1 day | 210 km (130 mi.) | loop starts and ends in Causapscal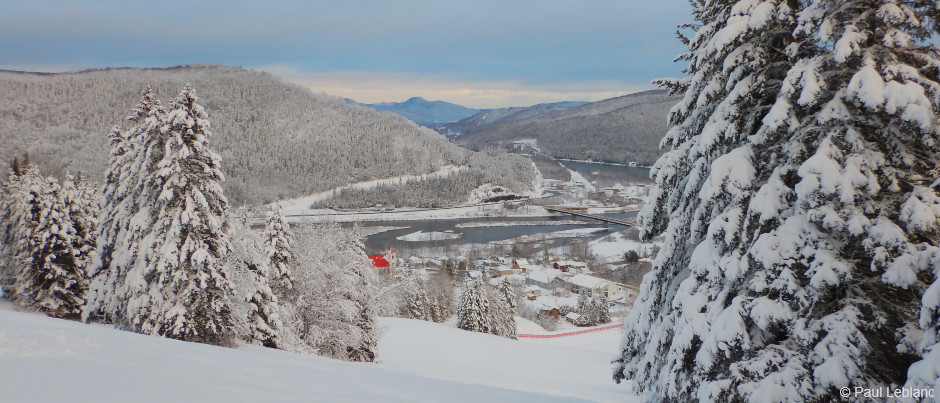 This ride along TQ5 and regional trail #587 will take you through the villages of Matapédia-et-les-Plateaux, which look magical in the winter. This picturesque area is home to hills and rivers as well as vast expanses of forest. You can even cross the famous Matapédia River, at the heart of the hamlet of the same name.

If you're interested in a longer trip, check out the Bas-Saint-Laurent – Gaspésie Snowmobile Tour, a 10-day expedition on nearly 2000 km (1250 mi.) of well-maintained trails. For more information, consult the Gaspésie snowmobile trail map. Happy sledding!
Note that all of these loop rides can be explored in either direction.
If you liked this article, you might also like...